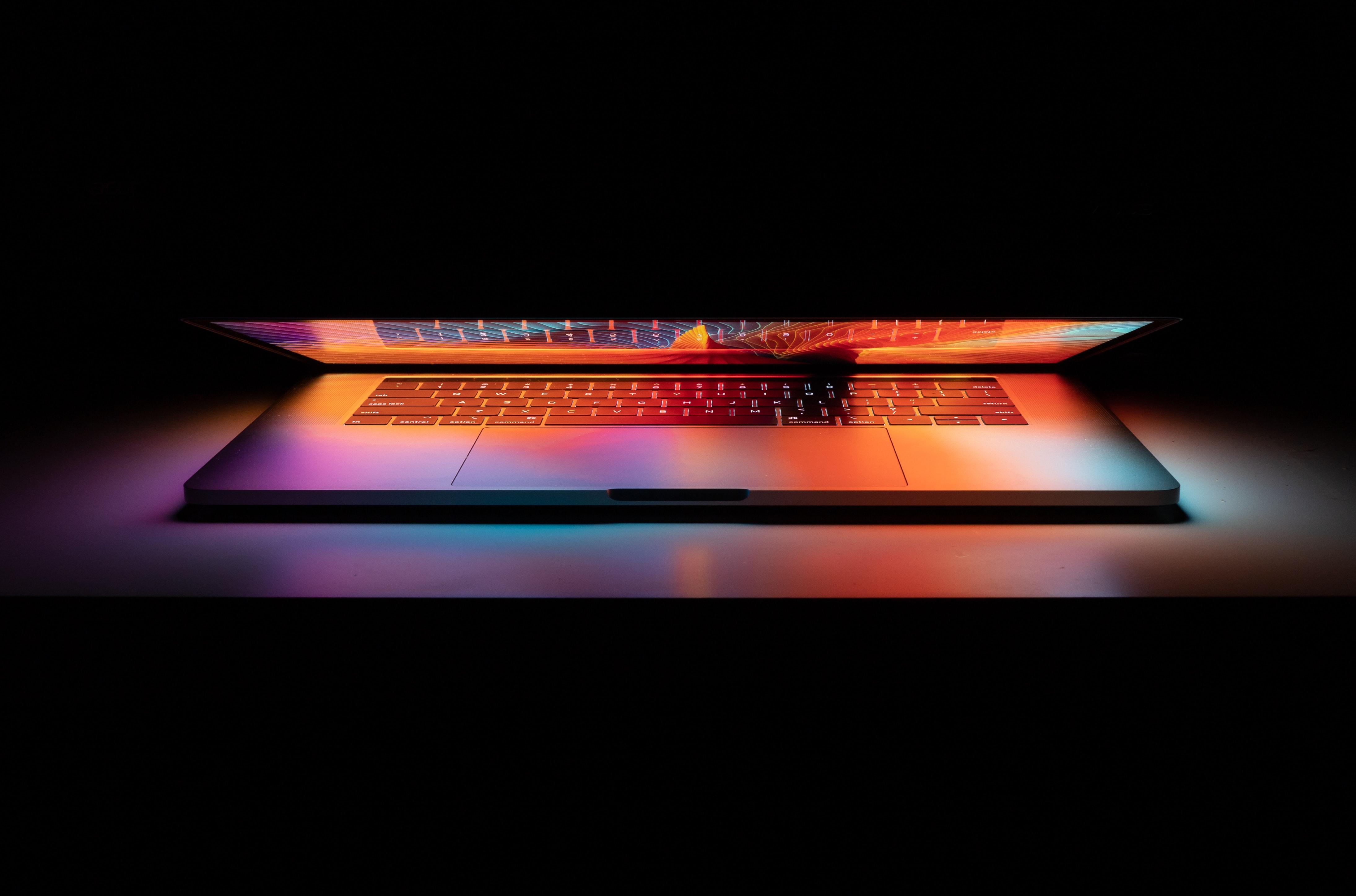 Interested in using native advertising to drive organic traffic and improve your conversion rates? Discover if RevContent or Taboola is right for you.
Revcontent vs. Taboola—which one should you choose?
If you're interested in exploring native advertising for your business, you've probably come across a variety of platforms to choose from. Two of the most popular native advertising platforms are RevContent and Taboola—both of which help connect advertisers with relevant digital publications.
While both RevContent and Taboola offer accessible, efficient native advertising, each platform has its pros and cons. Below, we delve into an in-depth comparison of Revcontent vs. Taboola to help you choose the platform that suits you best.
Taboola
Overview
Taboola was founded in 2007 as a native advertising platform that focused on tracking content consumption patterns. The company's initial goal was to predict the content users would like before they even saw it. After three and a half years, the company had created their algorithmic predictive technology, EngageRank.
Today, Taboola has an excellent reputation and is used by a range of quality publications, including MSN, USA TODAY, Business Insider, Chicago Tribune, and The Weather Channel.
How does it work?
Taboola uses widgets on publication websites to display targeted content to readers. It uses a CPC (cost-per-click) cost model.
Pros and cons
Pros
Taboola is selective when it comes to accepting publishers. Roughly 1 million page views a month are required.
Taboola's widgets are known to have a high-quality appearance that won't scare off readers.
RPM (revenue per 1,000 page views) is roughly 2 to 5 cents.
It has granular site targeting.
It offers top-tier geos.
Cons
Its selective entry requirements can be a barrier to some.
Taboola takes a 50% revenue share per advertiser bid. This means that publishers make less money and may be tempted to choose Revcontent.
Some users report that the user interface is difficult to get the hang of.
Delays can occur.
Revcontent
Overview
Like Taboola, Revcontent gives publishers the chance to monetize their publication while providing advertisers with a way to drive targeted traffic to their sites. It's a relatively new platform option that in the space of a few years has begun to compete with Taboola.
Using Revcontent's advanced technology, advertisers can drive highly specific traffic to their content. Revcontent's main motto is to put the user first.
How does it work?
Revcontent uses widget-based technology to provide online publications with specific, relevant ads. As an advertiser, your content will be displayed to engaged, targeted audiences based on their specific interests.
Advertisers use a CPC or a CPM (cost-per-thousand) model. With the optimization options, you can optimize for either clicks or for ROI.
Pros and cons
Pros
It is free to use.
More than 5,500 websites currently use Revcontent widgets (at the time of this publication).
The company reportedly rejects 98% of publications' applications. They are only interested in working with publishers with around 3 million page views per month. As an advertiser using Revcontent, you can rest assured that your ads will be seen by high numbers of people.
Revcontent only takes 20% of the bid. Publisher's get a generous amount of the revenue.
Revcontent is constantly upgrading the quality of their ads to make them pleasing to the eye.
Whitelist and blacklist can be used to protect against fraud.
Revcontent has highly specific targeting options. In fact, there are three times as many options as Facebook.
Real-time data makes optimization more efficient and specific.
It has a push notification traffic option.
Cons
RPM tends to be higher at roughly 50 cents to $5.
It's less widely used by top sites than Taboola.
Taboola is more commonly used around the world.
Affiliate marketers are held to extremely high standards.
Getting approved can be pretty tricky.
Revcontent vs. Taboola—which one is right for you?

Comparison table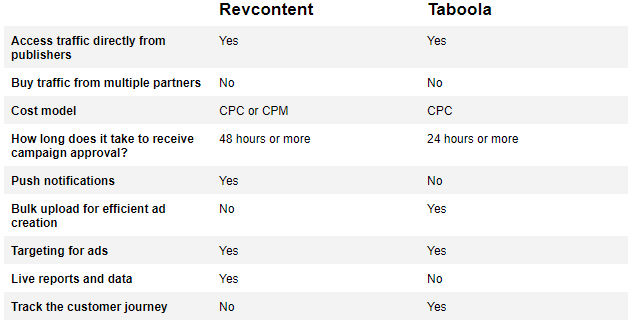 What can the statistics tell us?
In terms of the statistics, Taboola does tend to come out on top. As SimilarTech reports, Taboola has a far greater number of users as of 2020. Taboola has a monopoly when it comes to market share by top websites.
It also has more varied coverage across different verticals. In fact, Revcontent lags behind Taboola in every website category.
In terms of geographical relevance, Taboola, once again, comes out on top, leading Revcontent in every single country.
Of course, these statistics reflect the fact that Taboola has had a significant head start on Revcontent. To put it simply, they've been around longer. Nevertheless, Revcontent does have a lot going for it—and it's growing fast. It's frequently referred to as the "top growing native advertising network."
Although, even if Taboola has more features and is larger, many have found a lot of success and profitability with Revcontent's network, especially because their customer service (account reps) are very hands-on, helpful and fast in answering your questions. Also, remember, a smaller pond, means less fish to compete with.
The best advice we can give is to test, test and test some more. Try both networks for your campaigns, you won't be disappointed.
Using Revcontent or Taboola with Brax
Creating native ads can be a time-consuming, inefficient process—especially if you're trying out using multiple platforms. At Brax, we make it simple. Our single dashboard system means you can create, optimize, and track your native ads in one place. We offer Taboola and Revcontent integrations, along with other popular platforms such as Outbrain, Content.ad, Yahoo! Gemini, and more.
Not sure if Brax is right for you? Decide for yourself with a 15-day free trial.