In recent years, Halloween has surged in popularity, captivating millions worldwide. As the mystical aura of this holiday grows, people eagerly plan spine-tingling activities. From trick-or-treating, where children embark on candy-filled expeditions, to costume parties showcasing creativity, and haunted houses testing courage, Halloween has become a celebration of all things spooky.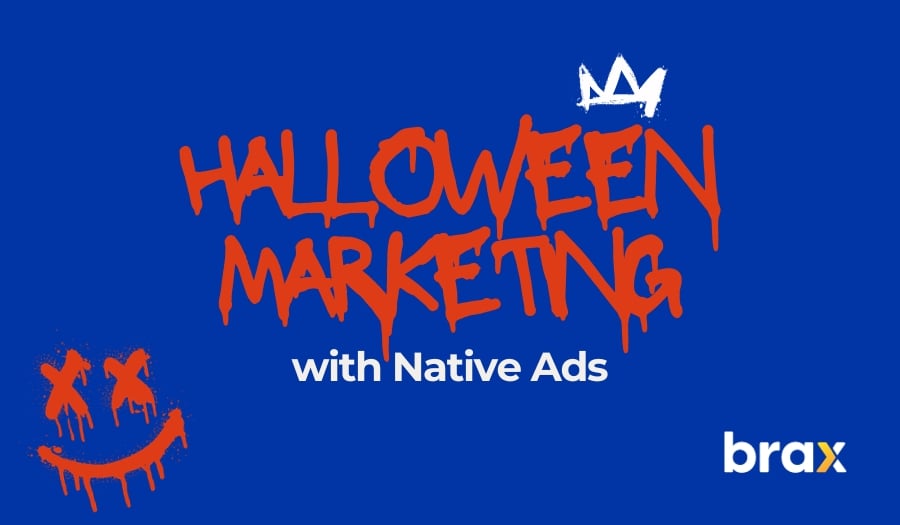 Each year, Halloween's allure continues to captivate both young and old, weaving its magic into our lives. And people aren't hesitant to spend either! Proof of this is that last year, Halloween spending reached $10.6 billion (data from the National Retail Federation).
For businesses, Halloween presents a unique opportunity to tap into this cult-like following and drive sales. That's where Halloween marketing comes into play.
Feeling overwhelmed? You don't have to be!
Native advertising provides an easy and effective way to market your products during the spooky season. With engaging visuals, compelling copy, and targeted placement across multiple platforms, you can make sure your company stands out from the competition this Halloween.
What are Native Ads?
If you're not familiar with native ads, let's talk about it briefly.
Native advertisements present a captivating and one-of-a-kind approach to advertising. They seamlessly blend in with the platform's content, mirroring its form and function.
This ingenious strategy reduces intrusiveness, captivating the audience and enticing them to interact. Be it sponsored content on a news website or recommended articles on a blog, native ads take on diverse forms to suit each platform.
With higher visibility and engagement rates, users won't feel bombarded or annoyed. No more banner ads or pop-ups that get ignored or blocked. Instead, native ads integrate smoothly into the platform, enticing users to devour the ad content just as they would the website's native content.
Of course, native ads come with their own set of challenges. Ensuring that the ad content is relevant and valuable to the user is crucial. Poorly designed or irrelevant native ads can result in a negative user experience.
However, when executed correctly, it can deliver meaningful results.
Benefits of Using Native Ads for Halloween Marketing Campaigns
Let's outline the specific advantages of native advertising, particularly in the context of this holiday season, and how these benefits can contribute to an effective and successful Halloween marketing campaign.
Higher engagement rates compared to traditional ads
To be able to show your Halloween offer to prospective customers, you need to capture their attention first by getting them to click on your ad and view the landing page. Native ads have a higher click-through rate than traditional ads because they look like organically recommended content.
So, can native ads capture their attention? Definitely.
Sophisticated targeting options to make sure the ads reach the right audience
Native ads provide a cost-effective way to reach your audience through their advanced targeting options. This helps increase the effectiveness of your campaigns and minimize wasted ad spend, therefore making it a cost-effective solution.
The filters you can use to target the audience demographic include their location, devices, operating systems, browsers, and more. Some networks provide better targeting filters than others. For a more comprehensive discussion on this topic, check our guide on How to Target Audience in Native Ads.
Ability to tell a deeper story that connects with the target audience
Businesses can leverage powerful storytelling techniques with native ads to create Halloween-themed narratives that connect with their target audience on a deeper emotional level.
Through spooky tales, humorous anecdotes, or heartwarming stories, businesses can tell captivating stories that create a more memorable Halloween promotion, resonating with their target audience long after the holiday has ended.
It also provides you the opportunity to show the fun and creative side of your brand during the Halloween season. And when it's fun, you can almost always guarantee engagement.
Best Halloween Marketing Campaigns

Using

Native Ads
Researching exceptional marketing campaigns has grown to become one of my favorite annual activities. Not only do I get to see the lengths companies go through just to produce creative marketing campaigns, but I also get to analyze which of them worked best.
If the campaigns performed well, then it should be something that marketers should emulate, right?
And if they bombed, they become a learning tool.
Right now, let's talk about the best Halloween campaigns for the last few years so that you'll have an idea of how to run your own.
Airbnb's "Night At Dracula's Castle" Campaign
Airbnb has definitely mastered the art of gaining attention, especially with native ads.
The concept of Night a Draculas Castle was pretty simple — two people get to win a free overnight stay (on October 31, no less) at Bran Castle in Romania. They'd get a dinner for two and would sleep on open coffins to complete the experience. Entrants (hopeful vampire hunters) only need to submit an essay or a dialogue on what they would say to Count Dracula if they were to face him.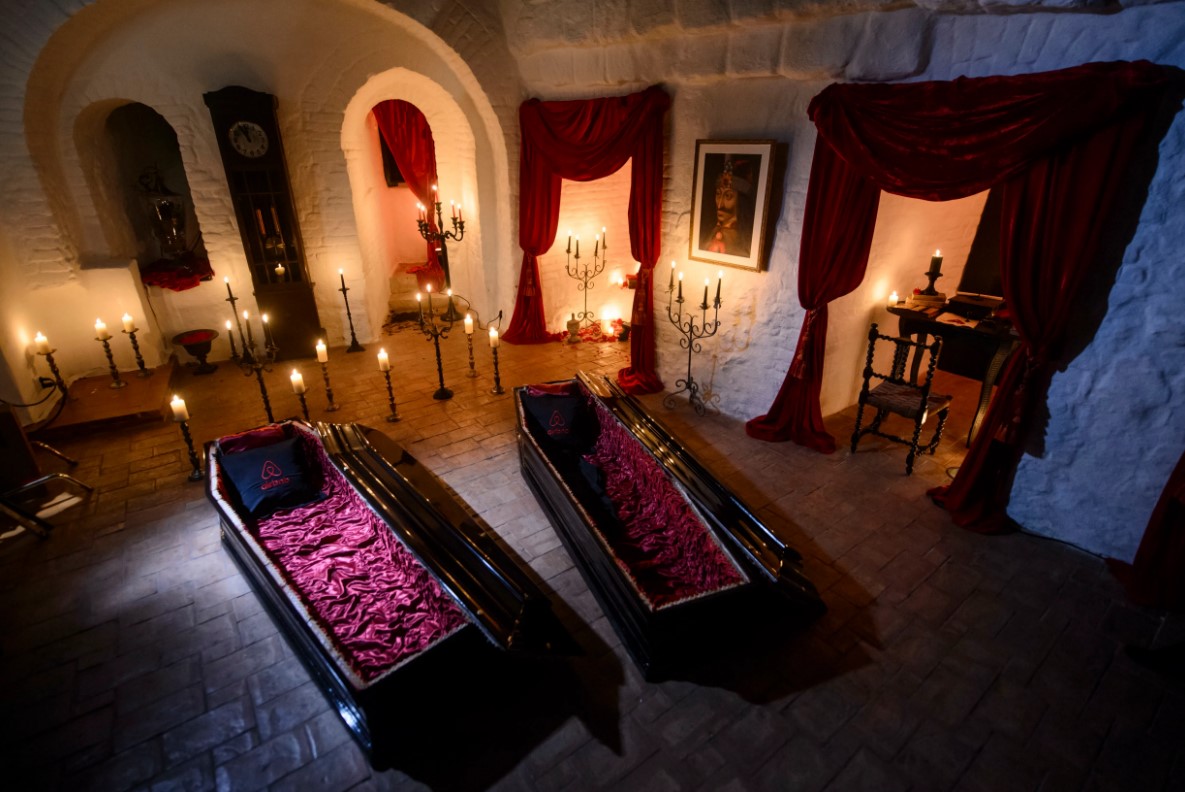 And how successful was this promotion? Well, it received no less than 88,000 entries from around the world. Over a billion people saw something about it on websites they visit (through native ads) and on social media.
It wasn't just the Bran Castle that gained attention — other horror-themed accommodations were noticed, too, since they were actively recommended after submission of entries.
Hulu's "Huluween" Campaign
In 2018, Hulu launched a Halloween-specific campaign called "Huluween". This campaign was designed as a way to promote their impressive collection of horror and Halloween-themed programming, including movies, television series, and exclusive Hulu originals.
The mechanics centered around providing subscribers with a hub of Halloween-themed content, categorized into subgenres for easier browsing, ranging from psychological thrillers to classic slasher films.
Hulu leveraged native advertisements and content articles to spread awareness about the campaign. Articles featuring "Huluween" were strategically placed on blogs and news sites that talked about horror movies and shows to watch for the holiday, piquing the interest of horror fans and casual viewers alike.

As the Halloween campaign picked up traction, Hulu expanded its promotional efforts to include social media contests, exclusive film premieres, and even a pop-up activation in Los Angeles, increasing its visibility and reach significantly.
The success of the "Huluween" campaign was evident in its subscriber growth. The campaign was so successful that brands that advertised on the Huluween Hub reportedly received 75% user engagement. The following year, companies in advertising on the same Hulu hub doubled! There's no better way to evaluate a campaign's success than more revenue for the company!
Hulu's "Huluween" campaign was clearly a strategic win for the streaming service, ingeniously utilizing native advertisements to boost visibility, increase subscriber growth, gain more advertisers, and promote its comprehensive library of Halloween content.
In the end, it was a memorable Halloween treat for both Hulu and its horror-loving subscribers, showcasing the power and potential of native advertising when executed effectively.
Liquid Death's "Cursed by a Witch for Halloween" Campaign
In a bold and remarkable marketing stunt, Liquid Death, a canned water brand, launched its "Cursed by a Witch for Halloween" campaign in 2019. The campaign kicked off with an intriguing premise: customers who bought a case of Liquid Death water would be "cursed" by a real witch.
The "curse", in reality, was a uniquely entertaining customer experience involving a personalized video of a witch casting a spell directly on boxes of Liquid Death, but it can be removed by paying an extra fee of $0.99.
Liquid Death heavily promoted the Halloween campaign through thoughtfully positioned native ads and engaging content articles, focusing on the campaign's unique and unconventional approach to marketing.
The brand made effective use of its irreverent tone and offbeat humor to capture the audience's attention across different platforms, including social media, blogs, and news sites. This amplified the campaign's visibility and garnered significant media attention (with some people even believing the curse might be real!)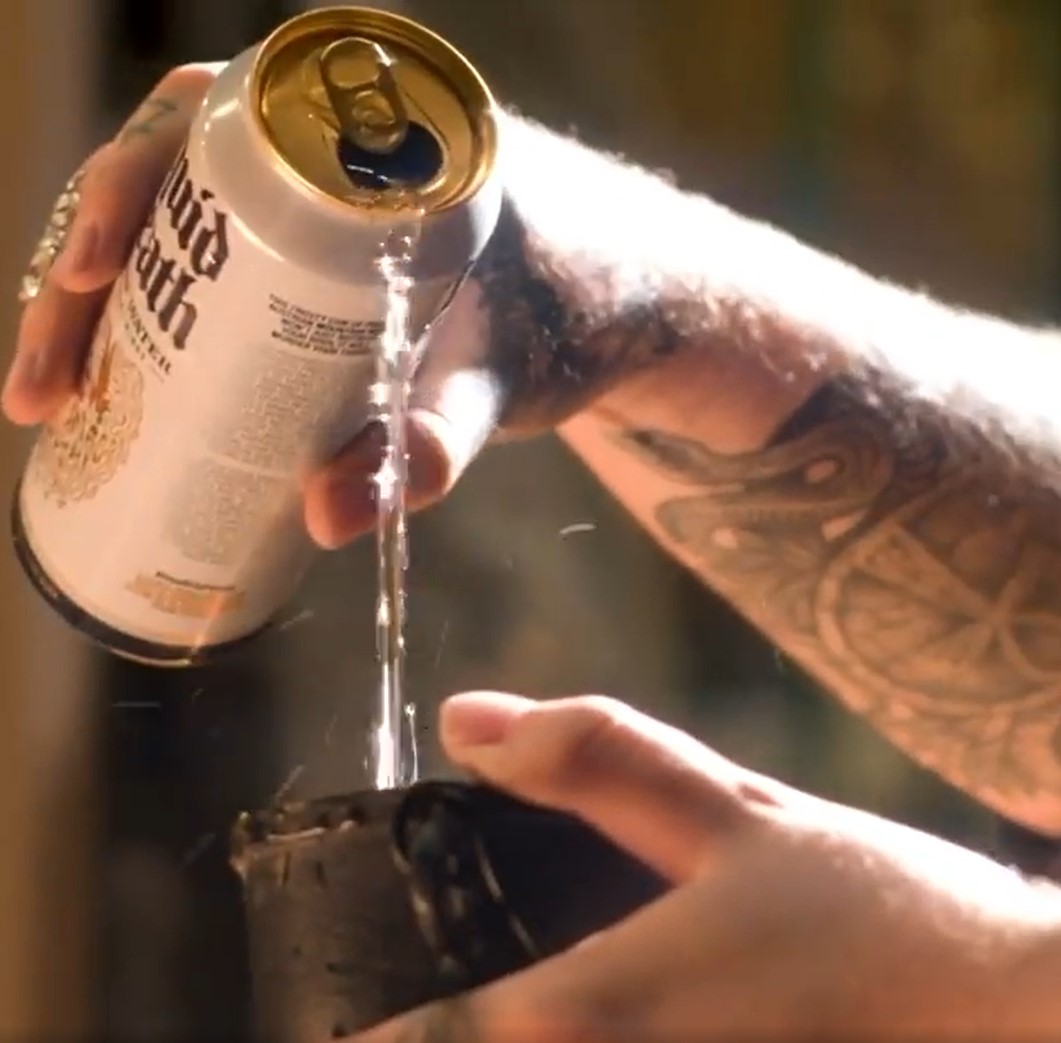 The campaign's novelty and audacity quickly struck a chord with consumers and the media alike, going viral and earning Liquid Death significant publicity. It was picked up by popular news outlets and widely discussed across social media channels, further boosting its reach and engagement.
The "Cursed by a Witch for Halloween" campaign was an undeniable success for Liquid Death, not just with an increase in sales, but with a significant surge in Liquid Death's social media following within a fortnight of the campaign launch.
Liquid Death's Halloween campaign was an exemplary demonstration of how native advertising, coupled with a unique and audacious marketing narrative, can create a powerful impact. The campaign's success underscores the effectiveness of unconventional marketing tactics in capturing audience attention, driving engagement, and ultimately, boosting sales.
Heinz's "Tomato Blood" Campaign
In the same vein of creative and innovative Halloween campaigns, Heinz, the renowned ketchup brand, launched its "Tomato Blood" campaign in 2020.
Adding an outlandish twist, the campaign was promoted by a vegetarian vampire with a preference for Heinz's ketchup, or "tomato blood". The campaign's concept was simple yet captivating: every bottle of Heinz ketchup had the potential to bring out your inner vampire.
The campaign unfolded across various digital platforms, crucially leveraging native and video ads. Advertisements were shown in blogs, news sites, video streaming sites, and social media platforms, instantly capturing the audience's attention with the innovative concept and the intriguing figure of the vegetarian vampire.
The campaign's unique narrative was also shared through engaging content articles that talked about the vegetarian vampire's fondness for Heinz's "tomato blood", further amplifying its reach and impact.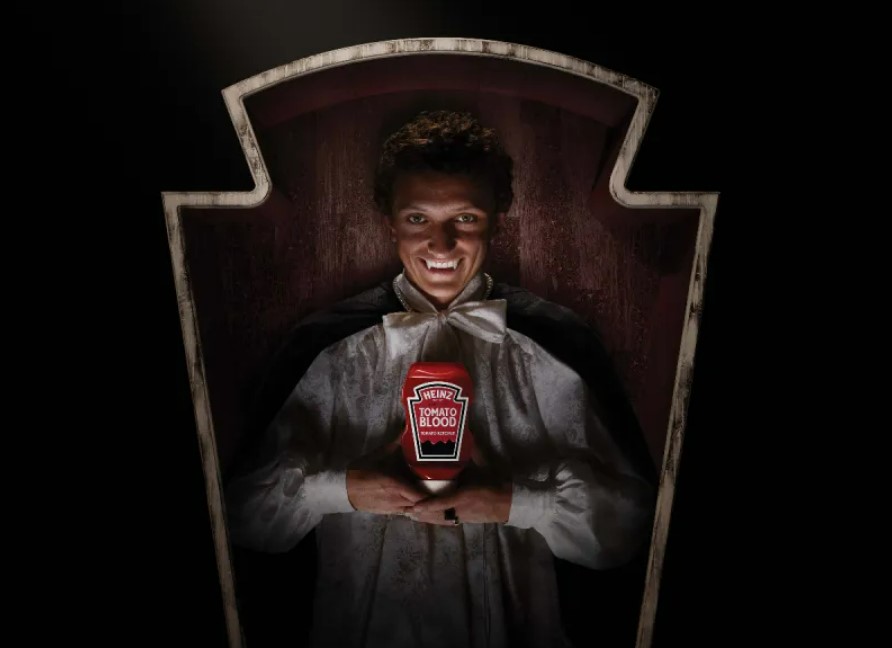 The "Tomato Blood" campaign's unique approach to Halloween marketing quickly gained traction. It was picked up by numerous media outlets. The campaign's reach was further expanded by the buzz it created on social media, with users actively sharing their "tomato blood" experiences and even coming up with their own Halloween recipes using Heinz ketchup.
Skittles' "Rotten" Zombie Skittles Campaign
In a shrewd play on Halloween's zombie craze, Skittles introduced its "Rotten" Zombie Skittles Campaign in 2019. The innovative concept involved a fun-filled, albeit slightly horrifying, twist: each Skittles pack contained a mix of deliciously fruit-flavored and revoltingly "rotten zombie" flavored candies, inciting a daring game of chance with every handful.
The campaign was initially launched through a series of native ads that directed to an engaging press release that highlighted the campaign's thrilling and unique nature. The immediacy and reach of these promotional efforts quickly drew the attention of influencers and social media users, who were intrigued and excited by the daring concept.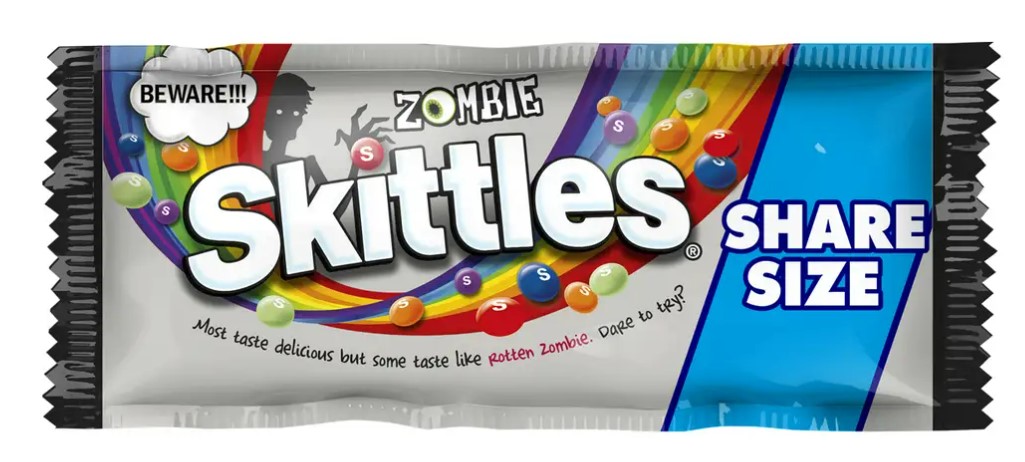 Eager to partake in the fun, influencers and users alike shared their experiences trying the "Rotten" Zombie Skittles, with reaction videos rapidly going viral on platforms like YouTube, Instagram, and Facebook. This user-generated content played a crucial role in promoting the campaign further and driving the engagement levels up.
The campaign proved to be a phenomenal success for Skittles. Despite Skittles already being a Halloween candy staple, the company reported a significant increase in sales for the holiday season compared to previous years. In fact, the campaign was so successful that Skittles decided to bring back the Zombie Skittles in the following years due to popular demand.
By taking an audacious and creative approach to Halloween advertising, Skittles managed to elevate its brand visibility, drive unprecedented engagement, and boost sales, thereby reaffirming the power of innovative and interactive advertising.
Tips for Creating Successful Halloween Campaigns Using Native Ads
Now that you've seen the fun and unique way big brands utilize Halloween Marketing for their products, it's time for us to pull some key takeaways from their promotions.
While you may not have as big an advertising budget as they do, you can definitely utilize native ads for your business by following a few key tactics:
1. Emphasize Visual Appeal
In the fast-paced world of digital advertising, your image has a split second to make an impact. So, invest in a visually stunning and eye-catching masterpiece to make your Halloween campaigns a scream!
The Halloween season is like a captivating visual feast for businesses. Embrace the spooky spirit with a killer native ad image that lures viewers in. Your image should scream "Halloween" while showcasing your unique twist.
Remember, the accompanying text is important, too, but it's the image that first bewitches and entices. Let the text build upon the intrigue, offering more info and convincing viewers to engage with your brand.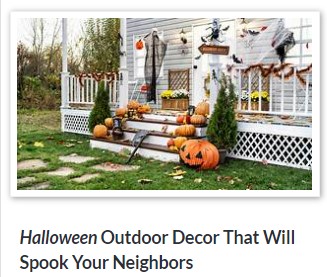 2. Use Emojis for Added Halloween Theme
Emojis, with their ability to succinctly convey emotions and themes, can be a high-impact addition to your Halloween marketing strategy.
Consider incorporating Halloween-themed emoticons like pumpkins, ghosts, bats, or witches into your native ad text. These visual elements not only bolster the Halloween vibe but also make your messages more engaging and relatable.
🎃 👻 🧙
By integrating emojis in your native advertising copy or social media posts, you can instantly infuse a festive spirit into your messaging, making it more appealing to your target audience. They can also aid in drawing attention to your call to action, making them more effective.
Remember, the key to the successful utilization of emojis lies in their strategic placement and relevance to your content. Overuse can dilute their impact, so use them sparingly and appropriately to make your Halloween native ads more visually inviting and engaging.
3. Leverage Images that Look Like They are User-Generated (or Use Real UGC, if you are allowed)
In a world that craves authenticity, user-generated content (UGC) can be the "golden ticket" for your Halloween native ads.
Incorporating seemingly user-generated images can enhance engagement and relatability, making your audience feel like they're part of the campaign. These visuals provide an unfiltered glimpse into how your product or service is utilized, resonating deeply with potential customers.
With permission, showcase real pictures from your customer base in your Halloween campaigns. This not only builds trust and engagement but also satisfies people's desire to see themselves and their peers in marketing content. Get spooky, get real, and get noticed!
Moreover, It encourages more user-generated content, creating a virtuous cycle of engagement.
If you cannot use real UGC, images that look user-generated are the next best option. Make sure they are high-quality but strive for a candid, in-the-moment feel that mirrors UGC.
Remember, your aim is to create a sense of authenticity and connection. So, whether it's a picture of your product on a front porch with pumpkins or a snapshot of a Halloween-themed meal at your restaurant, let the images tell a real, engaging, and relatable story.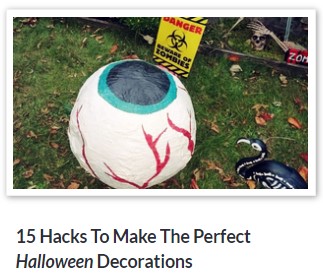 4. Keeping the Messaging Fun and Engaging
Halloween is all about fun, excitement, and a hint of spookiness. This spirit should permeate your native ad messaging. Craft your content to be engaging, entertaining, and themed appropriately. A playful tone, coupled with a dash of humor or mystery, can make your message more compelling and memorable.
Consider leveraging storytelling to pique interest or stir emotions. Why settle for a plain pitch in your Halloween ads when you can enchant your audience with a captivating narrative?
Whether it's a spine-chilling tale, a mind-boggling mystery, or a side-splitting anecdote, make sure it aligns with your brand and resonates with your audience.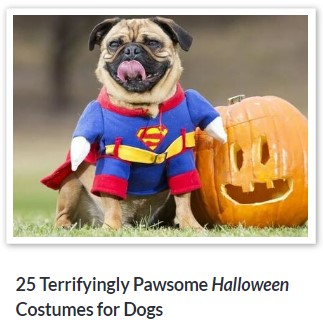 Don't be afraid to unleash puns, jokes, or Halloween-themed wordplay to add a dash of fun and make your message stand out from the crowd. Remember, it's not just about promoting your product; it's about creating an enjoyable experience associated with your brand.
And hey, keep it clear and concise! Avoid jargon and complex phrases. Your audience should get your message at a glance. Because let's face it, even the most engaging content falls flat if the key message gets lost in translation.
So, what have we learned?
Successful Halloween advertising campaigns underscore the importance of creativity, engagement, and a deep understanding of audience behavior. The lessons drawn from these campaigns can indeed serve as a roadmap for marketers seeking to establish a resonating connection with their audience.
Each tactic we discussed above contributes to creating a Halloween ad experience that is not only captivating but also memorable. Remember, the goal is not just to sell a product, but to tell a compelling story that aligns with the spirit of Halloween and resonates with your audience.
So, as you gear up for your Halloween marketing efforts, take a leaf out of these successful campaigns and strive to offer an experience that goes beyond mere product promotion. Think out of the box, embrace the Halloween spirit, and you might just create an advertising campaign that becomes the talk of the season.
If you still need help planning your Halloween promotions, don't hesitate to reach out to us at Brax. Our team of expert marketers is ready and willing to guide you through the process. Whether you need advice crafting killer native ads or engaging social media posts, we're here to help.
Contact us today or book a demo of Brax for your native ads promotions this Halloween. Let's make this season a spooktacular success together!