We all know by now that online advertising plays a key role in building more business for any product or company. Social media giants have capitalized on this need by integrating advertising functions on their platform – and that includes Facebook.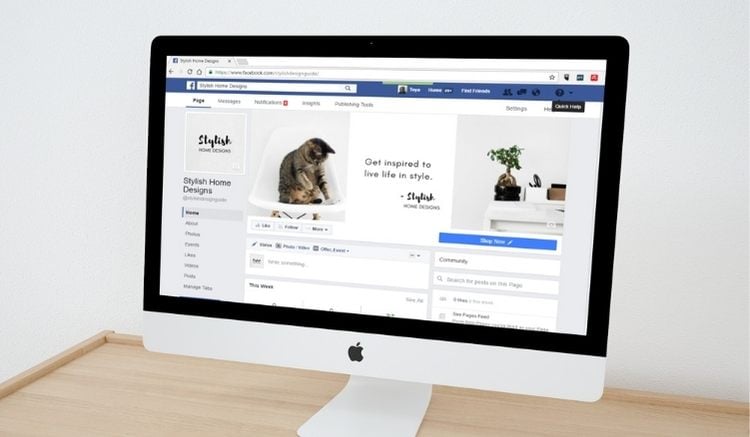 Table of Contents
Benefits of Advertising on Facebook
What You Need to Get Started with Facebook Advertising
Facebook Ads Ideas and Examples
Frequently Asked Questions on Facebook Ads
Mistakes to Avoid When Running Facebook Ads
Facebook is a powerful advertising tool, and if you're not using it to its full potential, you're missing out on a lot of opportunities. In this comprehensive guide, we will teach you everything you need to know about advertising on Facebook.
We'll discuss how to create effective ads, target your audience, measure your results, and much more. By following these tips, you'll be able to create successful Facebook ad campaigns that generate leads and sales for your business!
Author's Note: While Facebook's umbrella advertising company has now been changed to Meta, we will still be referring to it as Facebook Ads since (let's face it), it'll take a while before we actually get the hang of using the name Meta.
Benefits Of Advertising On Facebook
Advertising on Facebook is simple and easy for beginners but can be complicated depending on how much you want to spend, how good you are at optimizing, and what your ultimate goal is. Nevertheless, it has its advantages over other social media platforms, some of which are the following.
1. Facebook Is Huge!
Over One Billion Monthly Active Users – which means 1 in 7 people on earth are active users of Facebook. That's nearly twice as many as the next most popular website (Wikipedia). The average user spends 33 minutes a day, everyday on Facebook.
2. Targeted And Interest-Based Advertising
It allows you to reach more of your ideal customers through a number of channels including mobile and desktop. Facebook has a sophisticated advertising algorithm that categorizes the interests and behaviors of users in an Ad Account to help advertisers target specific demographics.
3. Measurable Results and Trackable Campaign Analytics
All activities on Facebook can be tracked and measured which includes increased fan engagement and word of mouth awareness. Facebook also tells you how many people saw your ad, clicked on the ad, liked your page, or engaged with it. You can also check how many people saw your posts and how many of them interacted with them.
4. Video Views Perform Well On Facebook
On Facebook, videos now account for 8 billion daily views or around 100 million hours of video watched everyday, making it one of the best places to advertise your business online today.
5. Better Organic Reach
For branded content and video, Facebook trumps other social networks because it incorporates the ads into a user's feed, much like native content. Its algorithm has become smart enough to reach potential customers organically, thus increasing the potential of building trust.
6. Facebook Ads Are Easy To Make
With the Facebook Ads Manager, you get access to an all-in-one suite that lets you decide how you'd like your ads to be made. In just a few simple clicks, you can have the Facebook Ads up and running in no time.
7. It's Cheap!
Facebook Ads are relatively cheaper than other social media platforms like Google and Youtube, making it more accessible for businesses with smaller marketing budgets or those that are just starting out. For a measly $1 a day, you can reach a lot of people on Facebook if you know what you're doing.
8. Easy To Track
Marketing reporting tools that have been incorporated into Facebook allow you to track everything: from impressions to how many people engaged with your post — all the way down to which devices they used to do so.
It will also allow you to segment your audience into groups and create highly targeted ads that convert, which help you in the future in fine-tuning your ads.
Now that you're brought up to speed on the advantages of advertising with Facebook, let's have a look at what you need to get started.
What You Need to Get Started with Facebook Advertising
You're already aware of what Facebook Ads can do for you, so now what? If you're unsure how to start, here are some steps that could help you in your advertising journey.
Step #1 – Create An Ad Account
In order to create a Facebook Ad Campaign, you first need a Facebook Ad Account. This is basically the space where you log in to run your ads, create your ads, and view reports.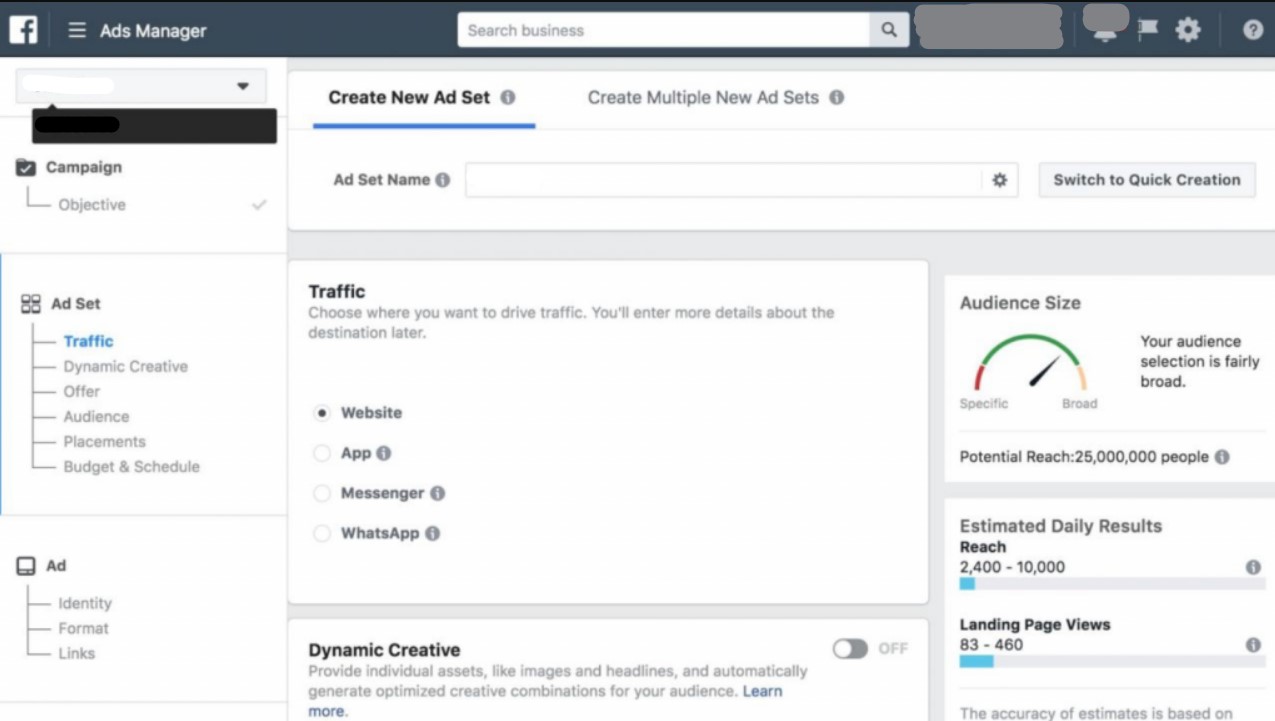 Step #2 – Set-Up Your Facebook Business Manager
The next step would be setting up your Facebook Ads Manager which can be done by clicking on this link here. For personal accounts, you only need to set up one, but for a business account, you'll have to create one for each of your brands because these accounts are separate from personal ones.
The Facebook Ads Manager is where you'll connect or create any Facebook Page, Facebook Group, Instagram Page, etc. that are related to your business. You can have more than one business page if you are running multiple pages or if you want a separate page for each product or service you have.
Check our comprehensive guide on how to set up a Facebook Business Manager to get you started.
Step #3 – Create Your Ads
Once you've gathered the necessary information and have set up your accounts, it's time to start advertising! You can do so via Facebook or by using a third-party ad management tool, as both methods have their pros and cons.
We suggest using Brax, an all-in-one social media and native advertising management platform that allows you to connect all your accounts from multiple advertising networks. You can create, edit, and optimize all your ads in a single dashboard. If you want to know more, you can book a demo of Brax today.
Before you run Facebook Ads, you need to understand certain aspects first to avoid spending on ads without seeing any return in your investment. Some important elements you need to look into are:
Objective
What do you want to accomplish? Do you want to drive website traffic, increase conversions or engagement among existing fans, generate app installs, or something else? There are six objectives for your Facebook ads, and you can choose one or more depending on your market research and goal setting.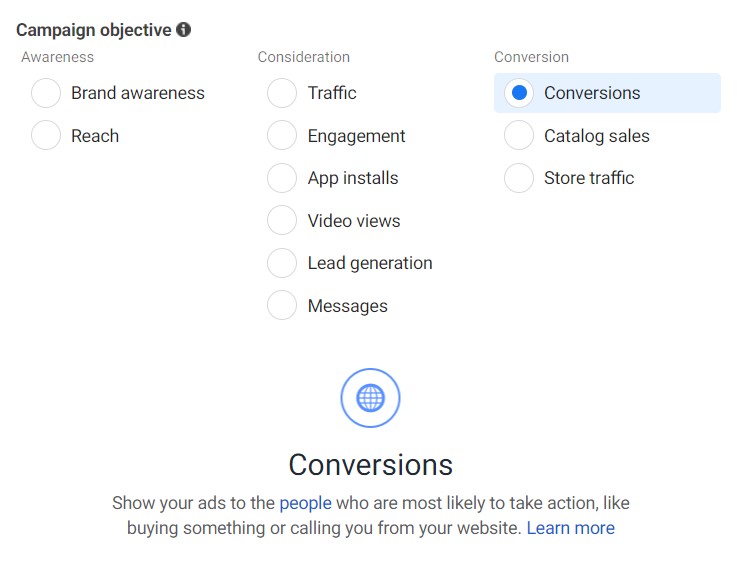 Budget
The minimum spend is $1 per day per Facebook ad campaign, but there are also some advertisers who have used ads with budgets of more than $10 million to achieve their desired goals. It all boils down to your market research, historical data on Facebook advertising spending trends, your ad's specific objectives, among many others.
The good thing about Facebook's campaign structure is that it lets you easily control how much you can afford to spend everyday even if your budget is very strict and limited so it would be easier for you to manage your cash flow and expenses at the same time while still making sure that you can maximize the potential of your business.
Audience and Targeting
Now that you know what your objective is for this ad campaign, it's time to think about your target audience. Who should your ads be displayed or shown to? Do you want more existing fans or potential customers?
A crucial step to implementing a Facebook advertising strategy is your audience. This includes choosing their age, gender, location and interests which can all be found on Facebook's advertising platform. If you have an email list of customers who have bought from you before, uploading them here will allow you to specifically target them with the campaign.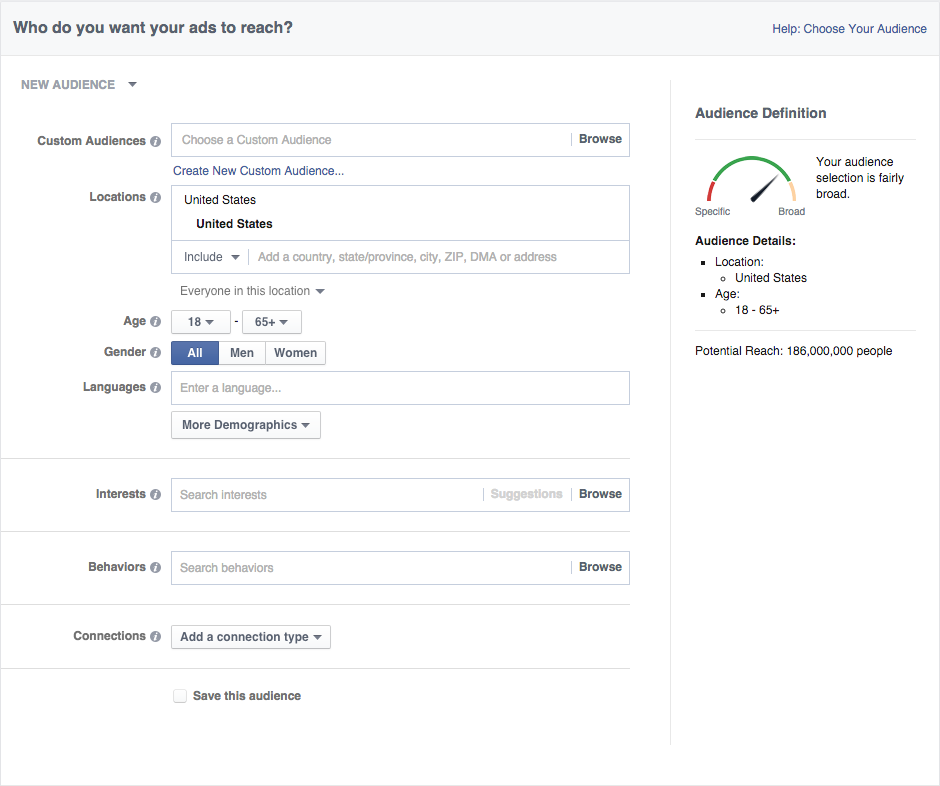 If your product or service caters to a specific group of people, then make sure to create separate campaigns aimed at them. Meanwhile, if you're running a business where different types of consumers could potentially be clients, then aim to focus on key groups like age and gender first before venturing into other segments later (like interests and location).
You should also think about the device platform. You have two options when choosing this for your ad campaign: mobile or desktop. The platform to advertise on that you should choose should match where your customers tend to spend their time online. For older demographics, desktop may perform better for you, but if you're trying to target younger demographics then mobile is the way to go.
Facebook ads work well because it allows you to hyper-target the right people. To do this well, start creating your ideal buyer persona.
Design and Specifications
Every Facebook ad campaign, whether it's on Facebook or any other media platform, always starts with a design. Whether you're creating the designs yourself or hiring someone else to do the work for you, remember to identify the right Facebook ad specs based on the ad format you intend to utilize.
Each ad format has a specific requirement when it comes to design size and aspect ratio, file type, maximum file size, and more. We will discuss more about Facebook's ad types later.
Ad Placement
Once you have prepared every aspect mentioned above, creating your first ad will not be a problem. But to optimize your Facebook ads, you need to know where the ad should appear so people will have a clearer idea of what kind of content they'll see in their News Feed or any other placement on Facebook.
Keep in mind that every ad type has different placement restrictions and specifications, so put a lot of weight on this part before creating a new ad campaign.
Campaign Duration
How long do you want your ad to run? You have two options: continuous ads that will run until you decide to stop them or single ads which will start and end at a specific date.
Continuous ads are good if you know exactly when your product is going to be available again or if there aren't any limited-time offers that could affect the performance of the ad campaign. Single ads are better if there are events happening that may cause people not to buy during certain times of the year, but it could mean that you have to spend more time on your ad campaign.
Once you have prepared every aspect mentioned above, creating your first ad will not be a problem.
Step #4 – Optimize & Maintain
Ads should always be in a state of improvement and optimization. Always test the image, headline, and copy to determine what works best for your audience.
Be sure to check out your stats regularly because this can give you an idea about which ad types, creatives, and from which placements (ie. news feed, marketplace, Messenger, etc.) get the most views and clicks compared with others that may just perform poorly.
For example, you might find that users hardly click on images emphasizing specific products or services, so next time, you can try using more appealing visuals and interesting content instead.
Types Of Facebook Ads
There are so many variations of Facebook ads that it can be hard to keep track. But after knowing the Facebook ad specifications, the next step is to know what types of ads you can create. Here are some of the most common ones:
Image Ads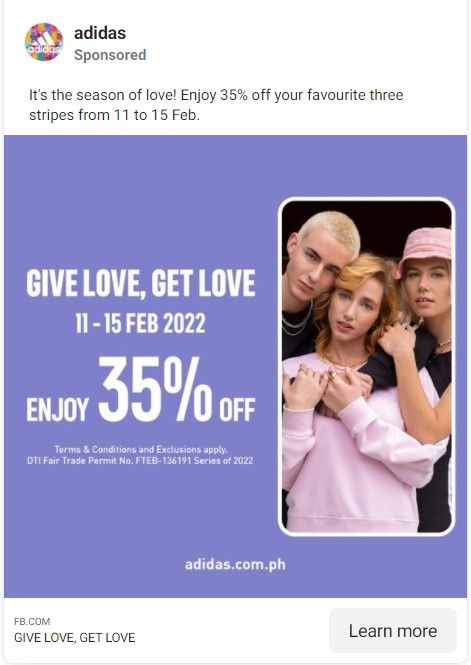 These ads are the most basic ads you can create on Facebook – for which you will only need photos/images to create your content. The way it is presented to Facebook users vary, though, and can take the form of any of the following:
In this kind of ad, a single image is shown as the main focal object. This is the most common type of Facebook ad that has been around since forever. While the image is simple, it can still be effective when used right.
Use panoramic and 360 photos on Facebook to show off your product, service, or brand. Choose an interesting image that will encourage people to learn more about it or use an eye-catching photo for the personality of your organization!
With the new Collection format on Facebook, you can make it easier for people to discover products and services from their mobile devices. A cover image or video will precede 3 product images that lead them into an immersive experience with more detailed information about each item they're viewing - all through simple taps on this particular type of ad!
The output should be engaging but not too cluttered so as not to overwhelm readers who may have glanced over ads already because there are no space constraints here.
Video Ads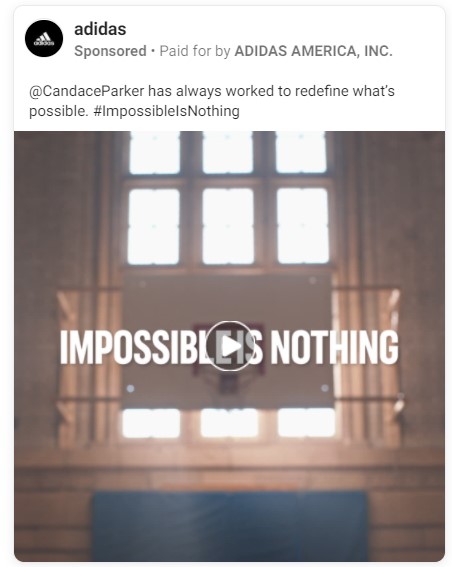 Video Ads, as its name suggests, are just that: advertisements in the form of a video. Facebook, however, takes it to the next level with the way they present such ads to the users, including Instant Experience Ads, Augmented Reality Ads, and other formats that the platform supports.
Adverts that include video content are becoming more and more popular on Facebook because they make the ads far more engaging. It also allows you to get your message across much better than simple image-based adverts. Finally, they're a great way of improving the Facebook page engagement rate (although this should not be their main purpose).
Video ads load relatively fast so they appear immediately when users scroll past them in their newsfeed. Videos start playing automatically as soon as users see them so they attract more attention than static posts or images because there's little to no effort required from the user to watch the content.
Like Image Ads, the video ads can appear in various ways on the user's interface, including:
On desktop, video to the right of your newsfeed (autoplay);
On mobile, under "Watch";
A video which you can expand and see in fullscreen;
A carousel ad.
Carousel Ads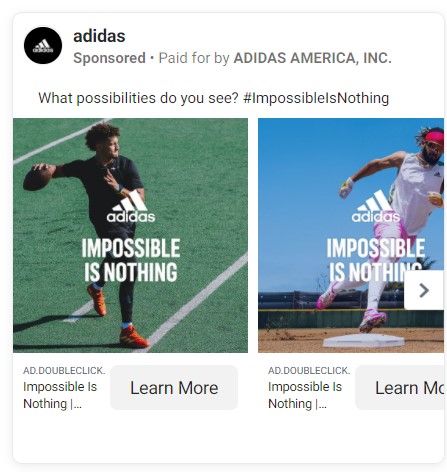 Like a carousel, the images go round and round as the ad is displayed, allowing your users to swipe through the photos. You are able to showcase up to 10 images or videos within this space with links for each item individually!
This gives you more creative control over how people see information about what products or services you offer. The storytelling potential here goes on forever — you can tell story after delicious story about how great your products or services are.
Poll Ads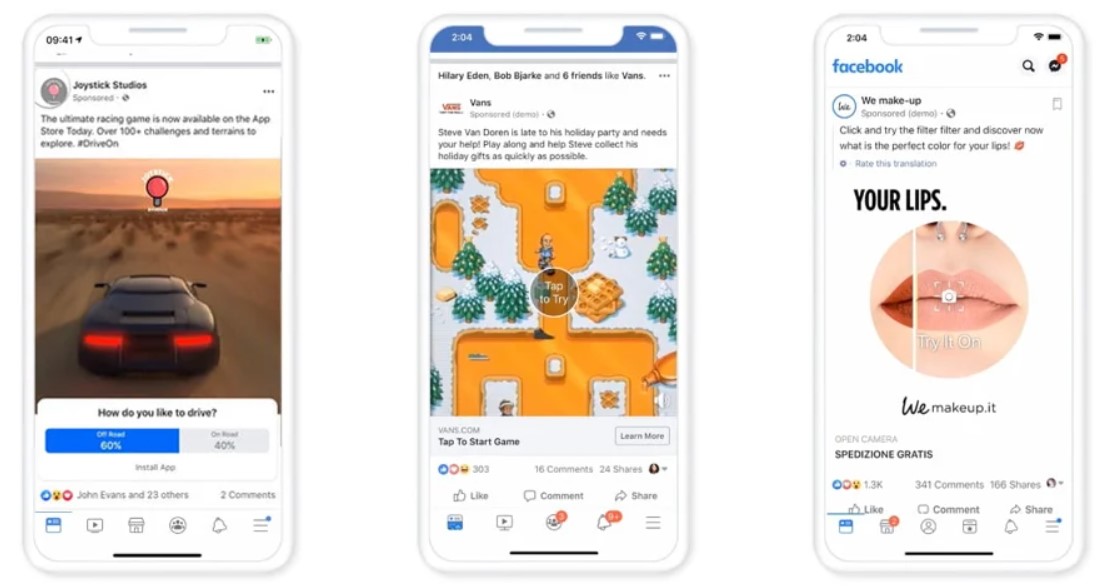 An interesting take on typical posts, Poll Ads allow you to encourage engagement with users because of it being a poll where they can vote, comment, and react to your content.
This type of Facebook ad is also great for gaining knowledge on what your audience thinks about a certain topic, product, or service. You can even use it to gather the information that will help you improve your business and stay ahead of the competition!
Lead Ads
Only available on mobile, the Lead Ad is a quick way to get the info of customers who have some interest in your business or product. You can use this type of ad to collect contact information, email addresses, and a few other types of data from your target audience. Whether you're running a campaign or just doing some standard outreach efforts, Lead Ads are the way to go.
Slideshow Ad
As its name suggests, Slideshow Ads feature more than one image in a single ad format. The images will be displayed consecutively either on desktop or mobile devices for users to view them easily. This helps improve user engagement with your posts and adds more value to your presence on Facebook!
The ads have an interesting layout that is sure to catch the attention of more users because of its design and multiple contents. As a bonus, you get more room to include a call-to-action button, giving you more opportunities to let your audience know what they should do next.
Messenger Ads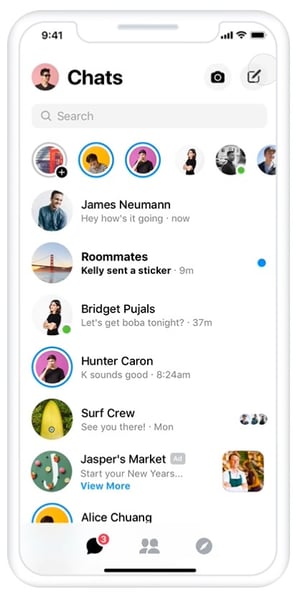 Compared to Image Ads and Video Ads, Messenger Ads come in the form of an that shows up inside Facebook Messenger. Messenger ads can be used to drive traffic to your website, increase conversions, and improve the communication between you and your Facebook audience. This is best for Facebook users who use the messaging app more than the social media app.
Stories Ads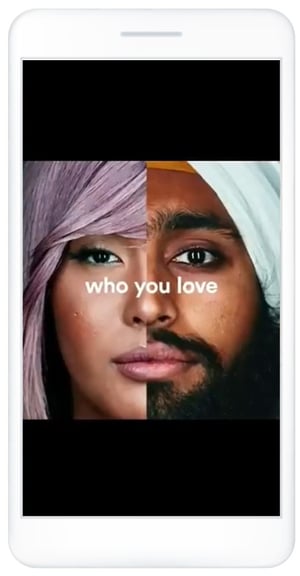 The Stories Ads will automatically appear alongside native Stories that people are viewing. Specifically, if a user is viewing a friend's Story on Facebook, advertising content for businesses/products will also be shown when the user swipes to see the next story.
Facebook Ad Ideas and Examples
Here are some examples of Facebook ads that will give you some good ideas on how to create successful social media marketing strategies for your business.
1. ProFlowers – Cute Ad Design
ProFlowers has a very cute take on their Facebook ad design which is sure to catch the attention of many users because of its simple yet lovely style. The business uses a combination of image, video, and carousel ads.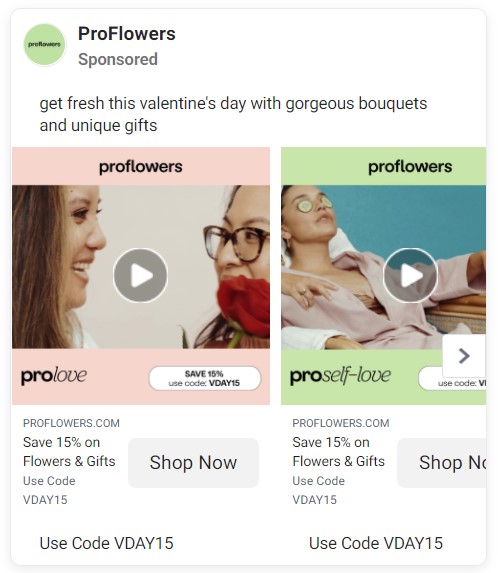 2. ShopRunner – Good Example of Video Ads On Desktop and Mobile Devices
ShopRunner uses video ads that show up within the newsfeed on desktop and mobile devices, and inside the Watch feed. This type of ad is perfect for brand awareness as it gives multiple opportunities for the target audience to feel intrigued about what they're seeing and engage more with you on Facebook.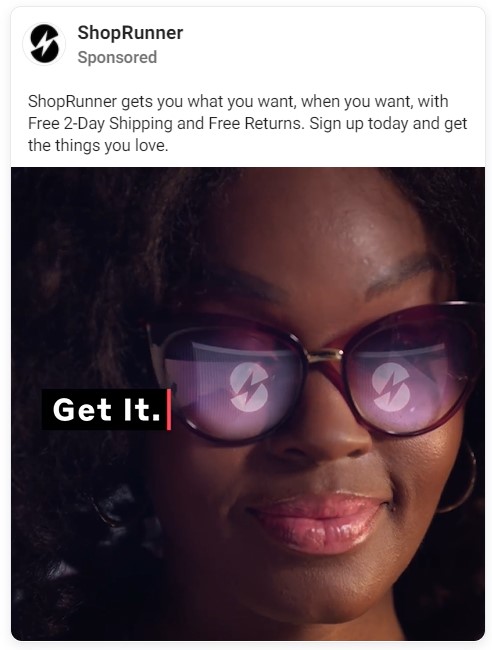 3. Nike – Eye-Catching Carousel Ad Design with Contrasting Colors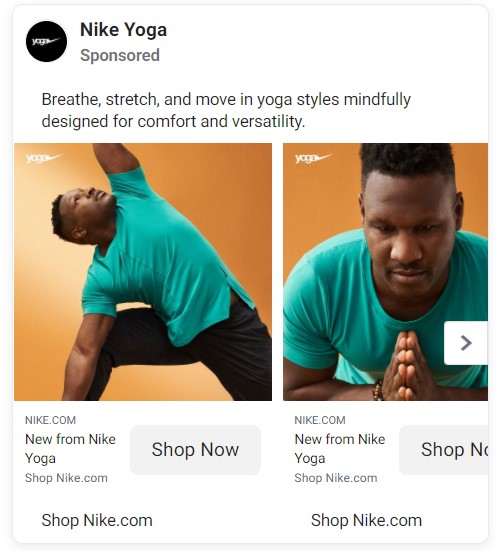 Nike has a very nice carousel ad design that will catch the eyes of people who see it because of its artistic style, as well as useful content about staying active and fit. The business uses one post to try reaching out to different target demographics, such as men or women, or even fitness enthusiasts who want to get into various exercises such as yoga.
4. Vans – Basic but Good Example of Video Ads On Mobile Devices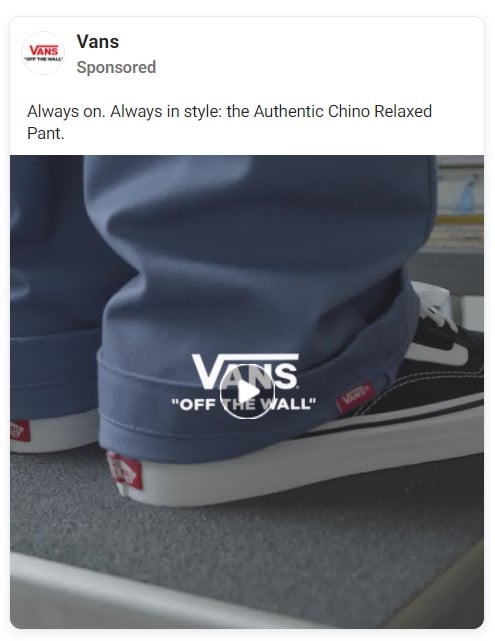 Vans also displays video ads that can be viewed inside the user's newsfeed on mobile devices and in fullscreen mode. This type of ad is perfect for brand awareness because it is engaging and memorable, regardless of the fact that the content may be short.
5. Squatty Potty – Fun and Creative Video Ad that Works Best on Mobile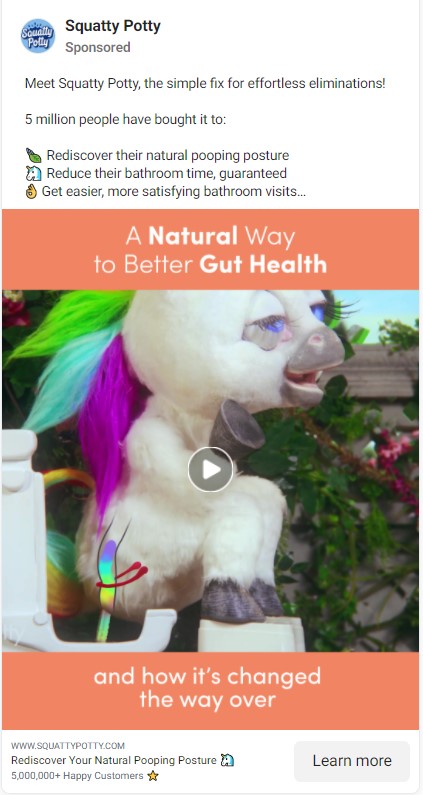 Squatty Potty uses video ads that are displayed on multiple placements in Facebook. This type of ad is also perfect for brand awareness because of its creative concept which will encourage users to engage more with your business on their messaging app!
The Squatty Potty Ad shows a funny animation of a unicorn who's not able to use the bathroom properly. To learn more about how they can help solve this problem, all you have to do is swipe up on the video message which will take you directly to their website!
Tips To Running Facebook Ads
One of the main advantages of Facebook Ads is that you can target any demographic you desire and with how popular Facebook is, it's likely people will see your ad.
Even so, not all Facebook ads are successful, so here are some tips on how to run good Facebook ads.
Your first step should be to create a Facebook Page for your business.
This will allow you to start promoting your products/services on the social media platform and increase your presence online.
Have a plan before you create your ads.
Creating multiple ads without a specific goal is not advised as it can dilute the message of what you're trying to promote. If there are multiple objectives, list them down so that you will know which ad should be shown in each situation!
If possible, have at least two different ads with different creative elements to determine which one resonates better with the audience!
As with any other type of advertising campaign, it's important to test different variables until you come up with a winning combination that works well for all parties involved. A/B tests are popular when it comes to Facebook ads as they can help lift conversion rates significantly when done properly!
Analyze results after reaching 100 conversions or $50 in spending so that you can compare which ad performs better than the other one(s) over time.
Take advantage of Facebook Reach and Frequency metrics.
These lets you decide how often your ads should be shown to the target audience, and how long it takes before they see them again. If you want people to see your ad more often, then the frequency is something to consider.
Facebook Reach provides an estimate of how many people you'll possibly reach based on your targets and placements.
Create a lookalike audience.
A lookalike audience is one that is similar (or as close as possible) to your current customer base! This can help you reach people who may also like what you offer and increase conversions for you on Facebook.
Boosting your existing posts is the best place to start if you don't have a lot of money to spend, but have a lot of time. This feature allows anyone using Facebook to promote their latest posts which are most likely their latest products, services, and/or business updates.
By encouraging users who Like your page and friends of those users (their immediate connections) to see it in their news feeds, this type of paid promotion ensures that you'll reach a larger audience even on a limited budget.
Check out popular brands and personalities, and follow their example. This has become much easier to do now with Facebook's "People" and "Pages To Watch" features, so take note of how they present their content and use it in yours.
For example: if you are selling athletic wear, focusing on sports-related pages should help you get an idea of what type of content your potential customers like.
Pay attention to your ad title and ad copy because these two parts are like a sales pitch – something that convinces users to click on your ads. It doesn't have to be too sales-y, though: sometimes, a subtle suggestion, a question, or a one-liner can be just as effective.
Be Creative with Your Content
If you're not interested in running video ads (since they require more time and effort), then use images that show off the best side of what you're offering instead.
For example, showing happy customers who have experienced your product or service before through a compelling picture will help others better connect with what your business offers.
You can be as creative as you can be! Check our example above regarding Squatty Potty — they got creative as they could be in order to promote a product that would otherwise be hard to market!
Reduce Costs Where You Can
If you are worried about the costs, use low-cost video ads or simple click-to-view image ads. Again, this would depend on what your main objectives are, but ultimately, you can choose to cut costs on aspects of your ad and use what savings you can get from there on other parts of your campaign.
Frequently Asked Questions on How to Advertise on Facebook
Do I need a Facebook Account to advertise on Facebook?
Yes, you will need to have an account on Facebook to be able to use its advertising features.
Facebook uses your personal account to verify who you are, and once they do, they will allow you to advertise. This is to avoid just about anyone using Facebook for illegal practices. Once your personal account is banned from using Facebook ads, you will not be allowed to advertise on their platform again.
Can I advertise on Facebook even if I don't have a lot of followers?
Yes, you can! There's an unfortunate misconception about running Facebook Ads that they are only really useful after you have already built up a decent-sized following on your page when in reality, you can even use Facebook Ads to actually build a following.
In fact, you don't even need to have a Facebook page in order to create a Facebook ad account. Though of course, you'll need one to start running campaigns.
It works really well even on newly-created pages in increasing reach and impressions. Facebook Ads will run depending on the parameters you have set for your ads, not on the number of people following your business.
Can I advertise on Facebook even if I don't have a Facebook Page?
Yes – you can advertise on Facebook without a Facebook Page (for example, you want to direct the customers to your website instead). However, creating a Facebook Page is free – so why not use it as well?
How do I make sure my Facebook Ads reach my target audience?
Facebook's advertising platform allows you to reach your exact audience through accurate targeting options.
Facebook is designed to reach your target audience by considering the parameters you have set on your targets and objectives, so it is your responsibility to narrow down the filters to the best of your abilities.
How will I know if the campaign is working?
Another good thing about Facebook Ads is you no longer have to manually track your ads, as Facebook will do that for you and more. The analytics functions on Facebook Business Manager will give you the relevant data so you can tell whether your campaign is working or not, and you can then tweak your settings to improve on those factors.
But when it comes to analyzing whether your advertising objectives are being achieved, it is up to you as an advertiser.
Can I also post on Instagram using a Facebook Ad?
Yes, advertising on Instagram using your Facebook Ads Manager is possible. In fact, cross-posting between these two platforms is very convenient because both have been integrated within the Facebook Business Manager. It's important that you connect your Instagram page to your Facebook ads manager to make this happen.
How do I set up Facebook campaigns?
Facebook has a dedicated section called the Facebook Ads Manager where you can set up your advertising campaigns. Here's how you can get started with Facebook Ads.
Are Facebook Ads user-friendly?
Facebook Ads can look daunting to a beginner because of their multitude of options. However, there are many digital agencies that offer their own services to manage your Facebook Ads for you.
Can I post copyrighted music within my Facebook Ad?
No, you cannot.
It can be difficult to find free, copyright-cleared music that's unique enough to make your ad stand out, but as a trusted business, you have to make sure that your content follows the user agreement on the platform.
Facebook advises all users to make sure that they have permission to use copyrighted media in their content. Facebook itself will mute parts of your content if you do not own the audio used in it, however, it allows audio within the Facebook Ad for as long it only contains elements of music that are not direct copies of the original work.
Can I use images that are not my own in Facebook Ads?
No, if you do not have the right to use someone else's images, you cannot post them on your page.
However, there is a way around this problem. On the internet, you can find many free stock photography websites or libraries. Or simply take your own photos and edit them on photoshop for free!
Read this guide on how to find images for your ads.
How do I find leads using Facebook Ads?
On Facebook Business Manager, simply select "lead generation" as your ad campaign objective. Whether you are running a campaign for lead generation or not, Facebook Ads can track if any of your ads resulted in conversions.
How much does it cost to advertise on Facebook?
It all depends on what you want to achieve with the advertising campaign. Facebook Ads have different costs for different goals, so they can vary greatly in price. Costs depend on how much you are willing to pay per result or action, or how many people see your ad each time.
To start paying for impressions and reach, using low-cost targeted Facebook Ads could set you back a couple of dollars a day. However, with the built-in features of Facebook Ad Manager, you are free to spend as little or as much as your business can afford by simply creating an advertising budget that will last for an entire day, week, or month.
Do note that the pricing changes depending on several factors, but if you're only getting started, it shouldn't cost more than a cup of your favorite frappucino.
What is the average cost-per-click on Facebook Ads?
The average cost per click (CPC) on Facebook Ads varies significantly by industry, country, season (day of the week or even month), with CPCs in some categories being more than 100 times higher than those of other types of advertisements. It can be as cheap as $0.005 to as high as $2 per click.
Mistakes to Avoid When Running Facebook Ads
They say that mistakes teach you valuable lessons, but there are times when you cannot afford to make such mistakes: especially if it will eventually cost you a lot. With this, understanding why most ads fail and how you can make sure your ads are effective could help you to avoid these common mistakes.
Mistake #1: Poor Ad Placement
Most marketers don't understand that there are many different areas on Facebook where you can place your ads. If you're not placing your ad in the right places, then your ad will fail to attract new customers.
The best way to choose where to place your ads is by taking advantage of the advanced targeting features available on Facebook Business Manager. The more specific you can make your audience, the better results you'll receive from your campaign. Make sure to take advantage of all these features so that people actually see and click on your Facebook Ads while they use the platform.
Mistake #2: Poorly Written Ads
The second mistake marketers make is improperly writing their ads. You can have the best ad placement in the world, but if your copywriting skills are poor you'll still fail to get people to take action with your ad.
When creating your Facebook ad, think about what only YOU can provide to your customers. How do you want them to feel when they see it? What will be their main concern or question? Answer these questions in your ad copy so that someone browsing through their feed knows exactly why they should click on and engage with your ad over other ads running at the same time.
Mistake #3: Not Measuring Metrics
One of the biggest mistakes people make is not having a strategy to measure and track their ads. Tracking your campaign performance will allow you to discover which ads and targeting options work best, and then you'll be able to increase your ROI as quickly as possible.
Start by creating separate campaigns with different sets of ads that target specific audiences. This way you'll be able to see which one performs better at getting results for your business.
Mistake #4: Focusing Solely on Virality
The last mistake marketers make is focusing too much on virality instead of thinking about what's best for their customers. Of course, it's important for an ad to be shared by many people so it can gain momentum organically, but if your ad is annoying or uninteresting then people simply won't share it with their friends.
This means that the viral effect will only happen for a short period of time until it dies down, and you'll need to spend more money on advertising in order to drum up interest all over again.
On the other hand, an ad that provides value for someone's friends after they share it with them is much more likely to go viral and maintain a good following. Why? Because once someone shares something interesting or entertaining that was shown to them by one of their friends, this makes them look like an expert on whatever subject is covered in the ad content. It also gives their friends the chance to discover something new and valuable based on their friend's taste.
Final Thoughts on Advertising on Facebook
Facebook advertising can be an effective way to reach a large number of potential customers, but it's important to keep in mind some best practices so that you can get the most out of your campaigns.
When you know what not to do and where to look for additional information and metrics, you'll be able to successfully run Facebook ads and take your business to the next level.
In this article, we've outlined some general tips for advertising on Facebook, how to get started, as well as ways to improve your chances of conversions. We hope that this information will help you create successful and profitable Facebook ad campaigns!
If you need help with Facebook advertising or social media marketing as a whole, feel free to reach out to us!