Instagram is a hot center for entertainment in today's social world, and it's no surprise that many people find themselves addicted to using it. Due to how exciting this social network can be, it boasts as many as one billion active users every month. And since it attracts so many people worldwide, it only makes perfect sense to advertise your business on this platform.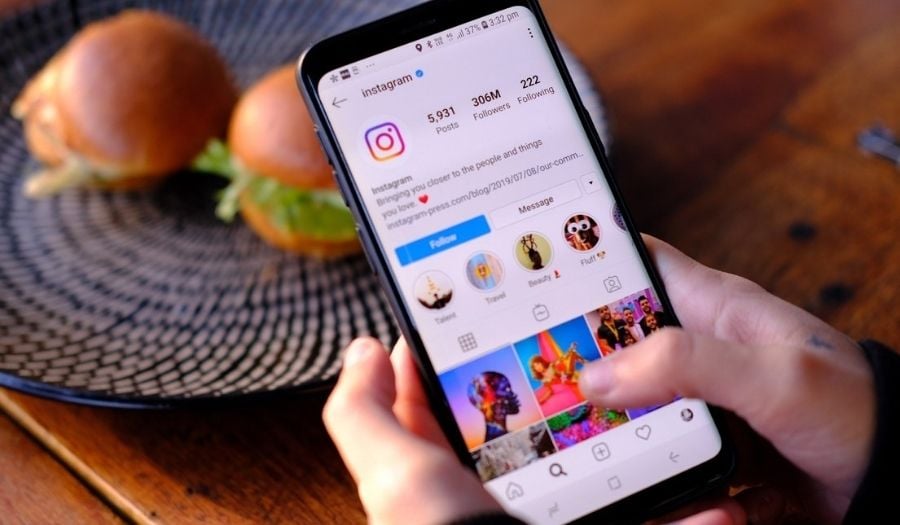 As a business owner or freelance advertiser, you've probably heard about the wonders of this social media platform in digital marketing. It may be an exciting prospect, but hold on to your horses! Just because it seems to be an exciting option, Instagram advertising is not for everyone. So before you jump the gun, it would be best to learn about it first.
This article will provide you with essential information on how to advertise on Instagram and help you decide if it would really be beneficial to your business or not.
Table of Contents
What are Instagram Ads?
If you've ever used Instagram, you must have noticed the sponsored posts you sometimes come across while scrolling through your feed. These sponsored posts are called Instagram ads.
Basically, Instagram ads are ways for businesses or advertisers to pay for advertising on Instagram. It provides a way to show off your brand's creative side and drive more engagements through interesting visuals.
Instagram gives its users a wide variety of Instagram ad formats to work with and explore their creativity. However, to use Instagram's advertising service, you'll need an Instagram business account and a Facebook business manager account.
Instagram Ad Types
There are multiple Instagram ads that you can choose from, based on the type of media and the placement. We'll go through an overview of some of them, but for a more detailed discussion on these, check our separate article on the different Instagram ad types.
Photo Ads
At first glance, Instagram photo ads look like every other regular photo you can find on your Instagram feed. But, if you look closely, you'd see the 'sponsored' notation right beneath the brand's name. Sometimes, at the bottom of the post, a link may direct users to the business's landing page, website, or Instagram business page to either learn more, install an app, or perform any other specific action.
These single-image ads provide a great way to spread the word about a specific product or message you want to share. You could use a photo post as a photo ad, or your story as an Instagram story ad. An Instagram photo ad is most effective when you have vivid images that draw out memories or feelings in your viewers. Nevertheless, you should keep it simple and clear to easily capture and hold viewers' attention.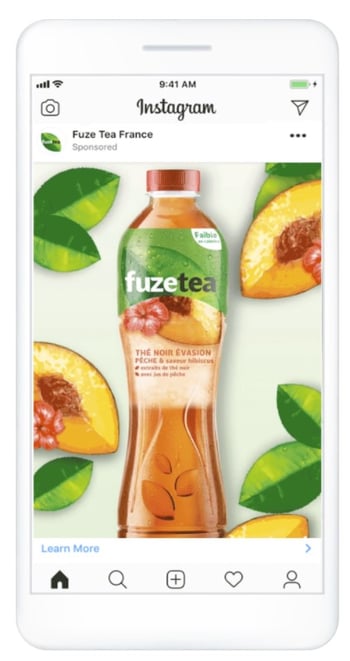 Video Ads
Video ads are quite similar to image ads, and the only difference is that these ads use video formats. Your post can be as long as sixty minutes or as short as three seconds. Instagram video ads can appear on feeds, reels, stories, and the dedicated Instagram video tab. Unlike photo ads, this ad format allows you to post more dynamic content.
When using a video ad creative, you need to ensure they are appealing and catchy in the first few seconds; else, you risk getting scrolled past by most people.
Carousel Ads
Instagram carousel ads or collection ads take video and photo ads to a whole new level. Carousel ads allow the combination of up to ten videos or photos in one post.
This ad type also shows up on Instagram's news feed like photo or video ads, but it offers something different. With carousel ads, you can place individual links on each picture or video that leads to different locations on your website or Instagram page.
You can also promote different products in one ad or a collection of products. But keep in mind that collection ads are not an avenue to just pack more photos or videos into one ad; rather, each one should give a sense of unity as an Instagram ad set.
Carousel ads are like mini catalogs, making them the best option for seasonal collections or promoting new product lines.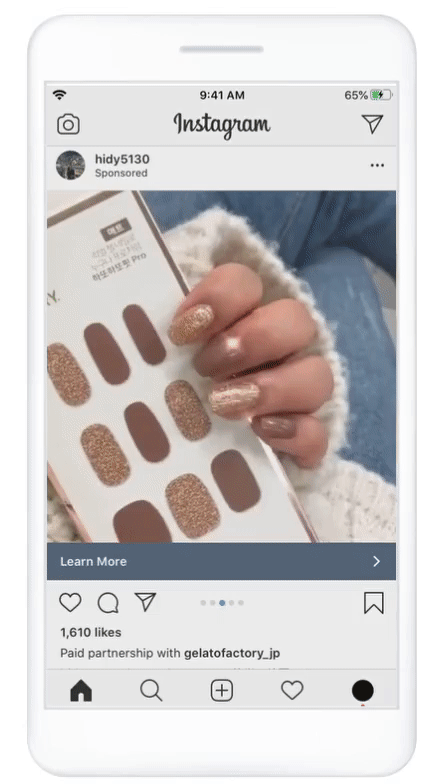 Instagram Shopping
Instagram shopping ads offer an experience that's different from what the other styles provide. With this Instagram ad type, you can showcase your products more interactively. These ads allow you to include links that lead to your in-app store. Viewers can also learn more about the product and make purchases directly from Instagram.
But, before you take advantage of this ad style, you'll need to create an Instagram shop. If you have one already, consider this a great way to showcase your products to a new audience.
Furthermore, you can use real-world images, high-resolution photos of your products, and even create tags that show people where to make direct purchases.
How Can I Advertise My Business on Instagram?
If you've used Facebook Ads Manager for business before, it'll be a breeze finding your way around advertising on Instagram.
Before setting up your Instagram ad, you'll need to have powerful visuals ready. Visuals are probably the most crucial aspect of any Instagram ad. The higher the quality of your visuals, the more chances you have to attract an audience. If you aim to get website traffic, you'll also need an optimized landing page.
The step-by-step process to advertise your business on Instagram is described below:
1. Open an Instagram Account
Opening an Instagram account seems like the most obvious step, but if you're new to the platform, you may not initially realize you'll need an Instagram Professional account to run boosted ads and manage them.
To get this, all you need to do is switch from a personal to a business account through the Settings menu. You also have the option to use your Facebook page as your ad manager.
Facebook's Ad Manager used to be the only way to create and manage ads, but luckily Instagram users can now easily set up ads even without having a Facebook account.
2. Set Up a Facebook Business Manager Account
This step is optional and depends on your advertising goal. As mentioned earlier, you can get more targeted advertising with Facebook Ads Manager.
So if the business you want to advertise requires a specific audience, it would be best to also create a business manager account and set up advertising access. Once you do that, you'll be able to access the Ads Manager from your page.
3. Know Your Ad Campaign Objective
A crucial part of Instagram ad campaigns, or any campaign for that matter, is your objectives. Whether you opt for boosting Instagram posts or creating an ad with Ads Manager, you'll need to let the platform know your objective.
When using Instagram's boosting function, you only have to choose whether your goal is more profile visits, more website visits, or more messages.
With Ads Manager, on the other hand, you have a wider range of options. There are three ad objectives categories you can choose from:
Conversion

A Conversion-type Instagram advertising campaign is the kind of ad you'd want if your main aim is to prompt audiences to take action, like a purchase or sign-up. Under this category, you can choose conversions, catalog sales, or store visits as your objective.

Consideration

If you're looking to increase engagement with your brand through likes, comments, shares, or event responses, and keep your product top of mind, you should choose from the Consideration objectives. From here, you can also find options to enhance app engagement with your app users. The five options to choose from are - traffic, engagement, app installs, video views, and lead generation.

Awareness

The primary purpose of this type of ad campaign is to spread the word and generate interest in your brand. If creating a lasting brand impression and increasing your brand's reach is your goal, then this is your best option. You can choose between brand awareness and reach as your campaign objective.
If you're new to advertising with Instagram, you could choose simple objectives like traffic or brand awareness.
4. Choose Your Audience
Don't worry if you can't get the right audience when creating ads on your first try. Audience targeting might be a little bit difficult, especially if you're a beginner. But the more experience you acquire, the more you know your audience.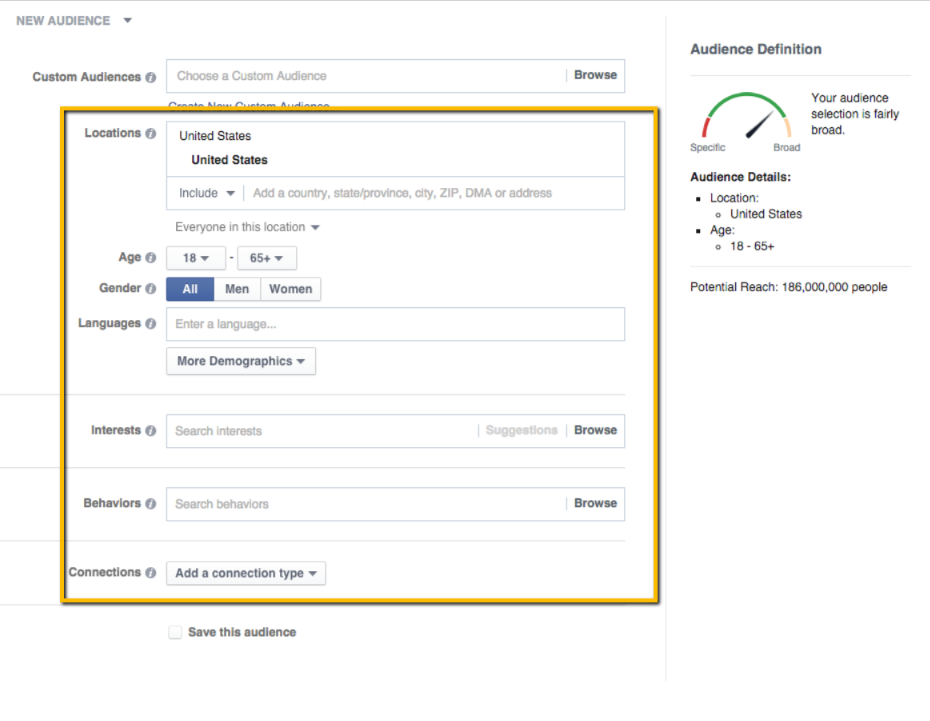 However, you should note that your typical target audience should rhyme with your objectives.
If you can't choose your audience yourself, you can let the platform do it for you automatically. But if you choose to customize your audience, you can do so through the following methods:
Upload customer data to create a custom Instagram audience that fits the same category.
Get a list of users who have checked out your site and performed an action and use this list of targeted customers as your custom audience.
Create a custom audience from people who have performed certain actions on your Instagram app if you have one.
Use data from Facebook to create a custom audience for detailed targeting on Instagram.
*Pro-tip: Don't forget to save your audience once you get it right. Your saved audience would make it easier to target your next campaign or the same ad.
Selecting your target audience when boosting a post on Instagram is less complicated. You only have two options - to target your audience automatically or create your own.
If you choose the automatic option, Instagram will send your ads to people whose profile matches your followers'. But if you decide to customize your audience, you can only do so based on gender, location, age, and interests.
5. Budgeting and Scheduling
You should always be careful about how much you want to spend. Instagram gives you two options to manage your budget, including a daily or lifetime budget.
While the daily budget is the amount of money you can spend in a day, the lifetime budget sets the maximum amount of money you can spend throughout your campaign's runtime.
Your ad scheduling also holds equal importance. If you know the date range when your ad will perform best, you can set your campaign's start and end date. Otherwise, use the option "Run my advert continuously starting today," which will run your ad continuously until you hit pause or stop.
Don't forget to set optimizations for your ads. You can optimize your ads for link clicks, impressions, website views, or even daily unique reach.
6. Choose The Right Format for the Right Ad
When selecting your format, make sure it's in sync with your objective. In other words, your objectives determine the format of your ads. For instance, if your objective is video views, your format should be video ads.
7. Track Your Ad
Once you've fully set up your ad, don't forget to track it and monitor its performance. You can also make new ads according to your data, especially in the event of an underperforming ad. You could change the picture, test a different Call-to-Action, try a new video, or even try a new ad.
If your ads are set to direct visitors to your website, it would be best if you installed Facebook Pixel. This piece of code allows you to track conversion activities from your ads and can only be used with the ads manager.
The information you get from using this function is very important for building targeted audiences and remarketing to previous visitors.
Aside from Instagram Business Analytics and Facebook Ads Manager analytics, you can use Brax to create, monitor, and optimize your Instagram Ads. It's like the one-stop shop for all your social media ads and native ads. Book a free demo today to see how our platform can help you manage your ads efficiently.
Examples of Businesses that Succeeded in Using Instagram Ads
You don't have to be a big company to advertise on Instagram. In fact, small businesses can benefit from advertising on the platform just as much as their larger counterparts. And one of the best ways to see how effective Instagram ads can be is to look at some examples of businesses that have succeeded in using them.
So without further ado, let's take a look at three examples of businesses (large and small) that successfully utilized Instagram ads and reaped the rewards.
Airbnb
Airbnb has been quite successful on Instagram with five million followers and over three thousand posts. That's a huge audience base.
Airbnb is a home and experience company that regularly launches weekly series to keep their customers engaged and regularly tuned-in.
How did AirBnb succeed on Instagram? Well, for starters, the company regularly launches weekly series to keep their customers engaged and regularly tuned in. And they use stunning photos of homes and locations they want to promote, encouraging users to find out more.
Mejuri
Mejuri deals with all things jewelry and is one of the successful businesses on Instagram. Mejuri is a good example of a brand that uses Instagram stories to connect deeper with its audiences.
With their team spotlight story, the brand provided behind-the-scenes content for its viewers to have insights on the people behind the business while advertising the products they have in stock.
WeAreFeelGoodInc
Although not as big as the other businesses on this list, Wearefeelgoodinc is on its way to the big leagues. Considering how hard it is to grow an organic following in a busy place like Instagram, this small company was able to gain attention and is quickly gaining traction.
Wearefeelgoodinc is a sunscreen brand that creates a balance between social activities and product promotions on its feed. The brand posts ads of their sunscreen products while matching them with real-world photos of people at the beach, which creates great aesthetic chemistry for the brand.
Herschel Supply
Herschel Supply is another great example of a business with successful Instagram ads. This brand deals with products like bags for traveling. It used the power of hashtags to stand out by creating a branded community hashtag: #welltraveled.
Though the Herschel brand name was not directly promoted with this hashtag, it did help grow Herschel's online community to a huge one million-plus followers. People following the brand and the hashtag knew Herschel was its creator, and so the brand's products got regular features.
The brand also encourages its users to tag them in posts, increasing brand recognition and increasing social influence.
Instagram Advertising Frequently Asked Questions
How do Instagram Ads Work?
It's quite easy to understand how Instagram ads work. As long as you have a business account, Instagram will always ask if you want to turn your existing post into a promotion, allowing you to create paid ads easily. This is known as boosting.
Boosting promotes your ads to both your followers and people who don't follow you, thereby increasing your reach. It is perfect if your main goal is brand awareness.
You also have the option to create an ad through the Facebook Ads Business Manager. This method is a bit more complicated as it requires more steps to set up an ad, but the results are usually more rewarding because you can choose your exact target audience, placements, schedule, and so much more.
This works better for businesses that already understand their target audience because the Meta's Ads Business Manager makes it possible to target your ads to just the audience you desire without having to post on your feed first.
When advertising on Instagram, Facebook's algorithm does a lot of the work in ensuring your ads reach the most relevant people. Once Instagram detects the audience that's consuming your content best, it automatically allocates more of your budget to advertising to that group of people. It also automatically formats your ads for feeds, stories, and other content types.
Why do Businesses Advertise on Instagram?
Social media marketing has become one of the best ways to reach new audiences, and Instagram is one of its leading platforms. There are several reasons businesses advertise on Instagram, the most important is that it's a large and diverse online community with unlimited marketing potential.
Running Instagram ads gives you access to an enormous audience base that never stops growing. And since Facebook and Instagram are connected, businesses with an existing Facebook page could easily target their Instagram audience based on Facebook data.
Additionally, Instagram ads have a non-intrusive nature. It's less likely to get a viewer annoyed since it blends in with other regular content on the platform. For this reason, Instagram boasts an engagement rate that's higher than what other social platforms offer.
It's also possible to integrate Shopify into your Instagram account, allowing businesses to sell products instantly.
And last but not least, Instagram offers one of the best results in terms of return on investment (ROI) and cost. You can effectively run ads from your own account on a low budget and without the need for extra tools. It also doesn't consume all your time.
How Much Does It Cost to Advertise on Instagram?
Instagram ads cost is determined by different factors. These factors include your targeting options, the period (holiday or not), your ad placements, how competitive your niche is, and your preferred bidding model, which may be cost-per-click or cost-per-impression. Instagram ad CPC could range from $0.01 to $2, while CPM ads can cost anywhere from $1.00 up to $6.70 per thousand impressions.
However, you only pay once your ad receives impressions and clicks. Plus, your ad only runs until it has used up the budget you set.
If you're not sure of your budget, you can set up a draft campaign to help get an estimate of where your budget can take you. With the Audience Definition and Estimated Daily Results features, you'll know if you can keep your ad up for the desired time and reach your desired audience.
To control how much you spend on Instagram ads, set up a daily budget or lifetime spending limit. You can choose to spend a few dollars and then increase your budget depending on the results.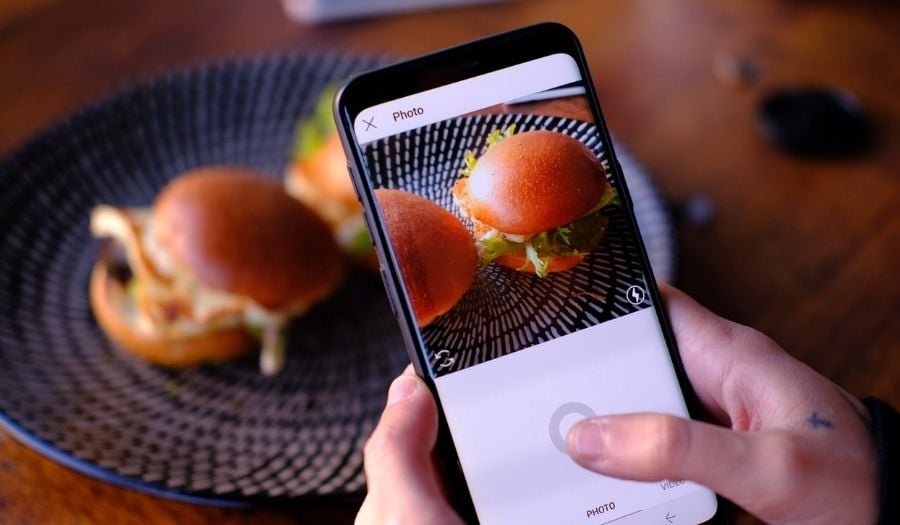 How do Beginners Advertise on Instagram?
If you're wondering how to advertise on Instagram for the first time, you're in the right place. You can simply use the boosting function to create Instagram ads. To do that, you just have to upload the post you wish to boost to a wider audience and use the 'promote' option.
Remember that this option is only available on Instagram advertising accounts, so you'd want to switch to that from a regular account through the menu.
Once you select the promotion option, the rest is pretty easy — choose your objective, audience, and budget/scheduling options. Then run your ad and monitor its progress.
You can also create your first Instagram ad campaign using the Ads Manager through the following simple steps:
First, you have to create your Facebook business page and then set up an ad. The platform can do most of the work, so all you'll have to do is set what you want to promote and promptly fill up the details for both the visual and written aspects.
After you've identified your audience, you'd have to determine your budget. Since the costs of Instagram ads work on the laws of supply and demand, you might end up paying more to reach audiences in high demand.
The last step is publishing. Once you're done publishing your ads, you can sit back, monitor your ad, and watch Instagram work its magic.
How Do I Advertise on Instagram for Free?
Although most of what we've discussed so far on how to advertise on Instagram are paid ads, it is possible to do so without paying a dime. Free Instagram advertisements are more organic, but also more difficult than paid ads. Nevertheless, here are some useful tips on how to advertise on Instagram for free:
Develop your Feed to Make a Balance Between Your Products and Lifestyle
Always keep in mind that although Instagram is an advertising medium, it is primarily a social platform. Thus, if you want to grow your audience base and get more sales without paying, you'll need to balance showcasing your products with making good use of the social side of Instagram.
Don't push your ads too often on your page. Try to mix it up with social content. You can accomplish this with a simple 1:3 ratio of the contents you offer—for every three social posts on your grid, you can include a clear shot of your products.
Make sure the other shots you post on your feed compliment the products you offer to develop a certain aesthetic. Alternatively, you can use an Instagram visual planner to get the perfect feed design for your account.
Introduce Your Business with Instagram Stories
Simply posting pictures of your products on your feed is not enough to soothe your audience's curiosity. You should introduce your business, and although you could do that through the regular feed, a much better way would be through Instagram stories.
You can use the regular stories function to keep your customers engaged and even give them a closer peek at how your business works before using Instagram stories ads to promote your products.
Instagram is a busy place, and it might be hard to get seen, especially if you're not using paid advertising. So, if you want to stand out from the crowd, you should consider coming up with a powerful hashtag.
A proper hashtag would give you viewership, brand awareness, and even higher engagement and conversions rates without necessarily having a budget.
Growing an organic audience is never an easy task, but there are certain techniques you could use to make it easier, like hosting Q&A sessions. Listening to your audience's questions helps establish a stronger relationship that sparks customer loyalty.
You can use Instagram's stories question stickers or Instagram live to collect your audience's feedback and questions and even send replies to them while having a chat.
Rounding Up
In conclusion, if you're thinking of diving into digital marketing for your business, you should definitely consider tapping into Instagram's large audience base and efficient advertising system to run ads.
Instagram provides one of the cheapest and easiest ways to market online. Its massive audience base gives it an advantage over most other social media platforms; however, you'll still need to plan and strategize thoroughly to run successful ad campaigns.
With proper planning and marketing strategy coupled with amazing content rooted in storytelling, you won't need to blow your budget to optimize your business and product marketing.
Instagram offers a great way to serve your business to millions of users, and you can take advantage of this even if you're a beginner. So, don't hesitate to start advertising with Instagram — it might just be the start of a successful business strategy.
Still confused about running Instagram ads? We can help! Send us a message and we'll reach out to you immediately.
Related Content: