Looking at the best Instagram Ads of 2021 can teach us a lot about what works – and what doesn't – when it comes to marketing on the platform. From clever use of hashtags to eye-catching visuals, these campaigns have it all. In this blog post, we will take a look at some of the most effective Instagram Ads from this year and see what we can learn from them.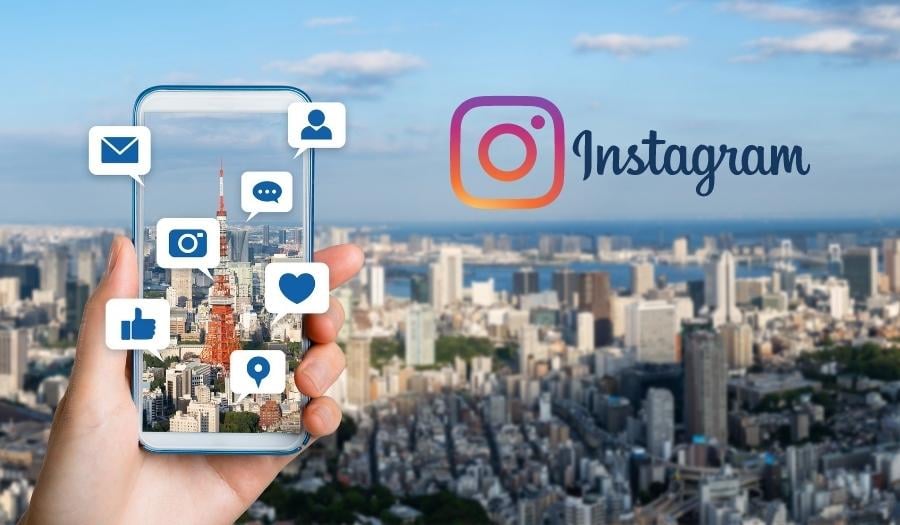 Top 47 Instagram Ads of 2021
There are undoubtedly hundreds of great performing ads, but these 47 stood out among the rest. Let's take a look at these brands' ads and what made them effective in achieving the ad's goals.
1. Ad World
When it comes to producing worthwhile ad copy, the hook is everything. You must discover a means to pull in your reader and keep them interested until the end. This ad from Ad World does just that by using captions that get the user's attention and make them want to read more. In addition, the narrator discussing effective hooks helps keep the user engaged. The viewers will remember it for a long time after they've seen the end of the ad.
What makes Ad World work is its commitment to providing content that is relevant to its customers. Additionally, adding captions to videos has been found to improve comprehension, attention, and memory for the video. This makes Ad World an even more valuable resource for businesses and individuals looking to learn more about advertising.
They really know what they are talking about!
2. Elementor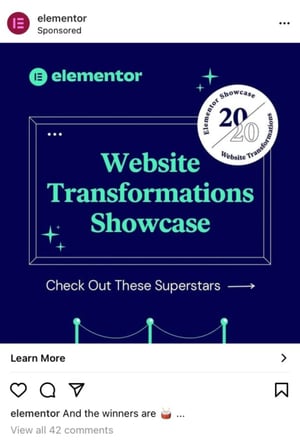 Bright, high-contrast colors help an ad stand out in Instagram's main feed, which is exactly what Elementor did in this ad.
The clear and concise copy helps viewers understand precisely what they're going to see when they click the call-to-action. The ad directs people to a "website transformations showcase" but doesn't provide any examples, leaving people curious and encouraging visitors to click over to the landing page to learn more.
3. Levity.ai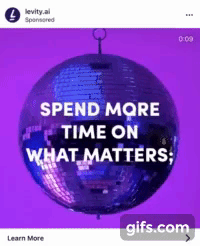 We love this Instagram ad from Levity.ai. The white lettering contrasts nicely against the purple backdrop as a disco ball spins against it, informing users about the solution's many applications.
We appreciate how the firm maintains the copy short and focused on benefits. If you subscribe to the service, you'll know precisely what to anticipate in just under ten seconds — all neatly packaged in a simple Instagram video ad.
What makes Levity.ai work is its bold color palette (bright purple!), which provides a fun and engaging user experience. Plus, all the copy is written from the user's perspective, highlighting the benefits they'll enjoy.
4. L'Occitane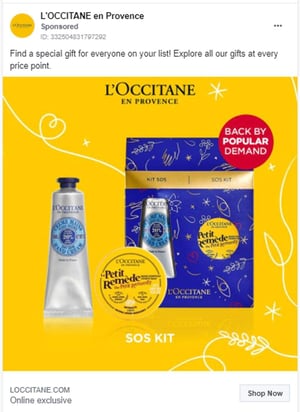 If you're searching for a little something to perk up your social media feeds, L'Occitane's latest Instagram advertisement is sure to do the trick. The ad features the company's popular Almond Smoothing Milk product, and the blue, yellow, and red color scheme really makes the design pop.
In short, this advertisement maximizes simplicity and visual appeal — and that's why it works well. What's more, L'Occitane says that the product is back by popular demand, so you know it's worth checking out.
5. Billo
When it comes to video creation, you want to go with the best. And by best, we mean Billo. Why? Because they offer incredible benefits that no other service can beat — at least that's what we've come to believe, too, after seeing their ad.
What makes their ad effective at making us believe them?
For starters, their videos are bright and eye-catching, which is perfect for grabbing attention. They also talk directly to their target audience, which is business owners who need to have videos made. Next, they include examples of previous work that they've done, as well as real number results for each example.
Billo's Instagram ad is good because it provides clear benefits, features engaging visuals, and offers product samples.
6. Vuori
Vuori is a company known for its high-quality joggers that tend to sell out quickly. And it's no wonder why: their Instagram ad features an impressive amount of detail with good-looking models.
The ad also talks about the brand's popularity, having over 13,500 reviews on Amazon, with an average rating of 4.8 stars.
Vuori understands what it takes to create an effective ad: scroll-stopping text, social proof, and clear product advantages.
7. Copilot Money
When it comes to deciding whether or not to make a purchase, sometimes all you need is a little reassurance from others. That's what this Instagram ad does so well —it uses testimonials to sell the product.
The ad starts with a Twitter user asking her followers if switching to Copilot is a good decision. Followers reply with stories of how Copilot has helped them save time and money. The ad then goes on to show images of the app, as well as a promo code.
Copilot is an app that helps you stay on track with your goals. It does this by using a combination of tweets and testimonials to keep you engaged and motivated. Its no-nonsense design ensures that you stay focused on your goals, while its smooth storytelling makes it easy for you to follow along.
8. PupSocks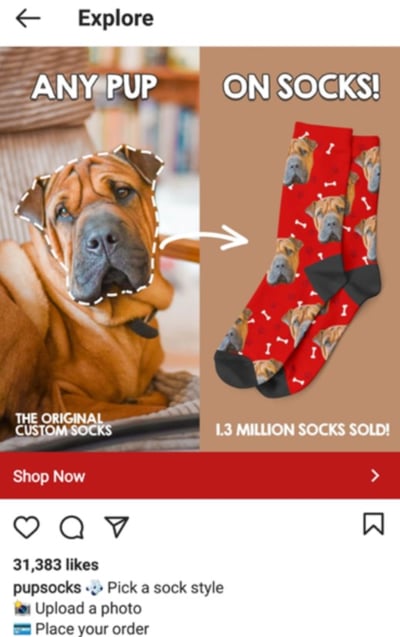 These socks are different from your average pair of socks because they're made specifically with your dog as the design.
What made this ad stand out from the rest is the use of a cute dog image. There are millions of dog lovers out there and this kind of advertisement is very shareable. A likable and shareable ad can help you gain more organic viewers and customers, which is equivalent to better ad ROI!
On top of that, the ad mentions that 1.3 million Pupsocks have been sold worldwide, which is good social proof.
9. OptiMonk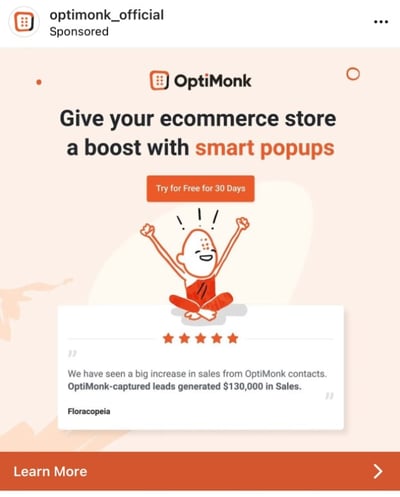 When we talk about using color in marketing, it doesn't always mean going big and bright. You can stick with your brand colors and include a brand mascot to create brand awareness and improve recall.
OptiMonk, for example, uses its brand colors—orange, black, and white—for all its Instagram ads for better brand recall. Adding a 5-star review from a genuine client helps provide social proof.
10. WGSN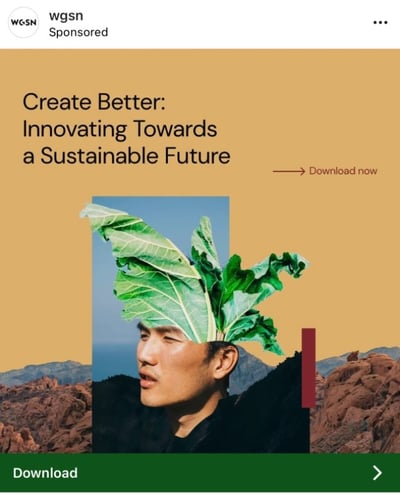 Sustainability is the future. Just take a look at this WGSN ad and you'll see what we mean.
The ad's creative design features, such as leaves and a mountain backdrop, help to convey the brand's 'sustainably is the future' message. The words 'Download Now' and the 'Download' CTA tell customers exactly what they need to do next, which helps increase conversions.
WGSN knows how to create content that packs a punch in just a few words. Their striking graphic design elements and actionable CTAs drive the message home loud and clear.
11. Wix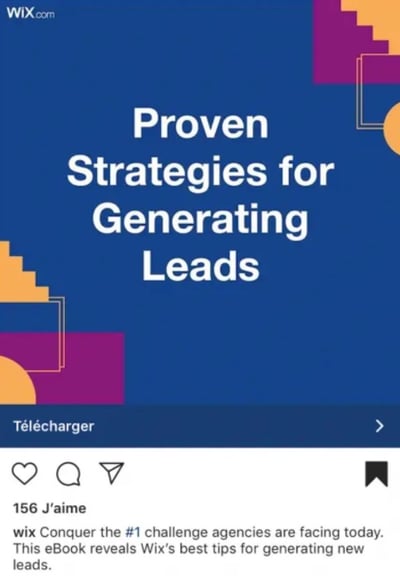 When it comes to web design, Wix is a name that is often tossed about as being one of the best. And with good reason – their platform is easy to use, and their templates are some of the most well-designed around. And they have successfully incorporated their expertise in this Instagram ad that doesn't talk about a lot of things but uses striking colors, bold letters, and a short but powerful message.
With well-thought-out complementary colors and an informative visual, this ad does a great job of enticing users to give Wix a try.
12. Our Place
When it comes to home organization, Our Place has definitely nailed it with their new product. The ad is nothing short of a complete demonstration of the product and all its benefits, nothing more, nothing less.
It showcases how the product can be used in different situations and for different needs, with not a lot of fluff. The video features colors that both complement and highlight the product, which is why we think it's a winner.
13. Summer Salt
Summer Salt knows how to work the room: their fun and energetic vibe are infectious, and they show their product in context—the swimwear collection is so comfortable, you could dance in it. You can see how the pieces would work for you, whether you're hitting the beach or the club.
Following their brand vibe, the company used moving subjects in their Instagram ad. Movement helps catch the user's attention when scrolling through tons of stories and feeds. They used a monochromatic background to highlight the models wearing the clothing they are trying to promote.
Also, the text in the video was placed smack in the middle so you can't miss it.
14. Italic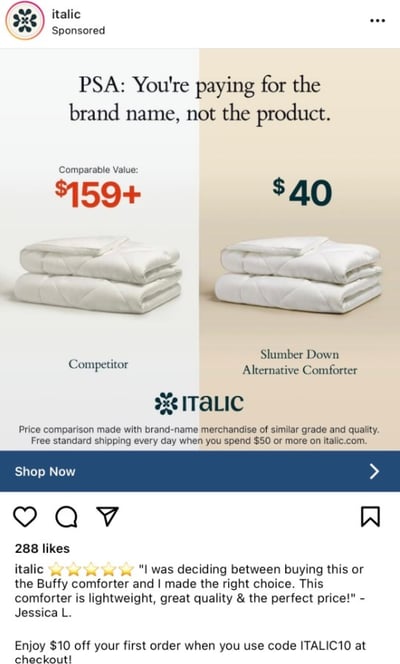 Why do businesses need to focus on communicating value? Because customers will only try your product if they can clearly comprehend the benefits of using your product over your competitor's. And what could be a more effective method of doing so than to show them how much they really save? This is how Italic's ad grew to be such a success.
In this ad, Italic emphasizes that it's not the product that users actually pay for, but the brand, enticing more users to switch to their lesser-known — but an equally good — product.
15. Wise (formerly TransferWise)
TransferWise has some key features that make it an attractive option for consumers.
Firstly, their recognizable format that makes it easy-to-digest financial products can seem intimidating, but the ad uses a familiar overhead shot recipe video style to show the app in action in five simple steps with minimal text.
Secondly, the ad showcases how the product can be used in context- by showing the mobile app being used in multiple locations, it communicates the product's core value proposition: users can easily access the app while on the go.
16. Ricola
Do you love mind-bending optical illusions? Well, Ricola has you covered.
This ingenious company has created an Instagram post that will make you stop and give a second look — an avalanche of snow that covers up someone else's post. Clever, right?
Animated motion graphics provide context and visual interest, making the ad more engaging and enjoyable to watch.
17. Adobe Photoshop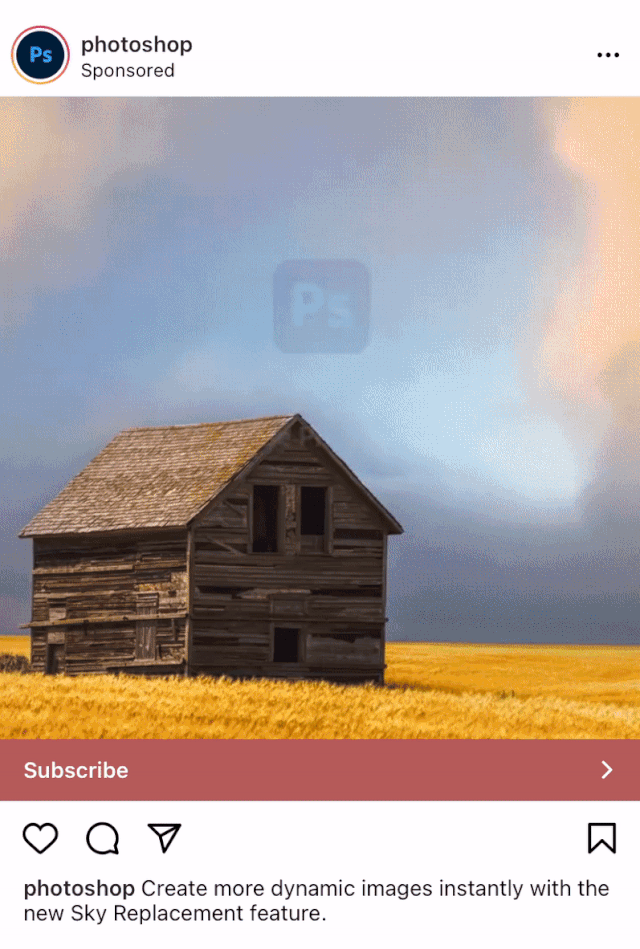 Step by step videos of how something can be done is one of the hottest video styles of today.
Adobe Photoshop's recent video advertisement is a great example of how to create an effective ad that matches what the audience wants. The video opens with a shot of the product in use, followed by a run-through of how it functions.
This is an effective way to show customers what they can expect from the product. The music used in the background is also well-chosen — it has a hip and creative vibe that aligns well with Adobe's brand.
Finally, the ad only focuses on one key feature in order to drive viewers to sign up for a free trial. By keeping things simple, Adobe manages to highlight one of the program's most important features.
All in all, this ad is creative, informative, and engaging.
18. ContentFly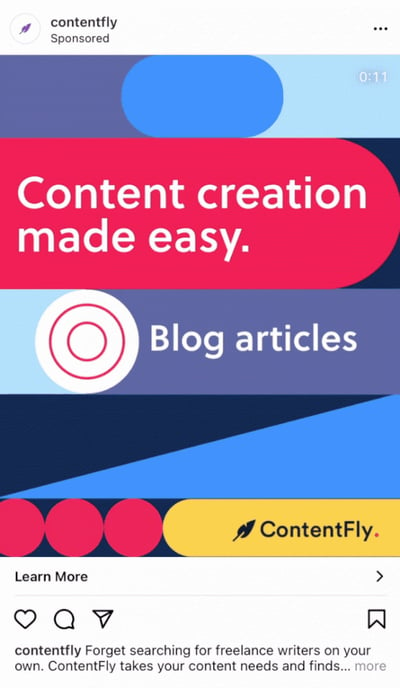 ContentFly's ad design is eye-catching with its bright, bold colors and fun graphic shapes. Plus, the use of motion graphics animates the creative's copy and adds visual interest.
But what's really great about ContentFly is their focus on value-focused copy. The copy clearly indicates what they do (blog entries, landing pages) and the value of their offer (content production made simple).
The CTA is also simple — start a free trial. It gives just enough information to direct a person to the next stage in their customer journey.
19. Busted Tees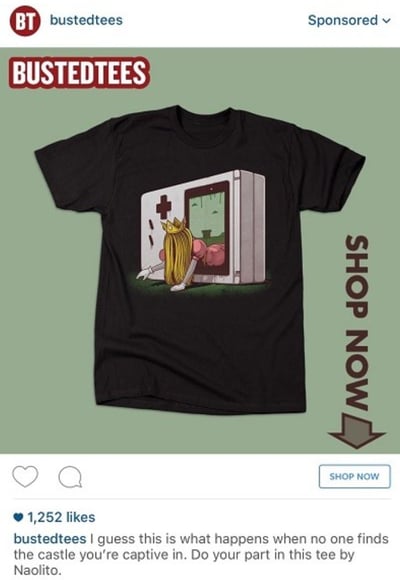 As an advertiser, it's important to create clear and concise calls to action in your best Instagram ads. This example from Busted Tees shows how being consistent can help with brand recall. This brand is consistent with placing its name/logo in the upper left corner of the image. The background is simple and with good contrast to the logo so it's very easy to see.
Not only that but the ad is angled in a way that encourages viewers to purchase a shirt. Through the use of a huge "SHOP NOW" call to action, Busted Tees makes it easy for users to buy a shirt.
20. HubSpot
As any designer knows, less is often more. This theory especially rings true when it comes to ad design. HubSpot proves that with a simple orange background and a brief but powerful headline, you can still grab attention. And what's more powerful than "100% Free, Forever."?
This makes me want to sign up in an instant!
That's the kind of impact you want to have with your ad creative's design. Keep it simple, but make sure your copy packs a punch.
21. Entrepreneur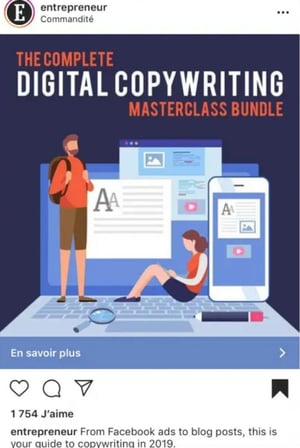 When it comes to illustrations for ads, you want to make sure that they reflect your brand or business type.
Entrepreneur's advertisement, for example, uses an image that is highly relevant to the company's services — a digital copywriting masterclass. One look and you already know the company offers B2B services.
22. Lebert Fitness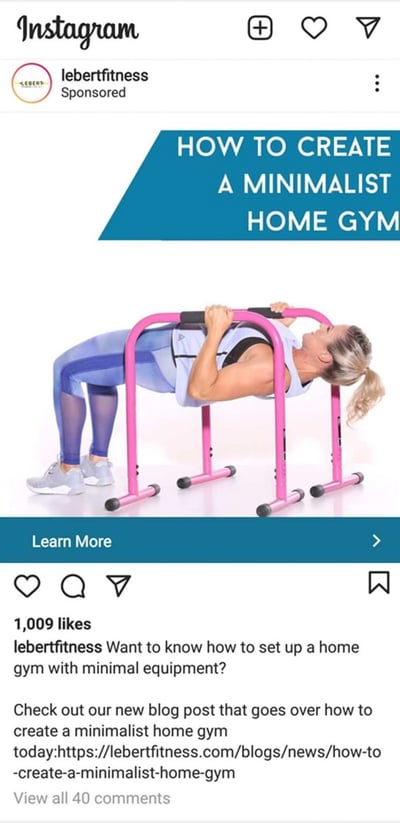 When it comes to staying fit, Lebert Fitness knows what it's doing. This Instagram ad is a great example of how to create an effective ad campaign that displays your expertise.
The color scheme is consistent throughout the ad, which helps to create a sense of familiarity for the viewer. They also make effective use of their blog material ("how to create a minimalist home gym") by featuring it in marketing advertisements. This makes their material (and their website!) more accessible to potential consumers, which is a good thing.
The ad uses clear fonts on top of solid colors to easily send the message to users in an instant. By doing this, they ensure that their message is always clear and easily understood.
23. Dispatch Coffee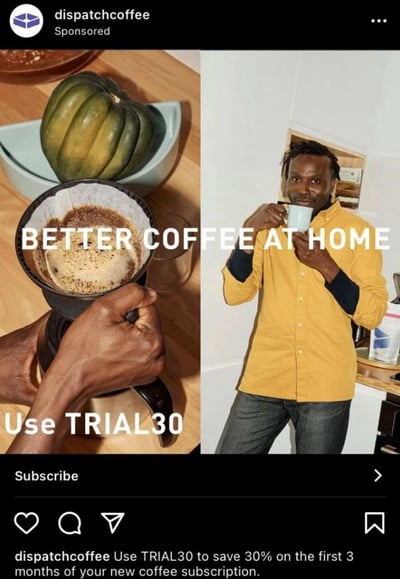 Dispatch Coffee has an Instagram ad that uses simple imagery with a photo of a person. This is effective because it's in our human nature to establish a connection, especially with people looking directly to the camera and smiling. This is called subconscious association.
Make sure your ad also shows how people utilize your goods, as seen here on the Dispatch Coffee ad. Showing the actual product plus someone enjoying it as it's meant to be enjoyed is a good way to attract customers.
24. Le Tote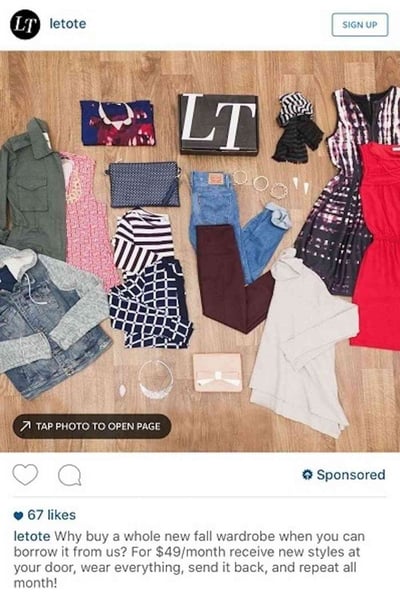 As a business, it's important to make sure that your products are front and center — that way, customers can see the value you offer right away. And the best way to do that is by having a neat product display, coupled with straightforward communication about what you're selling.
Le Tote knows this, which is why they prominently feature their clothes in their ad. As you may notice, the ad utilizes the comment text under the photo ad instead of adding information in the photo itself. This way, the photo only showcases the products. The only thing you'll see on the photo is the CTA that instructs the viewer to click on the photo to visit the page.
25. Good Food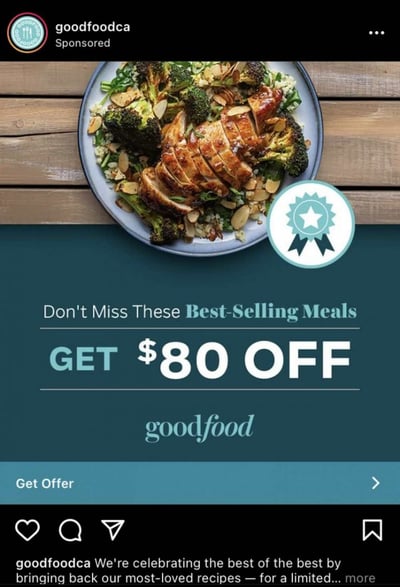 There is no doubt that the Good Food's Instagram ad looks incredibly delicious, with a well-done layout. The food is at the top, followed by the heading, then a bigger and bolder text that says "Get $80 off." Underneath is the call to action (Get Offer) that takes you to their website or landing page.
The simplicity of the ad's design, from the visuals to the words, makes it effective. The use of two colors for the text also works since readers will notice right away that it says "$80 OFF." More information is added in the photo description (top comment), providing details without crowding the photo ad.
26. Chambord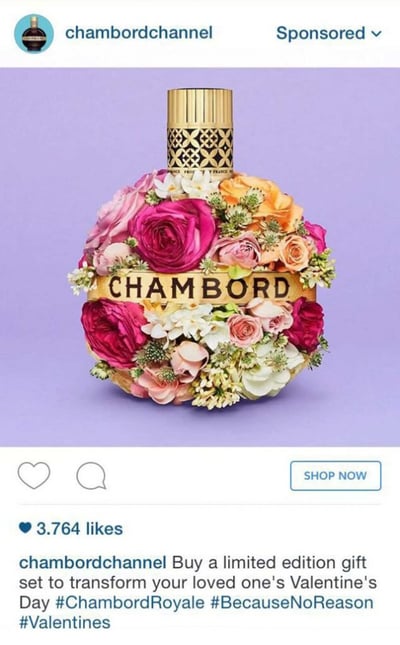 Luxury liquor brand Chambord knows how to do Instagram ads right. The company's ad in Valentine's of 2021 is a prime example of how to catch a viewer's eye with creative visuals and strong copy.
The image is of a limited edition liquor set, with a bottle shown surrounded by beautiful flowers (depicting the season of love). The brand name stands out in the center of the image, creating an elegant and luxurious feel.
What's most impressive about this ad is the sense of urgency it creates. The copy below the image reads "limited edition", which makes viewers think about grabbing the offer while they still can.
This Chambord ad is the perfect example of how to create a sense of urgency in the ad to increase conversions.
27. Calm
If you're looking for a meditation app that will truly transport you to a state of tranquility, look no further than Calm. This image is the perfect example of how Calm's branding can be seen in its advertising. From the color palette to the setting (nature elements) to the music, everything about this ad speaks to relaxation and peace.
Aside from appropriately reflecting their offer, the ad uses social influence through various customer reviews and star ratings. The end of the Instagram video ad features a big Call to Action.
The ad is so effective that I ended up downloading the app myself!
28. Tom Chalky's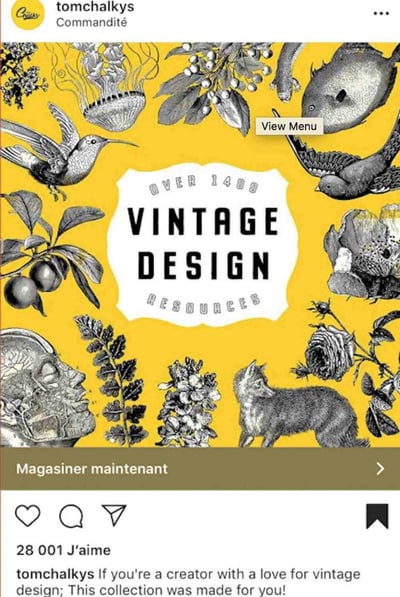 It's a fantastic approach to get more people to pay attention to your Instagram ad by creating attractive visuals. This is the reason why Tom Chalky's Instagram ads are one of the greatest. The entire ad is connected using the correct arrangement of elements and one background color. The various design components surrounding the image's heading draw attention to it without making them seem misplaced.
This advertisement is effective thanks to Tom Chalky's vintage style. These days, incorporating vintage design elements into graphic design is becoming more popular. So, if you're looking to create an eye-catching Instagram ad, consider using a vintage design aesthetic.
29. The Whelton Agency (Farmers Insurance)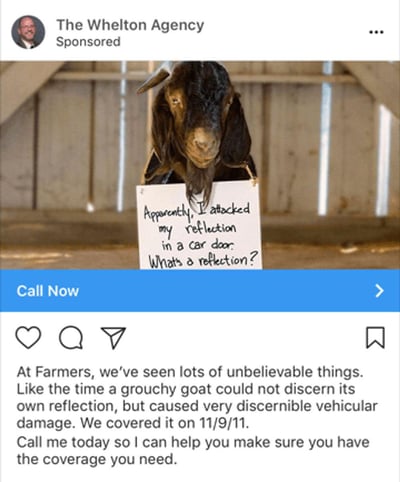 Farmers Insurance' latest commercial is based on a true story: a goat wandered onto a busy highway, causing a vehicular accident. The brand cleverly turns this accident around to show how the goat is innocent and that accidents happen. This leads to the importance of insurance coverage.
What can you take away from this ad? It is a good strategy to aim your advertisement in such a manner that it captures the attention of the viewer. It is actually pretty funny, making the ad very likable and shareable, too.
30. Livday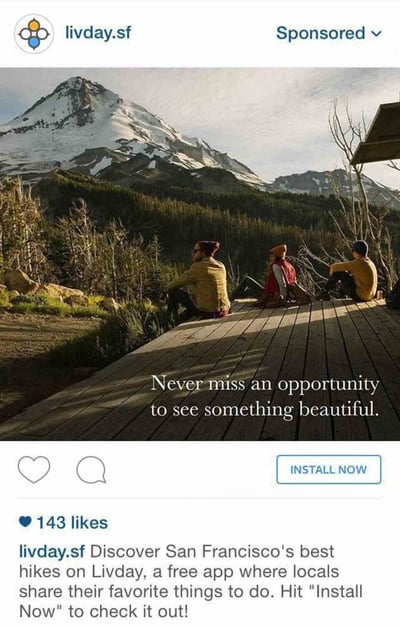 When it comes to effective advertising to its target market, Livday has nailed it. The company's recent ad is stunningly well-thought-out, and it's easy to see why.
The overall aesthetic, in which people are happily viewing one of San Francisco's scenic views, allows the audience to imagine themselves in the same situation. Furthermore, the strong copy complements the picture nicely, evoking the correct feelings.
If you are searching for an effective advertising campaign that will capture your audience's attention, look no further than Livday. Their recent advertisement is a great example of how to do it right by invoking the viewer's emotions. Buyer motivations are more frequently influenced by emotions after all.
With a beautiful landscape and some truly powerful copy, this ad is sure to leave a lasting impression on anyone who sees it.
31. Macy's
When it comes to marketing, collaborations with social media influencers can be a great way to reach new audiences. For example, this Macy's advertisement features prominent sports figures.
By teaming up with influencers who have a similar audience to your brand, you can generate more awareness and interest in what you have to offer. Additionally, collaborating with an influencer that is liked by your target audience can also be a great way to attract those who may not be familiar with your brand.
So if you're looking for a new and innovative way to market your products or services, collaborating with social media influencers is definitely something to consider.
32. Target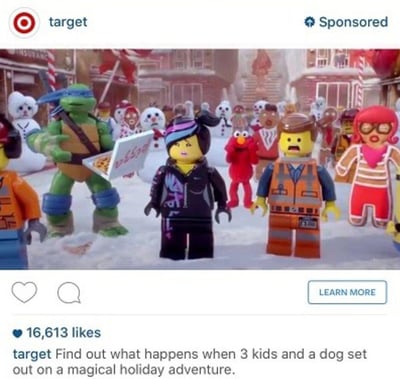 Target does an excellent job of adding a little more flair to their Christmas advertising by incorporating a Lego-themed holiday narrative. The tale focuses on three youngsters and one dog on a quest to discover something new.
Consider how you might make your holiday advertising more memorable. Marketers double down their efforts during holidays. Having said that, choose a topic that is both fascinating and appropriate to your brand and product offerings. In this case, Target used another well-known brand, which is possibly one of their best sellers, to attract customers.
33. The Fab Story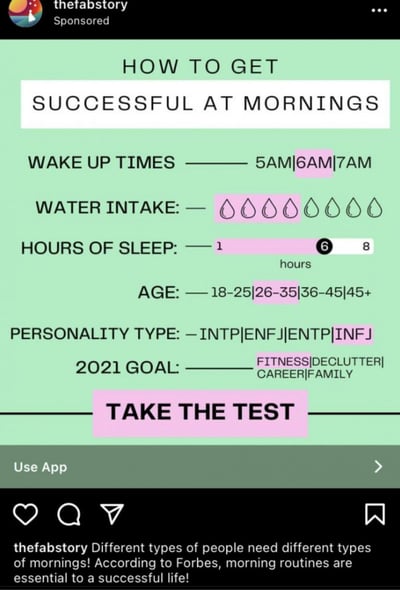 The Fab Story is a brand that creates simple and engaging Instagram ads. One of their latest ads is for a quiz that lets people know what type of morning person they are. The quiz is fun and easy to take, with a huge pink call to action that's hard to miss.
But it's not just the design of the ad that makes it successful. The copy is also well-written, with numbers and contrasting colors that help it stand out. Also, letting your audience engage with your ad is always a good idea. At this time and age when interacting with your customer face to face is almost discouraged because of the pandemic, you have to think of ways to incorporate experiential marketing without forcing people to leave their homes.
34. The North Face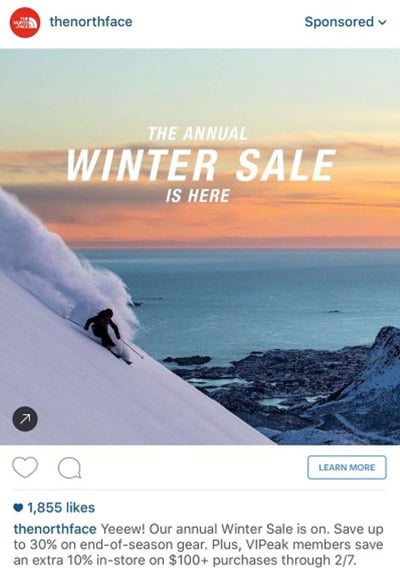 Any outdoors person knows that The North Face is one of the best brands when it comes to outdoor gear and apparel. And what's more, their marketing is top-notch, too.
Take their latest ad campaign, for example. It's all about having fun in the great outdoors – something that anyone can appreciate. The snowboarding footage is spectacular, and the colors are eye-catching and beautiful.
What's really great about The North Face is that they understand their target market very well. They know that outdoor enthusiasts want to be inspired and encouraged to get outside and have some fun. And that's exactly what their marketing does.
35. Meet Frank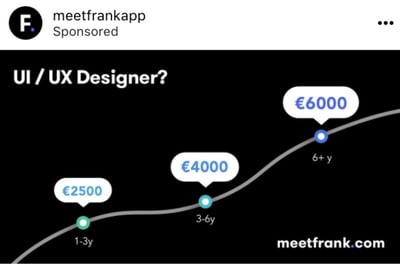 As a designer, being able to interact with your target audience is essential. And what could be a better approach to do so than through visuals? Meet Frank, an UI/UX designer, who utilized an intriguing growth curve or curve to illustrate how much designers are paid based on their experience. The curve was simple yet effective, and it undoubtedly caught the attention of viewers.
Furthermore, the usage of numbers and figures provided a sense of concreteness to the ad. People are generally repelled by excessively promotional advertising, but this one managed to avoid that trap by giving useful information. Remember these ideas if you want to make visuals that communicate with your target audience.
36. Zaful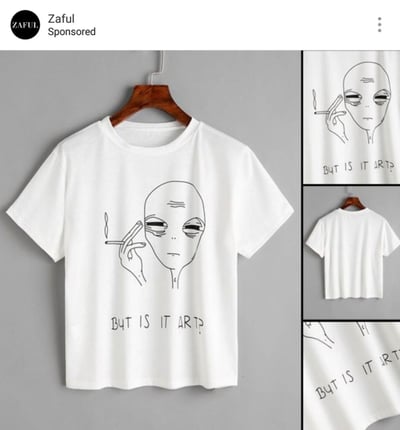 Do you want to showcase different angles and features of your product? Take a look at what Zaful did.
This clothing retailer uses grids on their ads to create a mosaic-like effect, showcasing different angles of their shirts. Even if it's just a couple of images, it's still enough to create visual interest.
The grid-style ad also features a carousel, giving shoppers a chance to see even more of Zaful's fashionable designs.
37. Pela Case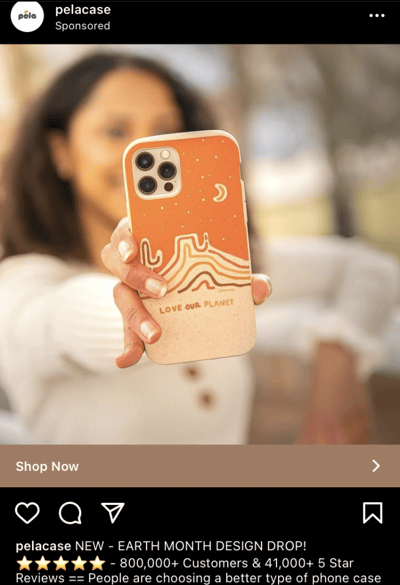 Reviews are an excellent way to gain a reputation and show off your brand. It helps people gain an understanding that the products are real and can be subjected to criticism. This is exactly what Pela did.
If you want to bring in more customers, take advantage of reviews and important events such as Earth Month to promote your product. Because Pela is an eco-conscious brand, it makes perfect sense for them to take advantage of events like this.
Instead of placing the star rating on the image, the company chose to add it in the photo description. This way, the image is not ruined in any way.
38. Rains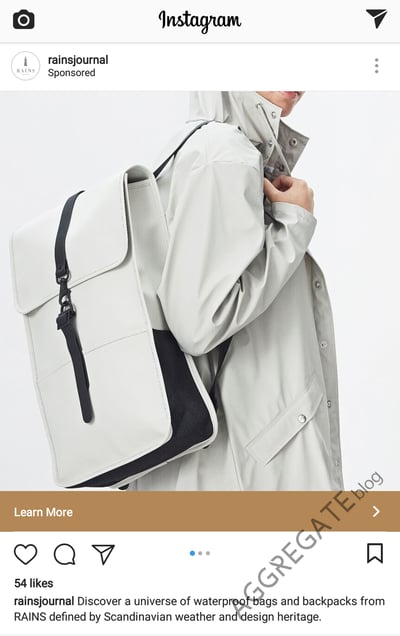 An Instagram carousel ad from Rains, a clothing brand, features three distinct pictures. The ad image's shape is unusual, seeming more like a portrait photo than a square one (even if it's actually square!). All it takes is good a good photography angle.
It's critical for Rains, as an apparel company, to show its stuff in the best possible light. To promote their items, Rains has developed an Instagram carousel ad that includes 3 different images (notice the three blue dots under the ad image).
The message in the photo description and the call to action are connected — the caption states "Discover", then the CTA is Learn More. This is a good combination as it won't make sense to say "Discover" then lead the customer to "Buy Now" or "Sign Up", right?
The professional photographs show the clothes in good light, and the sale notification at the bottom of the ad increases its click-through rate. So if you're looking to create an Instagram ad that engages potential customers, make sure to keep these things in mind!
39. The Kooples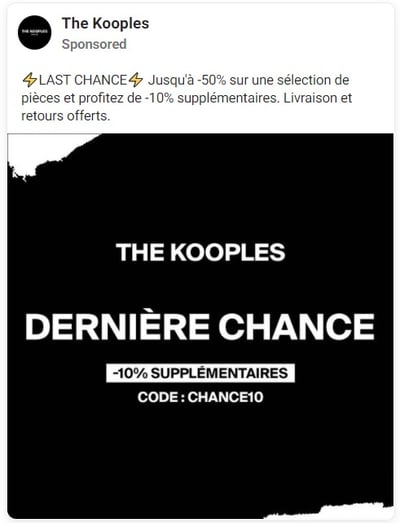 You don't have to create colorful ads all the time! Sometimes, even a monochromatic color scheme can do the trick, especially if you're promoting an edgy brand. This Koople ad, for example, is especially well-done.
The Kooples have always been a brand that has pushed the envelope when it comes to fashion. In their latest ad campaign, they continue this tradition by using emojis (the lightning one) in their ad copy to highlight a message — it is your last chance to take advantage of their sale.
40. The Paleo Diet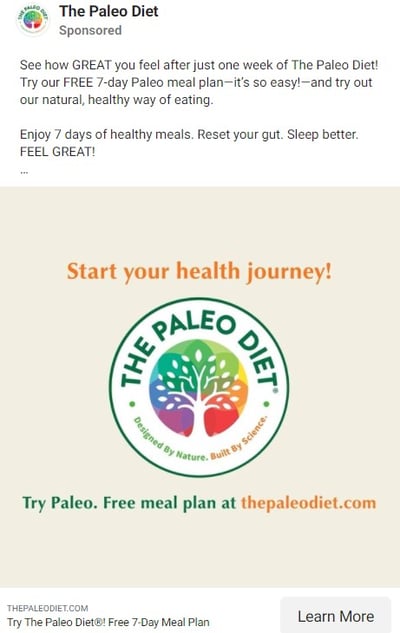 The ad is simple but effective, and it's likely to resonate with people who are trying to get fit in the New Year.
As you would notice in the caption, the company used all caps for words they want to emphasize, such as GREAT and FREE.
Taking from this ad, there are a few key things to keep in mind when writing your Instagram ads. Using actionable words like "Use," "Get," "Try," and "Start," encourage people to take action on your ad.
41. The Dots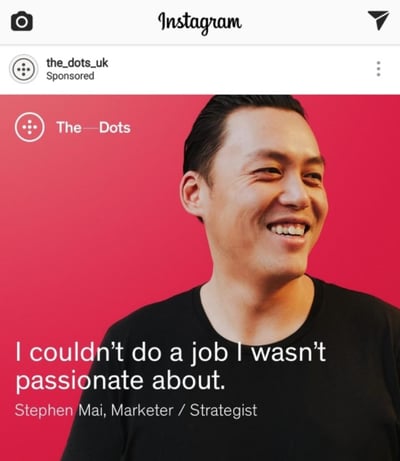 The Dots' Instagram ad is eye-catching and stylish. It features a bright reddish-pink background and a sleek, in-image value proposition. The overall aesthetic of the ad appears balanced and consistent with other ad components.
When it comes to using stock photos for your Instagram ads, it's important to select high-quality images that haven't been overused. Mentioning your well-known customers in the ad copy can also help increase trust in your brand. Selecting the right call-to-action is also key; make sure to use the call-to-action that's closest to your goal.
42. Jenny Bird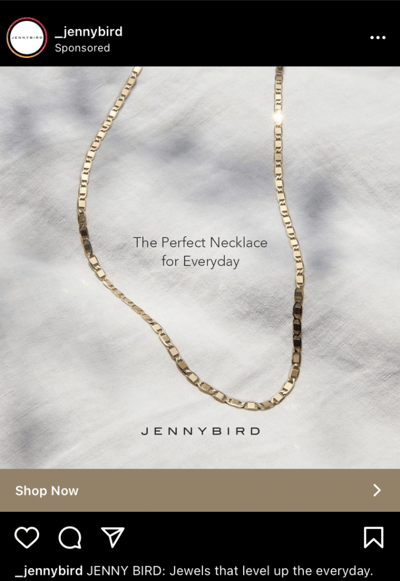 Simplicity is the key when it comes to promoting your brand on Instagram. This ad from Jenny Bird is a great example of how to do just that.
The image is clean and easy to digest, with the Jenny Bird logo front and center. The colors are muted, so as not to distract from the product itself — a beautiful sparkling necklace.
As a jewelry company, it's critical to present its goods in the best possible light. This photo shows off the necklace's glitter, which equates to high-end quality.
Also, notice the brand's use of font type. It is sleek and sassy; a good reflection of the brand itself.
43. Balance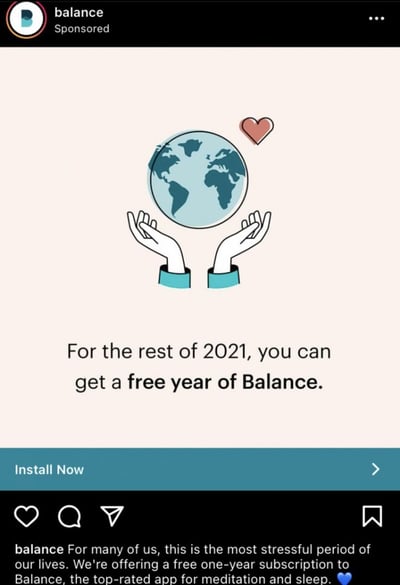 There's nothing quite as calming as a beautifully designed ad, and the Balance app knows this. With its minimalist mix of illustrations and color, this ad is sure to evoke a sense of peace in users. The imagery is perfect for the brand's meditation app, and the text pairs nicely with it, emphasizing the "free year of Balance" offer.
The images are not too big to be "in-your-face", but simple enough to send the message across. The fonts used are also simple, with a little bolding on the company's offer of free use to highlight the message.
Finally, the Install Now is all it takes to move the viewer to the next part of the customer journey.
44. SONOS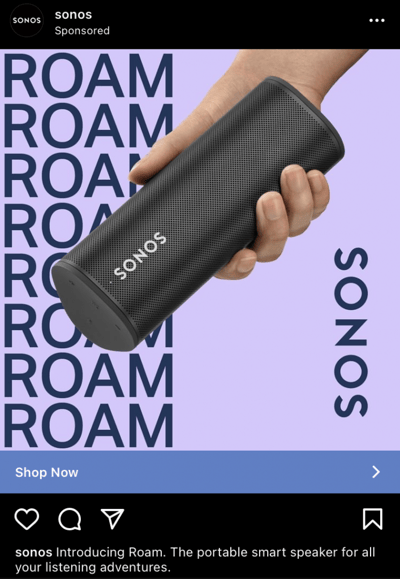 SONOS is a brand that knows how to keep its audience engaged – in fact, their new speaker ad is a great example of this. The commercial is set against a purple background, which makes the speaker really stand out. Against this backdrop, we see someone holding the product and listening to music. This is a great way to show how portable the speaker actually is.
Since SONOS' speaker is portable, it was a great choice to show it in someone's hand. Using this method allows us to see exactly how portable it is!
Repetition is an awesome way to communicate the message that you're trying to convey, so we can see the product's name repeated multiple times. If you read it, you will "hear" it being repeated in your head. Great technique! SONOS really did a great job of introducing their new speaker.
45. Gregory
Gregory is a company that makes great gear and they know it. 2021 is their year, and as you can see in the featured image, they're not shy about letting the world know.
Not only do they have excellent gear, but Gregory also has social proof on their side. Just by looking at the video, you can see that their products are top of the line. This is an excellent way to show customers that your product is worth investing in.
Also, this ad used the Carousel ad format effectively because you can see previews of the products in small icons underneath. Each image has a different link, directing people to the correct product's landing page. This ensures that people are able to find what they are looking for quickly and easily.
46. New York Times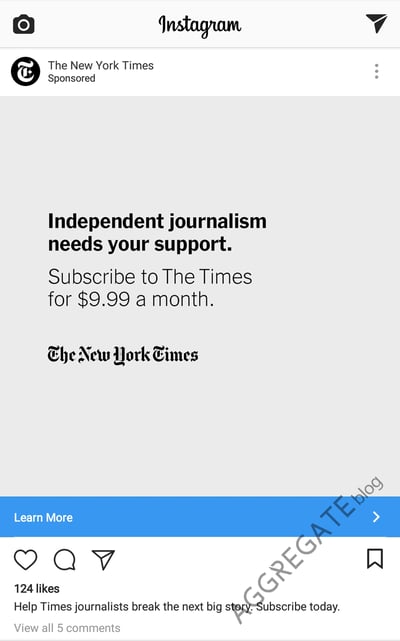 The design of this New York Times ad is both stylish and sophisticated. It has a clever use of typefaces and features the company's logo in a monochrome backdrop. The ad size, which is 1080×1080 pixels, is ideal for Instagram advertisements.
When creating an ad that has a lot of text, there are a few things to keep in mind. Interesting typography can help to engage the viewer, and including your logo can create brand awareness.
The text will be more visible and easier to read when you use contrasting font colors and line spacing, as well as paragraph formatting to break up the text.
47. Heatherly Design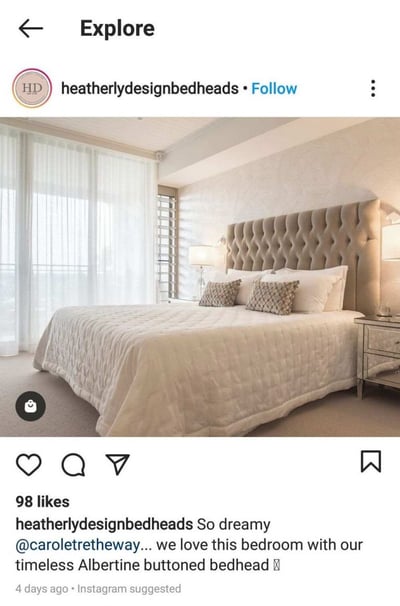 Looking for a comfortable bed to sleep on after a long day at work? Take a look at this Heatherly Design bed — it's sure to make you feel relaxed and sleepy.
This ad is a great example of how investing in good photography can help your products stand out on social media, particularly Instagram. If you want your brand to be featured in this best Instagram ads list, then don't skimp on hiring experts for graphic design and photography.
Time to Apply What You've Learned!
As you would notice in our list, no technique is set in stone. What works for one brand may not work for another, and vice versa. These ads are effective because the companies know their audience — how they react, what their interests are, and more. The better you know your audience, the more effective your ads will be. You can start by understanding the brand archetype of your target audience.
Looking at the best Instagram Ads of 2021 is a great way to get inspired and see what trends are happening in the world of social media marketing. By studying these successful campaigns, we can learn a lot about what works and how we can apply those techniques to our own businesses.
If you're running social media ads across multiple platforms, it would be best to use a tool that would let you access all of your ads and optimize them in a single dashboard. Brax can help you with that! Sign up for a 14-day free trial and see how ad management can be so much easier.
Related Content: