According to the Bot Baseline report for 2018 to 2019 created by ANA and White Ops, there is a prevalence of fraudulent traffic in online ads these days. Their research indicates that fraud traffic comprises a shocking 20% to 35% of all ad impressions and clicks!
It is very worrying statistic indeed. But fear not; this menace can be stopped.
How Do the Top Native Ad Platforms Prevent Fraud?
To reduce (if not completely eliminate) fraud traffic, Native Ad traffic providers employ their own anti-fraud systems.
1. Taboola
Taboola uses a combination of manual review and automatic fraud detection. Aside from having a dedicated in-house global team, Taboola also uses third-party services to ensure a more thorough filtering of invalid traffic. The companies they work with are DoubleVerify, Moat, IAS, and Protected Media.
2. Outbrain
This traffic provider is one of the biggest in the native advertising industry. They work with CNN, The Guardian, and MSN, among many others. However, they do not indicate how they are preventing fraudulent traffic from coming. They do, however, hold their publishers to a high standard and require them to install ads.txt in their registered websites.
3. Revcontent
Brand protection is one of Revcontent's top priorities. This became evident when the company announced that it was first to become part of the board of Coalition for Better Ads. They also utilize Protected Media, a service that detects and blocks bot traffic.
4. Yahoo Gemini
Yahoo is a popular source of native ads traffic and is also a well-known choice for publishers who want to display native ads on their sites. This means it's not that hard for shady publishers to mix fraudulent traffic with legitimate ones. To solve this problem, Yahoo Gemini partnered with several fraud prevention companies to monitor traffic, which includes Double Verify, Moat, comScore, and Integral Ad Science.
5. Content.ad
Aside from having their own proprietary technology to block fraudulent traffic, Content.ad also uses Distil Networks' Bot Defense technology. This tech analyzes clicks in a split-second to prevent bot traffic from hitting your landing page.
How Can You Eliminate Bot Traffic on Your End?
No matter how vigilant your traffic sources are, some bot clicks can still manage to land on your page. And because that traffic has already "passed", you will have no choice but to pay for them.
Of course, you always have the option to gather evidence that you are receiving bot traffic and submit these to your traffic source. You may or may not get your money back.
You can't let 20% to 35% of bot traffic ruin your relationship with your traffic source, but neither can you let fraudulent traffic milk your budget!
What then should you do?
The answer is simple: you should nip the problem in the bud. Before fraud traffic burns your budget, you can stop it when you see the signs.
Here is a simple procedure to minimize bot traffic:
Step 1.
The trick here is to monitor the sources that are driving clicks to your native ads. According to Gourmet Ads, smartphone native ads can receive up to 0.38% CTR. That's a high mark and a good starting point to base your campaign's CTR. If you have experience running the same campaign in a different provider, have a look at your stats and use those as benchmarks.
Step 2.
You can then compare this CTR against the CTR of your sources. For example, if any of the publishers or sources register more than 0.40% click-thru rate, it would be best to look at it closely.
Step 3.
Check if the clicks from that specific source were able to generate conversions. Also, have a look at the bounce rate from these sources based on your Google Analytics.
Step 4.
If the sources are not delivering the expected results at such a high amount of traffic compared to others, pause it quickly.
---
That's it! Simple, isn't it? Although, even if the steps are simple, it doesn't mean they are easy to do. Imagine having to check your campaigns every day in search of any rogue source? And on hundreds of campaigns! This simple task can just as quickly drive you mad.
You can, however, just automate the process.
If you're using Brax.io, you can set-up rules to automatically pause sources that have exaggerated CTR and are not profitable.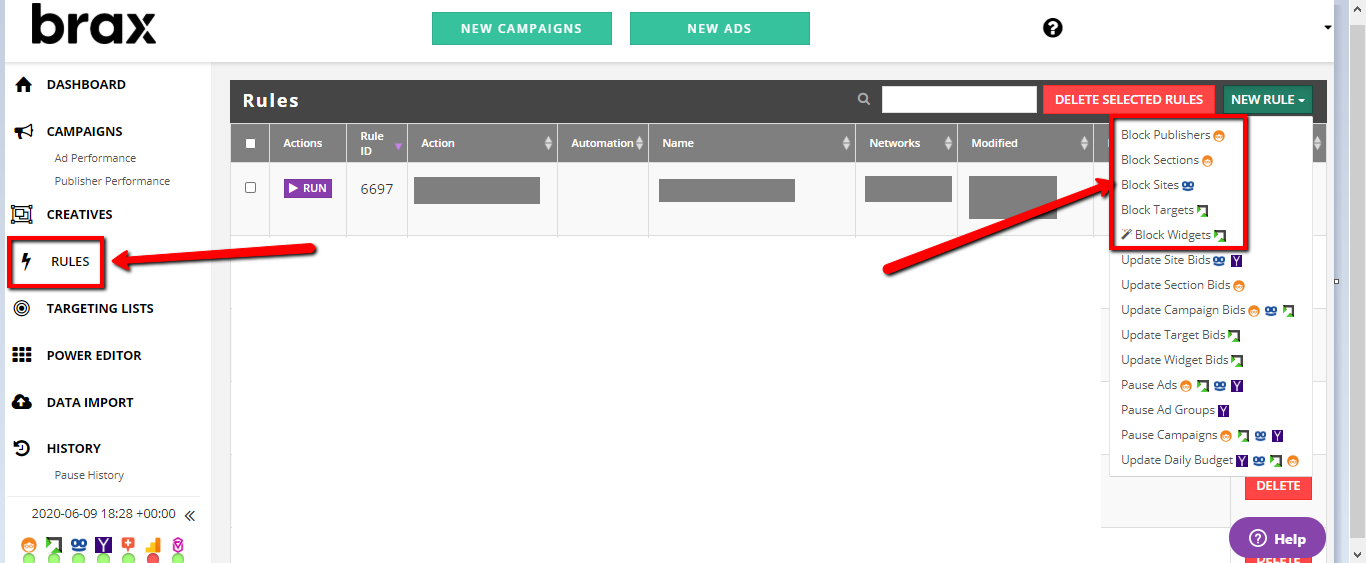 It is an effortless process. First, connect your Google Analytics account to Brax. Next, create a rule within Brax to either block publishers, sections, sites, targets, and widgets. You can create a filter so that this rule applies to only one campaign from a specific source, or you can also use this rule for all campaigns you are managing in Brax.

Once the rule is completed, you can simply run it every time you need to optimize your campaigns.

It is a painless process for getting rid of fraudulent traffic. Having a tool such as Brax can make your life less complicated.

Are you ready to use Brax.io to effortlessly manage your campaigns?

Register for the 15-day trial today

!