What is Outbrain? As one of the leading native advertising platforms, it's important to understand what it is and how they handle targeted display ads.
Few companies have a history as unusual as Outbrain.
It was founded 15 years ago by two former Israeli Navy officers who had previously developed businesses subsequently taken over by AOL and eBay. Their decision to focus on native advertising coincided with a huge rise in traffic to news and social media sites. Today, Outbrain has offices on five continents and partnerships with global media giants like the BBC and MSN.
More significantly for companies wanting to place their goods and services in front of engaged consumers, Outbrain can access an audience of over 1 billion people across 55 countries. As 2021 dawns, "What is Outbrain?" can be answered by saying it's "one of the world's leading native advertising platforms."
These days, the question "What is Outbrain?" has given way to new questions about how this leading native advertising platform distinguishes itself from its competitors.
Below, we'll take you through the features of Outbrain—how it works, what sets it apart, and what its competition looks like—to help you determine whether this native advertising platform will make an effective partner organization for your brand or business.
Use your 'brain
With 1.8 billion daily pageviews, Outbrain specializes in placing targeted advertising on webpages alongside primary on-page content. Published under a discreet "Sponsored Stories" or "Paid Content" heading, its ads appear on partner websites including Sky and CNN, Le Monde and El Pais. As a result, content is placed in front of a third of the world's open web consumers, who will see Outbrain's sponsored content as they scroll down various web pages. Although it's unlikely to be material they intended to see, complex demographic analysis ensures ads are only served up to people who are highly likely to engage with them.
Recommended articles, rotating carousel snapshots, video clips, and in-feed social media ads form the cornerstones of Outbrain's native advertising efforts. However, the company also offers search and promoted listings, helping brands and businesses appear at the top of Google search results, or in a sidebar alongside high-ranking results. This can provide a shortcut to the all-important first page of search results, since few searches make it as far as the second page. It also boosts a brand in circumstances where there's heavy competition for certain keywords, and where an organic first-page position is unachievable due to (for instance) a newly launched website lacking domain authority compared to well-established competitors. While the algorithms used to calculate search engine rankings are constantly evolving, it's well-known that sites with a long history tend to be regarded as more authoritative.
It's worth noting that Outbrain and Taboola announced plans to merge in October 2019, though the deal collapsed in September 2020. There were regulatory concerns around the size of the combined organization, while the companies themselves adopted markedly different responses to the COVID-19 pandemic. After some boardroom sniping, they're now fierce competitors once again, providing consumers with a greater choice of native strategies.
Time to get Smart
Outbrain ads use the firm's proprietary Smartfeed technology to improve engagement between audiences and native content. Across a variety of multimedia formats, the personalized Smartfeed experience can achieve a 60% increase in click-through rates among audiences. At the same time, Outbrain ads are capturing hundreds of characteristics based on content consumption, building increasingly detailed insights into consumer behavior to support future campaigns.

Reviews say Outbrain works—but does native advertising?
Outbrain's figures suggest consumers look at native ads 53% more than traditional display ads, which are increasingly falling foul of ad-blocker technology in web browsers and third-party extensions. Similarly, while consumers may be developing ad fatigue, the coordinated appearance of native advertising is deliberately designed to resemble the on-page content people initially expected to see. This is more likely to drive engagement, even though consumers know and understand they're responding to an ad rather than editorial content.
Maximizing audience engagement involves both a compelling message and dynamic images. For that reason, it's imperative to develop original content, or convey instantly understandable messages that will stand out on-screen. Outbrain can then use its unique placement strategy to target content at audiences most likely to click through to a specific landing page. This is the point where pay-per-click billing is incurred, as the customer's journey passes into your hands.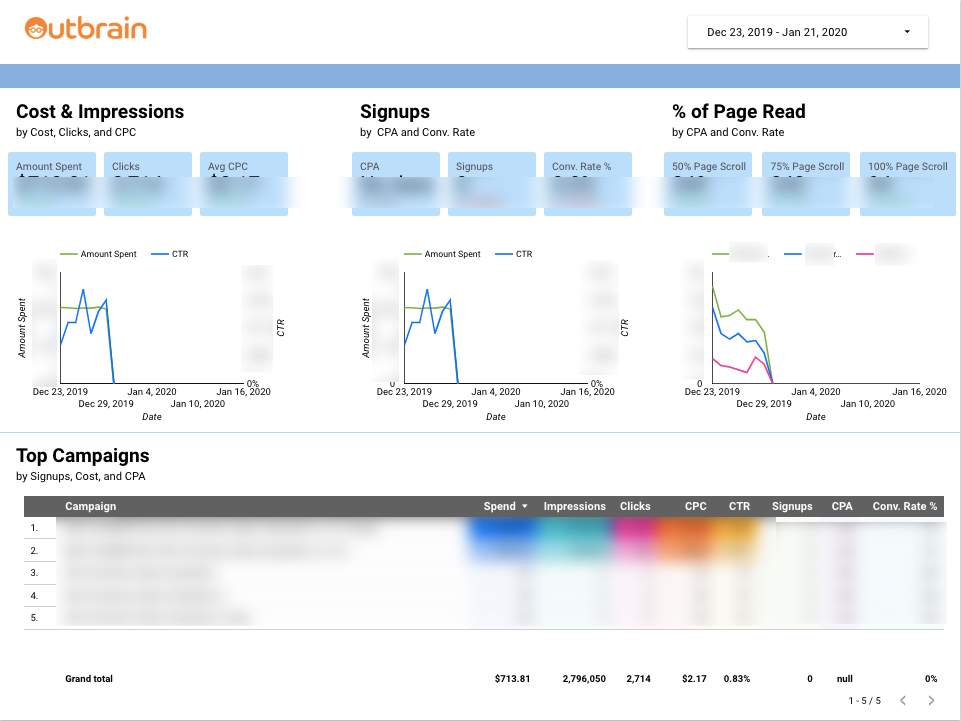 Sizing up the competition
Any Outbrain review has to acknowledge that the company doesn't have the native ads market all to itself. As we mentioned above, it faces stiff competition from Taboola after a failed merger—we recently compared Taboola and Outbrain to see which one is best. We also explained how to block sites in Taboola, maximizing your ROI throughout a campaign's lifespan.
At Brax, we can support multiple native campaigns across Outbrain and Taboola, as well as rival platforms like Content.ad and Revcontent. Our pricing starts at just $199 per month, which is a small price to pay for granular control over monthly ad spend of up to $10,000.