With the rise of digital content and online money-making, many less experienced publishers are finding it difficult to increase their earnings. But there is hope even in a landscape of big players, as 2023 is turning into an excellent year for those who want to profit from ad arbitrage.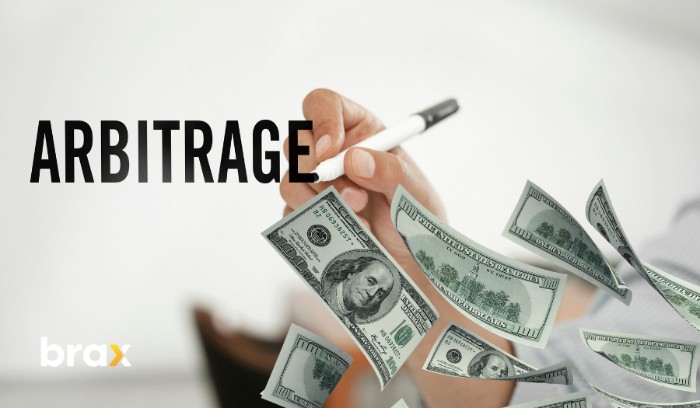 Earning more money with your digital content requires a strategy as exacting as any major heist — but you don't need to pull off a bank robbery to make an impressive income!
Fortunately, publishers now have access to a number of ad networks that are willing to pay top dollar for content lovers. So if you're ready to break through the roof this year and earn more than ever before, check out the best ad networks for publishers in 2023 — your bank account will thank you!
A Quick Note...
This list takes a look at the lesser-known (but still great!) ad networks for publishers wanting to get the most out of their ad arbitrage efforts. Big names like Google Adsense, Ezoic, and Media.net won't be showing up here — we're taking a more exclusive approach, exploring the best ad networks that go beyond the usual suspects.
We will even avoid discussing MGID, Outbrain, and Taboola since if you are already in the content arbitrage business and you've been using native ads to send audiences to your website, you've probably heard of them before.
That's not to say that these networks should be ignored if you haven't tried them yet! By all means, check them out first before testing other waters.
But if you're here, we're assuming you've already been in the business for a while and are now looking for other ad networks to test.
14 Best Ad Networks for Publishers You Could Use to Increase Earnings
Let's dive deeper into multiple ad networks that have the potential to earn more for you this year and beyond.
1. Mediavine
Mediavine is an innovative ad network created in 2004 that is quickly becoming a go-to choice for many website publishers. In fact, some even call it the best ad network when looking for alternatives to Google Adsense. With an impressive suite of features, from automatic monetization optimization to advanced analytics and quality control, Mediavine makes earning money from your website efficient, quick, and easy.
The platform also provides great support for both large and small publishers; so no matter what size your site is, you'll have access to the same level of service from the friendly Mediavine team.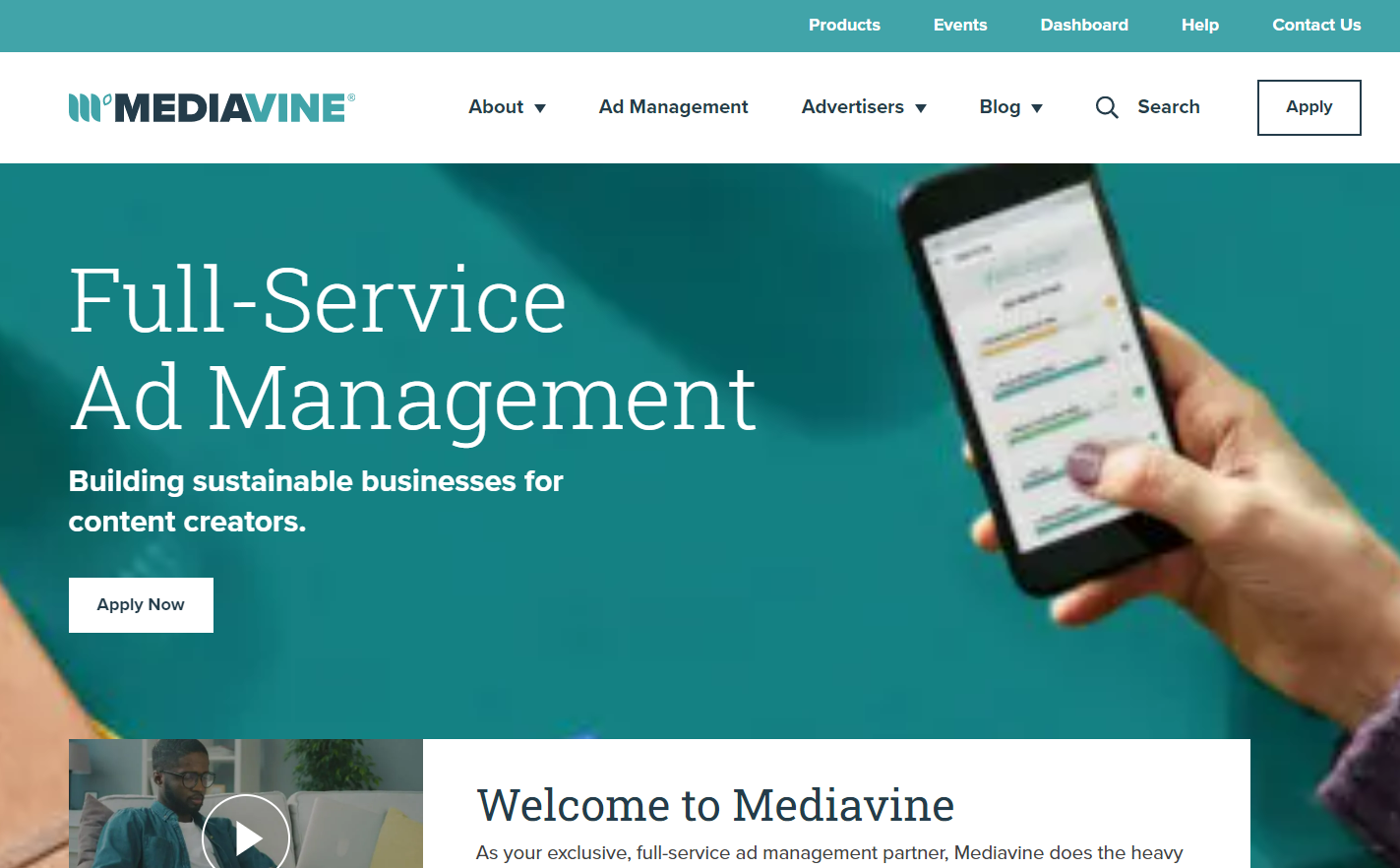 Mediavine Publisher Requirements
Mediavine manually reviews each and every publisher and website that applies to ensure quality. To qualify, your site must have at least 50 thousand sessions for the past 30 days. It accepts websites on any niche (check out our list of most profitable ad arbitrage niches to increase your earning potential!)
You must also not be in an exclusive contract with other publishing networks; if you are and you plan to proceed with Mediavine, you will have to take down all existing ads.
Finally, Mediavine looks for websites that are actively publishing and promoting new content regularly. If you don't post regularly and your most recent post was months ago, they might turn you down.
Types of Ads
Mediavine focuses on display ads of the following types:
adhesion unit (floating ad at the bottom of the page)
sidebar
in-content
Minimum Payout and Withdrawal Options
The minimum payout threshold for Mediavine is $25, and payments are made via PayPal or direct deposit.
The company has a Net-65 payment term (the longest we've seen), which means your earnings will be put on hold for 65 days before they are made available for release. Payments are sent out on the 5th of every month.
2. Adsterra
Adsterra is a popular ad network that provides both publishers and advertisers with innovative solutions to maximize profits. Publishers have access to real-time reporting tools and 24/7 customer support so they can continually optimize the ads running on their websites.
This platform works on a revenue-sharing system, providing publishers with anywhere between 75% to 80% of the ad earnings.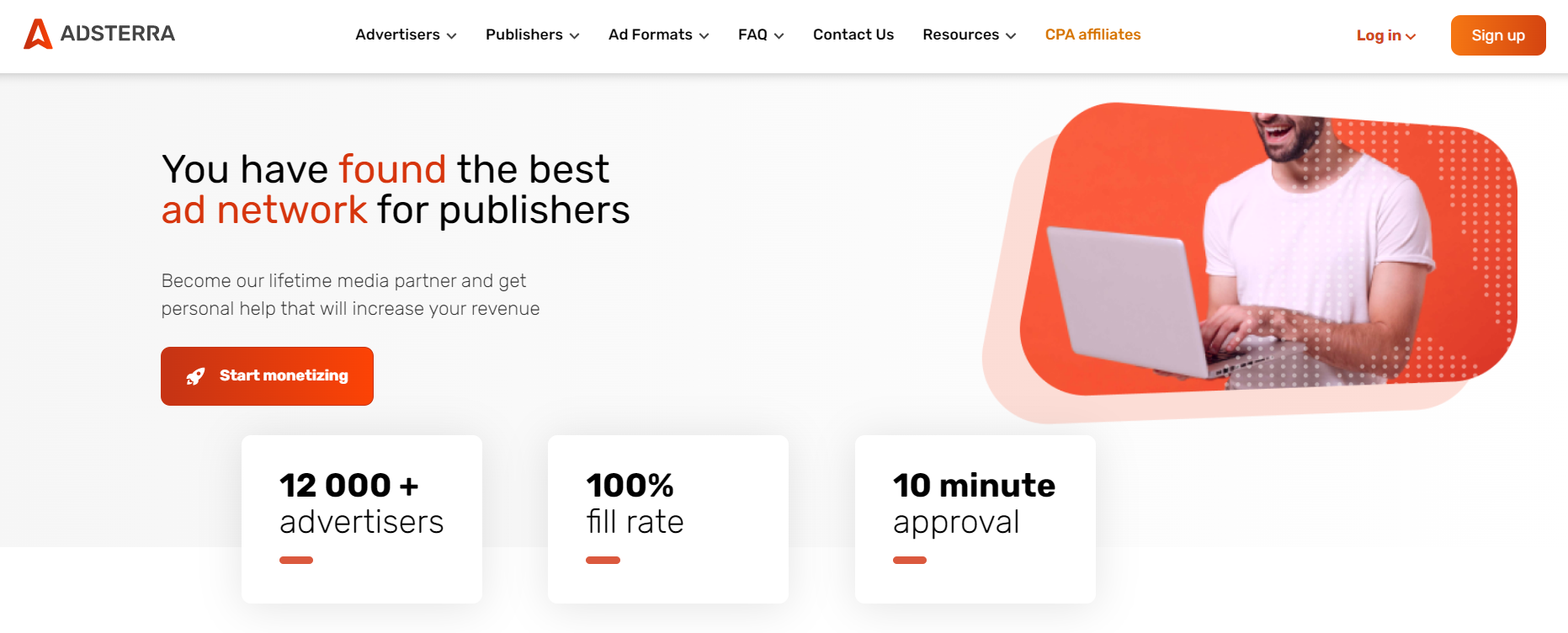 Adsterra Publisher Requirements
Firstly, your content across all sites cannot include adult or illegal material. Secondly, fake traffic of any kind before or after approval is not allowed, so make sure to eliminate or block bot-like sources.
In addition, there is a minimum traffic requirement for specific ad formats. To show popunders, you must receive at least 5,000 website visits a month. To show banner ads and other formats, you must have at least 50,000.
Types of Ads
Adsterra has multiple ad formats, including:
popunders
native banners
display ads
push notification ads (social bar)
video ads
Minimum Payout and Withdrawal Options
Adsterra makes getting paid super simple.
They have a 2-week hold on your earnings before it's available for withdrawal.
Your minimum payout amount depends on which option you choose — we're talking as low as $5 for WebMoney and Paxum, $100 for Bitcoin, (Hyperwallet) PayPal and Tether, or $1000 for wire transfers.
Payments are released twice a month: at the start of the month (first or second day) and in the middle of the month (16th or 17th day).
3. AdThrive
AdThrive was founded in 2013 with one purpose: to give creators the power to make a living doing what they love. Reaching 185 million unique visitors per month and representing 10% of the world's largest ad-supported sites, this network currently has over 4,000 content creators — that is no small feat.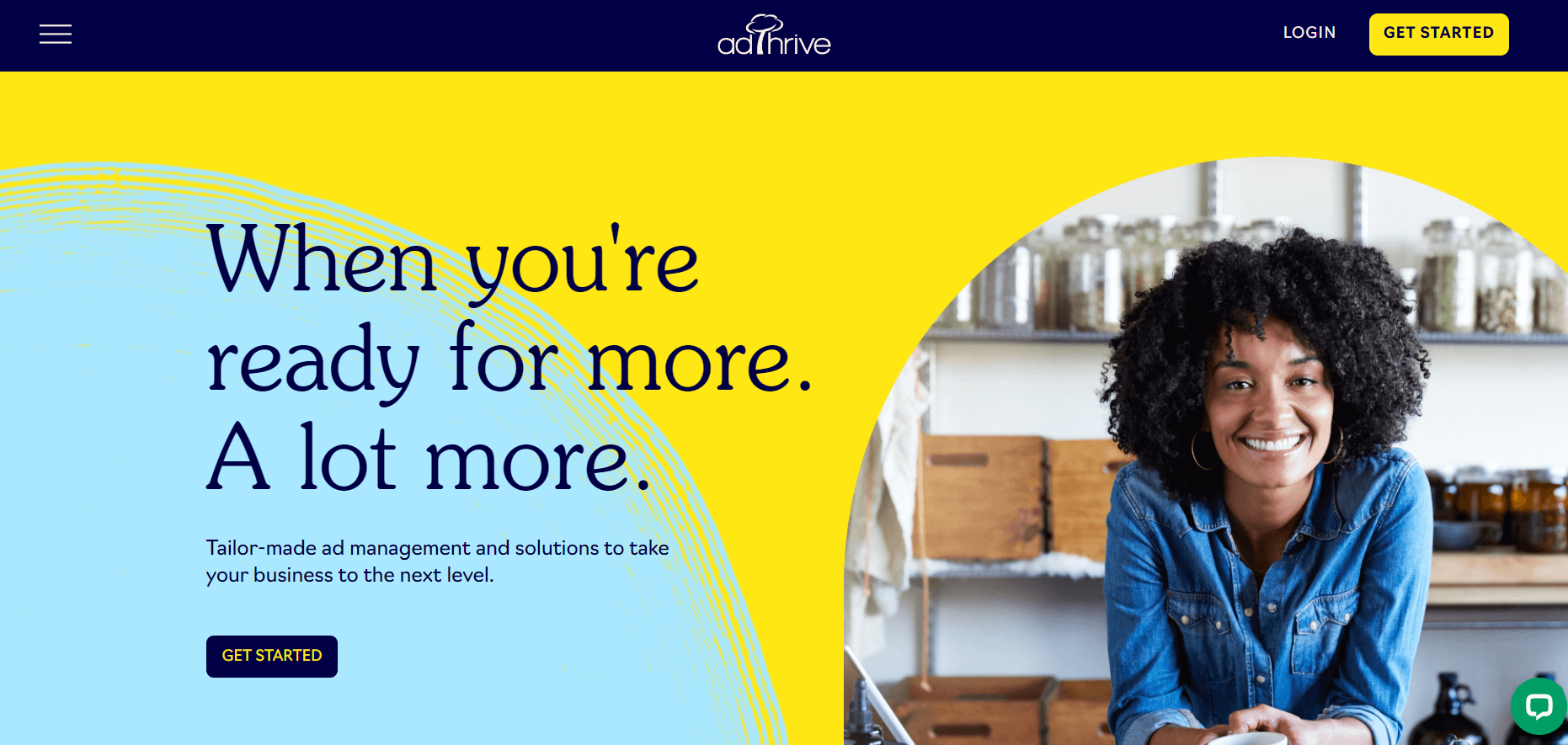 With access to premium ad networks and advanced analytics, as well as coaching, and expert support, AdThrive can help you craft the perfect strategy tailored specifically for you.
To top it all off, they're committed to creating a content-creator-first future – empowering creators of all sizes to put their passions into action.
AdThrive Publisher Requirements
To become an AdThrive Creator, you should make sure that your content is fresh and exciting, has at least 100,000 monthly visitors, and must come from (at least predominantly) the US, UK, Canada, Australia, or New Zealand.
Types of Ads
AdThrive utilizes display ads of different kinds:
header ads
sidebar ads
sticky sidebar ads
content ads
recipe ad
sticky footer ad
video player ad
Minimum Payout and Withdrawal Options
With multiple payment methods available, including direct deposit, eCheck, PayPal, paper check, wire transfer, Wise, and Payoneer — there's something to suit everyone.
The minimum payment threshold is $25, so it won't take long before you see the rewards of your efforts — except if you choose the wire transfer option; this has a minimum withdrawal amount of $100 in most countries.
4. Sovrn
Since 2014, Sovrn's been helping independent publishers rise to the top by providing effective yet simple tools and technologies. You can tap into a whole range of opportunities while gaining maximum revenue returns.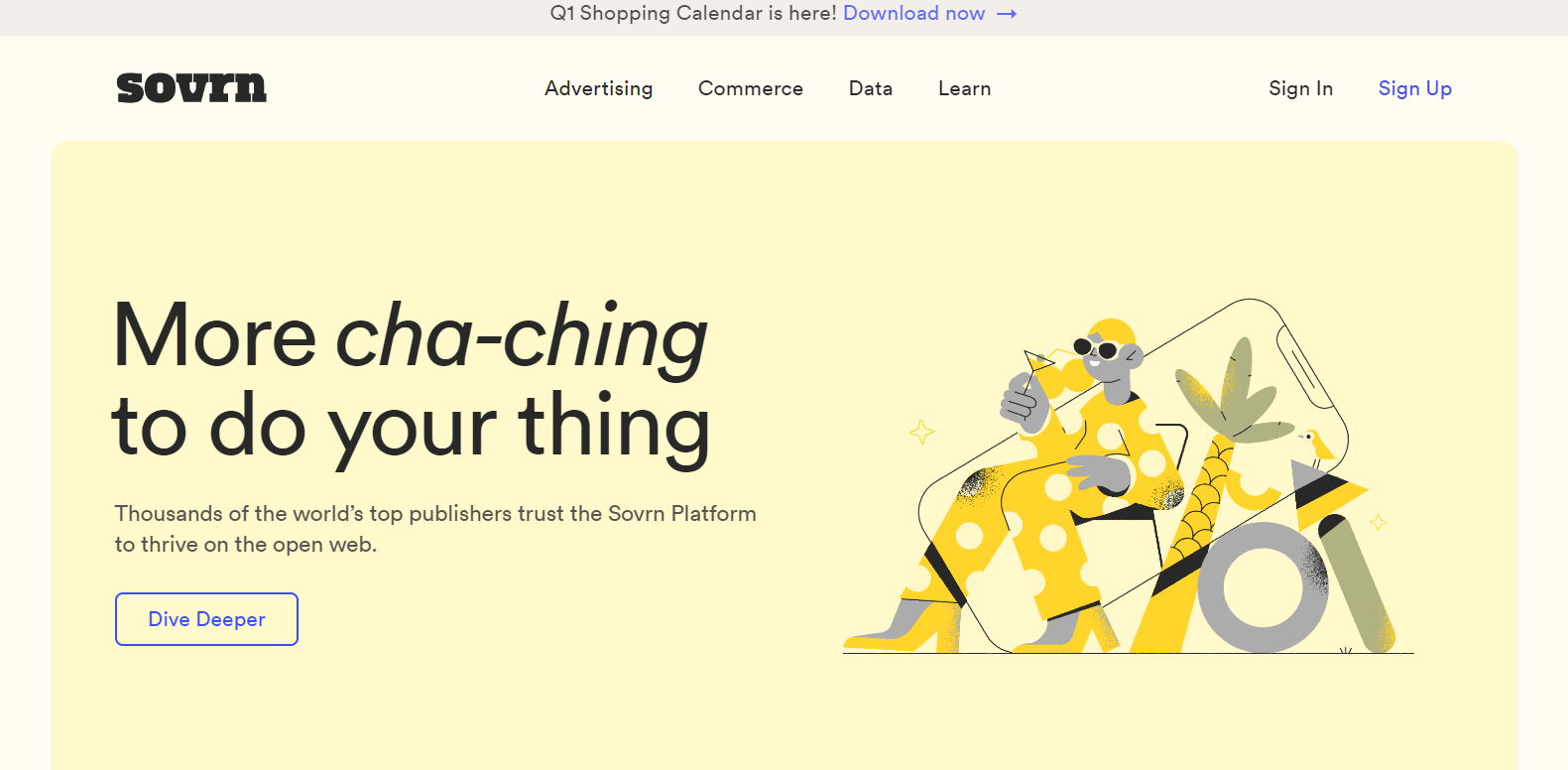 From OpenRTB to Google Open Bidding and Amazon TAM, Sovrn's multi-integration support puts all the pieces in place for success. With a commitment to securing trust and transparency across the advertising ecosystem, Sovrn has earned the highest industry certifications from IAB and TAG.
To top it all off, Sovrn also provides detailed reporting so you can track your campaign's success in real-time.
Sovrn Publisher Requirements
They understand that some sites have thousands of pageviews a day, and some just a handful – so they don't demand any minimum pageview count for sign-ups.
All sites added to the network are held to strict standards regarding content categories as outlined by the IAS guidelines. Adult content, adware or malware, alcohol-related content, hate speech, copyrighted content, illegal drugs, violence, and offensive language are all prohibited from the Sovrn network.
Types of Ads
With Sovrn, publishers can benefit from access to display banner ads in a variety of sizes, including 160×600, 728×90, 300×600, and 300×250.
Additionally, VAST and pre-roll video ads are available, along with mobile platform formats such as 300×250 and 320×50.
Minimum Payout and Withdrawal Options
Sovrn is an enticing platform for publishers, offering one of the lowest payout threshold values in their market — $25.
Their payment options vary based on your location, with PayPal and Wire transfer serving international customers, while US-based individuals can pick from ACH and Check.
What's more, all of these payouts are NET 30 — so you know that payment is just around the corner.
5. PropellerAds (Monetag)
PropellerAds is a cutting-edge online advertising network that connects advertisers and publishers in a mutually beneficial relationship. Since its inception in 2011, PropellerAds has been helping web, mobile, social, and in-app content creators maximize their potential by offering them high CPM rates with no minimum traffic requirement.
With its AI-driven, Multitag technology, this powerful platform eliminates the hassle of traditional ad selection. Instead, a proprietary suite of user-friendly tools automates the process in record time, unlocking the greater potential for any website owner who wants to boost CPM rates.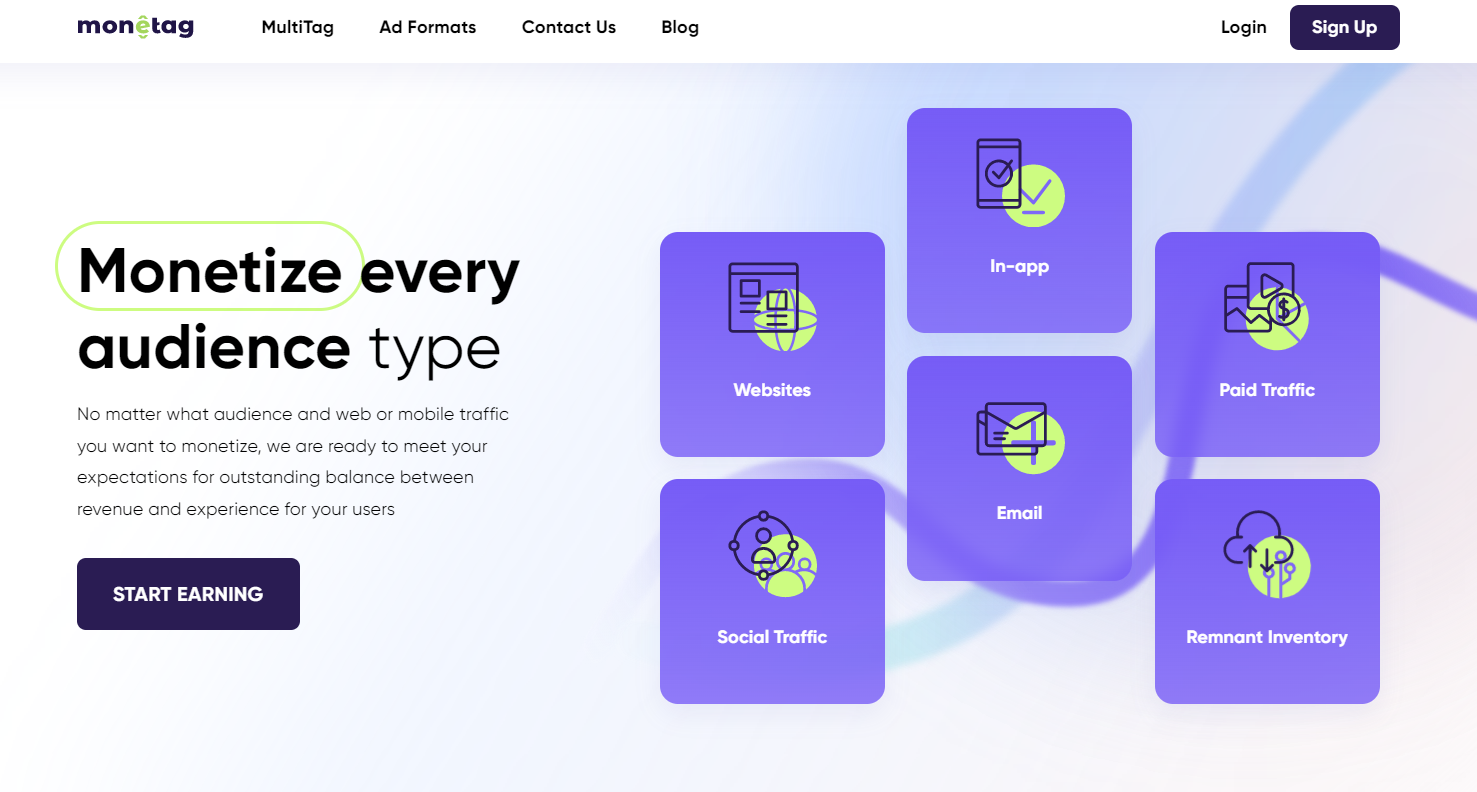 PropellerAds Publisher Requirements
You don't have to worry about minimum traffic requirements; just easily set up your account and get instantly approved! Simply head over to Monetag, PropellerAds publisher website, to sign up.
Types of Ads
With six AI-enhanced ad formats, you can now cover 100 percent of your web, mobile, and in-app ad inventory with the help of smart and user-friendly solutions. Their multiple ad formats include:
popunder
push notification ads (a type of ad that requires the user to subscribe to receive messages)
vignette banner
in-page push notifications
interstitial ads
SmartLink
Minimum Payout and Withdrawal Options
Not only has PropellerAds lowered the minimum payout amount to $5 (except for Payoneer, which requires $20, and Wire, which requires $550), but they also guarantee fast processing with only a 14-day hold on the first payout. Subsequent payments can be expected to process within 3-5 days.
With so many payment options — Payoneer Account, PayPal, Skrill, WIRE, Webmoney Z — publishers won't have to worry about having their payments processed in a timely manner.
6. Propush
Discover the magic of Propush.me, a remarkable platform designed to help affiliates and webmasters monetize traffic through push subscriptions. Imagine effortlessly boosting your profits by simply incorporating the Propush tag on your landing page – an ingenious tactic that works seamlessly without hindering your main conversion flow.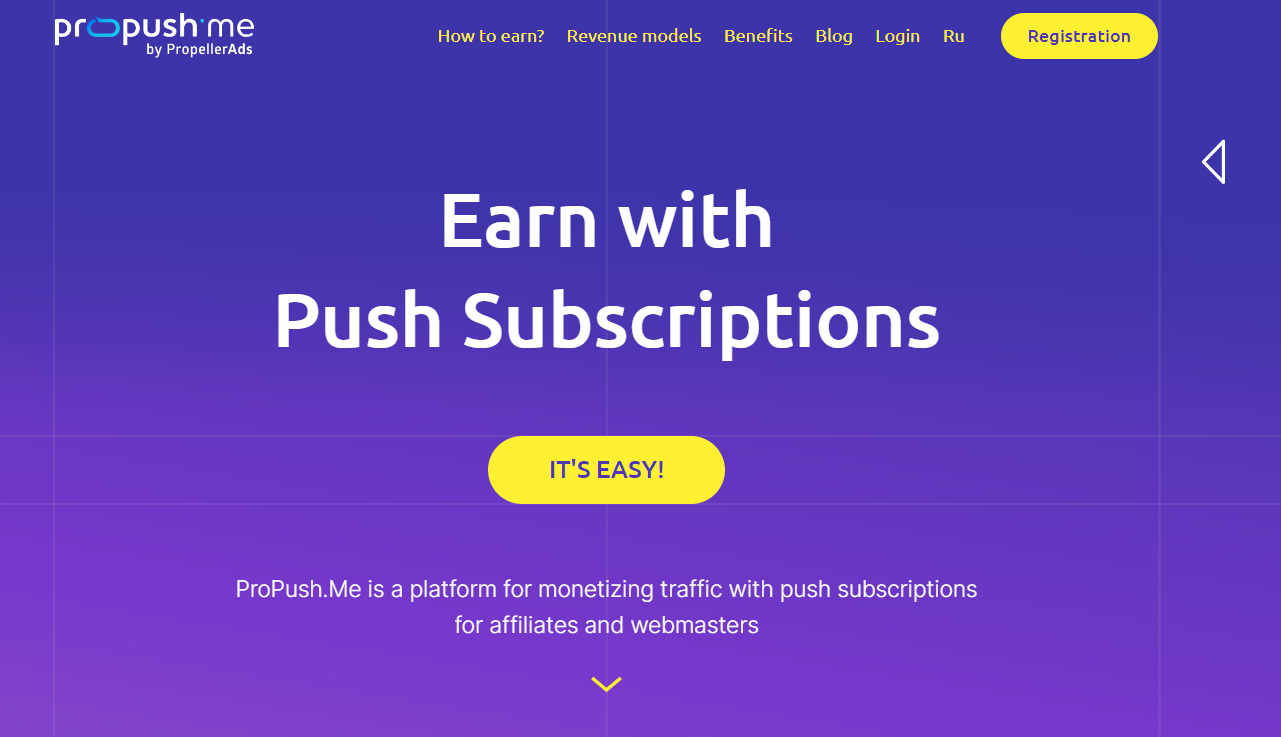 Propush.me is actually a subsidiary of PropellerAds. It offers fantastic compensation options, either by rewarding you for each subscriber with attractive CPS rates, or through RevShare for push notifications sent to your subscribed user database — talk about easy flow and high payouts!
But wait, it doesn't end there. It also offers TrafficBack, a savvy solution for monetizing your exit traffic, whether or not they choose to subscribe to push notification ads.
Propush Publisher Requirements
Gone are the days of fretting over minimum traffic requirements, as Propush has swooped in to save the day! With a simple setup and instant approval, this user-friendly platform is truly a game-changer. In short, no traffic requirements!
Types of Ads
There are a couple of ways to earn from ProPush:
push notification ad subscriptions
Trafficback
Minimum Payout and Withdrawal Options
ProPush ensures that your hard-earned moola is delivered safely to your digital wallets through a variety of nifty payment options, such as Skrill, WebMoney, PayPal, and Payoneer.
You only need to reach a minimum of $100 before you can cash in on your commissions! But don't start planning your celebratory dance just yet — remember that payments are made on a NET30 basis, so be sure to mark your calendar and keep an eye on your account to claim your well-deserved payday.
7. Infolinks
Founded in 2007, Infolinks is a dedicated team of industry experts that use their unique ad technology platform to help advertising solutions succeed globally. They boast an impressive 90% viewability rate and high relevance.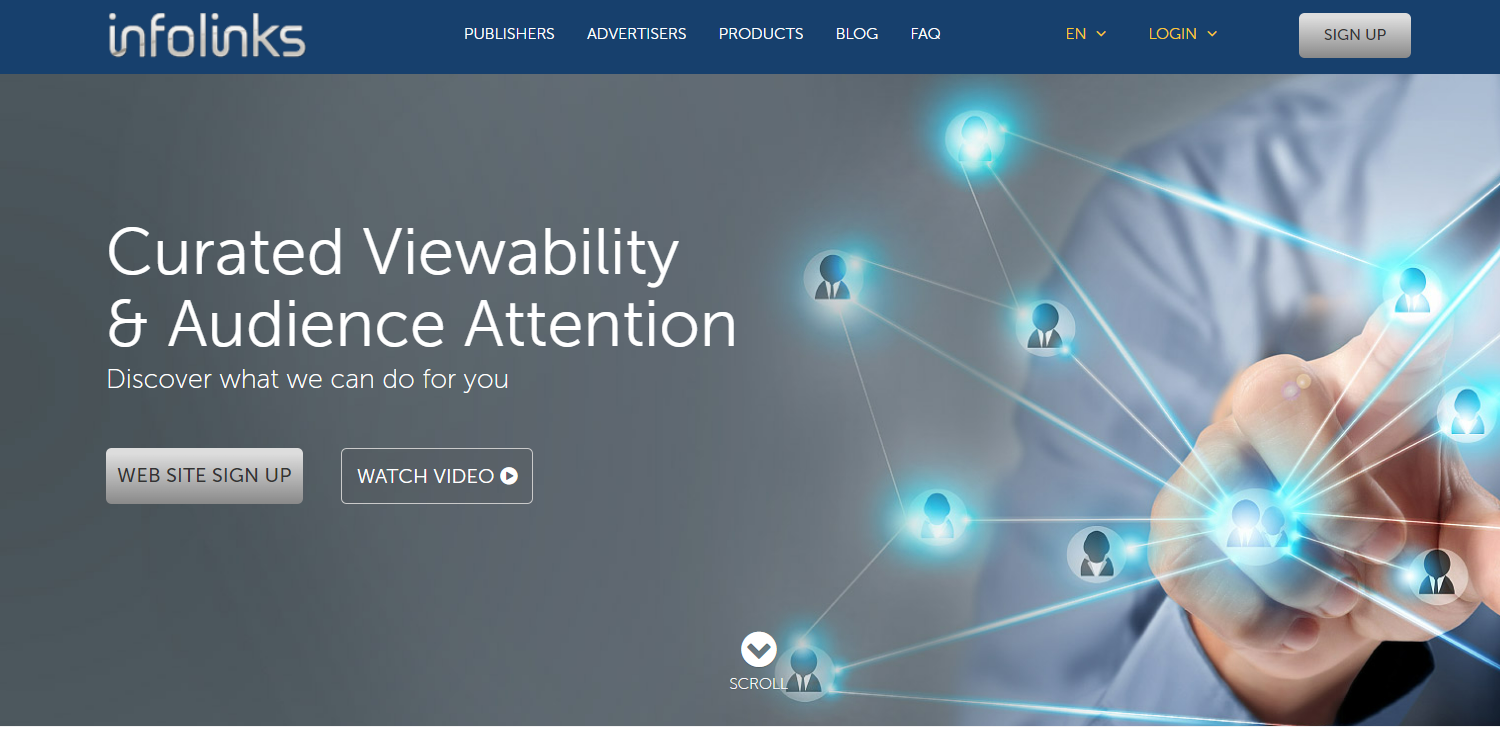 With an incredible network of over 100,000 publishing partners worldwide, Infolinks is the third-biggest publisher marketplace in the world — and have paid out over $100 Million dollars since its inception.
Infolinks Publisher Requirements
Joining the Infolinks platform is easy as pie — no setup fees, no minimums, and no commitments. Small-time publishers can just as easily join as big names in the industry, preceded only by a quick manual review that checks if the content is appropriate.
Applying to become an Infolinks publisher has never been easier, yet all those who do must agree to uphold rules that prohibit any content violating intellectual property rights (IP rights), pornography, hate speech, or violent content.
The process is simple and super speedy, with a review taking no more than 48 hours.
Types of Ads
Offering six different ad formats — Infold, Intop, Intext, Inarticle, Inscreen, and Inframe — you can easily tailor your ads to best fit your user's experience.
If you're looking for ads that appear above the fold of websites or smartphone content at its top screen position as the user scrolls down, Infold and Intop are right up your alley.
Prefer contextual ads? Check out Intext, which scans through your website content and places contextual links matched to the most valuable keywords within it. If you're looking to monetize articles on longer sites, Inarticle offers various banner or video placements within each page.
If you have visitors moving from one page to another, there's Inscreen that acts as an interstitial ad. And last but not least, there's also Inframe — perfect for filling up every inch of real estate in larger typed screens.
Minimum Payout and Withdrawal Options
Infolinks pays a 65% revenue share on the ads placed on your website. The company has a NET45 policy and a minimum payout of $50. And when it comes to cashing out, InfoLinks lets you choose among PayPal, wire transfer, eCheck, Western Union, ACH, and Payoneer.
8. Revcontent
If you're into native advertising arbitrage, then there's a good chance that you've heard of Revcontent — a well-known native advertising platform of today.
Their ads are designed to be as unobtrusive as possible, reducing disruption and taking up less space. This leads to more clicks on your widgets, driving better user experiences and increased revenue streams.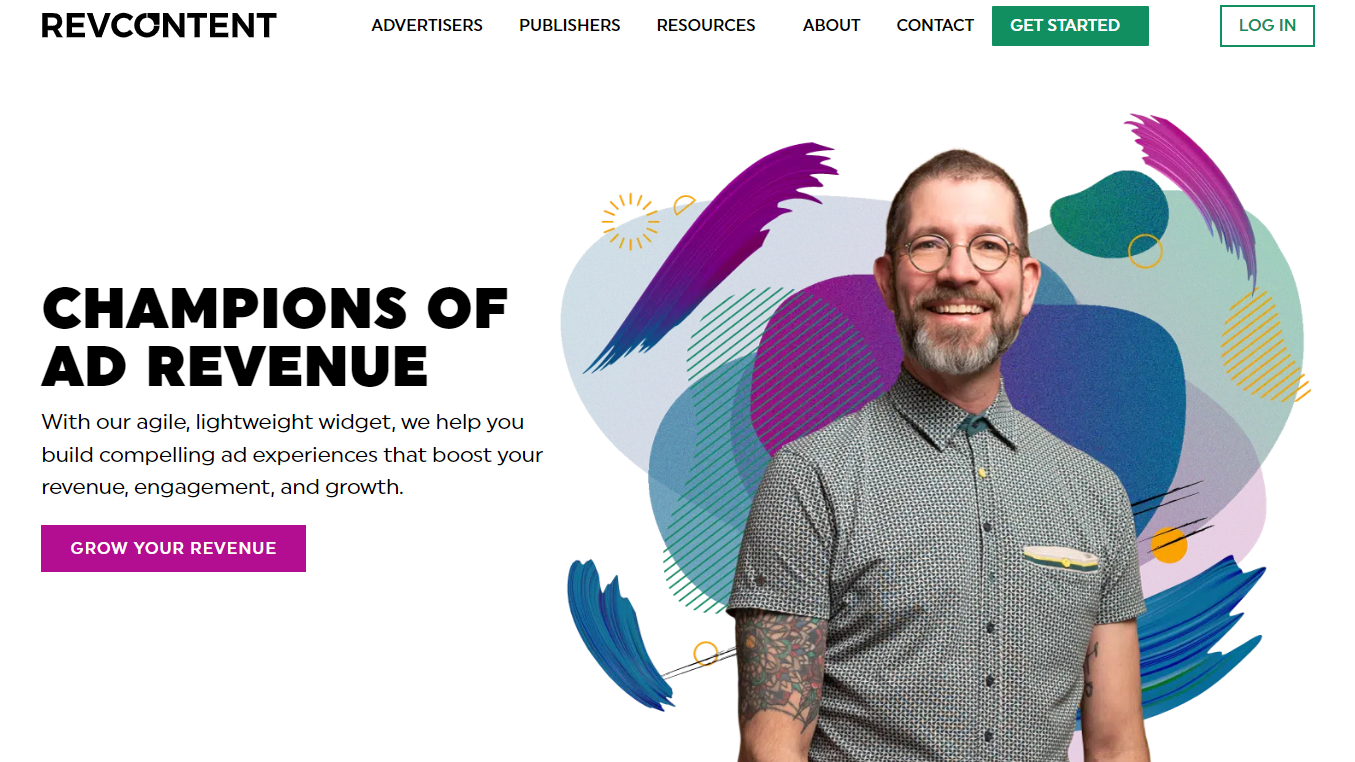 By incorporating their cutting-edge partnerships and policies, they give you the ability to control what shows up on your widgets — giving viewers a less disruptive, more valuable experience.
The company boasts of having one of the best support systems in the biz! Whether you need assistance through email, telephone, or their lightning-fast response ticket system, the support staff will be ready and willing to lend a helping hand around the clock.
Revcontent Publisher Requirements
You stand to benefit a lot from joining Revcontent, but be warned; this ad network doesn't cut corners on quality requirements. Verified reports place their approval rates at 6%, while the remaining 94% are unfortunately turned away.
So if you're eager for approval, make sure your website has at least 50,000 monthly visits and maintains a high-quality standard.
Types of Ads
While the ad formats predominantly fall under native ads, there are different types used in Revcontent. These are:
Below Article widgets (recommended content located at the bottom of the article)
Right Rail widgets (recommended content located at the sidebar)
RevExit (very much like an exit pop that shows up when the user tries to close the tab or window)
RevFlicker (touch-enabled recommended content in a slider style)
Mobile RevToaster (a small popping recommended content widget showing at the bottom of the screen when the user scrolls back up to the top of the page)
Revshifter (located either at the bottom or the top of the screen as the user scrolls)
RevMore Wrapper (recommended content shows underneath a button that says "Read More" with the content not fully showing, and gets disregarded when the user clicks on the read more button)
Minimum Payout and Withdrawal Options
ACH Transfer is available for US-based publishers with a minimum of $100 of earnings, while both PayPal and Wire Transfer are available for international users. PayPal is more accessible if you have less than $1,000 in earned revenue, and Wire Transfer if you have over $1,000.
To make sure all payments are released on time, forms W8 (for non-United States-based payees) or W9 (for those located in the US) must be completed prior.
9. BuySellAds
BuySellAds is a great option for publishers who want to make some money from their ad space on their own terms. This powerful SSP platform helps you sell your ads directly to advertisers, giving you the chance of higher earnings with the ability to access a wider range of demand partners than you couldn't have reached on your own.
As an SSP, this ad network connects publishers to advertisers through a programmatic platform.
BuySellAds also comes with its own ad-block recovery tool, so you can reclaim revenue lost to blockers. Combined with native placements, publishers can improve their ad yield even further.
BuySellAds Publisher Requirements
First and foremost, this ad exchange platform loves when you make a big splash, with a preference for those who have garnered a whopping 100k ad impressions.
BuySellAds truly thrives in the realm of tech, encapsulating everything from web design blogs to freelancing to the vast universe of Twitter. Though there may be exceptions from time to time, these tech aficionados do tend to stick to their niche.
And lastly, while they embrace traffic from all corners of the globe, it's crucial that the content is in English.
Types of Ads
There are three main ad types for website publishers, and these are:
native ad format
sponsored posts/content ads
display ads (banner ads that are placed on the header, footer, in-content, or at the sidebar)
Minimum Payout and Withdrawal Options
The minimum amount required for you to withdraw your money depends on the payment option. These are as follows:
Paypal - $20
check - $50
wire transfer - $500
10. PopAds
As its name implies, PopAds is a pop-under ad network. It is considered one of the highest-paying pop ad networks out there and the fastest-paying, too.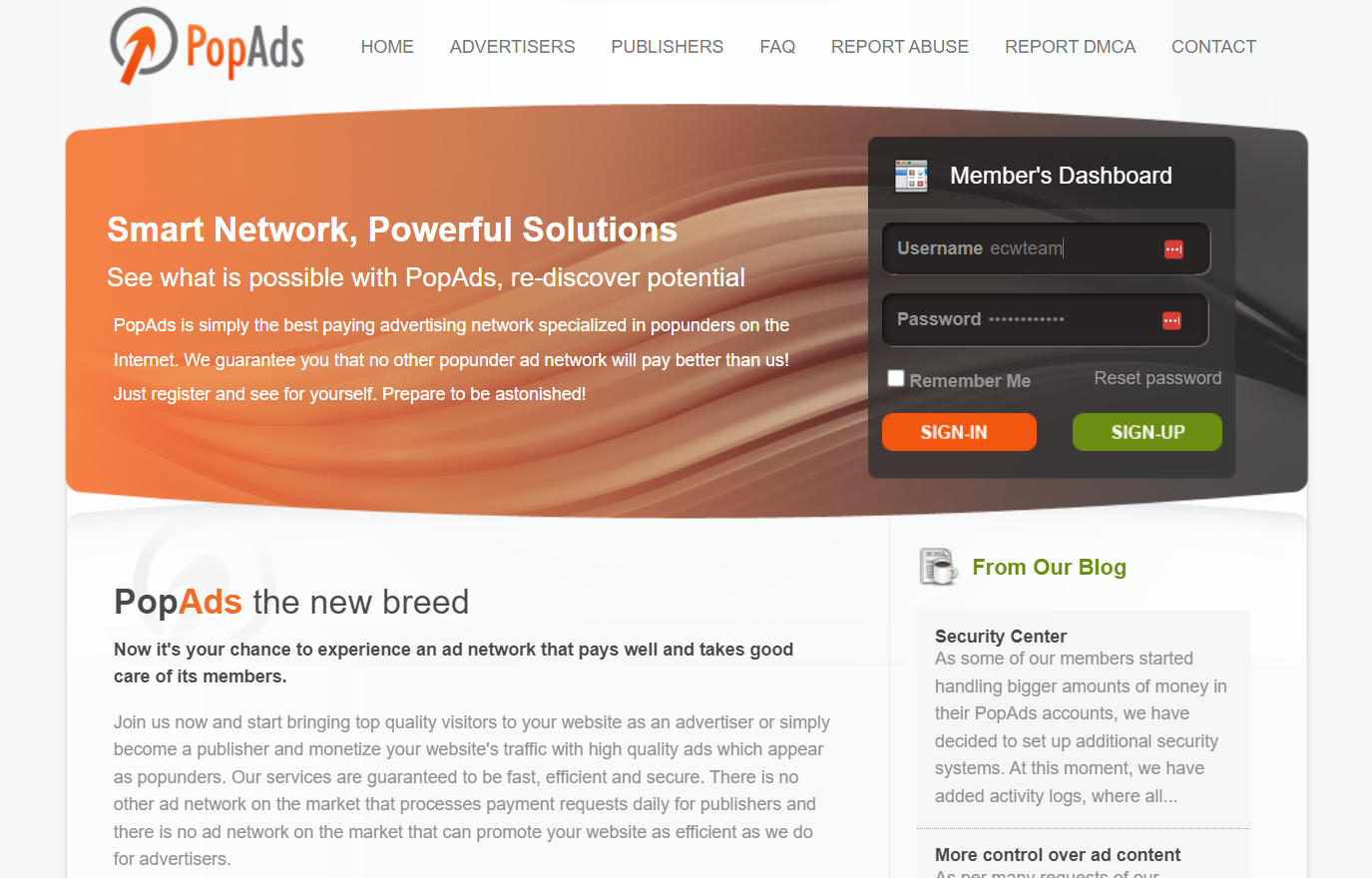 They accept traffic from anywhere around the world, although the best rates are from the US, with a minimum of $4 per 1000 unique views.
PopAds allow users to set a minimum bid for the ads that appear on the website and manage a few other options — including automatically playing videos or turning the sound on/off.
PopAds Publisher Requirements
PopAds welcomes sites of all shapes and sizes with open arms — with no minimum traffic requirements. Even adult-based websites are accepted.
However, this ad network evaluates the website's quality based on ad performance. The better the quality of impressions and the higher the click-throughs, the better the rates.
Types of Ads
There's only one ad format available in PopAds, and that's popunder ads on desktops or pop-up ads on mobile.
Minimum Payout and Withdrawal Options
PopAds brings a whiff of sunshine to publishers' lives with its incredibly attainable minimum payout of just $5. To make things even more impressive, this incredible platform sends payments daily, ensuring that you'll never have to wait too long for that exciting income to hit your account.
Payment options are PayPal, Payoneer, and Wire transfer.
11. Playwire
With Playwire, you've got all the tools you need to optimize monetization and simplify your ad operations. Its single, streamlined platform boasts a formidable lineup, including a direct sales team, an extensive array of demand sources, and cutting-edge Revenue Intelligence technology.

The cherry on top? Its steadfast team of industry experts is readily available to provide support and advice. With them, you can amp up your revenue with Playwire and watch as every impression transforms into a treasure trove of earnings.
Playwire Publisher Requirements
Diving into the world of Playwire as a publisher, you might wonder if you've got what it takes to join their esteemed ranks. Firstly, your website should be making waves in English-speaking nations like the USA, UK, and Canada.
Secondly, Google Analytics should be your website's trusty sidekick, boasting at least 500,000 monthly page views.
Thirdly, staying in Google's good graces is a must — being blacklisted by them, or other major ad providers is a big no-no.
Moreover, your content should be a breath of fresh air; unique, original, and simply mind-blowing for both audiences and advertisers. Lastly, a securely encrypted (HTTPS) Privacy Policy page is required.
Types of Ads
With Playwire ad units, creativity meets innovation. Publishers can access a treasure trove of opportunities to maximize revenue. Your options for website ads include:
Rewarded Video
Trendi Video
Flex Leaderboard
Left/right Rail
Flex Skin
Relevant Article
Bottom Rail
Desktop Leaderboard
In-Article
Mobile Leaderboard
Medium Rectangle
Skyscraper
Web Interstitial
This ad network offers one of the most extensive ad options in this lineup.
Minimum Payout and Withdrawal Options
With Playwire, you'll get an equitable revenue share, as you stand to receive 50% of the Gross Revenue after deducting any ad-serving or relevant fees, with Playwire retaining the remaining 50% of the Net Revenue. This is the lowest ad revenue share that a publisher can get based on this list of ad networks.
Payments are released on a Net-60 basis. When your earnings surpass $100, you'll be paid via check. If wire transfers are more your style, simply select this option and wait for your earnings to exceed $500 before receiving payment.
12. AdMaven
Imagine a world where every user and impression on your site is monetized across the globe and on every device. Well, that utopia exists, and it's called AdMaven. As a publisher, your quest for increased revenue ends here with AdMaven, as it can monetize all traffic that comes to your website (as long as they're free from bots).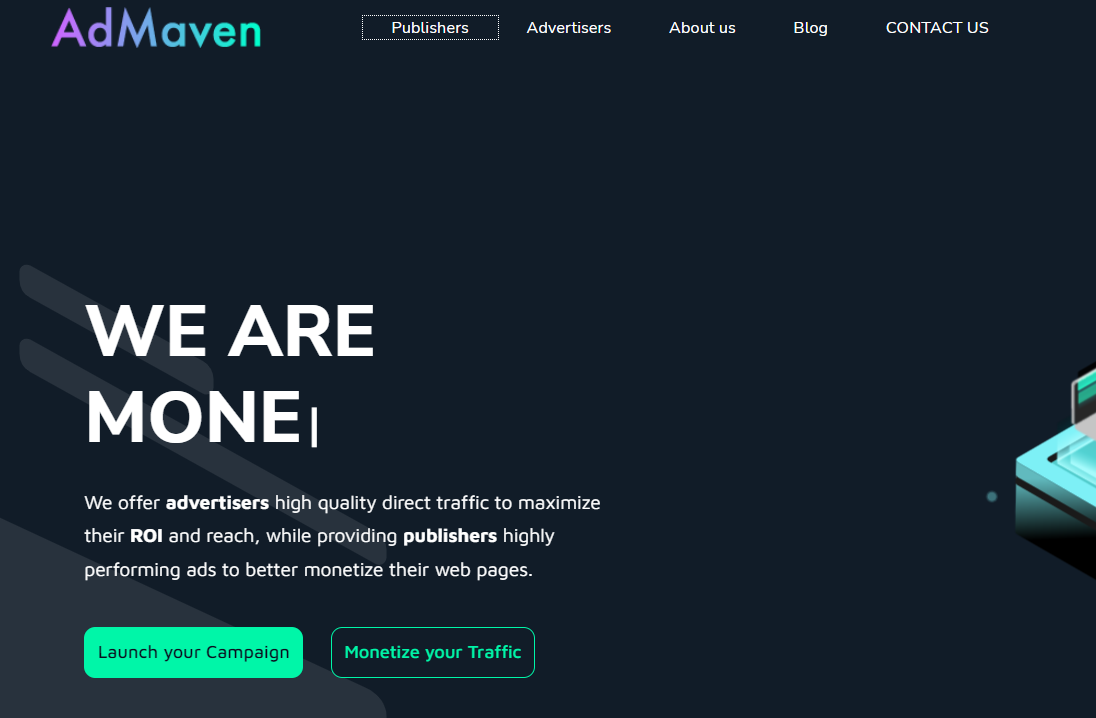 AdMaven's wide array of ad placements, ranging from native push notifications to full-screen immersive ads, is not only a cinch to implement but also remarkably fast — taking only five minutes before you're primed to go live.
AdMaven Publisher Requirements
To be welcomed into the AdMaven family, your website must boast a daily traffic minimum of 2,500 visitors. Approval is straightforward and automatic for as long as your site meets the required daily visitors.
Types of Ads
AdMaven ad units are here to delight publishers with their diverse range of ad formats:
Push Notification Ads
New Tab (Popunder Ads)
Interstitials
Banners
Minimum Payout and Withdrawal Options
Net30 is AdMaven's payment policy of choice.
And with a broad selection of payment options to suit everyone's preferences, you no longer need to be stuck with a single method. From timeless favorites like PayPal, Payoneer, and Paxum to cutting-edge choices like Bitcoin and ePayments, you'll be spoilt for choice. Even wire transfers get an invite to this payment party.
A low minimum payment threshold of $50 makes it easy for publishers to cash in on their hard work. However, for the high rollers opting for wire transfers, a $1000 threshold is required.
13. RichAds
In the dynamic world of online advertising, RichAds has quickly made a name for itself since its inception in 2018. This powerful self-serve platform prides itself on blending extensive scale with impressive performance, delivering a staggering 5 billion daily ad impressions spanning more than 200 countries.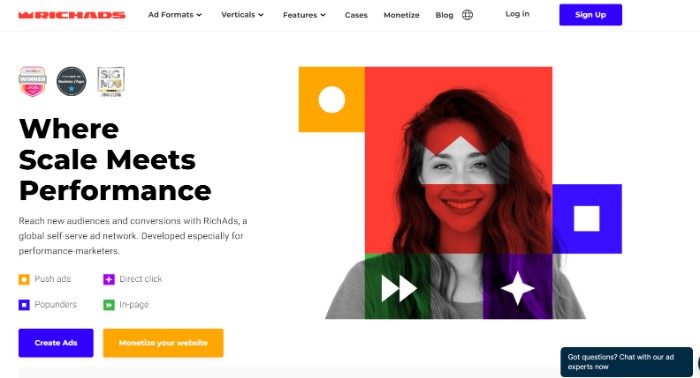 Publishers can rejoice in the ability to monetize 100% of their ad inventory at highly competitive rates, without ever having to worry about a shortage of advertisements.
Additionally, RichAds eliminates the need for direct ad placement on websites by providing users with ads via push notifications upon subscription or engagement with pop ads and direct links throughout their digital journey.
RichAds Publisher Requirements
With RichAds, there's no need for moderation or minimum required volumes. Even adult content is accepted; only the usual stuff like copyrighted and illegal content are not allowed.
Types of Ads
There are three ad unit options available in RichAds. You can choose from any of the following:
direct link - this curates a lucrative selection of CPA offers, all within a single link
push ads
pop ads
Minimum Payout and Withdrawal Options
RichAds offers a flexible twice-a-month withdrawal schedule, falling between the 1st-5th and 15th-20th dates. Payments are not released automatically, so publishers would need to reach out to the ad network through email or by using the Bot menu on the publisher dashboard.
The minimum withdrawal amount is $10, while the payment options include Paypal, Capitalist, Webmoney (minimum $50), and wire transfer (minimum $500).
14. Monumetric
Imagine a world where website ad management combines the art of user experience and the precision of data-driven decision-making — a haven where ad revenue soars without compromising the look and feel of your website. Welcome to Monumetric!
Key to its success is its focus on maximizing revenue from all ad units, rather than just the top performers. This data-driven ad network offers a treasure trove of tools, such as a client-side header bidding wrapper, a direct private marketplace with exclusive demand, and content-dynamic mobile ads. Furthermore, members are treated to comprehensive reporting platforms, in-image and in-line ads, as well as pre-bid-enabled video ads.
And to sweeten the pot, Monumetric provides you with a custom dashboard that brings together your earnings and ad inventory information, showcasing essential performance statistics every day.
Monumetric Requirements
Monumetric offers four different monetization programs, designed to help you maximize your web property's revenue potential. Whether your site sees as few as 10 thousand pageviews a month or as many as 10 million, they've got the perfect program for you.
The Propel level works with sites getting at least 10 thousand pageviews a month — the lowest level in Monumetric. However, it requires that you pay a one-time implementation fee of $99 to get started.
The next level is Ascend, which provides access to a shared ops team and all ad types tech for a minimum of 80 thousand pageviews a month. Starting with this level and above, you won't have to pay a setup fee.
Next is Stratos, which gives publishers a dedicated ops team support for as long as they receive a minimum of 500 thousand pageviews a month.
Finally, websites generating over 10 million monthly pageviews have Apollo at their fingertips. The network gives Apollo-level publishers priority testing and data managers, in addition to having a dedicated ops team and access to all ad types and tech.
Types of Ads
Monumetric gives publishers access to a combination of standard display ads, sticky ads, video ads, mobile-focused ads, and more. To gain access to all kinds of ads, you must increase your website traffic and become one of the premium publishers (Ascend to Apollo levels).
Minimum Payout and Withdrawal Options
Monumetric takes only a minimal 15%-30% cut from ads served (you get 70% to 85% of the gross profit), allowing you to reap greater benefits from your online endeavors. Plus, the convenience factor is elevated even further with a low minimum payment threshold of just $10. Withdrawal can be done through Paypal or bank transfer.
The only downside is their very long payout term of Net-60, which means you'll have to wait at least 60 days before payment can be withdrawn once you reach the threshold.
In Conclusion...
The magnificent realm of ad arbitrage has never looked more promising for bloggers and website publishers as we venture forth into 2023 and beyond. By harnessing the power of these 14 best ad networks for publishers, you're not just opening doors to greater revenue but also embracing a thriving and sustainable future in the ever-evolving digital landscape.
Native advertising is your perfect solution to reaching the minimum traffic requirement of these networks, not to mention it helps boost your ad arbitrage revenue. If you're having trouble blazing your trail when it comes to content marketing and ad arbitrage, Brax can help! Book a free demo today and see how we can take your earnings to greater heights!