Welcome to the year 2023, where the world of business is ever-evolving and expanding. If you're a business owner looking to boost your online presence and reach, then you're in luck! Now is the perfect time to start thinking about scaling your advertising campaigns to increase your earnings.
And if you haven't tried native advertising yet, well my friend, you are definitely missing out! Just like how adding a pinch of salt can transform a dish, native advertising can significantly enhance your customer engagement and brand visibility.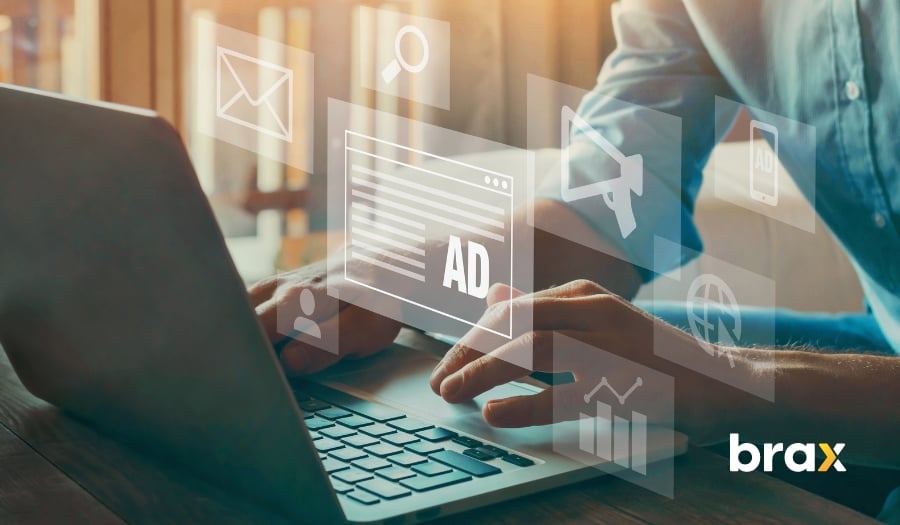 It's performed so well in the previous years that it is now one of the primary ad formats by thousands of businesses. In fact, native ads spending is expected to reach $98.59 billion this year!
However, one of the biggest hindrances to running a native advertising campaign is that it can be tricky to manage if you don't know what you are doing. If you have no idea how to optimize a native advertising campaign, then even a good quality source can turn bad.
That's where native advertising optimization tools come into play. If you can find such services, then you may be able to utilize native ads to the fullest!
4 Proven Native Ads Optimization Tools
The world of native advertising can be an out-of-control jungle, but luckily, there are proven ways to tame it. And to do that, you need to arm yourself with the right tool. Here are the top tools to choose:
#1. Brax.io
Native ads can be a tricky beast to conquer, but with Brax, it's like taming a wild stallion with the ease of a seasoned cowboy. Brax.io is an ad management software that will saddle up all of your campaigns in one powerful platform.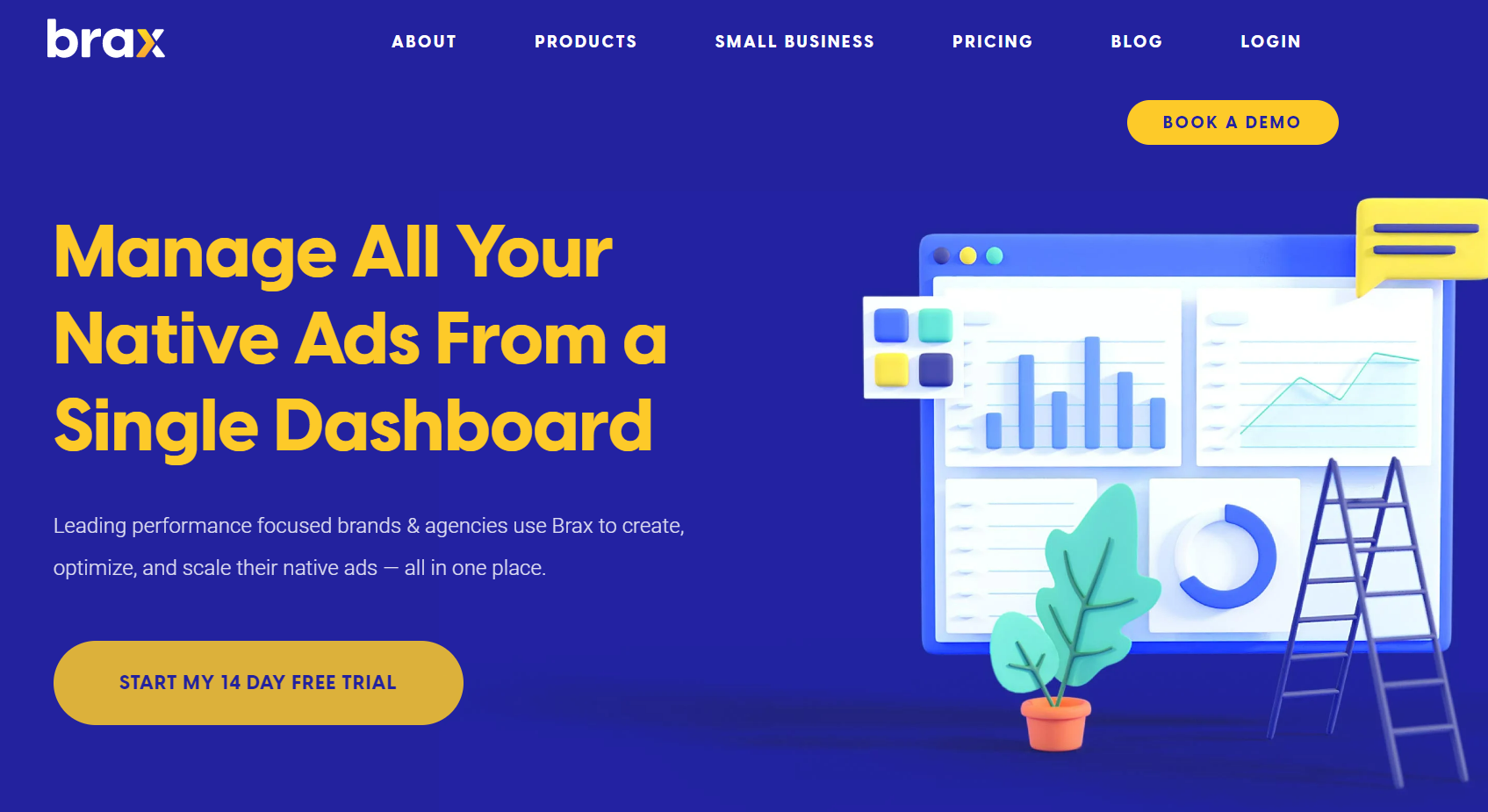 It offers a range of features that makes it a fantastic choice for businesses of all sizes. Its main ones are as follows:
All-in-One Native Ads Dashboard
Imagine being able to manage multiple campaigns across a variety of native ad platforms, including Taboola, Outbrain, Revcontent, Content.ad, Yahoo DSP, and MGID. With Brax, this is possible.
You can create, launch and optimize campaigns easily and quickly. Its robust dashboard makes it simple to evaluate ad performance across all campaigns and networks, as well as measure publisher performance using critical metrics such as Profit, ROI, and CPA.
This powerful ad management software also allows users to combine Google Analytics and ad network data for a complete picture of campaign performance across all networks.
Power Editor
Gone are the days of manually copying and pasting ad creatives, a time-consuming and tedious task. Brax's power editor makes it easier than ever to manage your campaigns and create effective ads.
First and foremost, the power editor allows you to create or upload bulk campaigns like never before. You can easily duplicate ads and make bulk edits to them in just a few clicks, saving you a significant amount of time and effort.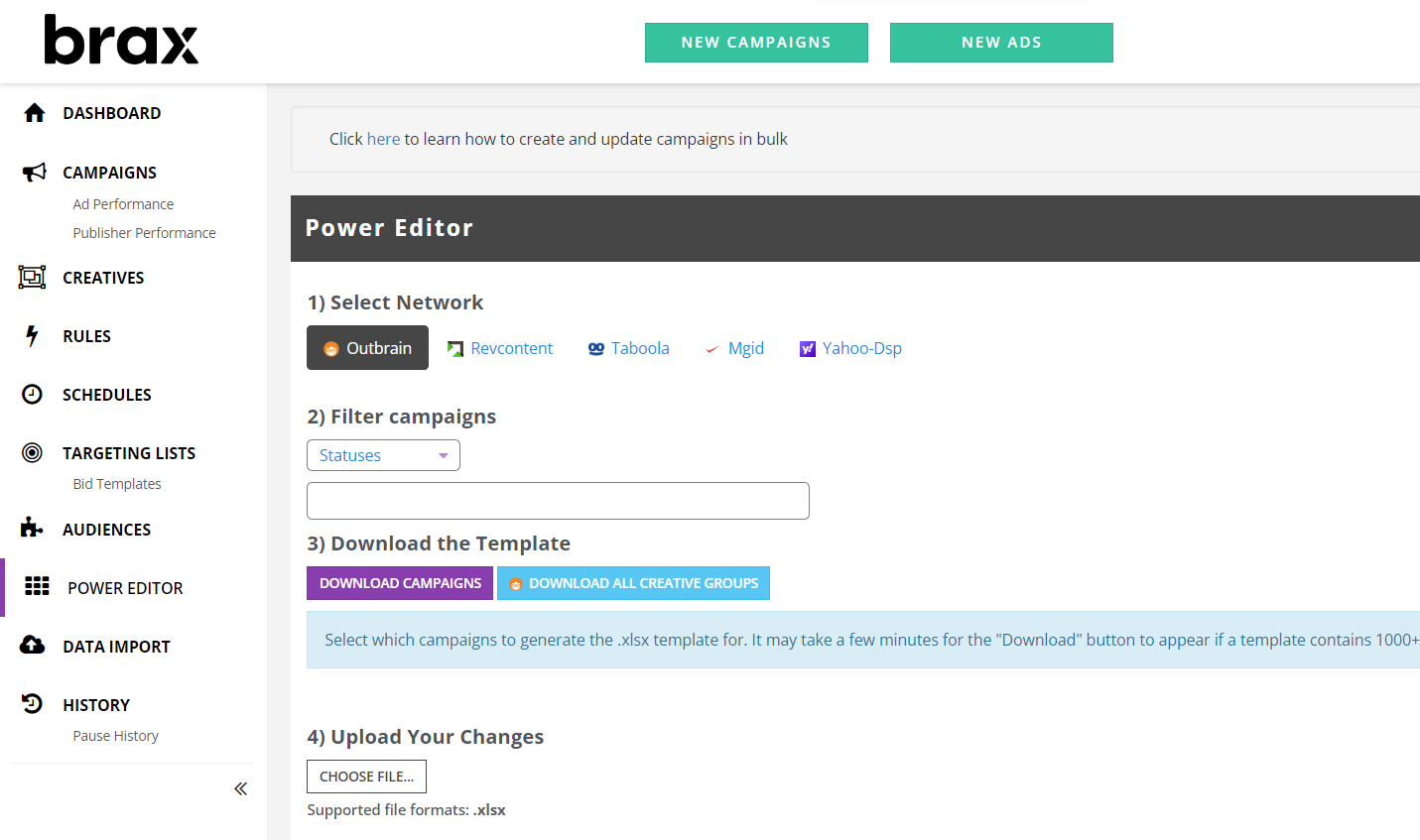 But that's not all — you can also re-use ad creatives across multiple campaigns and ad networks. So if you find an ad campaign that performs well in one ad traffic source and would like to scale to another native ad network, you can do so with ease. This feature is a game-changer, as it allows you to streamline your creative process and ensure campaign cohesiveness.
Multi-User Access
With the ability to add unlimited users without sharing passwords, it's never been easier to collaborate with your team. What's more, you have complete control over who can see or manage your campaigns by setting specific access limits for each user.
This means you can rest easy knowing that your campaigns are in safe hands. Whether you're on their basic plan or a premium one, this feature is available. You can then streamline your workflow and maximize your team's efficiency.
Automatic Optimization
Brax works like a personal assistant that not only reads your mind but also executes your bidding. This is made possible through its Automatic Optimization, which automates the blocking of publishers, adjusting publisher bids, pausing ads based on any metric, and even allows for dayparting campaign bids and budgets. All of these are done automatically based on specific rules that you set.
It ensures that your campaigns are always on the right track, without the need for constant manual adjustments. And if you prefer more granular control, dayparting can be done at the day, hour, and even every 15 minutes level. And with automation criteria for over 100 standard metrics and 20 custom metrics, you can set a diverse set of rules that match your needs.
Custom and Calculated Metrics
Brax's got a killer feature that'll help you get the most out of your data: custom and calculated metrics! It's got tons of standard metrics to offer already, but if you're looking for something a bit more specific, the platform's got you covered.
You can go for calculated metrics and custom KPIs that'll give you even more insight into your data. Setting it up is not rocket science, and once the metric has been prepared, you can use it as criteria for your rules and reports.
Pricing
Brax's got something for everyone — from the novice marketer to the seasoned pro.
The starter plan is priced at a reasonable $199 a month and is perfect for those with a maximum of $10k monthly ad spend. It comes with all the essentials:
unlimited ad accounts and users
campaign and ad management
dayparting
unified reporting
auto-optimization
calculated metrics
power editor
scheduled rules
bid templates
The business plan, priced at $499 per month, offers an upgrade in monthly ad spend to $50k, while still including all the Starter plan features.
If you're looking for even more, check out the Enterprise Gold ($1499 per month) and Platinum ($2499 per month) plans that offer even higher monthly ad spend limits and premium features like Brax, Data Services, Custom Revenue Integration, and Slack Support Channel (for Platinum).
Plus, all plans come with a 14-day free trial and require no contract.
Overall, Brax.io is a remarkable all-in-one platform that offers exceptional support to agencies and end-users alike. Its comprehensive ad management features make it a powerful tool for managing and optimizing campaigns across different native ad platforms.
If you're looking for an easy all-in-one solution that offers excellent optimization and customization tools, then Brax is definitely worth trying out. Schedule a free demo today.
#2. Joinative
If you're a marketer who wants to understand how native advertising works, then Joinative can help you out. Joinative is a SaaS and native advertising company based in Berlin that's here to make your life easier.
Whether you're an expert at native advertising or just starting out, they've got you covered. Their services and tools are great for goal-oriented individuals who want to build high-performing campaigns but still want full decision and control.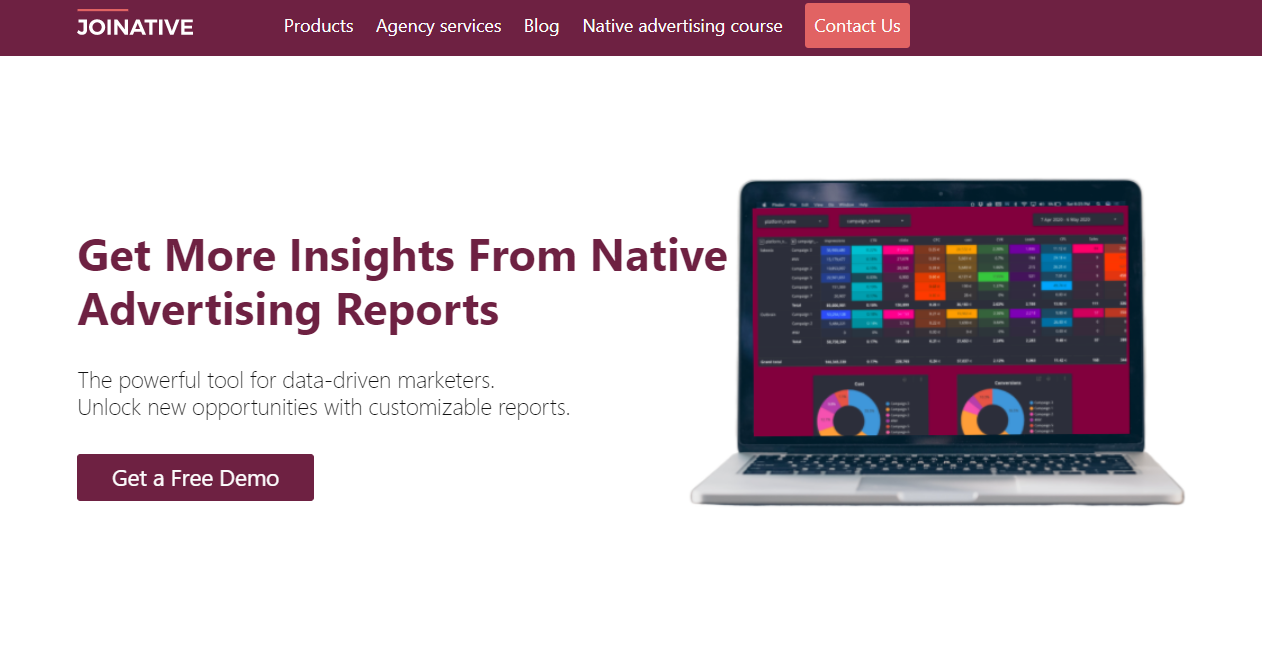 Native Pro
Joinative's main tool is called Native Pro. Native advertising can be tricky to get right, but Native Pro helps make campaign creation easier. You can manage your reporting data on one convenient dashboard, thanks to their direct integrations with native ad networks, though it only works with Taboola and Outbrain.
You can make informed decisions by analyzing your performance on various levels, from ad to platform to site. No need to guess what's working and what isn't.
With its native advertising reports, you can monitor all your tests easily. You can even assign labels to campaigns or ads to highlight specific data. And the best part? You can analyze and compare elements being tested without any extra effort.
Native Pro also provides you with cross-platform reports, giving you a complete campaign overview, so you're always on top of your game. You can use the conversion management feature to understand your audience better and keep track of every step of their journey through the conversion funnel. Trust me, if you are already running native ads, Native Pro is a must-have tool.
However, Native Pro is meant for those who already know how to run and manage ad campaigns. If you're a complete novice, it may be tricky to use. That's where Joinative's Native Starter and Native Managed come in.
Native Starter
This is actually a service, not a feature. It is a training package offering a tailored series of sessions and workshops for you and your team to launch successful campaigns that reach your business goals.
The training has four major events:
master native ads in 90 days
build a strategy with your team
launch your first native ads campaigns with full guidance
scale your native ads for optimum performance.
It includes a Coaching Program package that provides you with on-demand sessions with a Joinative expert who will give you the inside scoop on how to truly elevate your campaign performance.
Native Managed
Suppose you've ever wanted to have more time to focus on your business without having to worry about your native advertising campaigns. In that case, Joinative's Native Managed is the answer to your prayers! You can entrust your advertising endeavors to their experts and enjoy the incredible results that will only come with custom-built strategies.
Their ongoing optimization strategy involves constant monitoring and analysis to find the most efficient way to meet your business objectives. They're ready to swoop in to make changes on the fly in case your campaigns need it.
And just like a trusty sidekick, they also ensure tracking and reporting setup. You'll receive regular updates on campaign performance and informative reports that will make you feel like you have X-ray vision into your KPIs.
Pricing
The downside is that the Jointiave agency does not provide concrete pricing for its services on its website (not even for the Native Pro tool). You would need to reach out to their team for information on these.
#3. Adgenius
So, what is Adgenius, you ask? Simply put, it's a platform that helps businesses create and optimize high-performing native advertising campaigns. With their AI algorithms and creative automation tools, Adgenius can help you design visually appealing and highly targeted ad creatives that will engage your audience and drive conversions.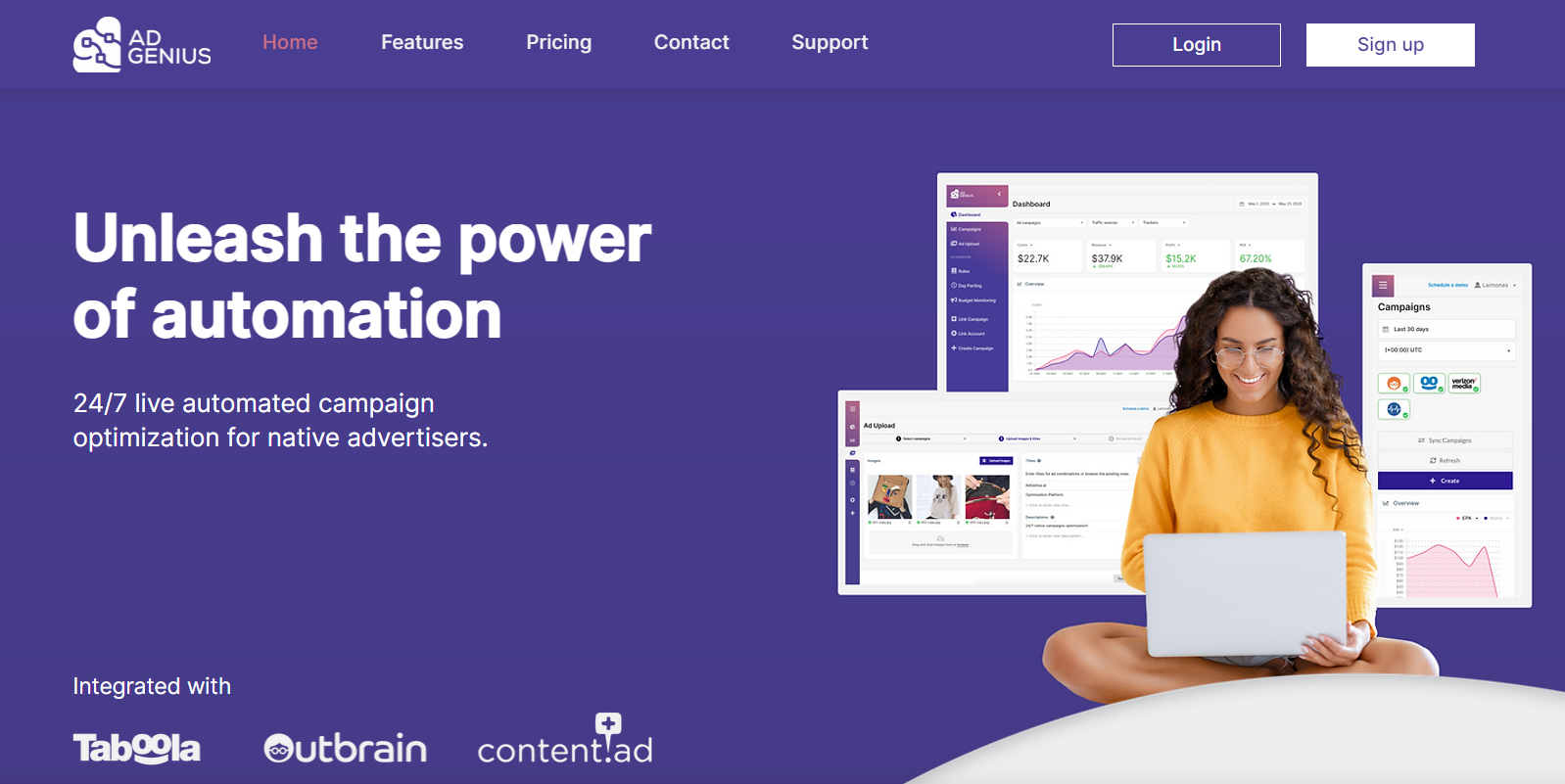 But that's not all — Adgenius offers a wide range of features to make your native advertising campaigns a hit. Let me break it down for you:
Autobidder
With this automated bidding feature, you can sit back and relax while its algorithm works its magic, ensuring your campaign's success even when you're catching some Zs.
Autoblocker
There's no need to sift through endless data to find the bad apples, as Adgenius' autoblocker will instantly block underperforming placements, saving you time and energy.
If you don't want to block placements just yet, you also have the option to have them paused automatically.
Real-Time Analytics
Adgenius gives you real-time insights into your campaign performance, helping you make data-driven decisions to optimize your ROI. You can track impressions, clicks, and conversions, monitor ad quality scores, and more.
Multiple Integrations
AdGenius offers integrations with some of the biggest ad networks in the game. You can get yourself in front of the right audience with Taboola, Outbrain, Content.ad, Verizon Media, Revcontent, and MGID — all in one fell swoop.
It doesn't stop there, though — Adgenius can connect you with other trackers like Voluum, ThriveTracker, and RedTrack to really kick your campaigns into high gear.
Pricing
Now, I know what you're thinking – "This all sounds great, but what about the pricing plans?" Here's the lowdown:
Adgenius offers three pricing plans to fit the needs and budgets of all businesses.
Standard Plan: Ideal for small businesses or those new to native advertising. This plan starts at $159/month and includes login for a single user, three traffic sources, and up to 100 thousand clicks.
Premium Plan: Perfect for businesses looking to scale their native advertising campaigns. This plan starts at $399/month and includes 5 users and 500 thousand monthly clicks.
Custom Plan: Best for businesses with larger budgets and sophisticated ad campaigns. This plan is priced based on custom requirements so the price is also custom.
The first two plans come with a 14-day free trial.
#4. TheOptimizer
TheOptimizer is a tool designed by digital marketers and industry veterans. It can help businesses streamline their campaigns by automating time-consuming tasks such as data analysis and campaign optimization. The platform comes packed with a range of features and benefits that can help you optimize your native advertising campaigns for better results.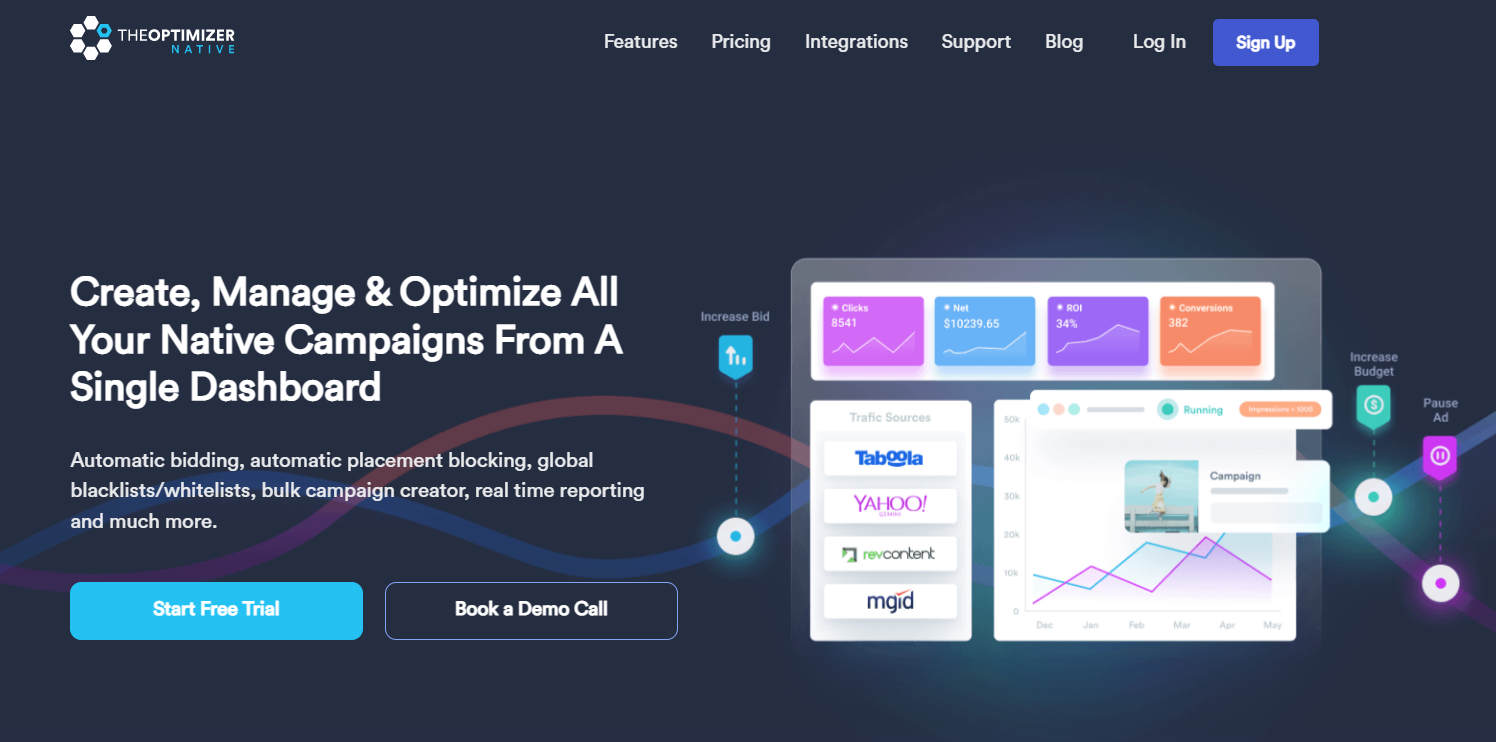 Automatic Rules
The platform comes with a set of comprehensive rules and optimization tasks so your campaigns can run 24/7 without interruption. For instance, you can set rules to automatically pause or remove underperforming ad sets, blacklist certain placements that don't meet your targets, and more.
With the click of a button, you can safeguard your campaign's ad spend by setting simple yet effective rules to block any underperforming Widgets or Ads based on combined metrics from both your traffic source and tracker.
The Automatic Bidding feature, on the other hand, allows you to fine-tune your bids on a campaign, widget, or ad level, matching your campaign's ever-changing dynamics. You can even increase or decrease bids by a specific dollar or percentage amount or set them to a specific percentage based on your current bid or EPC, EPV, EPS, etc.
TheOptimizer also offers a feature called 'Global Rules' that allows users to create rules that apply to all campaigns within their account. This can be used to simplify and streamline processes by quickly setting up rules that cover many different scenarios. For example, users can set global rules for budget optimization, placement blacklisting, and more.
Accurate Data Analytics
You can say goodbye to guessing which elements are performing well and hello to crystal-clear insights. Not only can you view accurate spending, revenue, and profit on a campaign, widget, section, ad group, and ad level, but you can also pinpoint where your money is going on a granular level.
It provides valuable insights into your campaign's performance by analyzing real-time data. Its analytics engine also helps you identify which elements of your campaigns are performing well and which ones need optimization.
Multivariate Testing
With this feature, advertisers can shift their split-testing capabilities to the next level, testing different ad sets, creatives, and landing pages to quickly find the sweet spot that garners the best results.
This eliminates the guesswork that typically plagues most campaign setups, automatically testing various combinations to maximize clicks and conversions. If you combine these with Automatic Rules for optimization (such as autoblocking placements and pausing specific creatives), your native ads can run like clockwork.
Smart Lists
Imagine never having to manually create blacklists for each network or campaign — instead, Smart Lists automatically populates these shared blacklists for you. Not only does this save you oodles of time, but it ensures that you never pay twice for traffic that just isn't converting.
Conversely, you can also create white lists for sources that you have proven to convert well. Using a white list of placements, you can show ads on websites and locations that have shown themselves to convert well time and time again.
Pricing
The platform offers three pricing plans to choose from, which are explained below:
Native Starter Plan: This plan costs $199/month and is suitable for small businesses or individuals who are new to native advertising. This is a single-user account that allows up to $20 thousand in ad spend per month. It includes bulk ad uploads, automatic rules, unlimited smart lists, unlimited traffic accounts, and more.
Native Pro Plan: This plan costs $399/month and is best for businesses that spend up to $50 thousand in native ads. It includes everything under the Starter plan.
Native Master Plan: This plan costs $699/month and is ideal for those who spend up to $100 thousand in native ads per month. It includes everything under the Native Pro plan plus the ability to create accounts for multiple users and create globally-available automatic rules.
Overall, TheOptimizer Native offers a variety of pricing plans to suit the needs of different types of advertisers. Users can also try the platform for free with a 15-day trial before committing to a paid plan.
But what if...
...these all sound jibberish to you, and you don't understand a thing about Native Advertising, let alone managing ad campaigns even with a robust tool in your hands?
Well, the good news is that you can still enjoy the benefits of using native advertising with the help of Brax! We can create and manage your native ads for you. We can even help you with your other digital marketing needs! All we need to do is sit down and discuss your business goals.
Give us a rundown of your business objectives, and we'll develop a roadmap that will guide you toward higher performance. Our team will handle everything from launching to running your native ad campaigns (and other digital marketing needs) while you focus on growing your business. So send us a message and let's discuss!
If you liked this article, you may also appreciate the following: