It's hard to find a good quality image that isn't copyrighted for your native ads. If you do not have the talent for shooting good pictures or the eye for designing them, this could add to your growing list of worries.
Not only do you have to worry about finding an appropriate image, but you also have to make sure that it's high quality and not copyrighted. Your whole campaign could get shut down when someone files a complaint.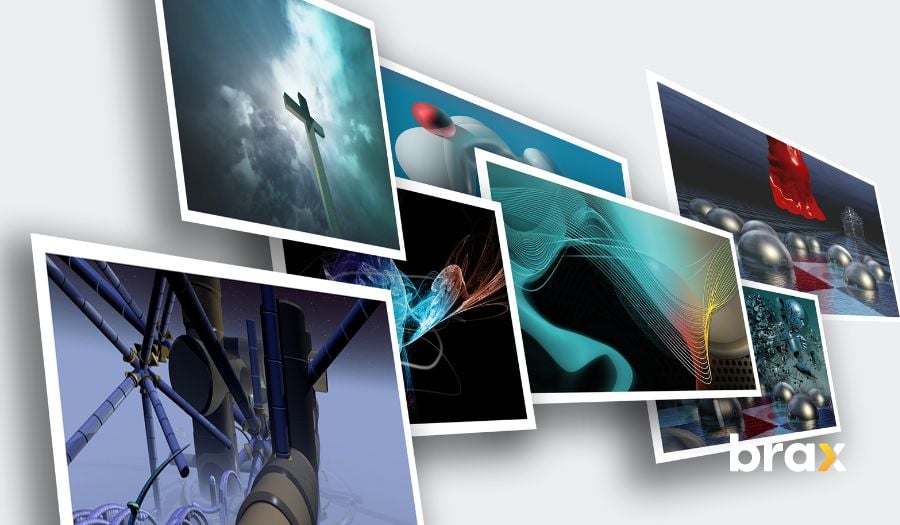 In this article, we will discuss where to find the best stock photos or images for your native ads. But before we discuss these sources comprehensively, let us first talk about stock photos and why they are important.
What are Stock Photos?
A stock photo is a professionally-taken photograph that is sold to customers for a fee through an online stock agency. The customer may use the stock photo for any legal purpose, including commercial use, without paying additional royalties or fees to the stock photographer or agency.
Stock photos are typically high-quality images that can be used for a wide variety of purposes, from native advertisements and website banner ads to product packaging and book covers.
There are two main types of stock photos: royalty-free and rights-managed. Royalty-free stock photos can be used an unlimited number of times, for any legal purpose, by anyone who purchases them.
Rights-managed stock photos, on the other hand, are sold with specific usage restrictions that must be agreed to by the buyer. These restrictions may limit the number of times the photo can be used, the geographic region where it can be distributed, or the type of products or services that can be advertised with it.
Purchasing stock photos is a simple process: customers simply browse the online catalogs of stock agencies and select the images they wish to purchase. Once payment has been made, the customer will receive a digital file of the image that can be downloaded and used immediately.
Best Sources of Free or Cheap Stock Photos for Your Native Advertising Campaign
Stock photos are a dime a dozen. No, seriously, you can find them just about anywhere — on your favorite website, in a magazine, or even in a book. And while they may be ubiquitous, that doesn't mean they're not important. In fact, stock photos play a vital role in native advertising.
Native advertising is a type of online advertising that blends in with the surrounding content. It looks and feels like regular articles or posts, but it's actually an ad. And because native ads are designed to blend in, they rely heavily on visuals to grab attention. That's where stock photos come in.
Stock photos provide the visuals that native advertising needs to stand out. They help to add color and life to an ad, and they can also convey emotions that words alone cannot express. In other words, stock photos are an essential element of any successful native ad campaign.
Finding the perfect image for your ad can be difficult, so it would be best to have several sources of images in your arsenal. Here is a short list of the best websites to download stock photos for your next native advertising campaign:
Envato Elements
Envato Elements is a fairly new entrant in the stock photos arena, but it's making quite a splash with its unique approach to sourcing images. Unlike other sites that primarily rely on professional photographers, Envato Elements instead relies on amateurs and hobbyists to submit their best work.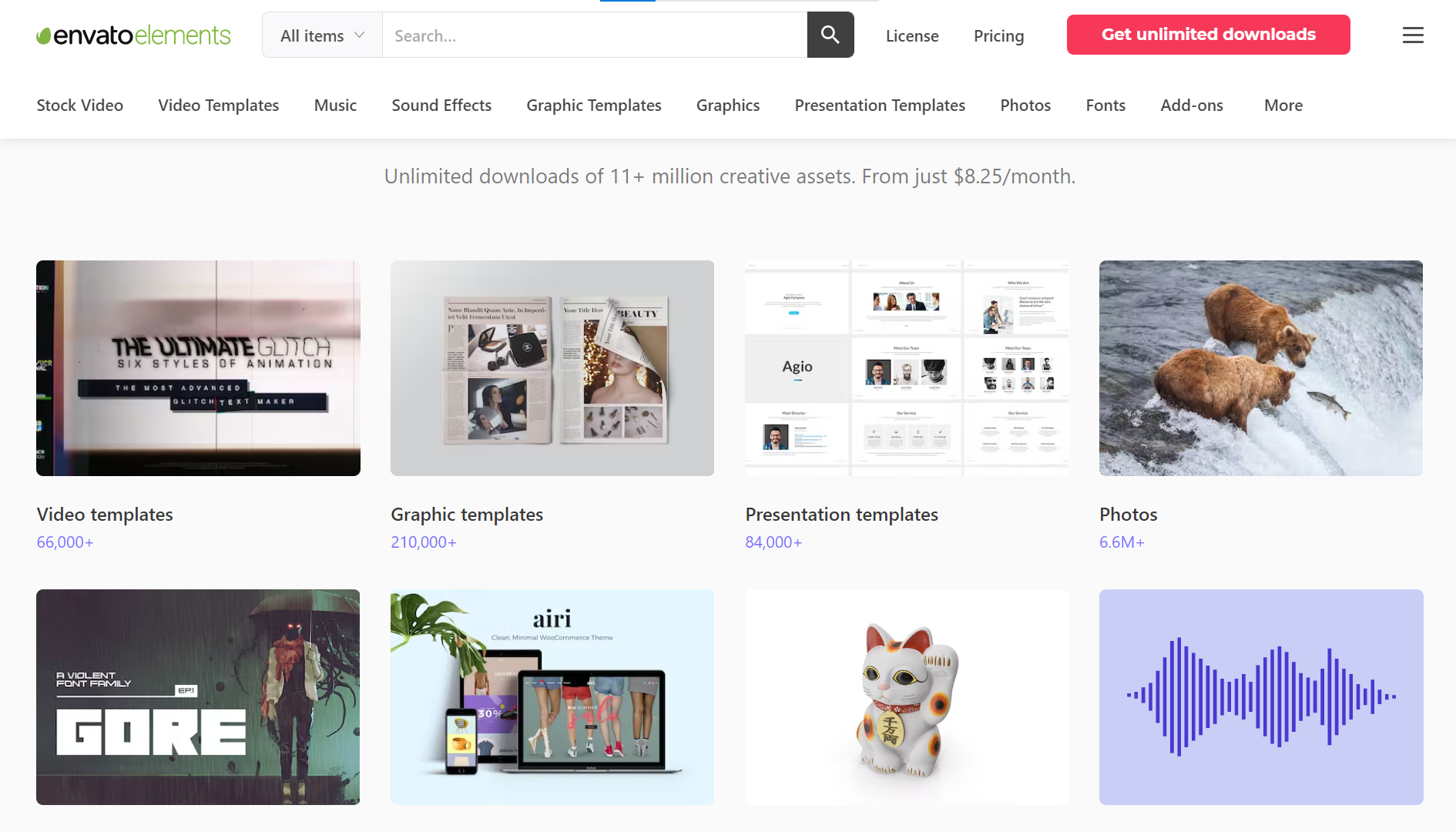 This platform has several advantages. First, it means that the site has a steady stream of fresh content since amateur photographers are constantly out and about shooting new photos.
Second, it keeps costs down since amateurs are usually willing to submit their photos for free or for a very low price. And third, it gives the site a more unique selection of photos since you're not going to find the same old tired images that have been used a million times before.
But what sets Envato Elements apart from other stock photo websites? Here are three things that make Reshoot worth a visit:
1. Most Images Cannot Be Found on Other Aggregates
Since Envato Elements is fairly new, most of the images that they curate are very original. This means that you won't find the same pictures on other free-download websites.
2. Professional-grade Stock Photos
Envato Elements is a large stock photo resource. And unlike some other sites, all of the photos on Envato Elements are high-quality and resolution-independent.
3. One Price for Unlimited Downloads
The best part about Envato Elements is that you can download an unlimited number of images, stock videos, vector illustrations, and more. That's right — you only have to pay a monthly fee of $8.25 to download any of the photos on the site. Once downloaded, you can have irrevocable rights to the image. You can then edit or modify it according to your needs.
All in all, Envato Elements is definitely worth checking out if you're looking for something different in your stock photo needs.
Unsplash
When it comes to stock photos for a native advertising campaign and whatnot, Unsplash is in a league of its own. With millions of high-quality images to choose from, Unsplash is the perfect place to find the perfect image for your next native ad project. And best of all, Unsplash is free! Whether you're looking for a photo for your website or a new Facebook cover photo, Unsplash has you covered.
One of the best things about Unsplash is that you don't need to be a professional photographer to find great images. In fact, many of the photos on Unsplash are taken by amateur photographers. That means that you can find some truly unique images that you won't find anywhere else.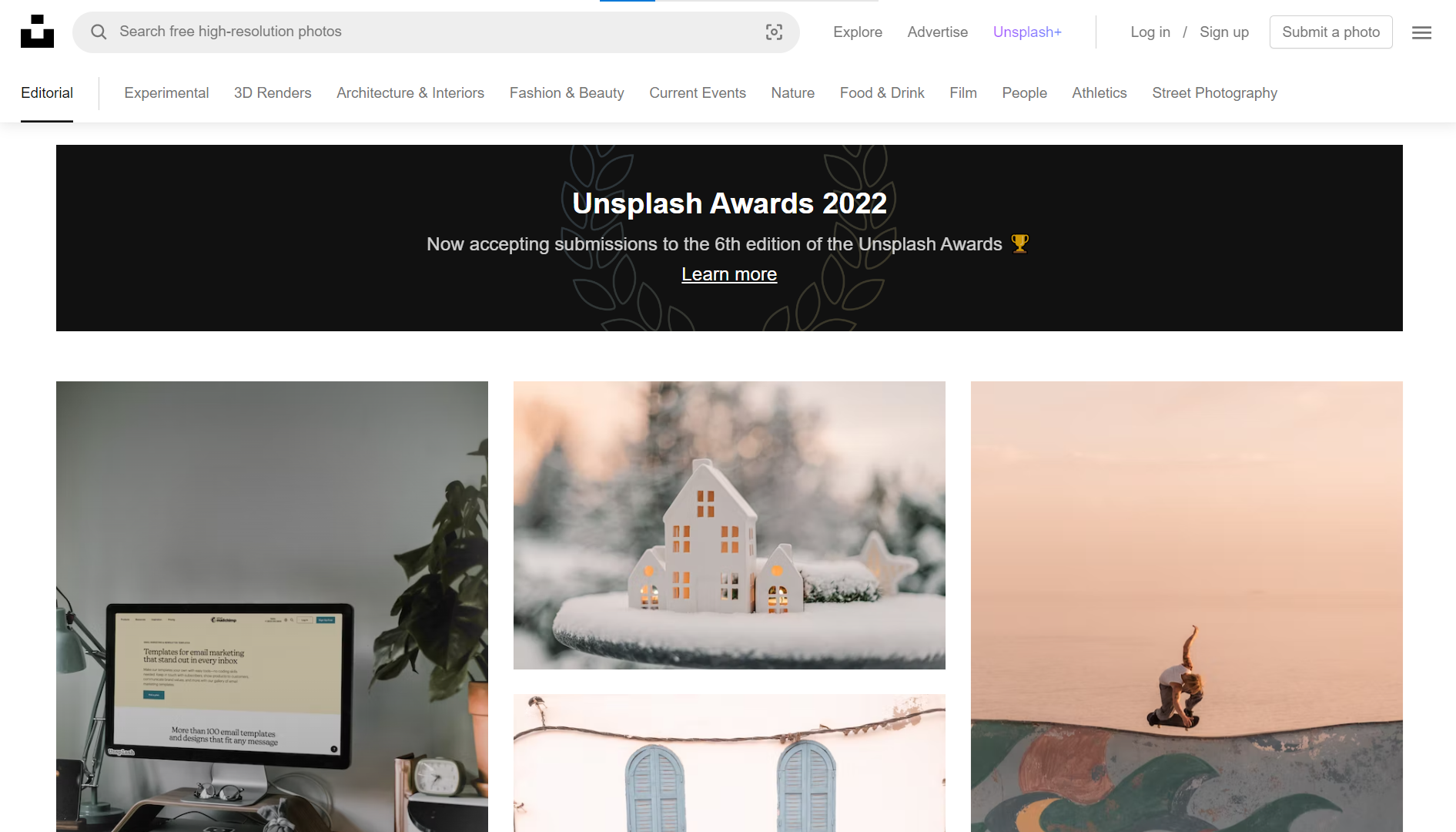 Another great thing about Unsplash is that all of the photos are released under a Creative Commons license. That means that you can use the photos for any purpose, commercial or otherwise. If you do use a photo from Unsplash, be sure to give credit to the photographer!
Finally, the Unsplash community is great. The community is made up of photographers and designers who share their photos on Unsplash.
Gratisography
There's no shortage of stock photos websites these days, but Gratisography is definitely one of the more unique ones out there. For starters, all of the images on the site are free to use, no strings attached. And while you'll find plenty of high-quality photos on other free stock sites, Gratisography's images are in a class of their own when it comes to creativity and quirkiness. Whether you're looking for an eye-catching photo to use in a native ad or just need some inspiration for your next project, Gratisography is definitely worth checking out.
One of the things that set Gratisography apart from other stock photo sites is the fact that all of the images are shot by professional photographer Ryan McGuire. This means that you won't find any generic stock photos here — each and every image is unique and has its own personality. And because McGuire is constantly adding new photos to the site, there's always something fresh to check out. Whether you're looking for a funny photo, a scenic image, or something in between, the odds are good that you'll find it at Gratisography.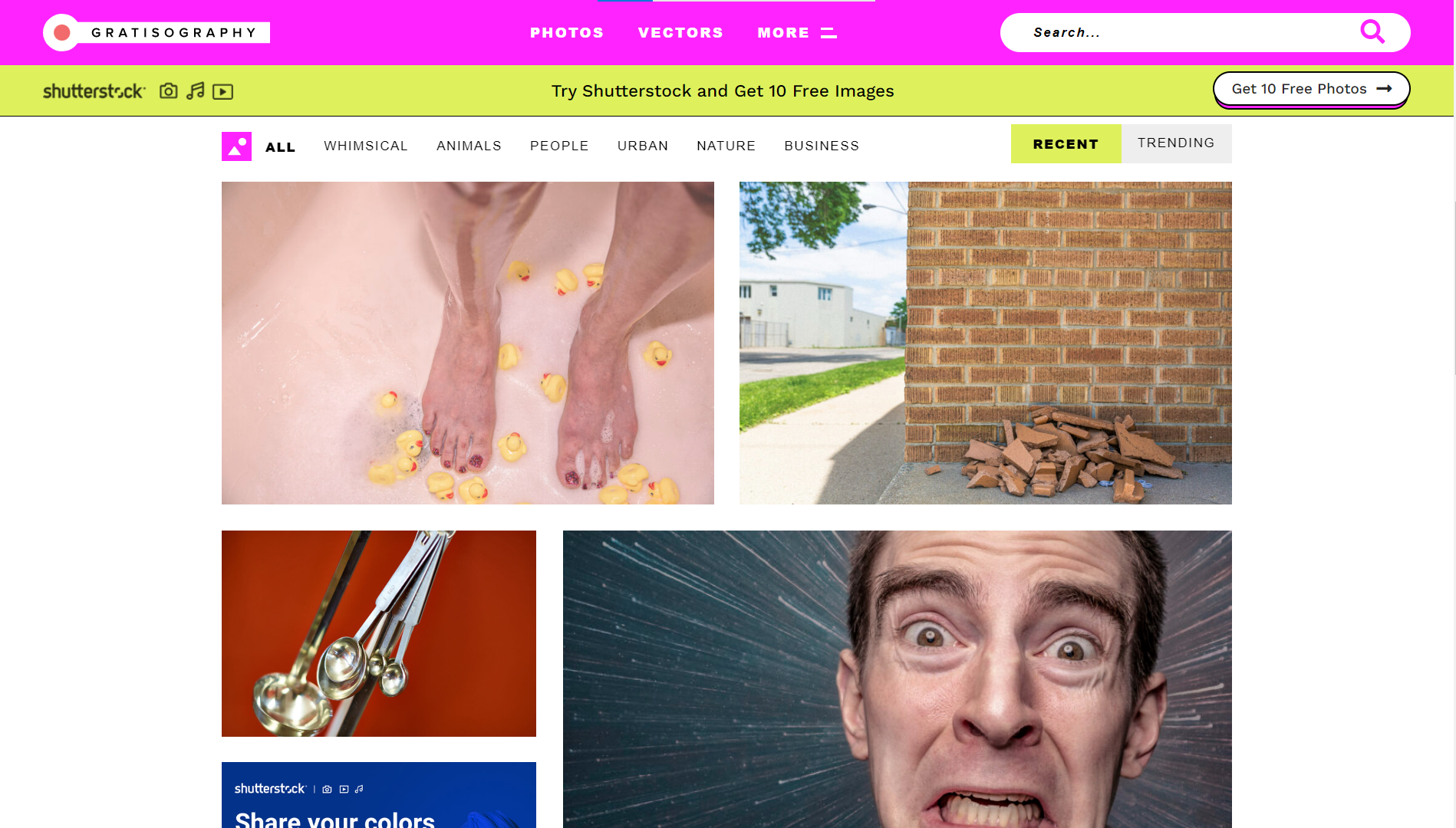 Another great thing about Gratisography is that the site makes it easy to find exactly what you're looking for. All of the photos are organized into categories, so you can quickly narrow down your options without having to scroll through hundreds of images. And if you still can't find what you're looking for, there's also a handy search bar that makes it easy to locate specific keywords. No matter what kind of image you need, Gratisography is sure to have something that fits the bill.
In addition to being creative and easy to use, Gratisography is also one of the most generous stock photo sites around when it comes to licensing. As long as you give credit to McGuire (which can be done automatically with a simple mouse click), you're free to use any of the site's images for both personal and commercial use. So whether you're working on a school project or designing a new ad campaign, feel free to take advantage of everything Gratisography has to offer.
One downside is that since it is created and uploaded by one man, there's a limited number of images. Currently, it holds more than 700 images in its database.
If you're in need of some high-quality stock photos for native advertising but tired of dealing with restrictive licenses and pricey fees, then definitely give Gratisography a try. You won't be disappointed — McGuire's collection of quirky and creative images is unlike anything else out there, and best of all, it's 100% available for free!
Morguefile
Morguefile is another great resource for finding free and royalty-free images that you can use for your native ad projects. The site offers a wide range of images from a variety of categories, and you can even search by keywords to find exactly what you're looking for. The only downside is that the selection can be somewhat limited, but if you're willing to search around, you should be able to find the perfect image for your needs.
One of the great things about Morguefile is that it's easy to navigate and find the right image for your native ad campaign. The site offers a simple search function that allows you to search by keyword or category, and you can also browse through the various collections to find something that catches your eye.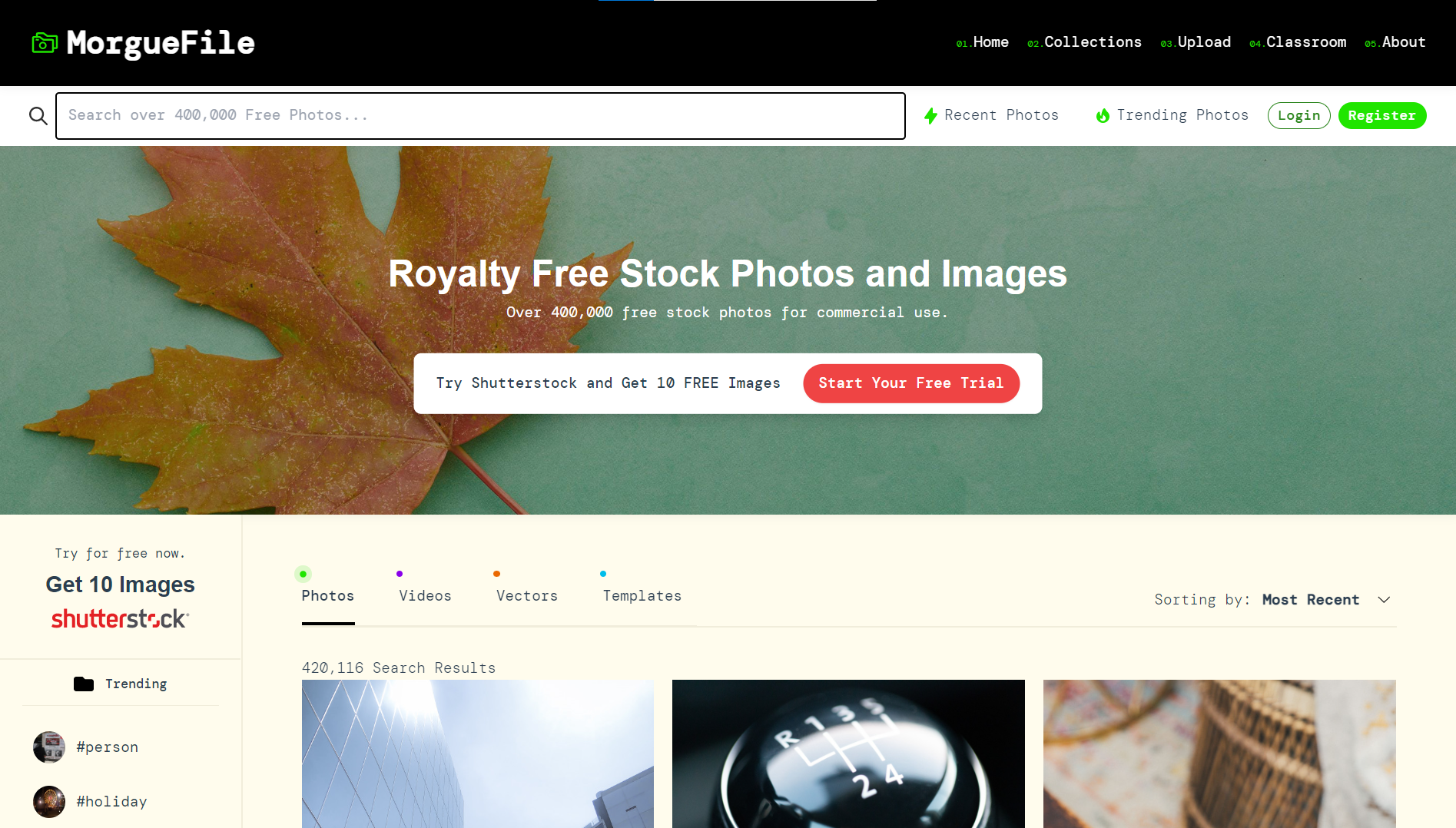 You can also sort the results by popularity, so you can see what other users are downloading and using. And if you need help, there's also a handy FAQ section that can answer any questions you may have.
Overall, Morguefile is definitely worth checking out. The selection isn't as large as some of the other sites out there, having more than 400 thousand images in its database, but it's still decent enough to find what you're looking for. And since the site offers both free and royalty-free images, it's definitely worth taking a look at regardless of your budget.
Rawpixel
Rawpixel is another great source of images for your newest native ads. The secret behind Rawpixel's success is its team of 30 curators who upload only the best image there is. Whether it is for food, beverage, manufacturing, or dating, you've got it all covered with Rawpixel.
The images and vector graphics are creative, crisp and high-quality, and high-resolution, but the number is still limited. This is because the curators behind Rawpixel are very selective when it comes to content.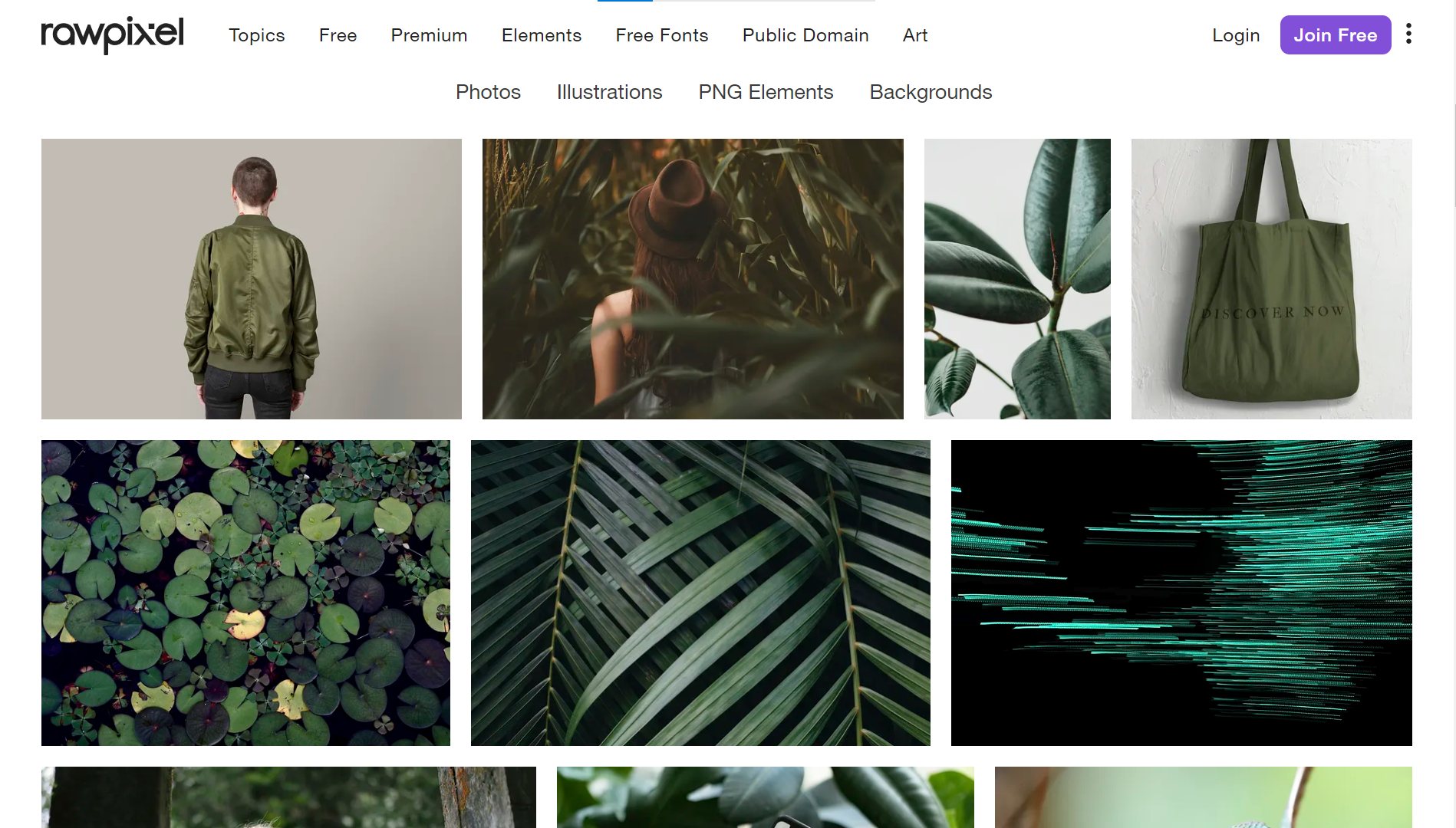 There are two kinds of subscriptions to Rawpixel: free and premium. You can subscribe to a premium plan for $8.99 per month. The free subscription has limited download choices, but it is enough to get you moving on to your next project.
Meanwhile, the paid subscription provides unlimited image downloads but with a limit of one user only. This is very advantageous to businesses that are always on the lookout for fresh and captivating images.
Stocksnap.io
If you're in need of some high-quality, free stock photos, look no further than Stocksnap.io. This site has a large and ever-growing collection of beautiful photos that you can use for your website, blog, or even for commercial purposes like native advertising. The photos are all released under the Creative Commons Zero (CC0) license, which means that you can use them for pretty much anything you want.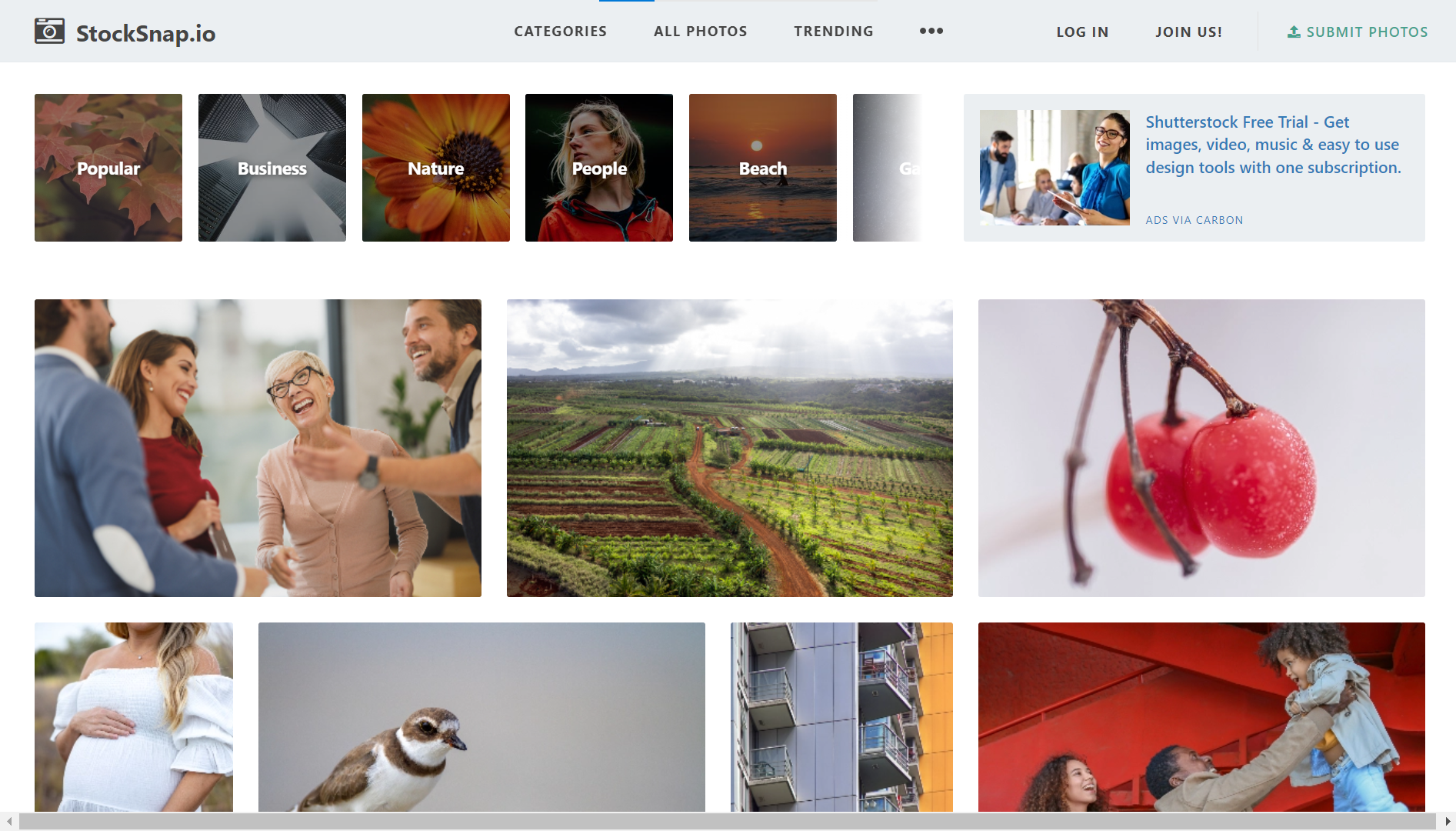 One of the best things about Stocksnap.io is that it's very easy to search for the type of photo you need. You can search by keyword or browse through the collections of popular categories. There's also a handy search filter that lets you specify the size, orientation, and license of the photos you're looking for. And if you can't find quite what you're looking for, you can always request a specific photo from the Stocksnap community.
Another great thing about this site is that new photos are added on a regular basis, so there's always something fresh to choose from. After signing up for their email list, you'll be one of the first to know when new photos are added.
All of the images in Stocksnap are free to use. After downloading what you want, you will not be required to attribute or mention the image creator.
Burst.Shopify.com
Burst.Shopify is another website for getting the Creative Commons Images that you want to use for your native ads. One look and you will think that this website requires you to pay for image usage, but you couldn't be more wrong! All the beautifully taken images are free to use, without any need for attribution.
Burst by Shopify has thousands of high-resolution images in its library. you can choose between two downloading options to fit your needs: high resolution and low resolution. This way, you won't need to edit the resolution of the images later.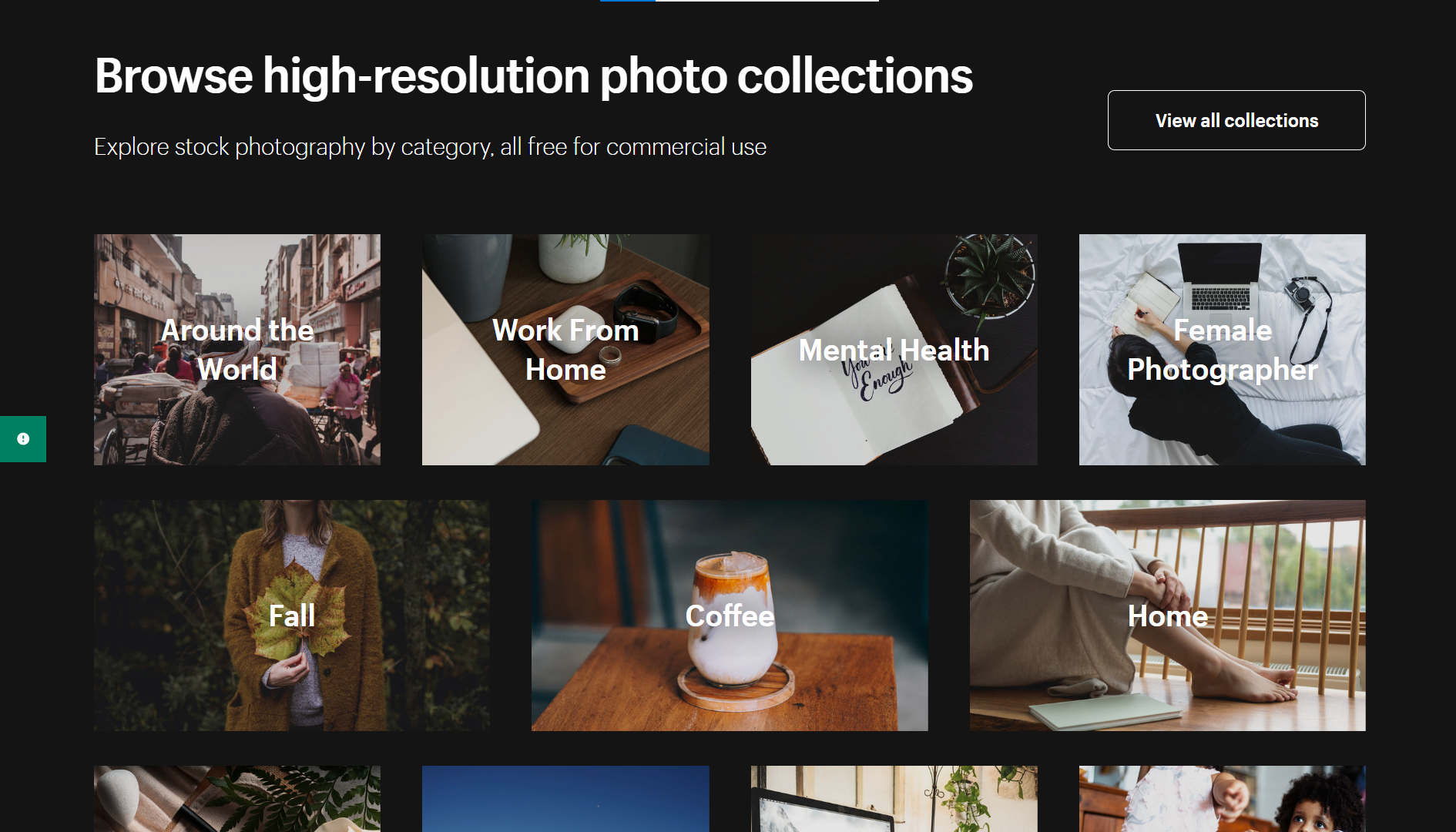 Meanwhile, the interface is easy to use and navigate. It only takes seconds to find what you are looking for since the photos are grouped into categories. While it was said that there are only more than 20 thousand images in Burst.Shopify's possession, it is still growing because of photographers who are willing to contribute their pictures to the ever-growing community.
With the beautiful images you can find on this website, I guarantee that it will quickly become one of your favorite sources!
Picjumbo
Picjumbo is another great source of free image materials for your upcoming native ads project. But if you are fairly new to the game, you need to learn a thing or two about this royalty-free downloading website.
Although Picjumbo has a decade-long history, it only has more than 3,000 images in its free library. However, all of these photos are completely free to download and can be used for whatever purpose. But even if the photos are free to download and use, there is one thing that you are prohibited from doing, and that is photo redistribution.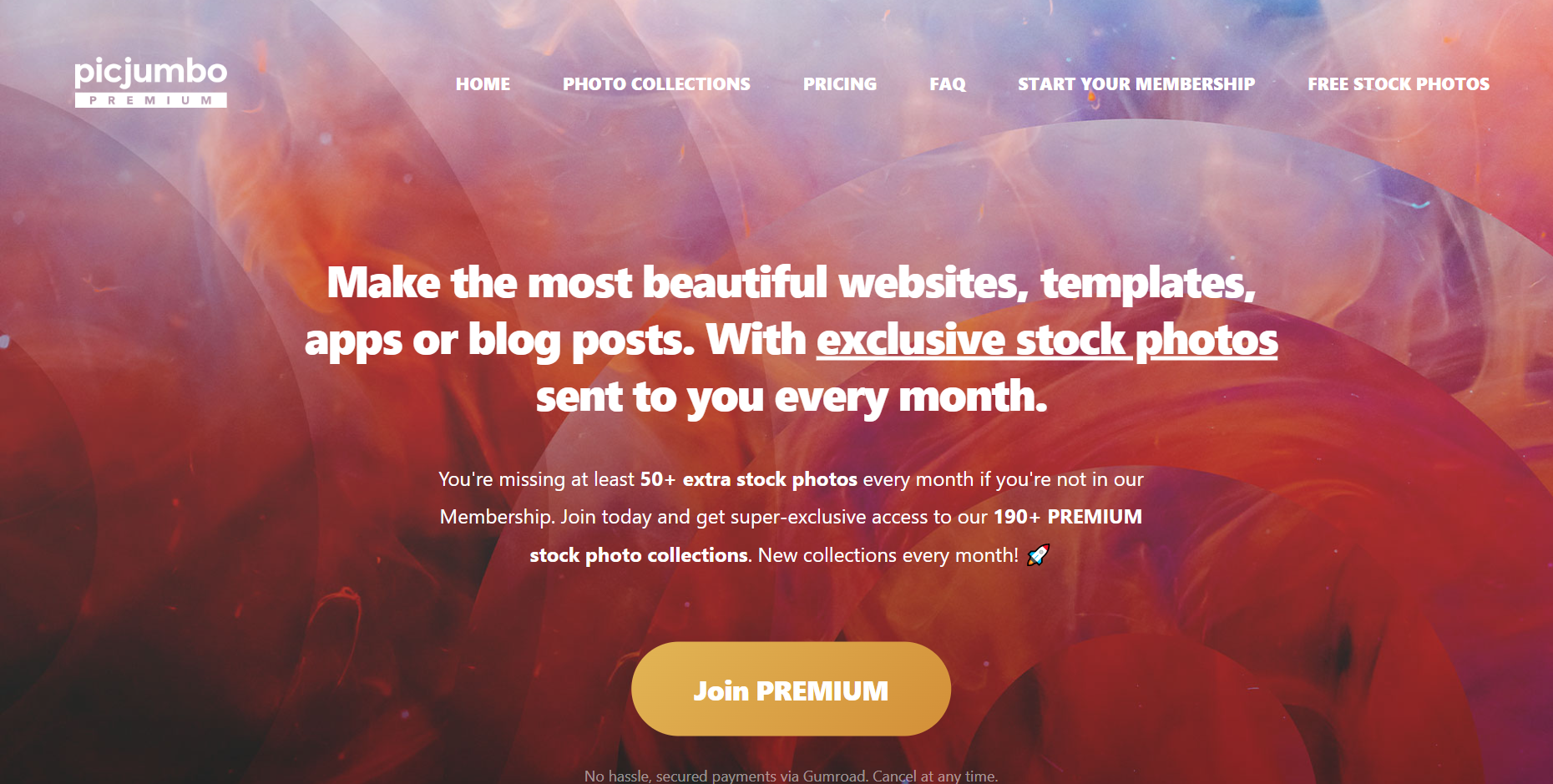 One feature that you will never experience with other stock photo-downloading websites is the dark mode option. The images that you download can be turned to dark mode to reduce eye strain. This is perfect for those who spend most of their time on a computer.
Picjumbo's premium memberships offer users a greater selection of images as well as other benefits. With Premium membership, you can enjoy using other features such as font styles, more than 50 new stock images delivered to your inbox monthly, custom fonts, and a premium image collection of over 10,000 images.
You can pay for the premium subscription in three ways:
monthly for $49
annually for $129
lifetime for $399
This website has been featured in LifeHacker, Entrepreneur, and Buffer, to name a few.
Kaboompics
The final source in our list is Kaboompics, a stock-photo source that thrives in neutral shades. It is the only image source where even the photoshoots are included, allowing you to choose among a wide variety of shots and angles.
Kaboompics' website is easy to navigate and launch a search. With a 17,000 (and growing) image library, you will surely get the image that you are looking for. The interface is easy to navigate; even a child can easily get the images that they are looking for. It even has an impressive sorting feature that will help you search for the photo that you need.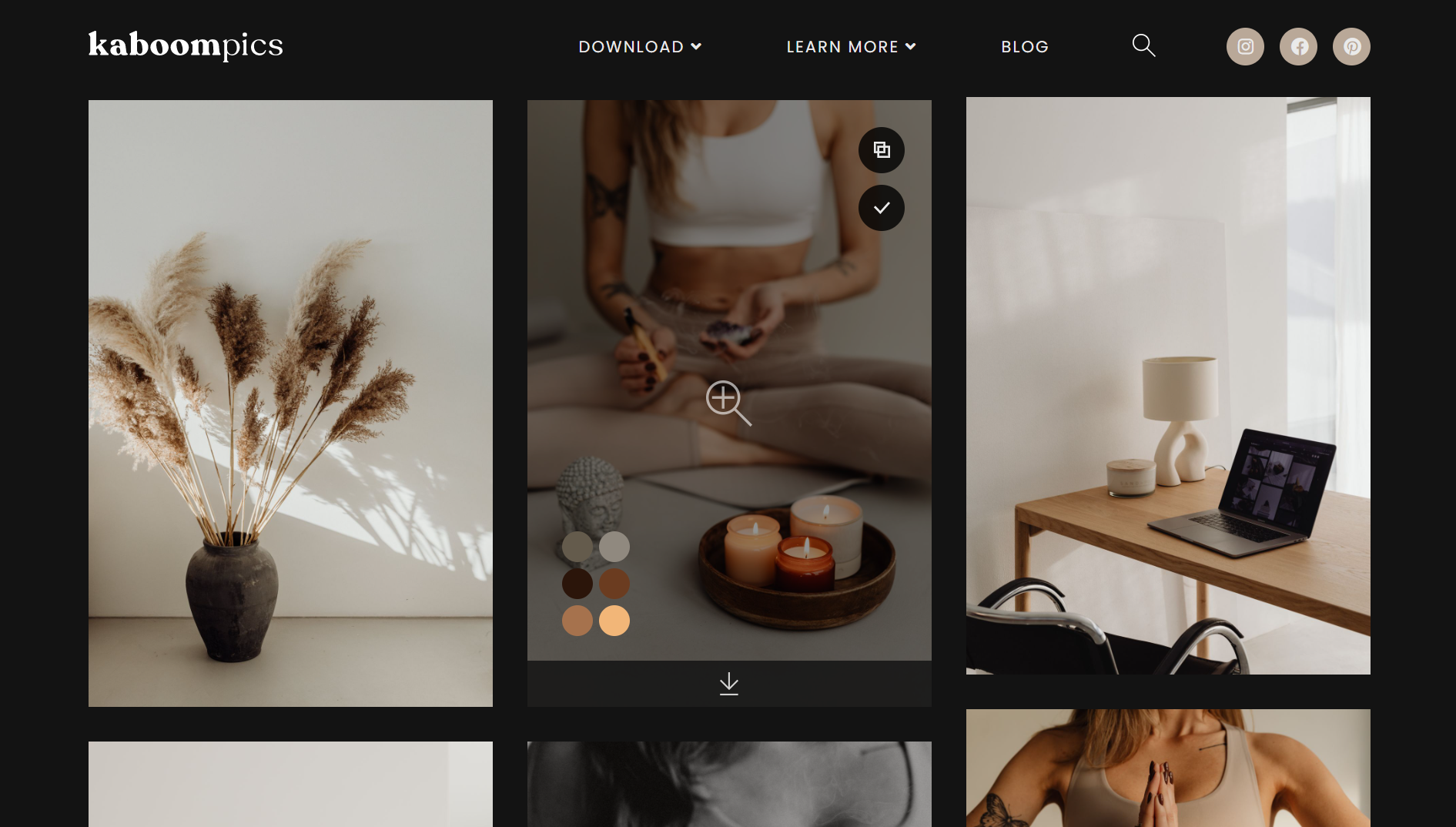 Another great feature that you will appreciate about this website is that it provides the main color scheme in the image, down to the actual HTML color code. This is extremely useful if you will be using the image on the landing page and you want to be able to match the colors. Also, this stock photo website offers multiple download sizes.
What's best about Kaboompics is that it has a blog that offers design and marketing advice. If you are in a tight spot, you could learn a thing or two on their blog.
Finally, all of the images on this website are free to download. Aside from using it in a native ad, you can do whatever you like with the photos — t-shirts, photo albums, social media, and blog photos, among other things. Attribution is not required but is highly appreciated.
Conclusion
Once you have a good sense of your brand identity and what message you want to communicate, it's time to start thinking about what type of visuals will best convey that message. Will photos work better than graphics? Or would a mix of both be most effective? Considering your audience and what type of content they tend to engage with will also be helpful here.
The next step is to find images that will better suit our native ad campaign. The internet is a vast and almost limitless source of stunning visuals. With a little effort, you can find high-quality images that are both relevant to your subject matter and visually appealing.
The online stock photo websites that we featured above offer a wide variety of images that you can use for your native ads. Often, you can find free or low-cost images that are of high quality. However, just be patient because not all of them provide the same service.
Now that you have an idea of where to get captivating and stunning images for your native ads for free, you can start creating visuals that draw attention and engage the right audience.
Did you enjoy this article? You might also be interested in these: