Picture this: you're scrolling through your favorite website, reading an article, and suddenly you're stopped in your tracks by an advertisement that seamlessly blends in with the rest of the content. Ah, the beauty of native advertising.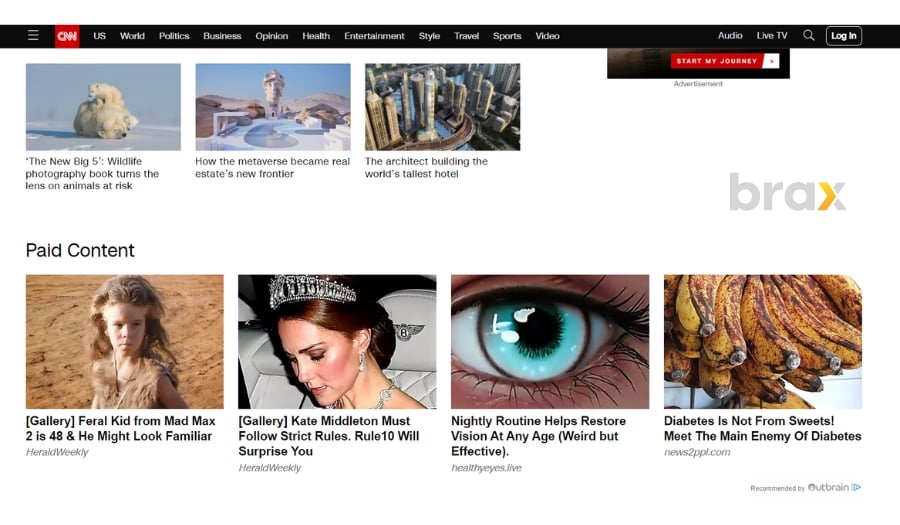 There's nothing quite like it. Because it avoids the "in-your-face" type of advertising, it increases engagement and click-through rates. Audiences hate being advertised to, after all, and would thereby trust something that doesn't look like an ad at all. As such, native advertising allows you to promote your products in a way that feels natural to the reader and, in turn, builds trust and credibility.
This type of advertising allows for a subtler approach to reaching out to potential customers. Additionally, native ads have been shown to have higher click-through rates and better purchase intent compared to traditional banner ads, making it a great alternative for affiliate marketers looking to increase their ROI.
So if you're an affiliate marketer or a small business owner who wants to build a more engaging and trustworthy online presence, native advertising may just be the perfect fit for you.
The problem with popular native advertising networks is that they can be hard to join, with some requiring immense deposits and high minimum advertising budgets per day.
However, big companies like Taboola, Yahoo Gemini, Revcontent, and Outbrain aren't your only options. There are tons of great choices out there, and that's where this article can help you.
10 Lesser-Known Native Ad Networks to Try
Here is a list of 12 lesser-known native ad networks that are worthy of consideration. These networks may not have the same name recognition as the big players, but they offer unique opportunities to reach your target audience in ways you never thought possible.
So, buckle up and get ready to explore the road less traveled in the world of native advertising.
1. MGID
Welcome to the advertising world's best-kept secret — MGID, the shining star of native ad networks, which has been around for over a decade.
This hidden gem attracts over 850 million unique visitors a month. Its audience spans the United States, Brazil, India, Russia, and Indonesia. And let's not forget about the glitzy websites where you can host campaigns with MGID, including the likes of Forbes, Huffington Post, and NBC News.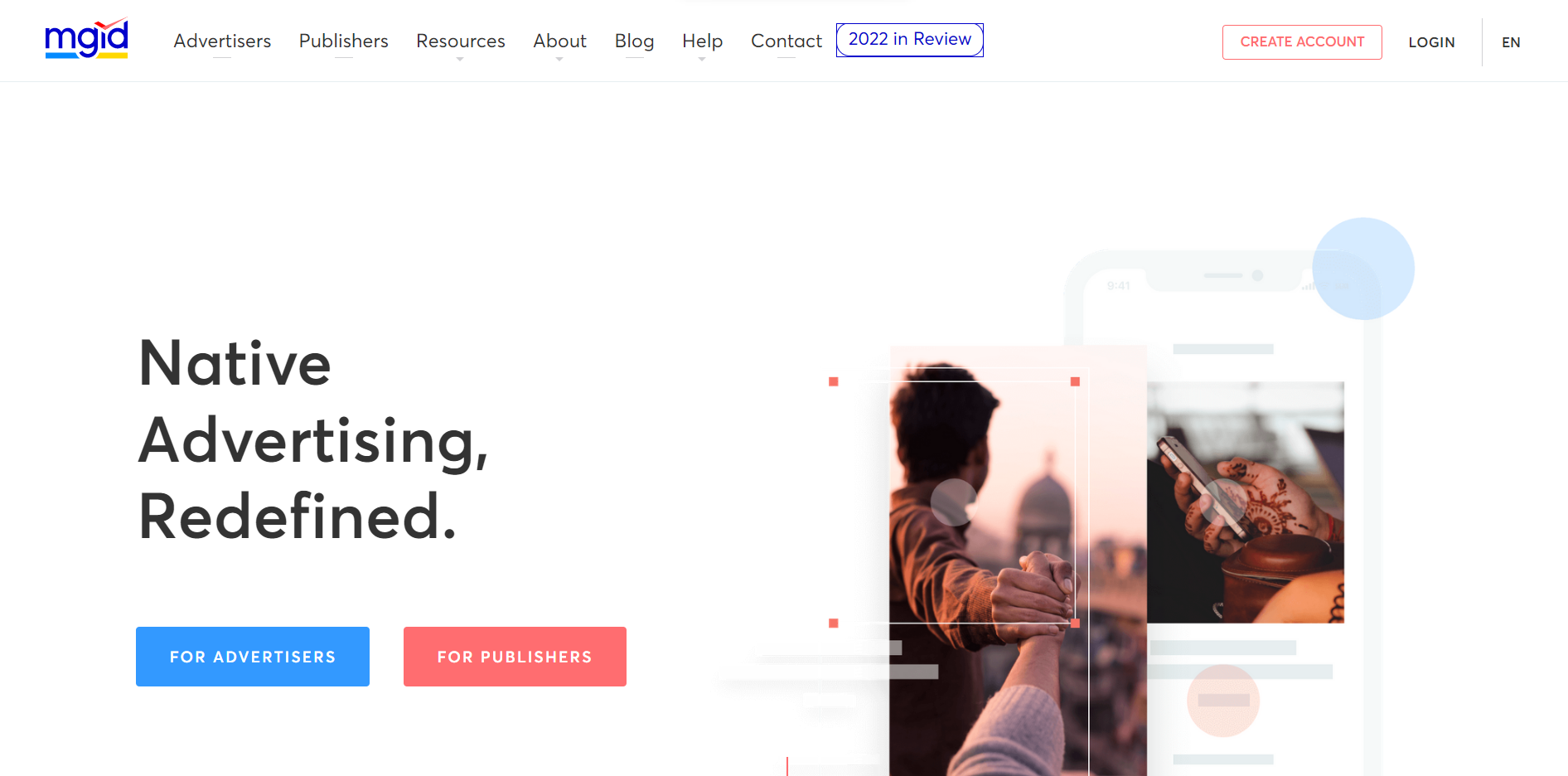 Payment and Budget
The minimum deposit to get started with MGID is $100, and you can easily add funds via Paxum, Webmoney, credit card, or wire transfer. More payment options are available, but it depends on your location.
However, the minimum daily budget per campaign is $50, which can be a bit bigger than what some marketers are willing to spend. However, if you can find good-performing sources for your campaigns, this daily budget can easily be worth it.
Targeting
With MGID's targeting options, you can be sure that your ads reach your desired audience based on specific criteria such as location, browser, device, demographics, interests, and even phone price ranges.
You can also pursue leads that have expressed interest in your offers through their retargeting option. Likewise, you can schedule the perfect time for displaying your ads and limit the number of times your ads are seen through frequency capping. MGID even allows you to adjust bids depending on parameters that drive results with their selective bidding feature.
If you're already using Brax to maximize your native ads, you'd be happy to know that you can also run MGID campaigns within our platform! Click here to find out how to connect your MGID account.
Brax helps make the management of native ads smoother and more efficient through a single dashboard. If you don't have an account with us yet, book a free demo today and we'll show you how it works.
2. Adcash
Founded in 2007, Adcash has been serving up eye-catching ads and driving traffic to websites like a boss (although they introduced native ads into the fold in 2017). They've got a massive global reach, with an ad inventory of over 200 million unique visitors every day, with top countries based on ad inventory being the US, India, Indonesia, and Brazil.

When it comes to placements, Adcash has got you covered too. They work with high-quality websites in various verticals, such as gaming, entertainment, and news. As an advertiser, you'll be in good company with companies already using this platform, like AliExpress and Shutterstock.
Payment and Budget
Now, let's talk about the bread and butter of any campaign — budget. You can get started with Adcash with just a $100 minimum deposit. And if you need to add more funds, topping up is a breeze — just a couple of clicks, and you're ready to go. Top-up options include PayPal, Skrill, Bank Transfer, WebMoney, and credit cards.
The minimum daily budget per campaign is $10. It may seem like a small amount, but trust me, it's all about how you use it! This is a great starting point for those who don't want to spend too much at the beginning. Also, this native advertising platform is designed for optimization, so you'll get the most bang for your buck.
Targeting
Imagine having a bow and arrow that hits the bullseye every time. That's the kind of precision you can expect from Adcash. With granular targeting capabilities, Adcash allows you to create native ads that hone in on the most relevant audience possible.
You can target users by location, device type, operating system, browser, language, interest, and even by browsing history. They also provide targeting by ISPs and connection type.
3. Mondiad
Another lesser-known native advertising platform that delivers results is Mondiad. First things first, Mondiad was founded relatively recently, in 2019, but don't let that fool you into thinking they're not worth the time. With an impressive traffic volume of almost 900 million daily impressions, Mondiad is definitely not playing around.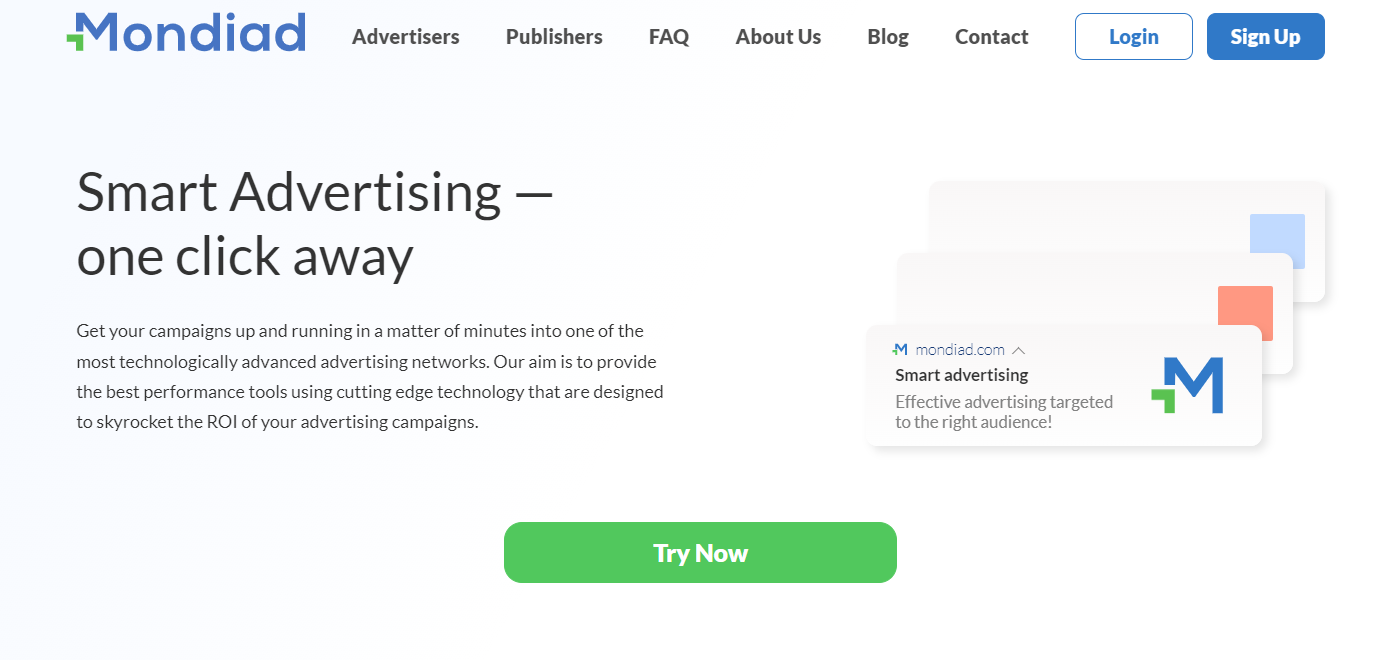 Payment and Budget
Now, let's talk numbers. The minimum deposit for Mondiad is a low $50, so it's accessible for businesses of all sizes. This is possibly the lowest deposit we've seen.
Adding funds to your account is a breeze — you can use popular payment methods like Paypal, Paxum, Capitalist, Payoneer, Cryptocurrency, and bank cards. And get this, the minimum daily budget per campaign is just $10! So, even if you're working with a tight budget, you can get your content in front of a highly targeted audience.
Native ads are paid either on a CPC (cost per click) or CPM (cost per thousand impressions) basis.
Targeting
Speaking of targeting — Mondiad makes sure it's on par with other networks based on its targeting options. You can filter audiences based on their location, device, operating system, browser, keywords, interests, and more.
So, what sets Mondiad apart from other platforms? For starters, their easy-to-use interface. They know that not everyone is a tech expert, so they've made the platform intuitive and user-friendly.
Overall, Mondiad is a top contender for anyone looking to make a splash in the digital advertising world. With its impressive traffic volume, advanced targeting options, and user-friendly interface, it's definitely worth checking out.
4. TrafficStars
Founded back in 2014, TrafficStars has had plenty of time to fine-tune its native advertising platform. And it shows — with over 5 billion impressions each day, TrafficStars is truly a powerhouse in the advertising world. However, this traffic is not solely focused on native advertising, as this ad network has at least five other ad formats.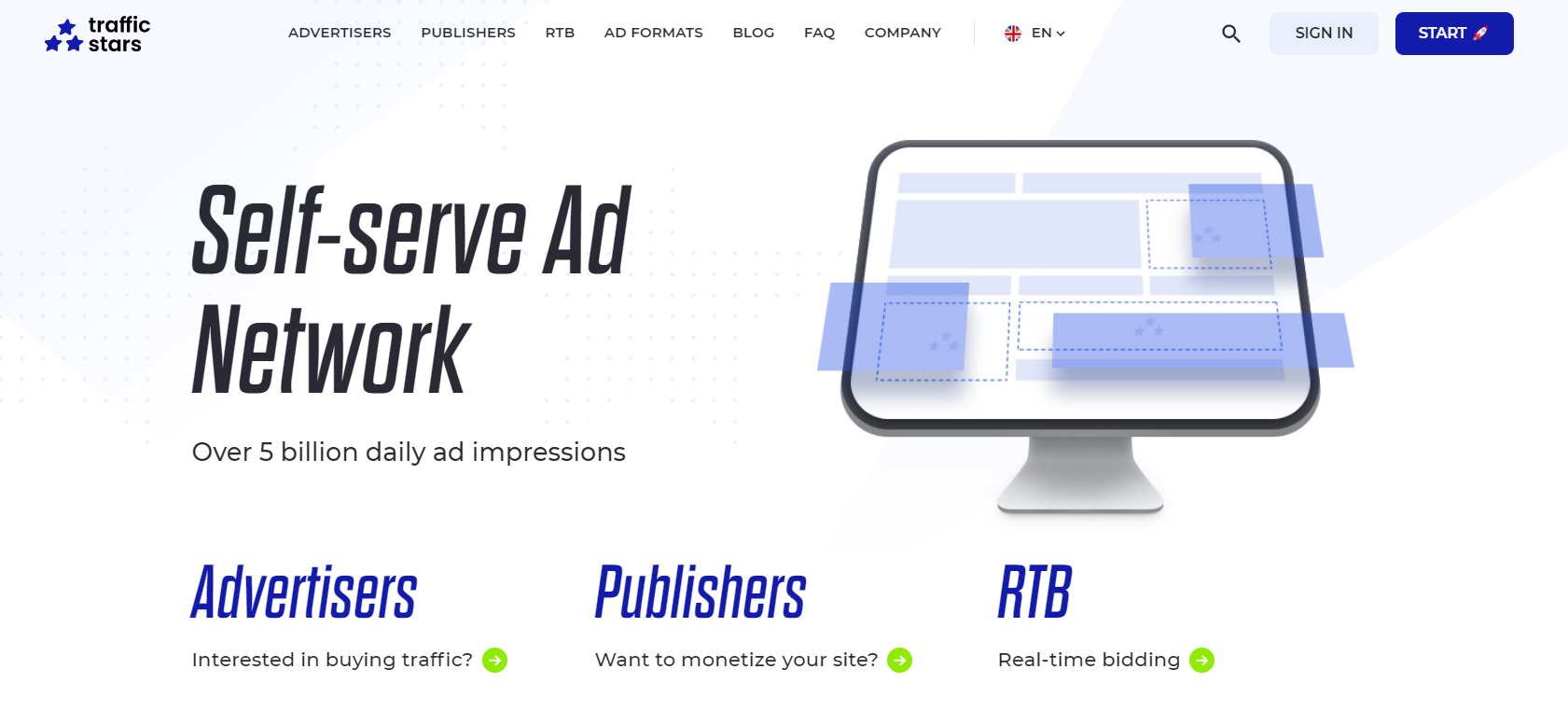 One thing to note about TrafficStars is that this native ad network dominates in the adult niche, which means offers that fall under adult health, adult dating, gambling, casino, online gaming, and other similar categories work best with their traffic. Mainstream ones — not so much.
Payment and Budget
Rushing to pay for an advertising campaign can put a heavy toll on any business's wallet, but TrafficStars is here to ease the pain with a minimum deposit of only $100.
Plus, you won't have to take a crash course on how to add funds to your account, as they accept popular payment methods like PayPal, Paxum, CosmoPay, ePayService, and wire transfers.
You have the option to choose between CPC or CPM campaigns, and if you're looking for even smarter results, TrafficStars has got your back with their "SmartCPA" feature.
Targeting
With TrafficStars, you can target users based on their location, device, browser, language, and more. Plus, you can use their advanced rule-based optimization tools to make sure your native advertising campaigns are optimized in real-time, so you're always getting the most bang for your buck.
5. EvaDav
EvaDav is another multi-ad format network, but it doesn't skimp on native ads. In fact, it delivers 150 million native ad impressions every single day. All of these come from more than 14 thousand website publishers that reach 250 countries around the world. So if you want international reach, Evadav is a great option.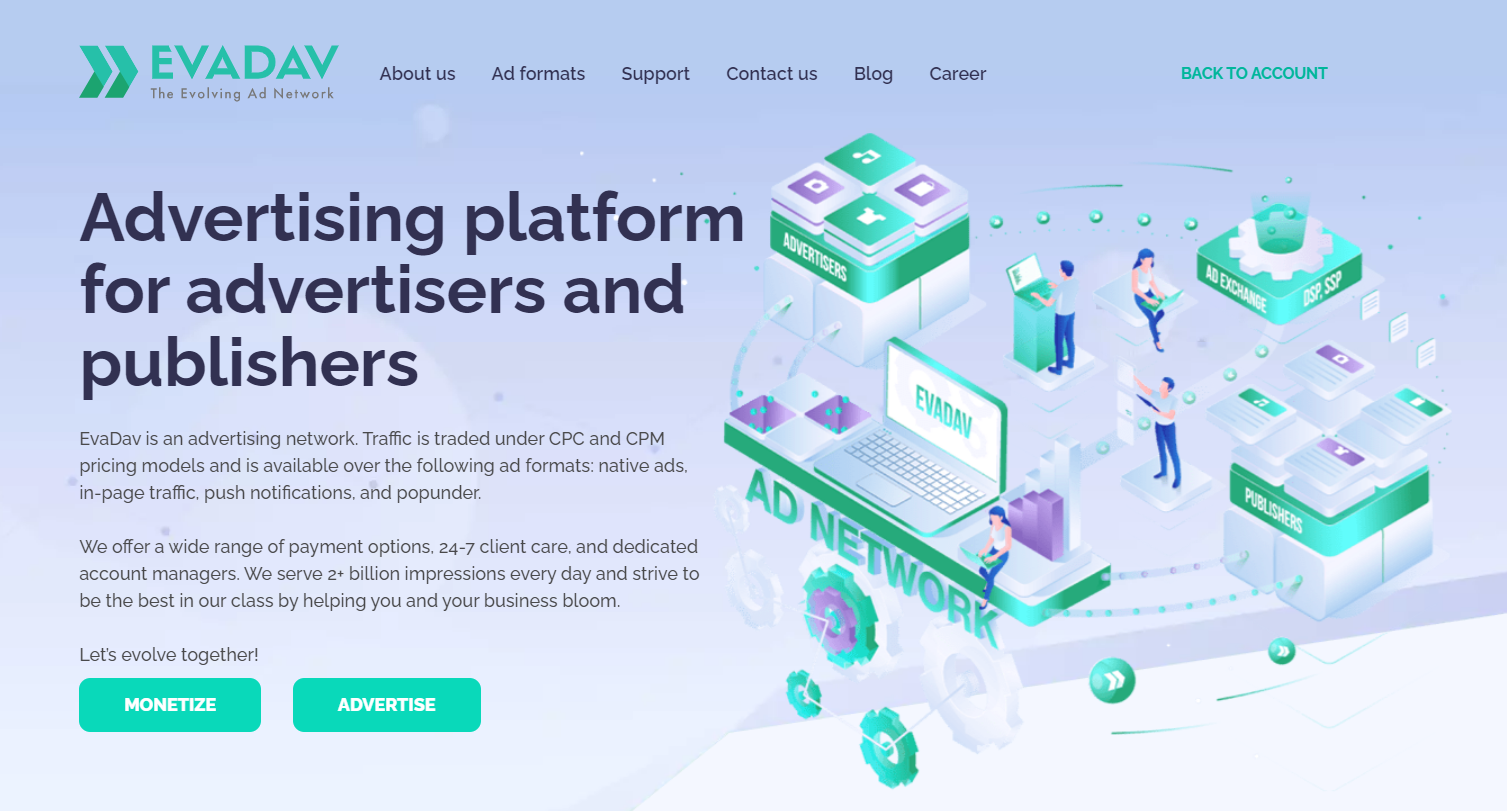 Payment and Budget
With a minimum deposit of $100, anyone can enter the game and start making bank. But the unique aspect of Evadav is its impressive range of funding options, with at least 20 different options available, including PayPal, Paxum, Skrill, Payoneer, and even Bitcoin and other cryptocurrencies.
And when it comes to ad payment model, you can choose between CPM, CPC, or Smart CPM for native advertising.
Targeting
When it comes to reaching your target audience, Evadav offers a variety of basic targeting options that allow advertisers to hone in on key demographics. From countries and regions to specific cities, device types, operating systems, and even browser and language preferences, Evadav's platform provides a range of tools to increase ad relevance.
However, unlike the top native ad networks we know, Evadav doesn't have the option to target specific websites.
6. Adsterra
With over 30 billion ad impressions per month worldwide, Adsterra is the ad network that can help you conquer the online space for your small business. Adsterra offers a Partner Care approach that is unmatched in the industry — that's right, you'll get personalized support and attention every step of the way.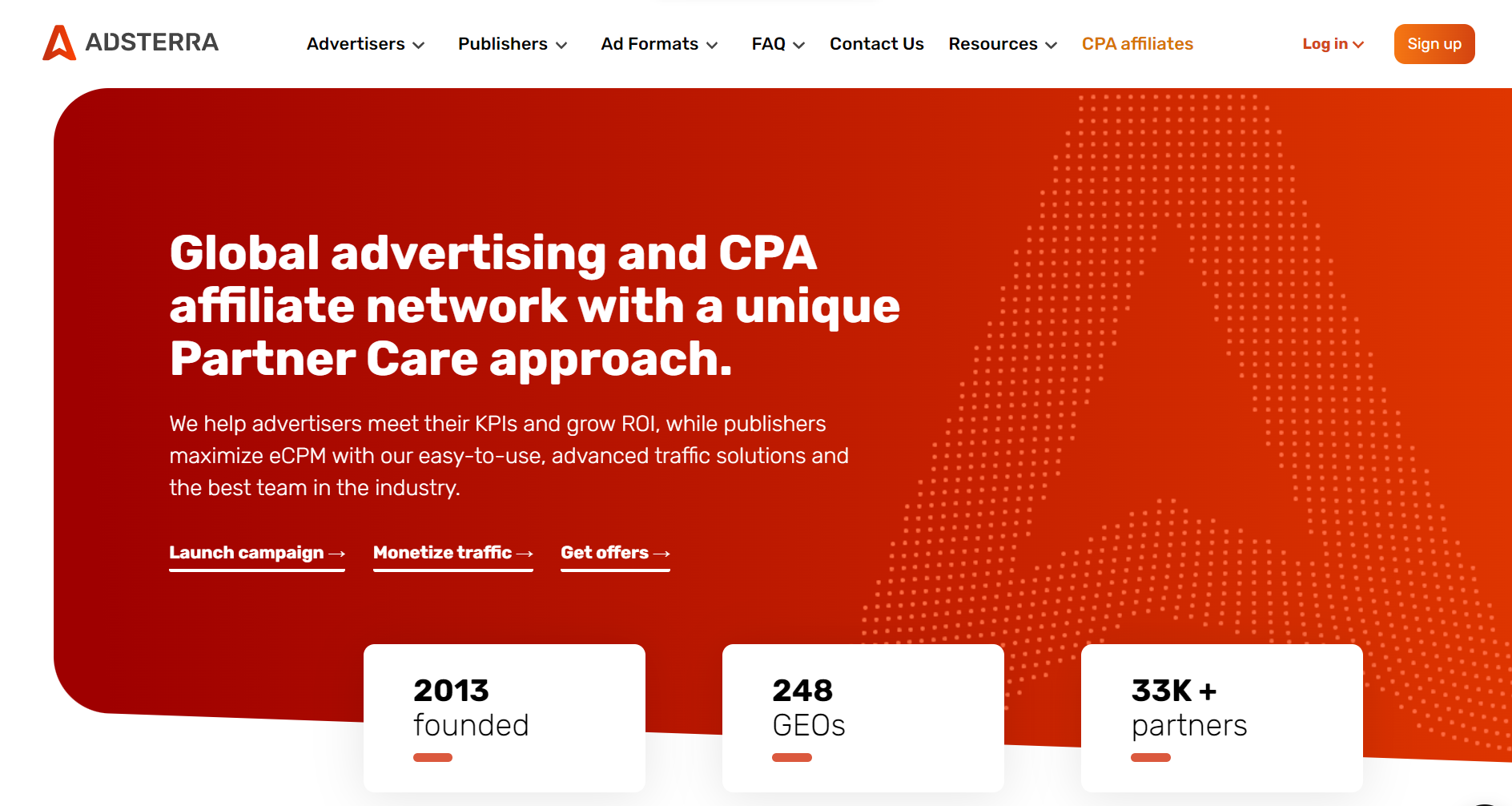 Through its direct partnerships with over 18 thousand publishers and 12 thousand brands, affiliates, media agencies, and ad networks dealing with mainstream and non-mainstream verticals, Adsterra has got you covered no matter what your niche is.
Payment and Budget
Adsterra offers exceptional native advertising opportunities at a very affordable price, with a minimum deposit of only $100. Customers have the option of choosing between various payment methods, including Visa/Mastercard credit cards, Paxum, Capitalist, PayPal, Webmoney, and Wire Transfer.
Furthermore, Adsterra uses different bidding models like CPA, CPM, CPI, CPL, RTB, and CPC, so you can pay them depending on the goals you set.
Whether you're a start-up or an established business, Adsterra provides excellent value for money. Plus, Adsterra's advertising experts are always available to guide their customers through the process and offer valuable insights that help them achieve their advertising objectives.
Targeting
Adsterra has got over 20 filter targeting choices that are sure to make your native advertising campaigns a success. They offer classic targeting options like browser and OS versions, just to make sure your carefully crafted native ads are seen by the right audience.
Carrier, user lifetime, and even IP targeting are all available to help dial in your campaign's aim. And let's not forget about their handy retargeting option, which allows you to target users based on previous activity.
7. BidVertiser
For small business owners, Bidvertiser is an excellent advertising platform that can help drive traffic, leads, and sales while keeping costs low. Founded in 2008, this company has grown to become a significant player, boasting of having over 80,000 publishers and serving 76 million native ad impressions every day.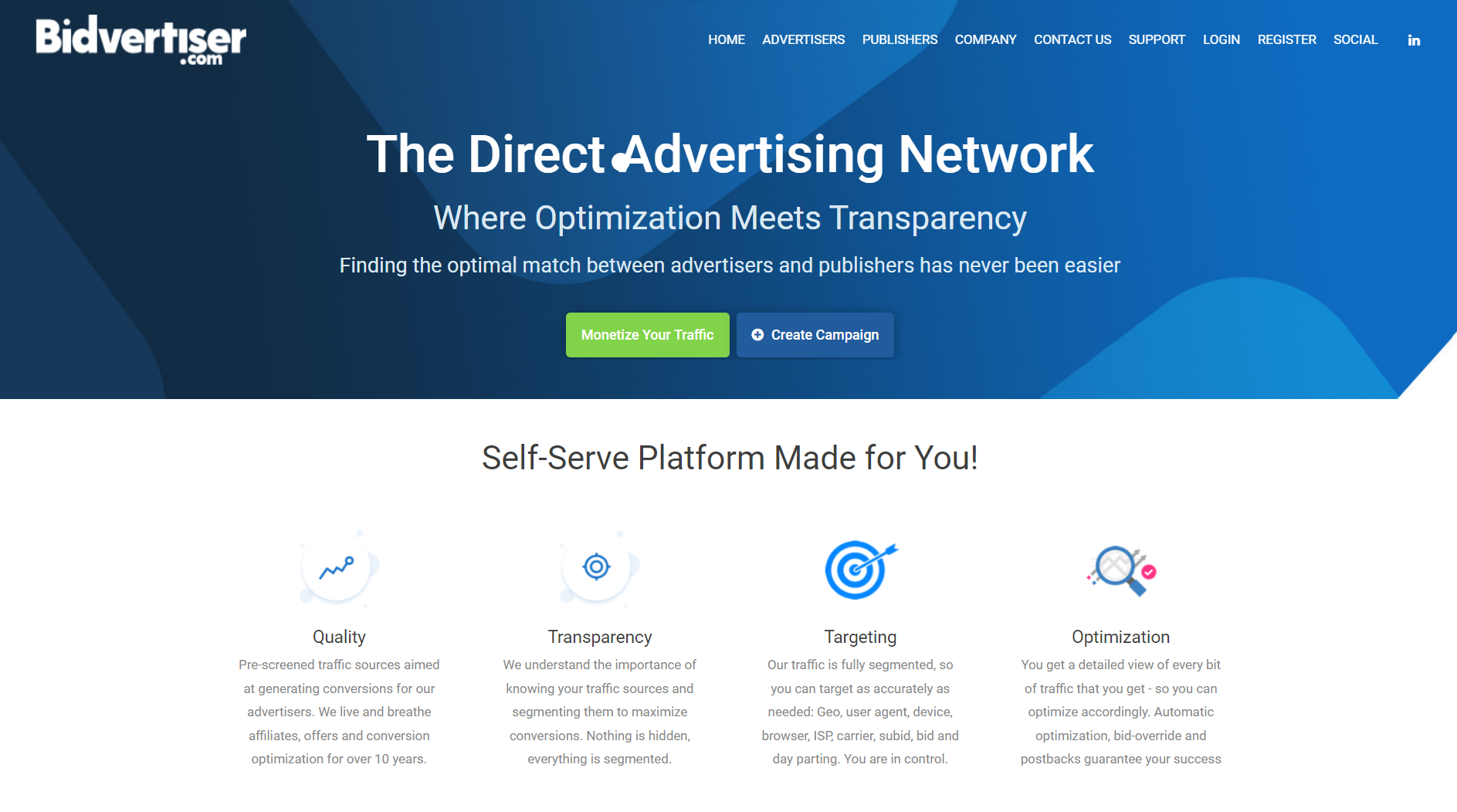 What sets this platform apart is the remarkable level of dedication and expertise that goes into its development. From the front-end, ad server, and back-end, their in-house development team has literally left no stone unturned, putting the needs of their users at the forefront of every decision.
Payment and Budget
Another key benefit of using Bidvertiser is its cost-effective pricing model. Advertisers can set their own bidding prices, and campaigns can start for as little as $5, which makes it an attractive option for small businesses on a tight budget. To top it all off, the minimum bid per click is a very low $0.003, making it an even more tempting option.
Targeting
The audience filter options in Bidvertiser are actually pretty standard, with the ability to target geolocations (down to the city), OS and browser, carrier and connection, and language.
What's different here is that you can target websites based on quality (which is based on Bidvertiser's own evaluation). The best option is to target the top 10% of websites in the platform, but if you want more traffic and cheaper rates, you'd have to add more websites to your list in increments of 10% (Top 10%, Top 20%, Top 30%, etc.)
8. ClickAdilla
Clickadilla is a Dublin-based self-serve ad network that provides advertisers with an extensive range of native ads that generate an impressive 200 million daily impressions. Its ads reach up to 240 countries worldwide. It has other ad formats under its wings, too, such as banner ads, popunders, push notifications, and more.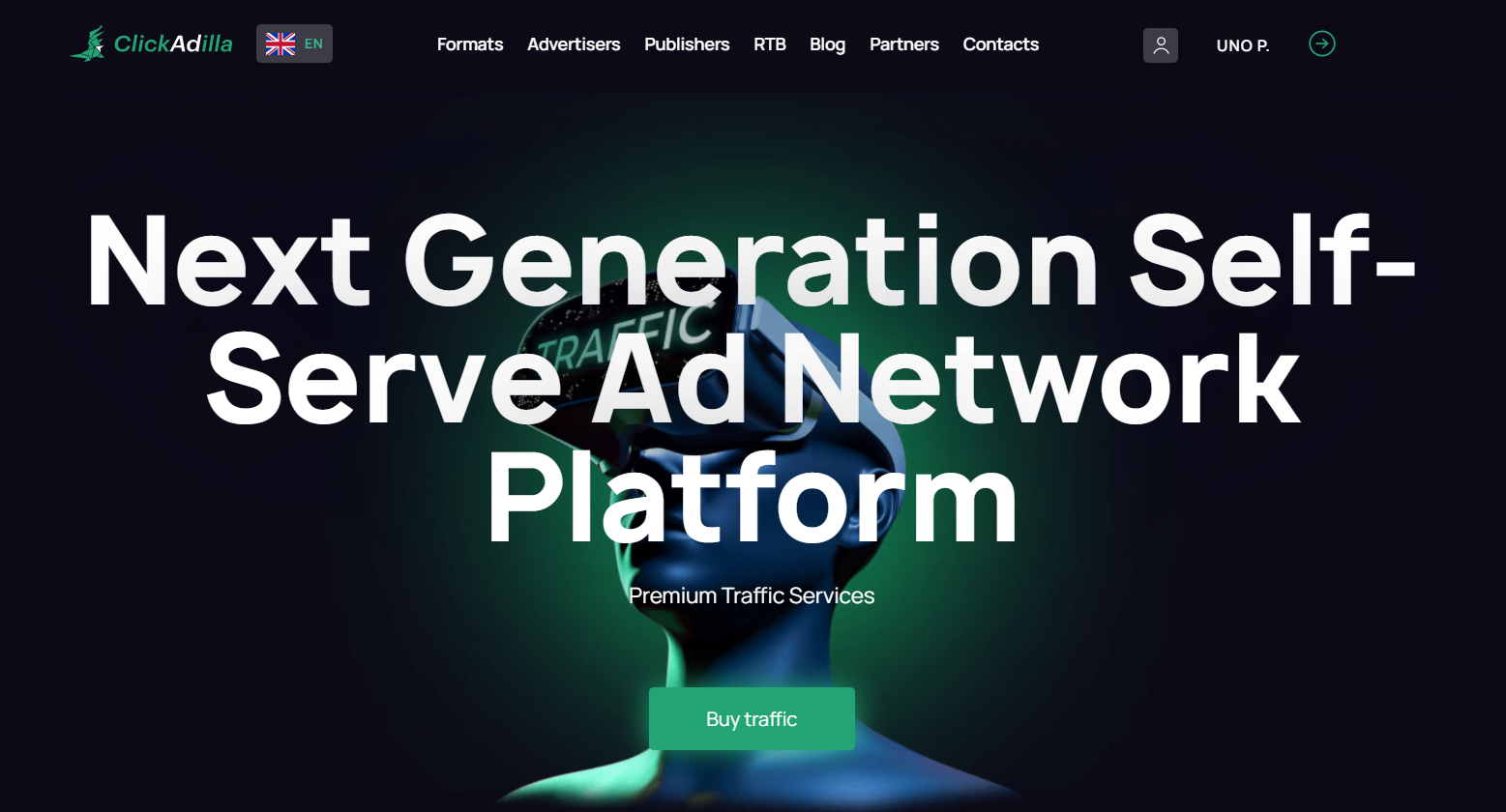 Its expansive reach is complemented by smart pricing, cutting-edge technology, and exclusive traffic sources that provide an effective solution for advertisers looking to target their ideal audience. Additionally, Clickadilla has put anti-fraud measures in place, providing advertisers with an added layer of security and ensuring that their advertising campaigns are delivered to real and engaged users.
One caveat is that the majority of ClickAdilla's website publishers are adult in nature. Though they do have mainstream traffic, the volume is not that high.
Payment and Budget
Just like Bidvertiser, the daily budget for native ads campaigns starts at $5 here at Clickadilla. You can fund your account quickly by at least $49 (yep, not a whole number, but definitely the lowest) through various payment methods, including credit cards, Capitalist, Bitcoin, and other types of Cryptocurrencies.
To top that off, Clickadilla offers the flexibility to pay ads on CPM, CPM goal, CPC, and even CPA (contact your account manager to enable this feature).
Targeting
When creating a campaign, you can target by country, device type, browser, language, OS, IP2 location type, and traffic type — whether adult or mainstream.
And if you're looking to reach consumers in the adult space, Clickadilla's platform offers the ability to target or block specific adult-based websites.
9. Galaksion
Established in 2014, Galaksion has come a long way in the world of advertising. With a worldwide reach and multiple ad formats available, it has become a reliable source for businesses to advertise their products.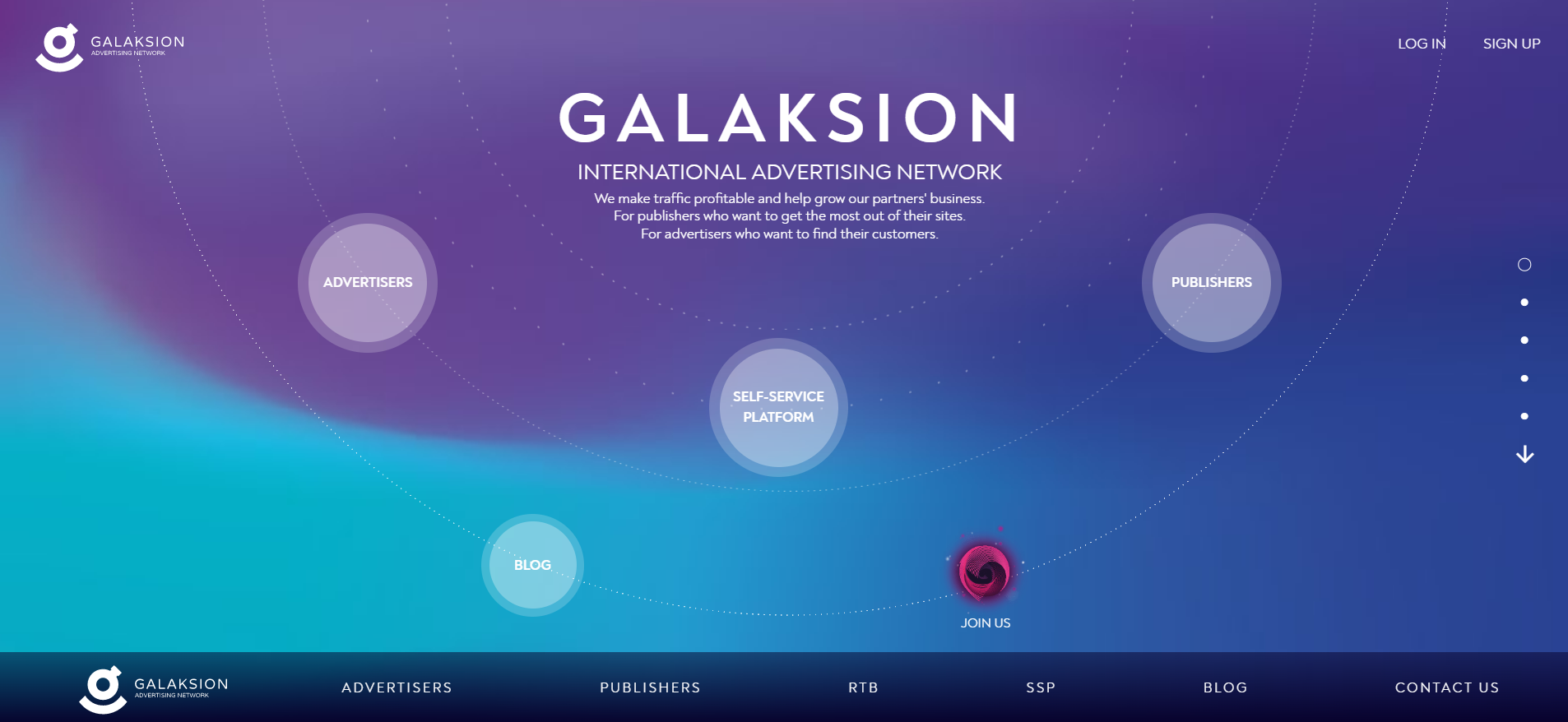 One of the reasons why Galaksion is worth adding to this list is the fact that it provides an average of 170 million impressions for native ads every single day. Its ads can reach up to 190 countries around the world. Also, it maintains mainstream publishers, so this native ad network does not allow adult-related offers.
Payment and Budget
The minimum deposit is just 50 bucks — whether in Euros or in US Dollars. Payments can be done through credit cards, Paxum, WebMoney, and wire transfers.
Galaksion's business models for native ads are CPM and CPC. With a minimum CPC bid of only $0.001 and a minimum CPM bid of $0.01, you'll be able to advertise with ease and choose the option that aligns best with your campaign goals.
The lowest daily budget you can set per campaign is $10.
Targeting
The targeting options are pretty typical, with the following available:
device type (mobile/desktop)
operating system
OS versions
browsers
regions
cities
languages
ISP
IP lists
You can also use macros to dynamically populate both your URL and your ad creatives to personalize the ad that your target audience sees.
One thing that sets Galaksion apart from other native ad networks is that it offers ready-made ad templates. Yes, if you have no idea how to promote your product or offer, you can simply browse through Galaksion's list of ads and use any of them. Convenient, isn't it?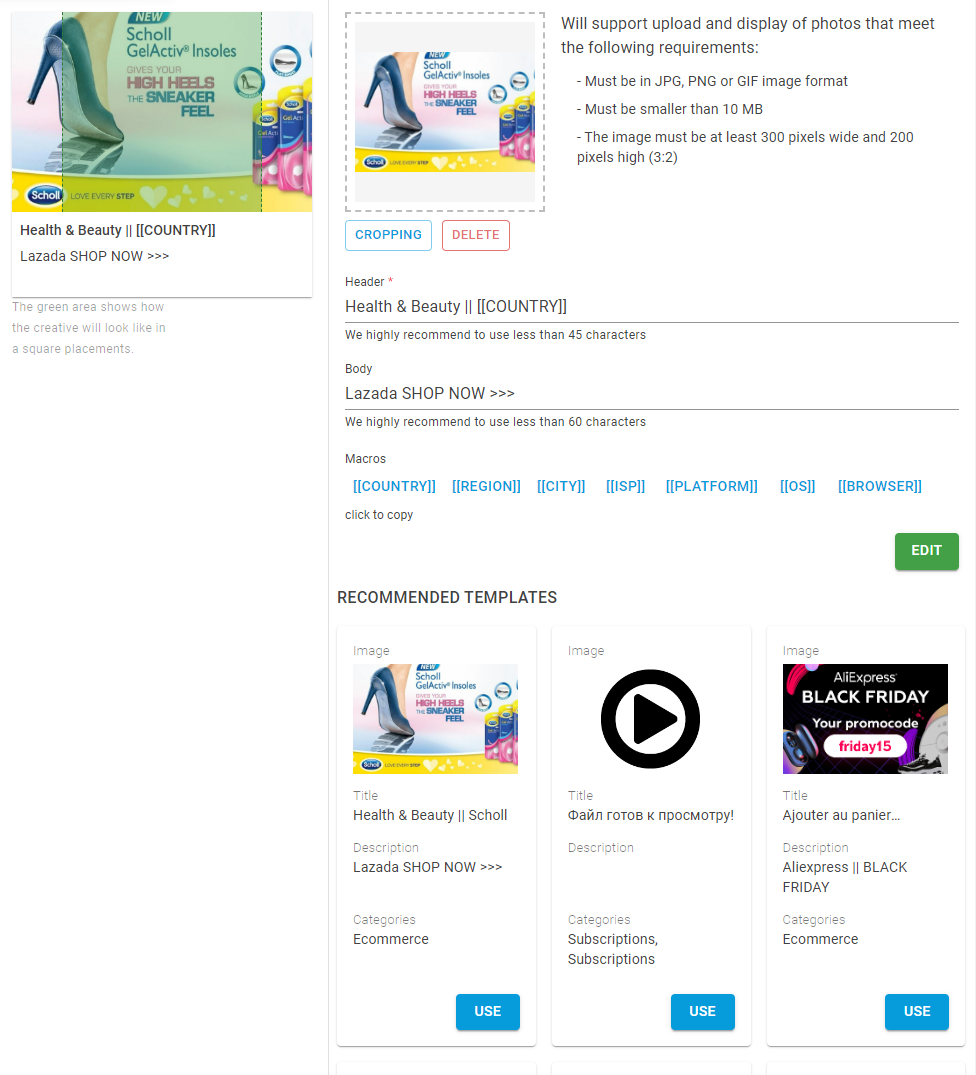 Of course, it would be best to modify these to match your own offers, but at least you won't be feeling your way in the dark — Galaksion provides you with a starting point.
10. MyBid
As a fully-managed platform with direct access to its own traffic sources, you'll never have to worry about reaching your target audience with MyBid. While the company just opened its doors last 2020, its traffic is proving to be a great resource to affiliates who are willing to hand over the reins to dedicated account managers.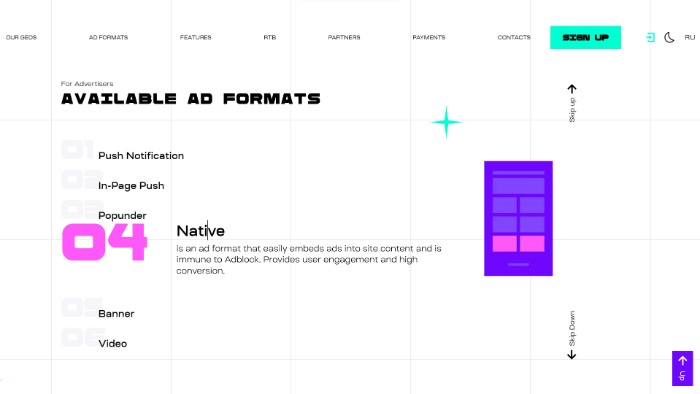 And with free creatives provided by Mybid, your ads will be as eye-catching as they are effective. But that's not all – it also offers instant campaign moderation, a variety of ad formats (including native ads), and in-house anti-fraud measures.
For native ads alone, it delivers an average of 170 million impressions per day.
Payment and Budget
When adding funds, you will have to talk to your account manager for a checkout link. Payments can be made through credit cards, though they do offer extra payment options based on your needs. The minimum top-up is $100.
MyBid operates on a CPM and CPC bidding model, with rates that vary by location and targeting specificity. You might be surprised to find out that their rates can start as low as $0.1 per CPM. However, these rates change on a daily basis.
Targeting
There is nothing special about MyBid's audience filters — it is the same as all the other networks above.
Managed Native Advertising
Now let's say despite the "ease of use" that is being marketed by native advertising platforms, you feel that you can't maximize native ads because you don't understand advertising that well. We have a solution for you, and that's managed advertising.
We mentioned above that MyBid is a fully-managed advertising platform. But what if you want to work with multiple native ad networks, or you want to work with the biggest options such as Outbrain, Taboola, Revcontent, Yahoo Gemini, and MGID?
You have one great option, and that's Brax.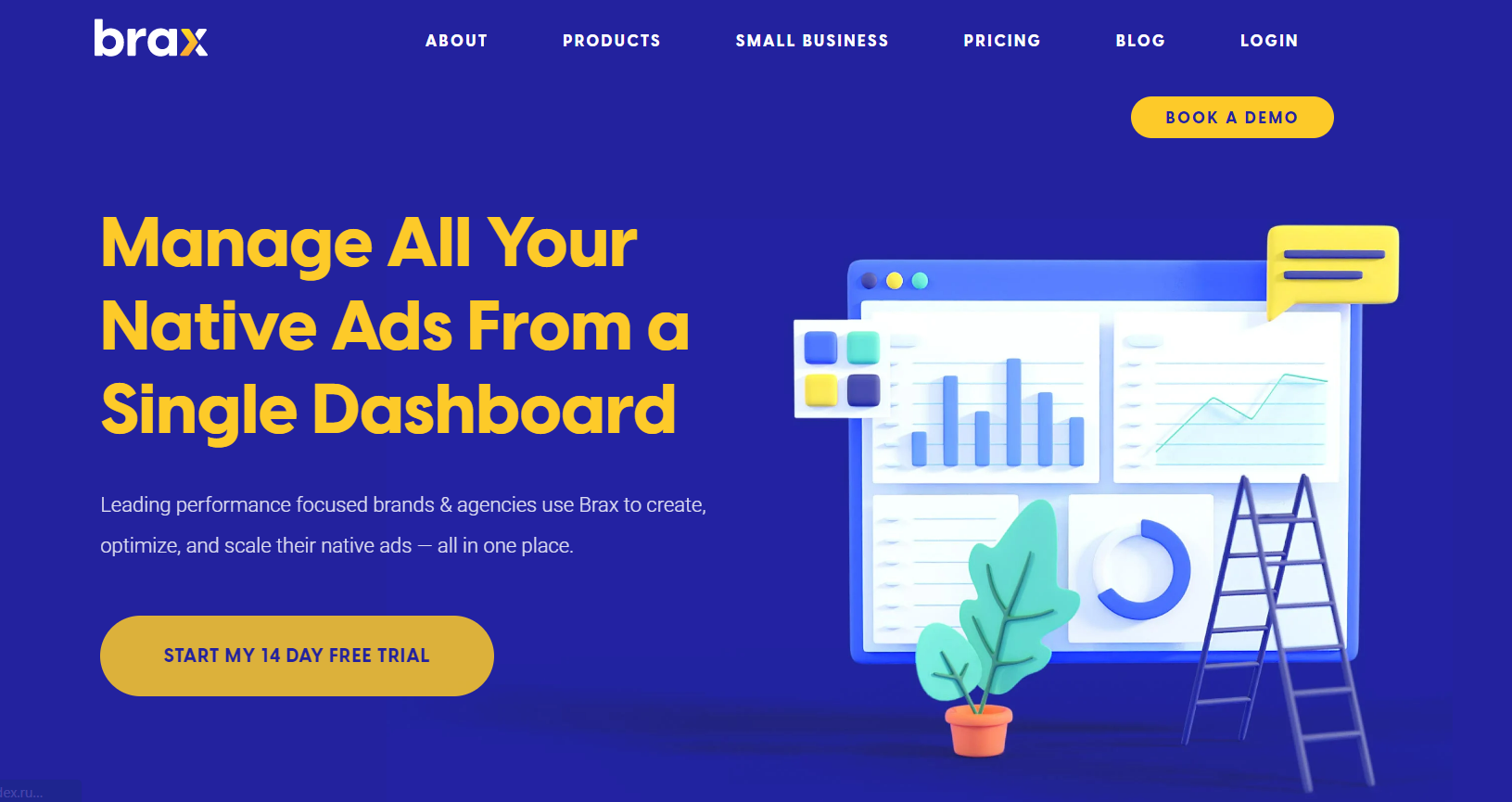 Our native advertising management platform provides a one-stop-shop for all your campaign management needs, all in one intuitive dashboard.
Even if you're new to online advertising, our team of experts can take over and ensure your campaigns are performing at their best. Simply discuss your goals and budget with us, and we'll take care of the rest.
Ready to take the first step to achieve your advertising goals? Send us a message, and let's talk.
Check our article on Self Service versus Managed Ad Services to help you decide which route to take.
In conclusion...
Finding the right native ad platform to promote affiliate marketing products and your small business' services requires research and testing. By understanding the different platforms available, their targeting options, special features, and optimization strategies, you can create effective native ad campaigns that drive traffic and generate conversions.
Remember to keep testing and refining your campaigns to find the optimal mix of targeting, ad creative, and budget that maximizes ROI.
If you liked this article, you might also be interested in the following: