If you're looking to reach a new audience with your brand, TikTok may be the perfect platform for you. TikTok has over 1 billion monthly active users, and brands are just beginning to scratch the surface of what's possible with TikTok ads—so best to get in on the action now and make the most out of it.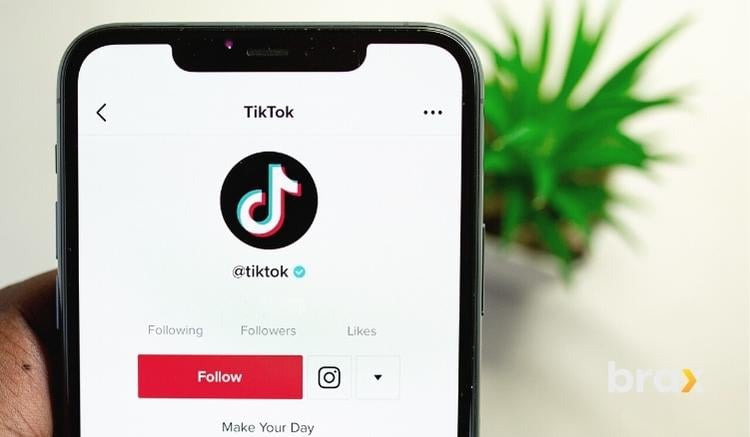 In this guide, we'll discuss the following:
Benefits of Using Tiktok to Advertise
As a business owner, you are always looking for new ways to reach potential customers and grow your brand. With the advent of social media, there are now more opportunities than ever to connect with people all over the world. One of the most popular social media platforms is TikTok, which has amassed over a billion active users.
And while you may think that TikTok is just for kids, the truth is that it can be a powerful marketing tool for businesses of all sizes. Here are some of the benefits of using TikTok to advertise your business:
1. Reach a global audience
TikTok is available in over 150 countries, which means you have the potential to reach a huge audience with your marketing campaigns.
You may be surprised to learn that TikTok isn't just for teenage girls lip-syncing in their bedrooms. In fact, the app has become a powerful tool for businesses and creators who want to reach a global audience.
And unlike other platforms, TikTok is not limited to a specific demographic or geographic location. TikTok users come from all over the world, and they're passionate about a wide range of topics. This makes TikTok an ideal platform for businesses and creators who want to reach a global audience.
2. Connect with influencers
There are many influential TikTok users with large followings who could help promote your business to their followers.
As anyone who's been on social media in the past few years knows, influencers are kind of a big deal. With their huge followings and engaged audiences, they have the power to reach a lot of people with their message. And that's why brands are so keen to work with them. TikTok is actually a great place to connect with influencers.
3. Create engaging content
TikTok is all about innovative and engaging content. So if you can create videos that are entertaining and informative, you'll likely see success with your advertising campaigns.
There is no limit to what you can create on TikTok, which means you can really get creative with your content. And since TikTok users are known for their sense of humor and love of all things creative, this is the perfect platform to show off your brand's personality.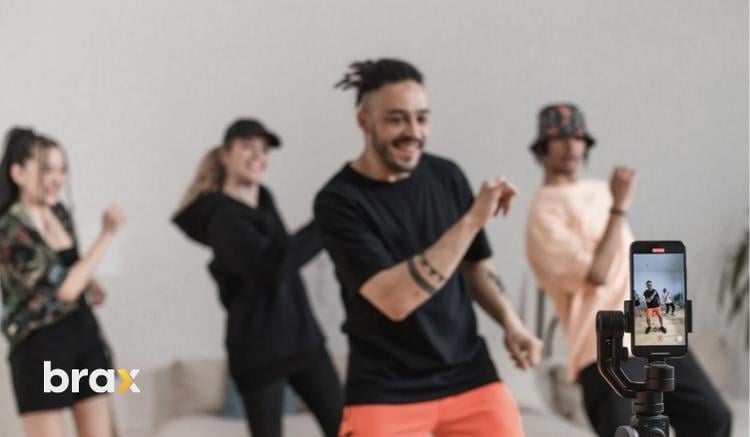 4. Cost-effective
Compared to other forms of advertising, TikTok advertising is relatively inexpensive.
For starters, TikTok has a very engaged user base. The average user uses the app for 52 minutes per day, which means they're likely to see your ad if it's targeted correctly.
And TikTok users are also highly receptive to marketing messages—research has shown that they're more likely than users of other social networks to make purchase decisions based on what they see on TikTok.
5. Laser Precision Targeting
TikTok allows businesses to target specific demographics with laser precision. With its extensive data collection and targeting capabilities, businesses can ensure that their ads are seen by the people who are most likely to be interested in them.
You can target your ads very precisely—you can target by location, age, gender, interests, and even behavior. This means you're not wasting your ad budget reaching people who are not interested in what you're selling.
6. Immersive Experience
TikTok offers an immersive user experience that encourages people to stay on the platform for long periods of time. This gives businesses more opportunities to deliver their message and drive conversions.
Thanks to its growing popularity and unique benefits, TikTok is quickly becoming a go-to platform for savvy advertisers.
There's no doubt that TikTok has taken the internet by storm. With its creative content and engaging videos, it's no wonder that businesses are taking notice.
While some may see TikTok as a passing fad, there's no doubt that it can be beneficial for businesses. In addition to providing a platform for businesses to showcase their products and services, TikTok also offers a unique way to connect with potential customers. With its growing popularity, TikTok is poised to become a powerful marketing tool for businesses of all sizes.
Characteristics of Tiktok Videos
TikTok videos are typically characterized by their brevity, creativity, and humor. Often set to popular music, these videos often feature people lip-syncing or dancing. However, TikTok is not just for dancing and lip-syncing—it is also a platform for creative self-expression.
When it comes to creating videos for TikTok, there are a few things you need to keep in mind.
First, all videos must be vertical and have an aspect ratio of 9:16. This means that your video will have to be shot in portrait mode, rather than landscape.
Most videos are under 60 seconds in length, making them perfect for viewers with limited attention spans. Recently though, TikTok has allowed users to upload videos for a maximum of 10 minutes.
As for the size of your videos, they should be 1080px by 1920px.
How To Set Up An Account
Creating an account on TikTok is very simple—it's pretty much like signing up for any social media site. However, if you want to use TikTok as a platform for advertising your business, you will need to set up an ads account.
Anyone can sign up for advertising on TikTok, but before you do, make sure that you use a profile that is dedicated to your business. Whether you are posting content as an ambassador or as the business itself, you need to establish accounts with specific branding roles in mind.
This means that you need to be consistent, making sure that your content goes through the specific account that you want to grow.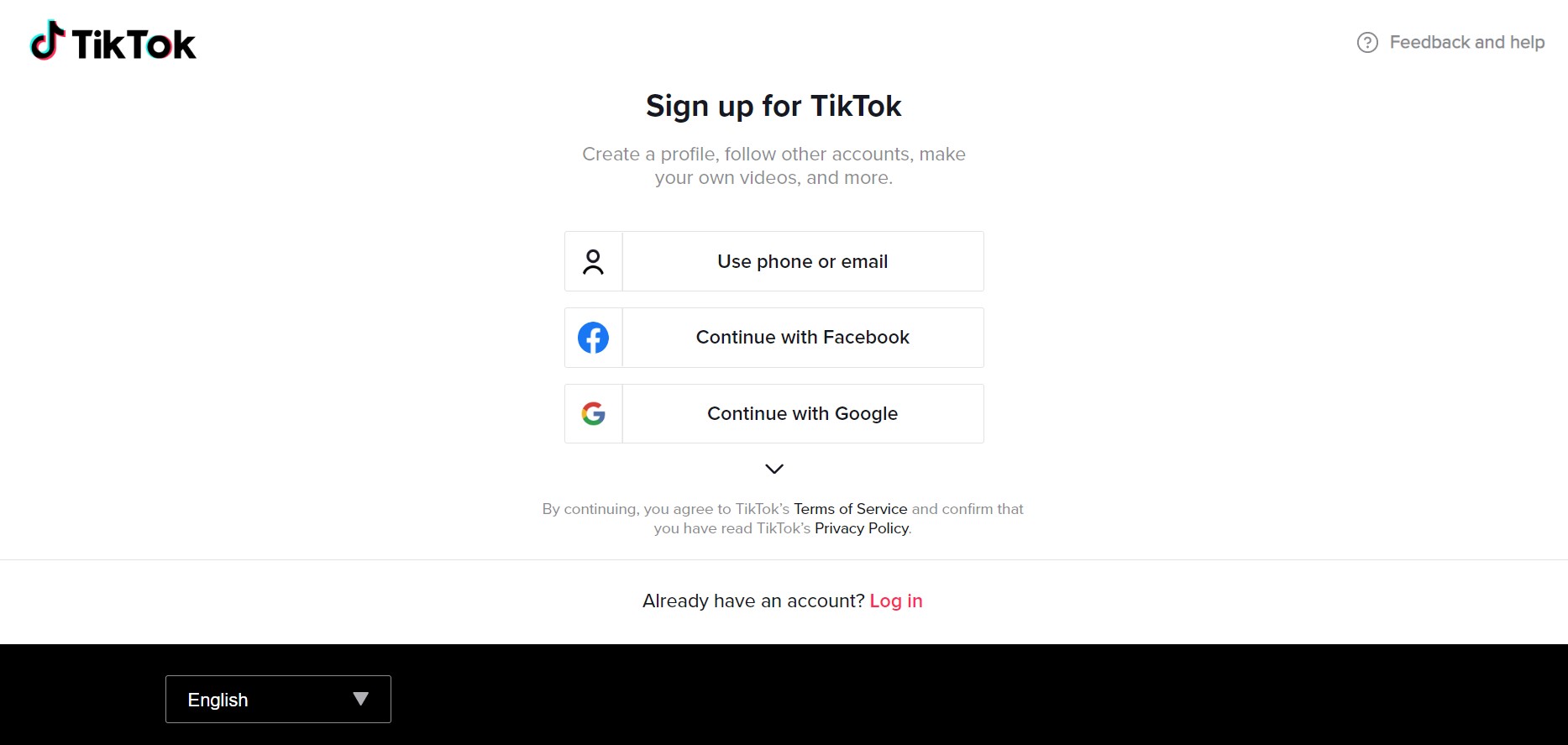 What Is A Business Account On TikTok
Essentially, you wouldn't need a business account for advertising on TikTok, unless you want your TikTok account to be representative of your company/business itself.
The Business Account is TikTok's way of giving more "power" to creators by giving them the opportunity to get paid for their content. On the other hand, as a business owner, you can use a Business Account to gain more visibility on this platform for your brand.
Think of it this way: your TikTok Business Account is your main "profile" on the platform, which is like having your own specific page on TikTok.
This doesn't mean that you can only launch your ads campaign only through this account – you can use as many as you want and whichever one you want, depending on what your strategy is. However, if you are only starting out and you want to get as much brand recognition as soon as possible, best to set up a business account.
If you already have a simple personal account on TikTok that you want to use for your business, you can easily switch to a business account by clicking on the upper right corner of your profile (on mobile), then go to Manage Account. Under Manage Account, go to Account Control, click on "Switch to Business Account" and you will already have a Business Account on TikTok.
How To Sign Up For Advertising On TikTok
Once you have an account on TikTok (either a personal or business account), you can sign up for a TikTok Ads Manager account here.
The website has a good user interface that will guide you through the sign-up process, but in case you need a guide to walk you through it, you can also find the instructions here.
Don't have an account with TikTok yet? Don't worry – you can still sign up for advertising on TikTok by simply going to the Ads Manager page and creating one along the way.
How To Use The TikTok Ads Manager Account
Knowing how to advertise on Ttiktok also means knowing how to use the Ads Manager Account. You can create a TikTok ad fairly easily, but the Ads Manager Account can help you do more.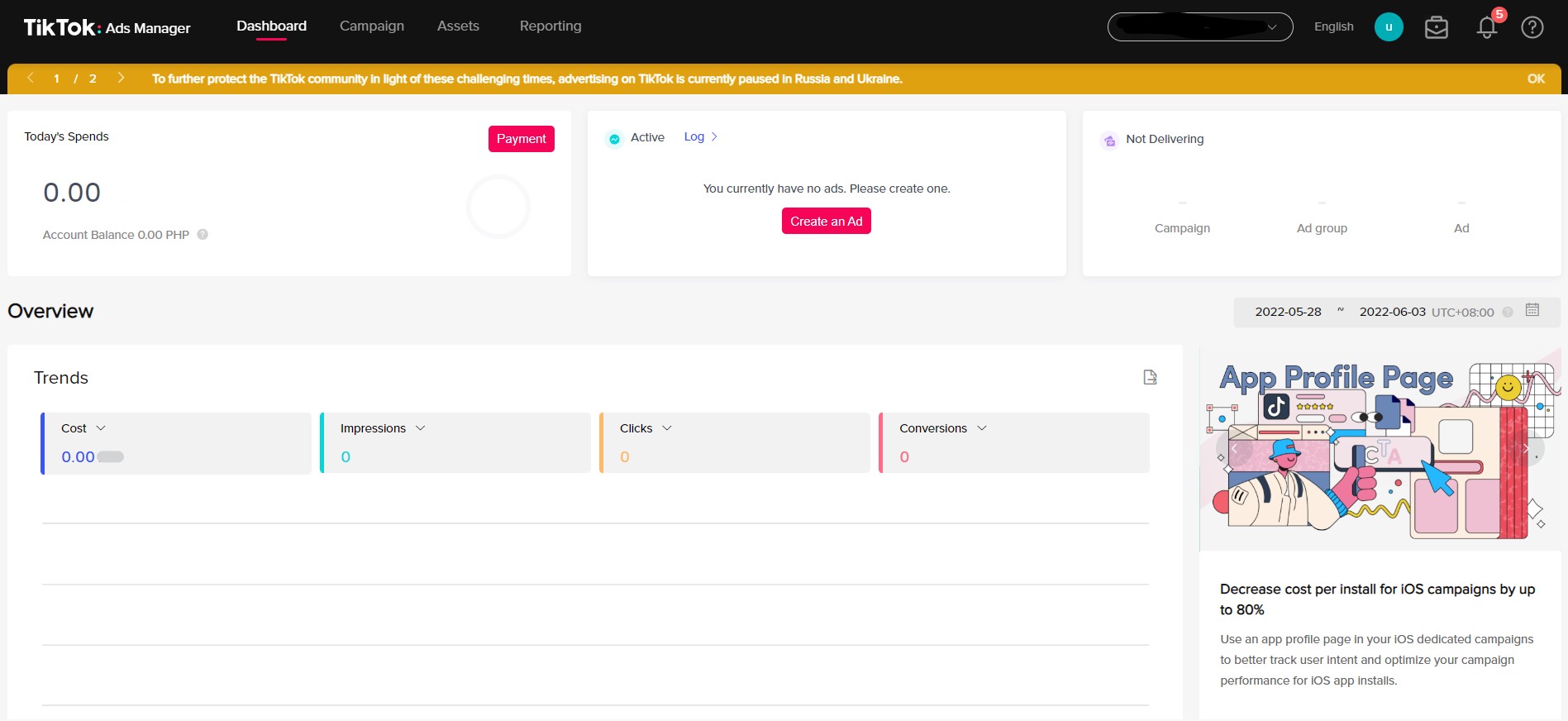 Here are simple guidelines on using your account to manage campaigns and ads on TikTok.
Creating an Ad Group
Starting to advertise on TikTok can be as simple as creating a single ad. However, to have a more organized campaign on TikTok, you can create an ad group on your Ads Manager Account.
An ad group is a collection of ads that share the same targeting parameters. When creating an ad group, you'll need to choose your target audience, budget, and schedule. The account manager has the right tools to set up the ad group, so you simply have to follow the prompts.
Creating an Ad Campaign
After you've created your TikTok ad group, you can then begin creating your ad campaign. To create an ad campaign, you'll need to select your ad group, choose your ad format, and then create your ad. Your Ad Campaign can have one or more Ad Groups, depending on your marketing objectives.
Once you've set up your ad campaign, you can then begin running your ads on TikTok.
Running Your Ads
All you need to do to start running your ads is to click the button. The ads will continue to run until the end date that you have set when you created the ad group/ad campaign.
How To Pay for Ads On TikTok
TikTok ads are fairly affordable and have competitive pricing compared with other social media platforms like Facebook and Instagram. You can expect to pay around $10 per thousand views or $0.01 per view. However, your budget will also depend on your targeting options and the overall costs of the TikTok ad platform.
You pay for ads on TikTok by adding funds to your account. To do so, open your Ads Manager Account and go to Account Setup/Account Settings. Go to "Payment" and enter your budget for your Tiktok ad campaign, choose which card you will be using, and then simply follow the prompt.
Once the transaction is cleared (TikTok uses Worldpay for secure transactions), you will then be able to see the amount you added on your Account page. pictures?
You can of course "advertise" on TikTok for free by creating and posting content, but you will have certain limitations on how your ads will show up on the platform. TikTok advertising is specifically made so that your business reaches the right audience and you get better chances at getting noticed.
How To Start A TikTok Ad Campaign
The TikTok self-serve platform makes it easy to get started with TikTok advertising. In just a few steps, you can create an ad that will be seen by millions of potential customers.
After signing up for a TikTok Ads Manager account, you can then set up your ad campaigns by following this guide on how to advertise on TikTok:
Prepare Video Creatives
Creating a TikTok ad is actually fairly simple. You'll need to create either a video or an image, and then add some text, a call-to-action, and your target URL. You can also include additional information, like your business name, logo, and contact information.
Keep in mind that all the content will appear as videos, so even if you create just a simple image with text, it will appear as a short-form video on the platform.
Content on Tiktok can be posted as 15-second, 1-minute, 3-minute videos, or 10-minute videos, but for businesses, best to keep it under one minute. Most advertisers are using the 15-second format, or use the one-minute format but they make sure to keep the first 15 seconds of the video very interesting/engaging.
Aside from Tiktok itself, you can use other apps to create videos.
Video Creation Apps
Another great tool for creating TikTok videos is Kapwing. Kapwing is an online video editor that offers a variety of features for creating professional-looking videos.
Kapwing offers a user-friendly interface that allows users to quickly select the desired video clip and add text, filters, and other effects. In addition, the tool provides a library of royalty-free music that can be used to add background sound to your videos.
Once you have created your video, you can share it directly to TikTok or download it to your device. Kapwing is a great option for those looking for an easy-to-use video editing tool that offers a wide range of features.
Splice is a video editing tool that allows users to create professional-looking videos with minimal effort. The app includes a wide range of features, such as the ability to add music, transitions, and special effects. Splice also makes it easy to share videos with others, making it an ideal tool for creating TikToks.
To use Splice, simply select the clips you want to include in your video and then add them to your timeline. You can then add transitions and other effects to your video before exporting it to your device or sharing it with others. With its user-friendly interface and powerful features, Splice is the perfect tool for creating TikToks that will engage and entertain your audience.
Looking to jump on the TikTok bandwagon but not sure how to get started? Viamaker may be just what you need! Viamaker is a user-friendly app that lets you create engaging videos for TikTok (and other social media platforms).
Best of all, you don't need any prior video editing experience to get started. Just choose from a variety of templates and start customizing your video. You can add text, filters, music, and other effects to make your video truly stand out.
One of the most popular TikTok video creation tools is Canva.
Canva is a user-friendly graphic design tool that is perfect for creating engaging TikTok videos. With Canva, you can easily create engaging visuals by adding text, images, and illustrations to your videos.
You can also use Canva's built-in templates to create professional-looking TikTok videos in just minutes. Best of all, Canva is free to use, so you can start creating stunning TikTok videos without breaking the bank. So if you're looking for an easy and affordable way to create TikTok videos, be sure to check out Canva.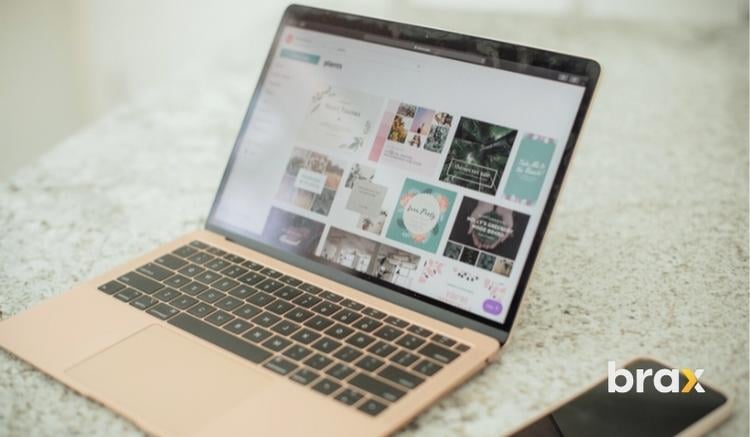 BeeCut is a video editing app that allows you to create professional-looking videos for TikTok. The app provides a wide range of tools for editing, including trimming, cropping, and adding effects. You can also add music to your videos and create transitional animations between clips.
Once you have downloaded BeeCut, launch the app and click "Create New Project." Then, select the "TikTok" template and start creating your video. Add your video clips to the timeline and use the editing tools to make your TikTok look amazing.
BeeCut is available for both iOS and Android devices.
Aside from TikTok's default uploading and video creation system, the platform has also released Smart Video. This video creation tool is only available within the Ads Manager.
TikTok's Smart Video tool is the newest, most innovative way to create video ads. With this tool, you can upload multiple videos and pictures, and TikTok will use artificial intelligence to automatically edit the videos and choose clips and music that creates a beautiful, cohesive whole.
This is an incredible innovation that will revolutionize the way video ads are made. And best of all, it doesn't require any prior video editing experience—so anyone can create a killer video ad in a matter of minutes.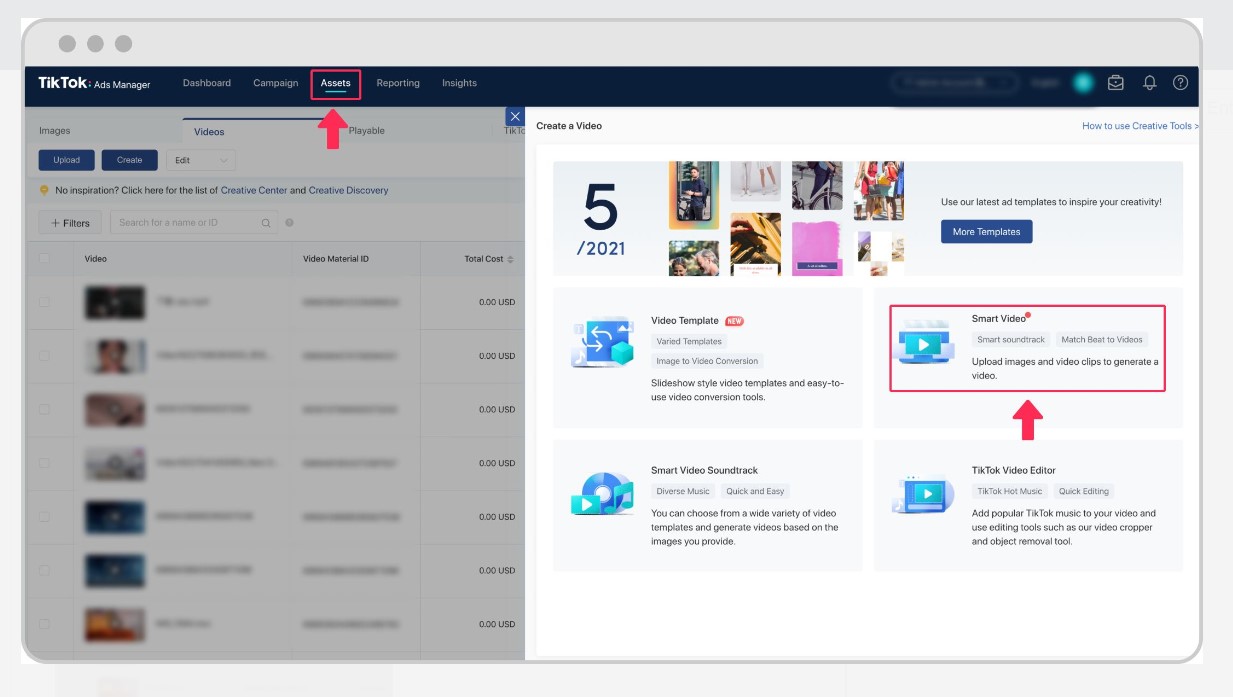 TikTok Advertising Formats
There's no shortage of ways to advertise on TikTok. In fact, there are so many options that it can be hard to keep track of them all! To help you out, we've compiled a list of the different TikTok advertising formats, complete with a brief description of each.
In-feed ads are the bread and butter of TikTok's ad platform. These short, skippable videos appear between user-generated content in the main feed and can be up to 60 seconds long. These can also include a call-to-action (CTA) or a clickable link.
In-feed ads are Discovery ads, meaning that they're served based on users' interests and demographics, rather than on keywords. And because they're skippable, users can choose to watch them or not—making them relatively non-intrusive compared to other types of advertising.
However, In-feed ads must be high quality and relevant to users' interests in order to be effective, as users can quickly lose interest and scroll away if they're not engaged.
Brand Takeovers are full-screen ads that appear first when a user opens the TikTok app. They can be either a three-second image or a three to five-second GIF and can be linked to a brand's landing page or a Hashtag Challenge within TikTok.
The upside is that millions of users will be able to see your brand as soon as they open the app, ensuring brand awareness. The downside is that these ads can be expensive, and they're not guaranteed to result in sales.
As its name suggests, TopView Ads are full-screen ads that appear when a user opens the app. The ads get first priority within the app, which increases the chances of your brand getting noticed by the users.
This ad type allow brands to create custom filters and effects that can be used by TikTok users. The reason this type of TikTok ad is very effective is that it allows users to "engage" with your brand's content in a fun and creative way.
This allows brands to sponsor a hashtag, and their ad will appear whenever that hashtag is used. Branded Hashtags allow you to deliver your video content to people who are interested in the same category or topic.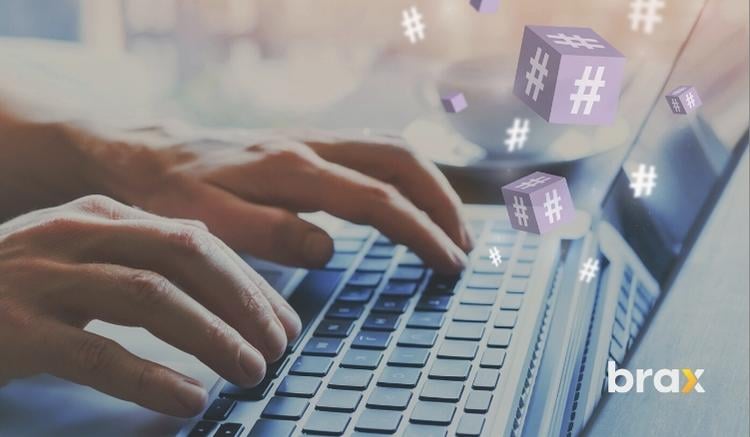 Spark Ads are essentially sponsored posts that appear in users' feeds, either from your own account or from other accounts that have used your brand's hashtag.
And the data shows that they work - TikTok research shows that Spark Ads have a higher completion rate and up to 1.5 times higher engagement rate than standard In-Feed ads.
TikTok's Playable Ads are interactive videos that let you promote your app with a full-screen, playable experience. You can use them to show off your app's features and get people excited about using it.
Plus, they're a great way to get people to download your app. To create a Playable Ad, all you need is a video of your app in action.
Carousel Ads from TikTok are the perfect way to show off your creative side. With up to 10 images and unique captions, you can really let your imagination run wild.
Whether you're promoting a new product or showing off your latest work, Carousel Ads are a great way to get your message across. You can feature different products from your catalog, different aspects of a single product, and more.
Best of all, they're easy to create and customize to make sure your ad stands out from the rest.
TikTok's collection ads are the perfect way to help your customers explore your products in a full-screen mobile experience. With an instant gallery page, your customers can browse through a curated selection of your products, making it easy for them to find what they're looking for.
By attracting your customer's attention and then letting them explore your products in a fast-loading instant experience, Collection Ads can help drive product discovery and action. So if you're looking for a way to make your products more discoverable, be sure to give TikTok's Collection Ads a try.
**Note: The Collection Ad format is currently in beta and may not be available in some markets.
Which type of TikTok ad is right for your brand will depend on your marketing goals. If you're looking to reach a large number of TikTok users through TikTok advertising, TopView Ads, and In-Feed Ads are good options.
If you're looking to create brand awareness or drive engagement, Branded Hashtag Ads and Branded Effect Ads are both good choices.
Rules To Advertising On Tiktok
No matter which type of TikTok ad you choose, you'll need to create compelling content that resonates with TikTok users. TikTok users are young, creative, and always looking for something new and entertaining. If your ad isn't able to capture their attention, you won't be successful on the platform.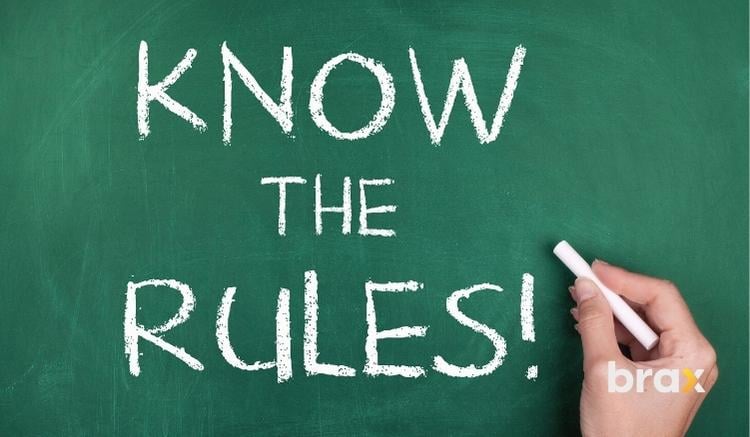 That being said, you can increase your chances of success by keeping in mind some rules for advertising on TikTok:
In general, the

community guidelines

on TikTok also apply to advertising on TikTok for businesses, not just for personal users or content creators. Simply, any malicious content, foul language, nudity, and other inappropriate information or media is not allowed on the platform.
Be respectful of others and celebrate what makes everyone unique—any content that promotes hate or violence towards certain groups of individuals will get an automatic ban on the platform. This means that you have to be careful with what you say or show within your ad, as it might not sit well with users on the platform.
Promote a safe and inclusive environment for all users – remember: TikTok is a global platform, so the audience that will potentially reach could come from different backgrounds from anywhere in the world. By understanding cultural nuances, for example, you can help promote safety and inclusivity when creating your TikTok Content.
Post authentic content that reflects your real identity and experiences. TikTok aims to cultivate an environment for genuine interactions by encouraging real/day-to-day content, which helps in establishing that your brand is trustworthy.
You can ensure that your business or ad campaign will go well by ensuring that you follow the community guidelines and rules on advertising on TikTok. This way, you can establish that your business is reliable and one that aligns with TikTok's values which give top priority to users' safety.
TikTok Ads Examples
Understanding how to advertise on TikTok can be easier by learning from other brands that have already been successful on the platform.
Big Name Brands
Here are a few examples of big name brands that have done well on TikTok ads:
KFC "We Miss You" ad
KFC United Kingdom's funny yet heartwarming video ad on TikTok went viral for all the right reasons. The fast-food chain showed how much it missed its customers in this viral TikTok video below.
It was a small but powerful gesture that resonated with viewers and helped KFC UK boost its online orders.
(source: TikTok)
Nike Football's #MagicBoots
Nike's recent video ad campaign on TikTok was a masterclass in how to reach your target audience. The brand launched its 'Future Lab' pack with a multichannel campaign that included a Branded Hashtag Challenge called #MagicBoots.
The challenge urged fans to showcase a football trick whilst wearing their Nike boots. The response from the TikTok community was huge, thanks in part to the use of a popular football TikTok Creator, @ben, who has 2.2M followers. Ben kick-started the campaign and added authenticity to the Nike brand.
(source: TikTok)
Chipotle's Authentic Style
If you're looking for some good, ol' fashioned authenticity, look no further than Chipotle's TikTok account. They've managed to stay true to themselves while also producing content that is engaging and relevant to their audience.
One of the best things about Chipotle's content strategy is that it avoids coming off as sales-y or inauthentic. Instead, their videos feel like they could be produced by anyone with a camera and a sense of humor.
(source: TikTok)
Chipotle's TikTok account is a treasure trove of content, ranging from videos of users sharing their favorite Chipotle hacks to step-by-step recipes for corn salsa and Chipotle steak. This approach has endeared them to the TikTok community, and as a result, their account has amassed a loyal following.
Small to Medium Businesses
Knowing how to advertise on TikTok does not only mean being a huge brand or already having a large following on the platform. Essentially, you will want to take advantage of TikTok advertising itself to reach your marketing goals.
Apart from big-name brands, some content creators have also started or grown their businesses on TikTok. There is definitely a thing or two to learn from these small businesses on how to advertise on TikTok.
Some examples are:
Tonester Paints
Paint-mixing content creator – he started out by creating video content where he mixes paint to match a swatch for clients. This was extremely helpful to homeowners and/or contractors in construction, but it was also very appealing to users because of how "mesmerizing" the paint mixing process was.
CATCH'N Ice Cream
Dylan Lemay grew a following because of the way he shows the step-by-step way of making ice cream cakes. His following grew so big that he resigned from working in a well-known ice cream brand and created his own company.
Zeth & Saylor
This father-and-daughter duo has built their business by simply posting adorable content of conversations between a father and his child, and they are now selling their own merch.
It was very interesting for kids and adults alike, so naturally, their appeal to a wider audience made them more successful on the platform.
TikTok Ads Best Practices
Much like on any platform, following TikTok advertising best practices will not only allow you to improve your branding and marketing strategy but also ensure that you will be able to continue growing on TikTok.
But with any new platform, there's a learning curve. So let's explore some best practices for running successful TikTok ads.
First and foremost, it's important to understand the TikTok audience. The platform is used primarily by Gen Zers, who are known for their short attention spans and love of all things creative and quirky.
So when creating your ad, keep it short, sweet, and to the point. Use eye-catching visuals and make sure your message is clear.
Users on TikTok have a very short attention span, so focus on 15-second videos first then move to longer ones based on the results of your campaigns.
Use creative visuals and engaging audio.
TikTok users are attracted to videos that are visually appealing and have catchy music. So make sure your ad includes both of these elements by choosing a visually appealing and relevant creative visual, and an upbeat audio track from the library of royalty-free music.
Use creative visuals that are eye-catching and relevant to your product or service. And choose an audio track that is catchy and upbeat.
Your ad should be creative and engaging, but it should also be relevant to your product or service.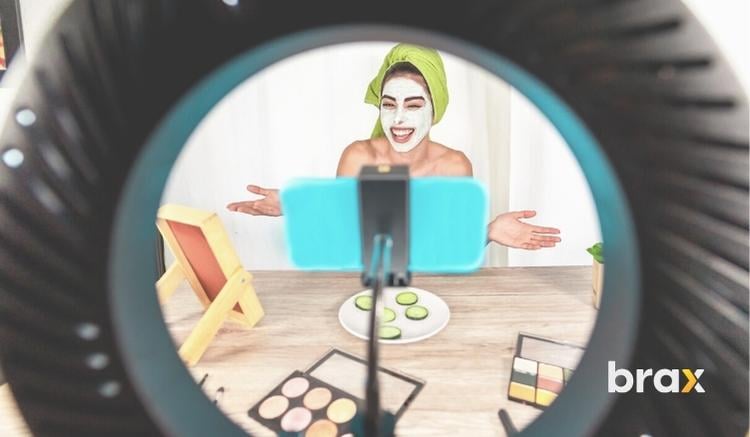 Be updated on the latest TikTok trends and ride the wave
TikTok is all about trends - users are constantly looking for the latest trends to follow. So make sure you're up-to-date on the latest trends and creating content that is relevant to what's popular on the platform.
This doesn't mean you have to jump on every single trend, but you should be aware of what's popular and see if there's a way to tie it into your product or service.
For example, the "ice cream challenge" was a popular trend on TikTok some time ago. And while it might not seem like an obvious choice for a furniture store, one company found a way to tie it in by creating an ad featuring a couch that "looks good enough to eat." That's a great way to ride the wave!
Make sure your call-to-action is clear
Your ad should have a clear call-to-action that tells users what you want them to do. Whether it's clicking on a link, downloading an app, or visiting your website, make sure your CTA is clear.
If viewers don't know what you want them to do after seeing your ad, they will most likely just swipe up for the next video.
And don't forget to make it easy for users to take the action you want them to—don't make them jump through hoops. If your CTA is too complicated, users will likely just move on.
Be authentic and relatable.
Viewers on TikTok want to see real people, not perfectly polished celebrities. Be yourself and show your personality!
Users can spot inauthenticity from a mile away, so don't try to be something you're not. Just be yourself and let your personality shine through.
But don't make your ad too "sales-y" and obviously a promotion. People don't like that, too.
Use hashtags, duets, and challenges to get more views.
Hashtags, duets, and challenges are all great ways to get more views on your TikTok videos.
Hashtags help users find videos that are relevant to their interests, so make sure to use relevant hashtags that are popular on the platform.
Duets allow users to create a split-screen video with another user, which is a great way to get more exposure for your brand. And challenges are a fun way to engage with users and get them involved with your content.
Track your results and adjust your strategy accordingly
As with any marketing campaign, it's important to track your results and adjust your strategy accordingly.
TikTok provides some great built-in analytics that can help you track your progress and see how your videos are performing. Pay attention to your video views, engagement rate, completion rate, and other metrics to see how your videos are doing.
If TikTok's reporting dashboard is not enough for you, don't hesitate to utilize third-party tracking tools like Brax. Click here to get a 14-day free trial.
Add a link to your TikTok bio
Make sure to add a link to your TikTok bio so users can easily find your website or app. You only have one clickable link in your bio, so make sure it's the right one!
And if you're running a TikTok ads campaign, make sure the link in your bio goes to the landing page you're promoting in your ad. That way, users can easily find what they're looking for.
Test different ad formats and strategies
TikTok offers a few different ad formats to choose from, so it's important to experiment with each one to see what works best for your brand.
There's no one-size-fits-all approach here—it all depends on your goals, target audience, and budget.
So test out different ad formats and strategies and see what works best for you. You might be surprised by the results!
TikTok is all about having fun and being creative, so make sure your ad reflects that. Don't take yourself too seriously and have fun with it!
If your ad is too serious or boring, users will likely just move on to the next video. But if it's creative and fun, they'll remember your brand and be more likely to take action.
TikTok is a great way to reach a young, engaged audience. But it's important to keep in mind that this platform is all about creativity and having fun. So make sure your ad reflects that! Be authentic, use popular hashtags and challenges, track your results, and experiment with different ad formats. And most importantly, don't take yourself too seriously—have fun with it!
Advertising on TikTok is an effective way to reach a large and engaged user base and can help promote your brand or product to a wider audience. As TikTok continues to grow in popularity, brands are increasingly looking to capitalize on the platform by running ads, so now is the best time to get ahead of the competition.
Knowing how to advertise on TikTok is just half the battle.
Now it's time to put that knowledge into action and start creating some awesome TikTok ads for your brand. The possibilities are endless, so get creative and have fun with it!
If you feel like this is something that you need help with, don't hesitate to send us a message. Our expert marketing team will be able to help you on that end. You can also book a free demo of Brax to see how you can manage social media ads easily.
If this article helped you, maybe you'll also like these: