Wondering how to get more people interested in your business? Instagram stories are a great way to do just that! With over half a billion people using Instagram Stories every day, it's a great way to reach new customers and keep old ones engaged.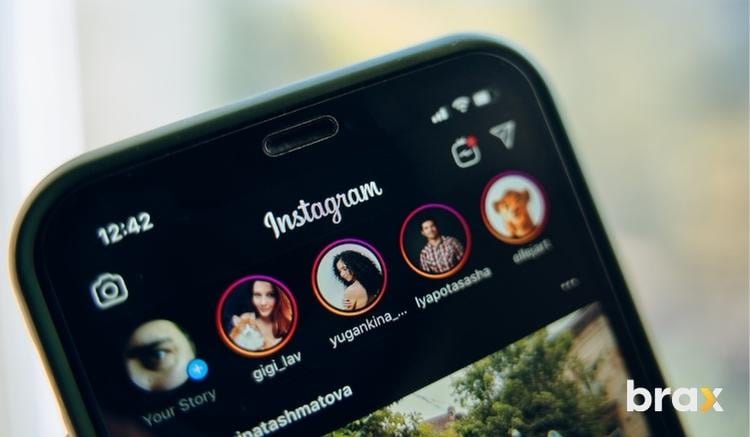 Instagram stories are a great way to connect with your audience in an informal, relaxed way. They're perfect for giving people a sneak peek behind the scenes of your business or for sharing promotional content.
And because they disappear after 24 hours, people are more likely to watch them all the way through. If they don't, the story will disappear, and they may not get another chance to view it!
By posting interesting and engaging stories, you can keep people coming back for more. The more they see your content, the more likely they are to become customers. But how exactly do you start with Instagram story ads?
If you're unsure, fret not! We're here to walk you through what Instagram stories ads are and how you can use them for your brand.
Are you ready? Let's dive in!
What are Instagram Story Ads
Instagram first released Instagram stories in 2016, and the mode has never stopped growing since then.
Though Instagram cleverly took the idea from their competition, Snapchat, the platform has been immensely successful, with over 500 million viewers daily.
Instagram stories have also enjoyed popularity with many influencers and businesses because they disappear after 24 hours, making posting more flexible, casual, and dynamic content easier.
It contrasts with what you can get from the more permanent and polished Instagram feed.
An Instagram story ad is a vertically-oriented ad that you run using an Instagram story. These ads can be any video ad or photos of your choice, and it's also separate from the content you post on your regular profile.
It is one of the best performing Instagram video ads today.
Interestingly you can target your audience according to various ad objectives, may it be video views, app installs, reach, brand awareness, conversions, lead generation, and traffic with Instagram story ads.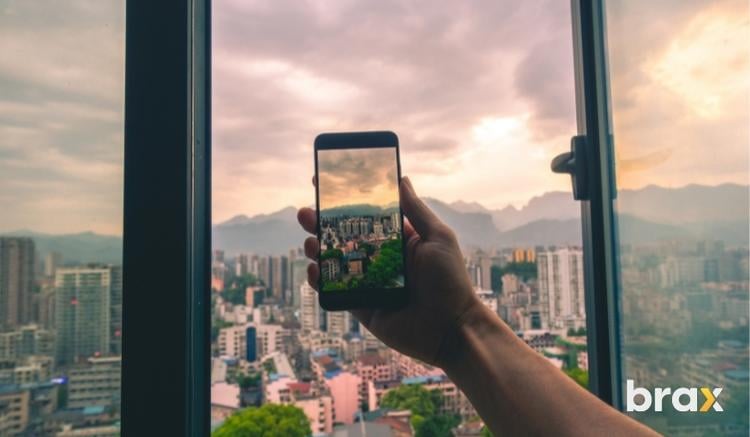 There's a big difference between organic stories and Instagram stories ads. While organic Instagram stories last twenty-four hours, Instagram story ads don't simply disappear. Instead, you can choose how long your ad is displayed and how often.
So, in essence, people think it will disappear, so they view it, even if it won't!
Here's the best part: Instagram stories ads blend into the story viewing experience of a user. It doesn't interrupt the user experience, which is a huge bonus.
Plus, users don't have to follow your page to view an Instagram story ad from your business! Imagine the reach!
As we mentioned earlier, you can choose between photos, videos, and carousel formats for your story ads. Your video ad can play up to fifteen seconds, an image ad stays for five seconds, and carousel ads allow users to view three different pieces of content in one ad.
Instagram Story Ads vs. Instagram Feed Ads
Both feed and story ads on Instagram offer two different experiences. However, Instagram story ads provide a full-screen experience, leading to more captive audiences.
Here are other significant differences between the two ad types:
Creatives and Aspect Ratio
The aspect ratio of most videos on social media is usually 16 x 9 landscape. However, Instagram stories ads fill the entire screen with a 9 x 16 vertical orientation.
Interestingly, the Instagram story ad full-screen experience needs another creative approach. You shouldn't just use Instagram stories as another placement for advertisements as a marketer.
Remember that what works on Instagram feeds might not work on Instagram story ad placements, so it would be best if you always designed creatives specifically for your story ad.
What would the image or video look like in a full-screen experience if you ran your newsfeed ad on your Instagram story? Would it look nice? Also, how would you add text and other designs?
For feed ads, there are usually two different elements to consider. One is your visuals, and the other is the text that users can expand for a full read.
A Stories ad is not as accommodating as feed ads. You'll be working with limited space, and you can't fit a lot of text into one story ad, so you'll need to combine your text and visuals into one creative unit.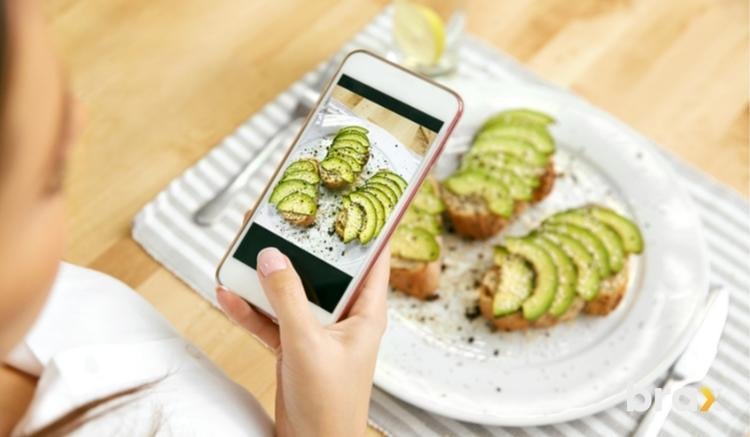 Stories ad plays for up to fifteen seconds, which beats the average eight seconds watch time for an advertisement on a user's feed. And most people tend to watch story ads to the last second, making it a more engaging placement.
However, several factors influence the watch time of story ads, like serving too many ads. But people still seem more engaged with stories ad when compared to that of feeds.
Another significant difference is that story ads don't start with muted audio. So the ad will play together with the audio you have prepared for it.
Instagram feeds have sounds muted by default. If a viewer mutes a feed video, all ads will remain muted until the viewer clicks to listen.
Moreover, since stories have sounds by default, you don't need to use subtitles. However, you'd need to place more importance on your ad music and what people say in your ads.
For in-feed ads, you can find a clickable call to action button close to the bottom of the ad. Users can use the button to make purchases, learn more, visit a store, and do other actions. For an Instagram story ad, the call to action is a swipe-up link.
Swiping up serves as a click-through button, and all Instagram stories ads have it by default—you won't have to add it to your creatives.
Interestingly, an organic Instagram story doesn't have this feature unless you have ten thousand followers or more.
If you don't have that many followers yet, you can bypass that limitation by simply creating an Instagram story ad.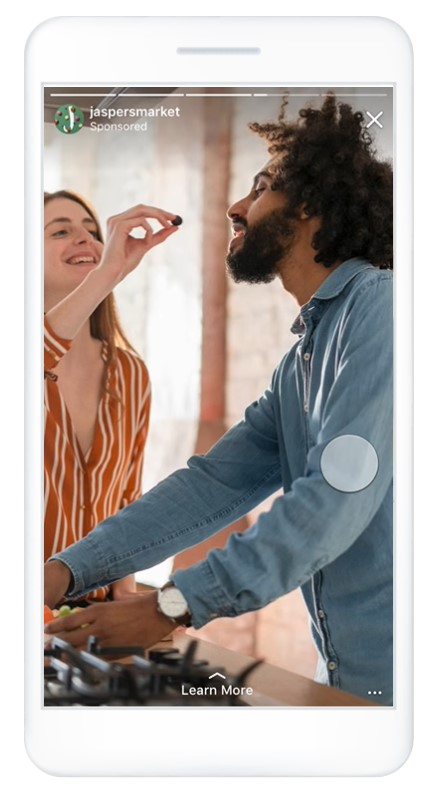 Recommendations for Creating an Instagram Story Ad
Instagram users view story ads the same way they view organic stories. Progress bars at the top show the viewer how many segments the ad has.
You have two options here; you can make a fifteen-second long story or combine a couple of pictures and videos to create multiple segments or cards. Each part can last up to 15 seconds (for a video ad) or five seconds (for photos).
While you're only limited to fifteen seconds of playtime per card, you can use multiple segments to allow viewers to skip some parts of your ad without missing it altogether. You should also compress your main points into one or two lines.
Also, put yourself in your viewer's shoes and try to figure out what parts of your ads they'd skip. Then proceed to think about creating something attractive enough to get people watching.
Create your Stories Ads with Templates
You can use the templates in your Facebook manager to make a unique Instagram story ad. If you run Instagram stories with other placements, you can choose from different creatives for specific ad placements.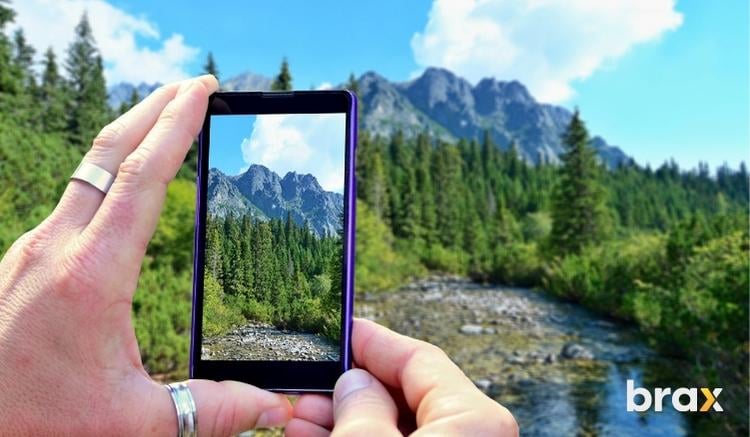 However, you might find it difficult to use templates if you have a different ad set that only uses the Instagram stories placement.
Nevertheless, you can go around this by creating an organic story and transforming it into an ad. And it's easy to do this. Simply create your story ad on Instagram, save and send it to yourself.
Create your Instagram Stories Ads with Stunning Effects and Features
You can use Instagram camera features and effects to develop eye-catching and exciting stories ads:
The Boomerang feature allows you to capture a short video ad that plays on a loop. It turns your five-second videos into something like a GIF.
You can also make a text-only story with Instagram Create.
Instagram layout lets you join more than two photos into a collage.
Capture up to eight photos or videos that you can combine into one story ad with an Instagram multi-shot.
If you need balanced and straight captures, you can use Instagram level. It helps you with perfectly balancing the video or image.
If you want to make hands-free videos, you can use Instagram's hands-free feature.
Note: you combine these features to achieve the desired result, and you can swipe the bottom of the screen to add basic filters to your creation.
Once you have your video, you can add text and animate them.
You can also add advanced filters and drawings to your video or photo. Then you can save your creatives to your device or email them to yourself (if you're using another app).
Don't forget that the bottom of your story ad will feature a swipe-up CTA. So, ensure that you're adding nothing relevant to avoid viewers missing out on something important.
Finally, upload to your Ads Manager to make your story ad.
Use Interactive Polls
Interactive polls allow your viewers to engage with your ad by choosing one out of the options you provide. You can add interactive polls to your story ad.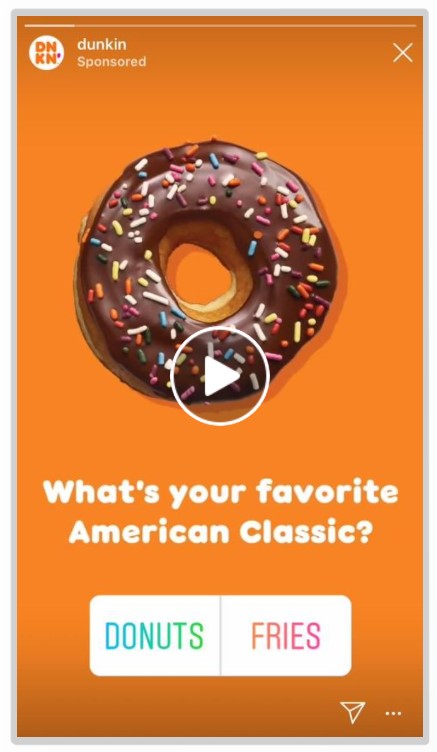 You have to click on the interactive polls checkbox and type in your text. Instagram will place it on your creative automatically.
However, you need to leave enough strategic space for interactive polls if you want to add them to your story ad.
Use Tags, Hashtags, and Other Text
When using Ads manager, you'd find that visuals have more prominence. Although Instagram stories ads take up the entire screen, there's still a space to add body text when creating your ad. However, this body text won't show because there's no display space left.
But you can add body texts to your ad if you cut down the dimensions of your visuals. You can use a 1 x 1 visual to pair your ad with a body text. Hence, viewers can view your body text in the little space left in your ad.
Now your body text can include hashtags and tags for a more detailed targeting.
Keep in mind that you have a maximum of thirty characters to work with, so always try to compress your message.
How to Create Successful Instagram Story Ads with Photos and Videos
If you want to catch a user's attention with an Instagram story ad, you must be creative.
Here's a little secret. It takes a few seconds for people to understand what they're watching. Instagram Stories start automatically, so viewers will need to know what they're looking at.
Hence, if you want to keep them arrested, your ad needs to be less intrusive. Alternatively, If your ads play for only three to five seconds before switching to the following Instagram story ad, you won't give viewers enough time to think about what they're seeing.
Use Instagram Stories for Testimonials
Testimonials have a certain ring that builds trust for your brand in your viewers. And you can make a video ad that rapidly fires through different testimonials.
Also, you can create multiple stories, with each Instagram story ad containing a fifteen-second review. However, it's not as exciting as going through several 1.5-second shots of satisfied customers.
At the end of the Instagram story ad, you can use some text to say what people love about your brand or create five stars. Plus, if you're making a video, you don't have to make each testimonial flip as fast as pictures. Instead, it would help if you took your time to edit and create a compelling testimonial video.
Use Polls for Market Research
A great way to carry out market research is by involving your customers in your brand decision-making through polls. You can make a split-screen of two products and ask which one they would buy if you launched them.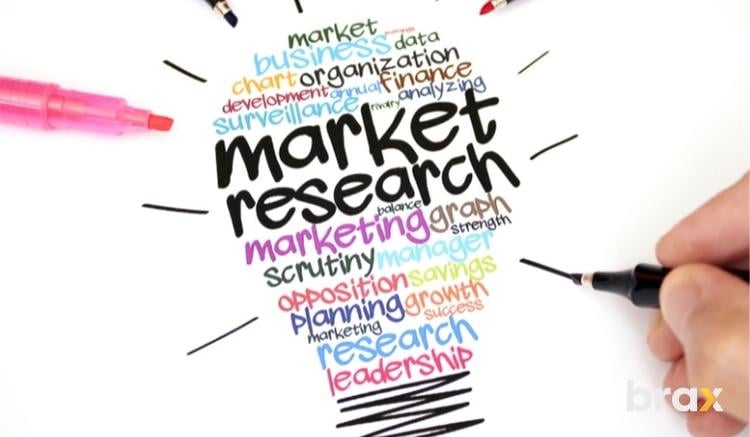 Plus, market research is not the only way you can benefit from using polls. You can also follow up on the poll results and retarget the viewers engaged with your ad once you launch the winning product. It's like saying, "you guys voted, and now it's here."
Reuse your Organic Stories
To turn your organic stories into an ad, you must download them first. Since organic stories disappear after twenty-four hours, you can download them as separate video files for later use.
It's worth mentioning that downloading your stories won't download tagged content and other functions. You would have regular videos or images until you work on it.
How to Create Instagram Stories Ads
Now that you know what you need to create successful Instagram story ads, let's learn how to make one from scratch.
1. Check Out Instagram Stories Ads Requirements
First, you need to review the requirements for the size and layout of an Instagram story ad. Ensure you follow the guidelines so your ad can load properly.
Here are the requirements for an Instagram story ad:
Aspect Ratio (image): 9 x 15
Resolution(image): 600 x 1067 pixels (minimum) and 1080 x 1920 pixels (maximum)
File size: 30 Mb Maximum
Aspect ratio (video): 4:5 vertical
Video length: 15 seconds max
File size: 4Gb max.
File type: .mov or .mp4
Support for H.264 and VP8 codecs
2. Link your Facebook Page to your Instagram Account
You'll need a professional Instagram account before starting advertising on Instagram. After converting it, connect your Instagram account to your Facebook Business Manager.
Linking your Facebook page to your Instagram is not compulsory, but it's one fast way to access Ads manager.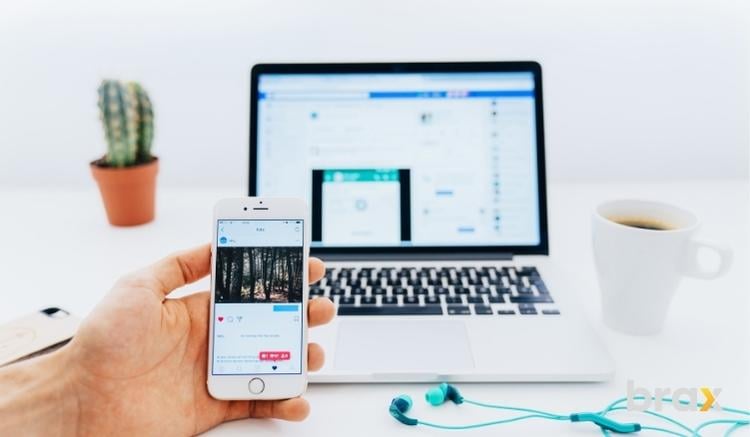 Here's how to make your account professional :
Log into your Instagram account and head over to your profile.
Click settings. Some accounts may have the "Switch to Professional Account" option directly under settings. If not, click on Account.
Click "Switch to Professional Account" and click continue
Set your business category and click done.
Click business and add your contact details. Or, you can click on don't use my contact info.
A professional Instagram account will give you insights into who's engaging with your ads and a professional dashboard with multiple tools.
By linking your Facebook page to your Instagram business account, you'll enjoy multiple features that work across the family of Facebook apps. Moreover, you can only connect one Facebook page to one business account at this time.
3. Create your Instagram Story Ad with Facebook Ads Manager
Ads manager is easy to use and operate. And you can access it from your Instagram account by linking to your Facebook page.
Here's how to create an Instagram story ad with your Ad manager:
Open Ads manager from your Facebook page and tap on Create.


Choose between the guided option or the quick creation option for your campaign. Note: We'll be using the guided option for this guide.
Choose your ad objective that matches the goal of your brand.


Set the schedule and budget of your campaign.


Click on conversion so your ad can take users to a website or other features like Whatsapp or Messenger.


Select your audience. You can create a new audience or use a saved audience setting from your previous campaigns.


Choose Instagram for your ad placement after selecting "Edit Placements"


You can also choose "Automatic Placements" to run your Instagram story ad on different Facebook platforms, including Instagram. You can get the best value with this option.


Select your preferred ad format. You can choose either a single video, single image, or carousel video.


Complete your ad by including details about your ad's format, identity, and other links.


Examine your ad before submitting it for review.
Once Instagram (or actually Meta) approves your story ad, you can check it out in Instagram stories.
Best Practices for Instagram Story Ads
Now that you know how to create Instagram story ads, it's time to make a unique ad.
You'll be dealing with various stories and the limited attention span of users. So, a basic Instagram story ad is not enough.
Hence, here are some tips to help you create unique Instagram ads that stand out from the crowd:
Use Videos instead of Images to Attract Attention
In social media marketing, your first impression matters a lot. You can use video ads to get your message across instead of images.
But you have to be extra creative because you have only fifteen seconds to present your message and product. Moreover, a video can catch attention more frequently than a still image.
More Engagement? Use Carousel Ads
A carousel ad allows you to add up to three cards to your Instagram story ad. You can use this format to show different products or segmented narratives.
Interestingly, you can use carousel ads to keep users engaged on your Instagram stories. Carousel ads can have a video, image, or both.
Make your Logo Visible
Always include your brand's logo in your Instagram story ad. Place it so that viewers can easily spot it in the first few seconds of your video or image ad.
However, don't make it too big so users don't click away. Users may leave if they realize they're watching an ad and not regular posts.
Include a CTA Text
Instagram Story Ads have the swipe up feature for the CTA button, but that doesn't mean you can be creative with your call to action that will encourage the user to actually swipe up!
Make it intriguing and something that users can't help themselves and would swipe up to find out more.
Final Thoughts on Instagram Story Ads
Once you launch your Instagram stories ad, don't just sit back and hope for the best. Be sure to use tools like Instagram story ad analytics to monitor the performance of your Instagram story ad.
You can access deeper analytics through the Facebook Ads Manager, but it would be even better if you use an ad analysis and optimizing platform like Brax.
Now you're all set to make your first Instagram story ad. Use the tips and best practices as your inspiration, and feel free to test your options to find out the ad that works best for your brands.
Don't just stop at creating an Instagram story ad—make sure to use tools like the Brax ad management platform to monitor the performance of your ads and make sure they're reaching your target audience. Sign up for a free trial today!
Related Reading: