Nowadays, you'd think of videos and not static pictures when you think of entertainment. The same thing applies to creative and catchy advertising. Thus, videos are quite effective for promoting your offers and content in social media marketing.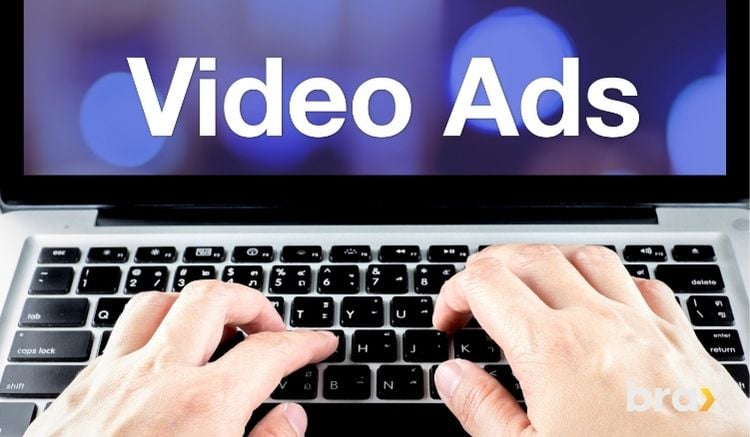 Video-focused social media platforms like TikTok receive billions of views every day, and Facebook is definitely not a push-over when compared. In fact, Facebook boasts over 500 million video viewers per day.
Hence, this article will cover the advantages of using Facebook video advertising, the different apps you can use to make successful video ads, and some ways to hire professional video ad creators.
Here's an outline of what we'll be discussing:
Advantages of Using Facebook Video Ads
How to Create a Video Ad on Facebook Ads Manager
Important Features to Look Out For in Video Makers
6 Facebook Video Makers You Can Use Today
Finding Professional Video Creators for Your Facebook Video Ads
Are you ready? Let's dive in!
Advantages of Using Facebook Video Ads
Facebook is one of the biggest video-sharing platforms you can find in 2022. Plus, making videos for your Facebook ad is an important tool in any social media marketer's arsenal.
As such, understanding the advantages of using a Facebook video ad would help you get the most out of it. Let's talk about some of them.
Catch Attention Quickly with Your Facebook Ads
Most people are busy and don't have time to read long posts on Facebook.
Videos can help you catch their attention quickly with your Facebook ads. Remember, catching your customer's attention is the first part of the marketing funnel, so it's pretty important. Facebook video ads are more engaging and can communicate your message more effectively in a shorter amount of time.
Video ad formats like in-stream video ads work effectively for this purpose because such ads only appear more than one minute into a Facebook video. At this point, you'll be sure to grab the attention of users that want to continue watching. They may even watch your ad completely.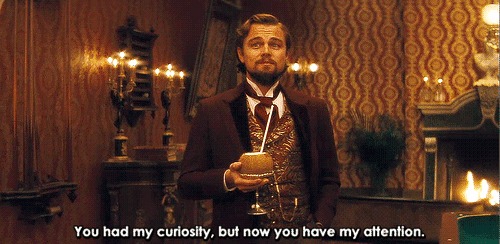 Plus, it's worth mentioning that shorter ads of about 5-15 seconds would work better for attention-grabbing. Also, ensure your ad can catch the viewer within the first three seconds. Otherwise, you'd fail to catch the viewer's attention.
Facebook is one of the best platforms for video ads, with a large audience base of up to 2.7 billion users. With this kind of user base, you can always create an online impression for your brand, but only if you do it right, of course.
To take full advantage of this, you'd need to reach the right audience that's interested in what you offer. Luckily, you can reach your target audience with brand awareness and video views objectives with a Facebook ad.
Hence, increasing your brand awareness is one of the huge benefits you'd enjoy when using Facebook video ads.
Facebook in 2022 is more of a family of platforms than a standalone platform. Through Facebook, marketers can promote on other platforms like Instagram, audience network, and messenger.
Here's the best part. You can run your video ads on two other placements, including Messenger Ads and Instagram Ads. You can potentially reach an audience base outside of Facebook if you have the budget.
Increase Conversion and Ad Engagement Rates
A good video ad might just be what you need to get more engagements on your Facebook ad. You can also increase your conversion rates by retargeting users that have previously shown interest or engaged with your video ads.
Plus, Facebook video ads have a high average CTR and help drive more conversions by creating an emotional connection between your brand and your audience.
How to Create a Video Ad on Facebook Ads Manager
You can't make Facebook video ads without videos. Like other social media marketing campaigns, you don't just create any video for your Facebook ad. It has to appeal and be valuable to your targets.
Facebook is like a wide space with a lot of content. It's easy for your viewers to get distracted. So, you should create a Facebook video ad that captures your audience's attention before they scroll past your ad on their feed.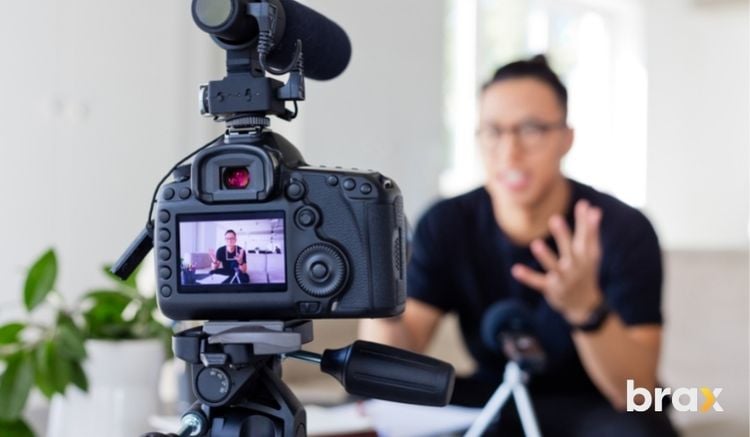 Sometimes, you can make a great video with only a phone camera and editor. Though the process is not so easy, especially if you don't have editing skills, it is one of the less expensive ways to make a video ad manually.
Alternatively, you can use a camera and a computer to create your video. We'll discuss more about creating the actual video for your ads later. For now, let's assume you already have your video and you're ready to create an ad in Facebook Business Manager.
Once you have your video, the next step is getting it out to your target audience, and here's how to do just that:
Define Your Advertising Objective
First, you want to select the right objective for your Facebook ad. Your objectives depend on what you aim at achieving through Facebook video ads.
Are you trying to drive targeted traffic to your online store? Do you want more people to play your videos? Or do you need more conversions? Whatever the case may be, you need to define your campaign's objective before launching so Facebook can give you tips on the type of Facebook ad to run.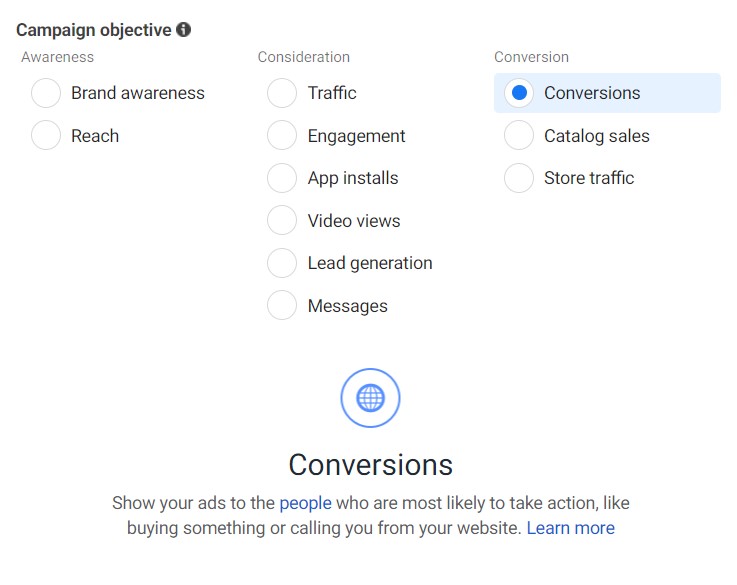 Create Your Custom Audience
Unless you want to move through the dark and waste a lot of resources, you should build your custom audience. Once you can target your Facebook video ads to your custom audience, you'd be able to increase your ROI and ad performance.
If you've created at least one Facebook ad on your Facebook Business Manager before or made a post on your Facebook page, it would be easier to create a custom audience–since you can select the users that are interested in your video content.
If you've not created one before, you can manually make yours. Here's how to get started. First, simply visit your Facebook ads manager and click on assets then audiences. Next, click create an audience and select custom audience. You should see different options for audience sourcing. So, be sure to choose the source that's perfect for your Facebook ad.
Add Captions to Your Videos
Captions help you pass your message to your viewers without the need for sounds. One shocking fact is up to 85% of viewers watch Facebook video ads without sounds. So, you might not be getting the optimal performance you want if you rely on voiceovers only.
Luckily, it's easy to add captions to your Facebook video ad. You can let Facebook generate them for you or upload them manually. Here's how to upload your captions manually:
Go to your ad manager on your Facebook page;
Make your Facebook ad campaign;
Choose between slideshow and single video formats for your Facebook ad templates;
Upload your video to your Facebook ad by either capturing it fresh or selecting it from your gallery;
Move to video captions and click upload SRT file and click save.


Your Facebook ad will never be complete if you don't include a clear CTA. Be sure to compel viewers to take action like make a download or sign up. Hence, you can find something that appeals to your audience and use it as a call to action in your video ad.
Important Features to Look Out For in Video Makers
If you're not interested in creating your Facebook video ad manually, you can always use a tool to help make the process easier. We've created a list of some of the best Facebook video makers that'll help you make high-quality and engaging Facebook video ads that are sure to attract and delight customers.
But, before we get into that, let's look at some of the things to look out for when selecting a Facebook video maker.
Different video makers come with different editing tools. While some only offer limited editing options like recording, adding filters, and text, others offer even more options to add transitions, trim, cut, and use advanced editing.
Keep in mind that more editing tools don't mean such a video editor is the best. Interestingly, the more tools a video maker gives you, the more complicated it'll be. So, if possible, you should go for a Facebook video maker that offers just the features you're looking for.
You don't want to use a video maker with a complex layout. It won't be easy figuring your way around the app–especially if you need professional video editing skills to use such video makers. So, be sure to choose a Facebook video maker that's simple with an intuitive layout.
Another thing you should look out for when choosing a Facebook video ad maker is the kind of formats it allows. Some of these apps support a wide variety of video formats, while others only support a few. If you want the freedom to make videos in any format, you should go for video makers that support all kinds of video formats.
Each app has its own set of prices. Plus, this usually depends on the app's kind of features and if you can download your creations or send them to cloud storage. So, be sure to choose a price you can afford while getting all the tools you need.
Imagine paying for a video maker just to find out you can't share the videos you create. Or you can't share your videos directly to Facebook. That's enough to make anyone upset. So, make sure your preferred Facebook video maker can share videos with a click or two and not the long process of downloading and uploading.
6 Facebook Video Makers You Can Use Today
It doesn't matter what platform you're using to make your videos; there are numerous video makers you can choose from. Here are some of our best picks to help you create the best Facebook video ads.
1. Canva
Canva offers you thousands of video templates with professional designs that you can use for anything. You also get access to high-quality content that allows you to bring your creative ideas to life.
The best feature of this video maker is its team feature. You can choose to be a solo creator or work with your team on the Canva app. Plus, it's easy to invite people to create and edit videos with you on this video maker.
Additionally, Canva offers multiple sharing options for your creations. You can present, schedule, print, direct share, and even download your videos.
Pricing
Canva has a plan for everyone. You can get the Canva free plan that offers over two hundred and fifty thousand free templates and free photos and graphics. You can also get all the basic features you need to create Facebook videos.
On the other hand, the Canva pro plan from $12.99 to $327.99 or Canva Enterprise which starts from $30/person on your team to $1500 for 50 people.
2. Animoto
Animoto allows you to easily create professional videos with an easy drag and drop editor. Plus, you have two options when you want to create videos. You can upload your clips to simple but professional templates, or you can create from scratch.
Also, you can fully customize your videos with exotic fonts, transitions, filters, and tons of other editing tools. Additionally, you can make your videos even more creative by adding music from Animoto's library of licensed music.
Pricing
Animoto has four pricing plans: a free plan, a basic plan for $16/month, a professional for $29/month, and a professional plus for $79/month. All plans include social sharing, desktop and IOS support, unlimited video creation, and a music library. However, the videos you create on the free plan will have the Animoto branding.
3. Biteable
Want video ads that drive engagements, sales, and conversions? Then give Biteable a shot. Biteable allows you to express your concepts with animations that fit any style and even offers personalization offers to make sure your video matches your brand.
You don't need any kind of experience to create videos with this app, and you can do your creation with amazing templates that are easy to customize. Plus, you can also use Biteable to meet the video needs of your entire team.
Additionally, Biteable allows you to upload your image and videos if you don't want those from their stock library. However, you can only get this feature when you upgrade your plan.
Pricing
There are three pricing plans available on Biteable, including free, ultimate, and teams. Biteable allows you to start for free before deciding to upgrade for $99/month. If you have a team, the cost for the team plan is $208/month.
4. Invideo
Need a powerful online video editor with loads of features for your video editing needs? Let us introduce you to Invideo. With Invideo, you can easily create eye-catching videos with over 5000 templates. Plus, you also get access to licensed music libraries, editing options like filters, stickers and transitions, iStock media, and many other features.
Interestingly, you can create brand kits that you can easily apply to any video you create. You can also edit any audio you want to add to your videos and select from over 40 fluid animations to give your videos even more life.
Invideo also makes provisions for team designs as you can start creating, sharing, editing, and commenting on your creations with your team.
Pricing
You can always start Invideo for free to test out the video maker. If you like what you see, you can upgrade to the business plan for $16/month or unlimited for $33/month.
5. Promo
The Promo video maker offers you tons of features to help you power your business with videos and bring your ideas to the screen in a matter of minutes.
With Promo, you can say goodbye to long and complicated video editing and welcome easy and intuitive video creation. Plus, you'll also get access to tons of premium images from popular sources like iStock and Getty images.
If you don't want to create your videos manually, you can use Promo's wide variety of templates. And you can add your logo, font, and colors to a template to make sure your video matches your brand.
Pricing
Promo offers two pricing plans, including Business for $59/month and Agency for $199/month. Unfortunately, the video maker doesn't offer a free plan, but you can try it out for free without having to add your credit card.
6. WeVideo
Who needs video editing skills when you can create a video like a pro on WeVideo? You can use advanced tools like green-screen to give your videos a high-budget look without spending a lot of time and money.
Plus, you can get access to over one million stock media, and you can create your videos anywhere and on any platform.
Pricing
WeVideo offers four different pricing plans to meet your video needs, including a power plan for $9.99/month, unlimited for $15/month, professional for $39/month, and business for $73/month.
Finding Professional Video Creators for Your Facebook Video Ads
Creative videos are a crucial part of any marketing strategy. Not only does it help you create an emotional connection with your audience, but it also helps to increase conversions. But if you can't create a video on your own (even with all the tools available to you), then you can always search for someone else who'll do it for you.
Video creators are the new rock stars of the digital age. Video has become such an integral part of our lives that it is now essential to have a video creator on your side.
Fortunately, you don't need to be a big brand or company to get in on this trend and harness the power of video for success. So if you don't have the time to create a video on your own or learning to use any of the video makers we mentioned above is tough, you can always hire a professional.
While this is not an all-encompassing list, this will give you an idea of where to find Facebook video ad creators.
1. Upwork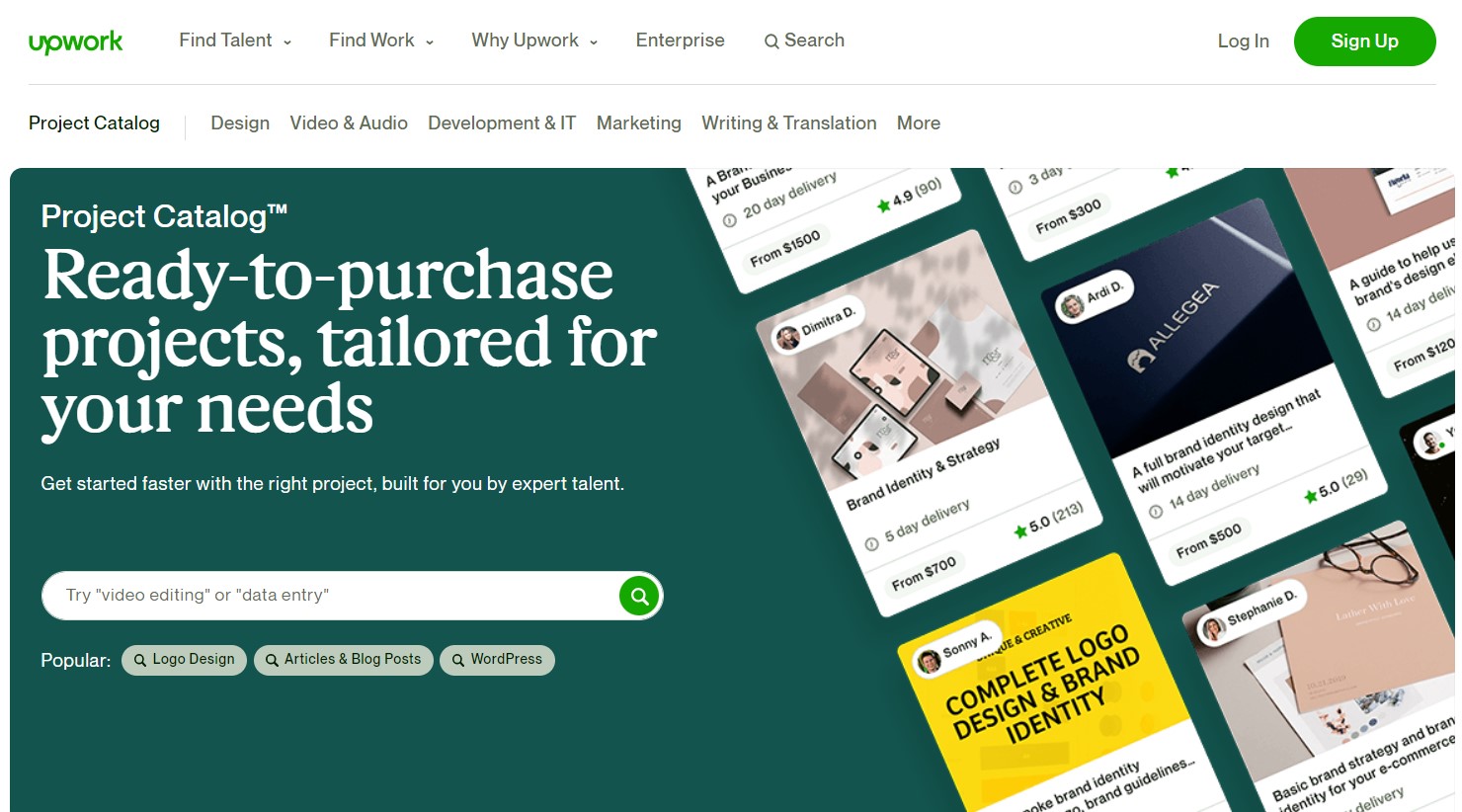 Upwork is a freelance marketplace where you can find professionals to help you with a variety of tasks, including video creation. All you need to do is post a job listing specifying what you're looking for and then review proposals from interested video creators.
This is a great option if you're looking for someone with specific experience or skills in video creation; just make sure to select one with enough feedback.
2. Fiverr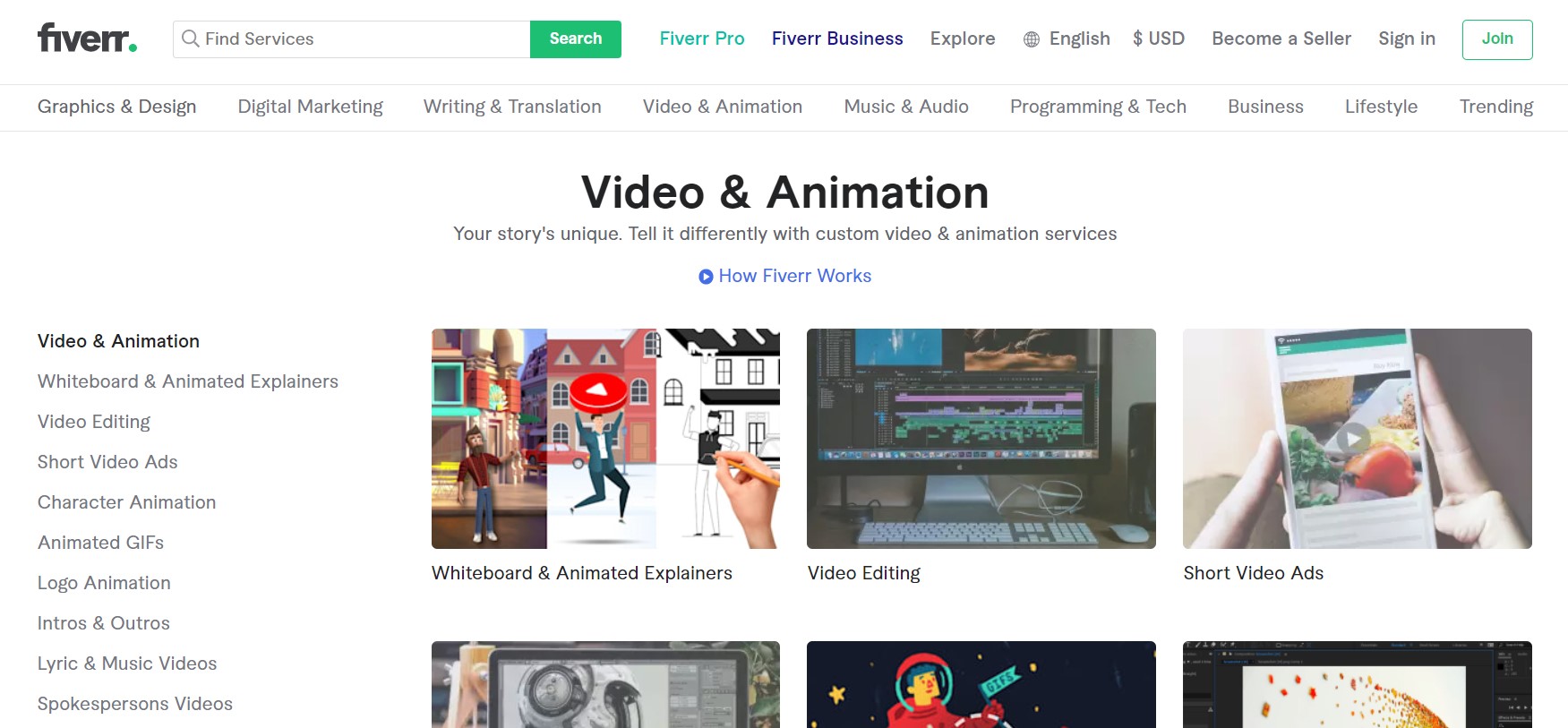 Fiverr is another freelance marketplace that you can use to find video creators. The great thing about Fiverr is that it's a more general marketplace, so you can find freelancers with a variety of skills, including video production.
Just be sure to read reviews and check out their portfolio before hiring anyone. Also, discuss your requirements with the freelancer, so everything is clear beforehand.
3. Craigslist
Craigslist is a slightly less known option, but it can be a great place to find video creators. The best way to use Craigslist is by searching for your city or region and then filtering the results by category (e.g., creative & design, video production).
This is a great option if you want to find someone local. However, it can be a little hit and miss, so be sure to read reviews and check out their portfolio before hiring anyone.
4. Creative agencies
If you want to go with a more tried and tested option, then you can always hire a creative agency that specializes in video production. This is a great option if you want someone with a lot of experience and who can help you with strategy, too.
Just be sure to do your research first and compare quotes before choosing an agency. Here are some examples of Video Production companies for Facebook Ads; some are affordable, others are more expensive.
a. 90Seconds
If you're looking for a professional video production company to help you create Facebook video ads, then 90Seconds is a great option. With over 12 years of experience in the video industry, 90Seconds can help you create videos that are effective, reactive, and engaging.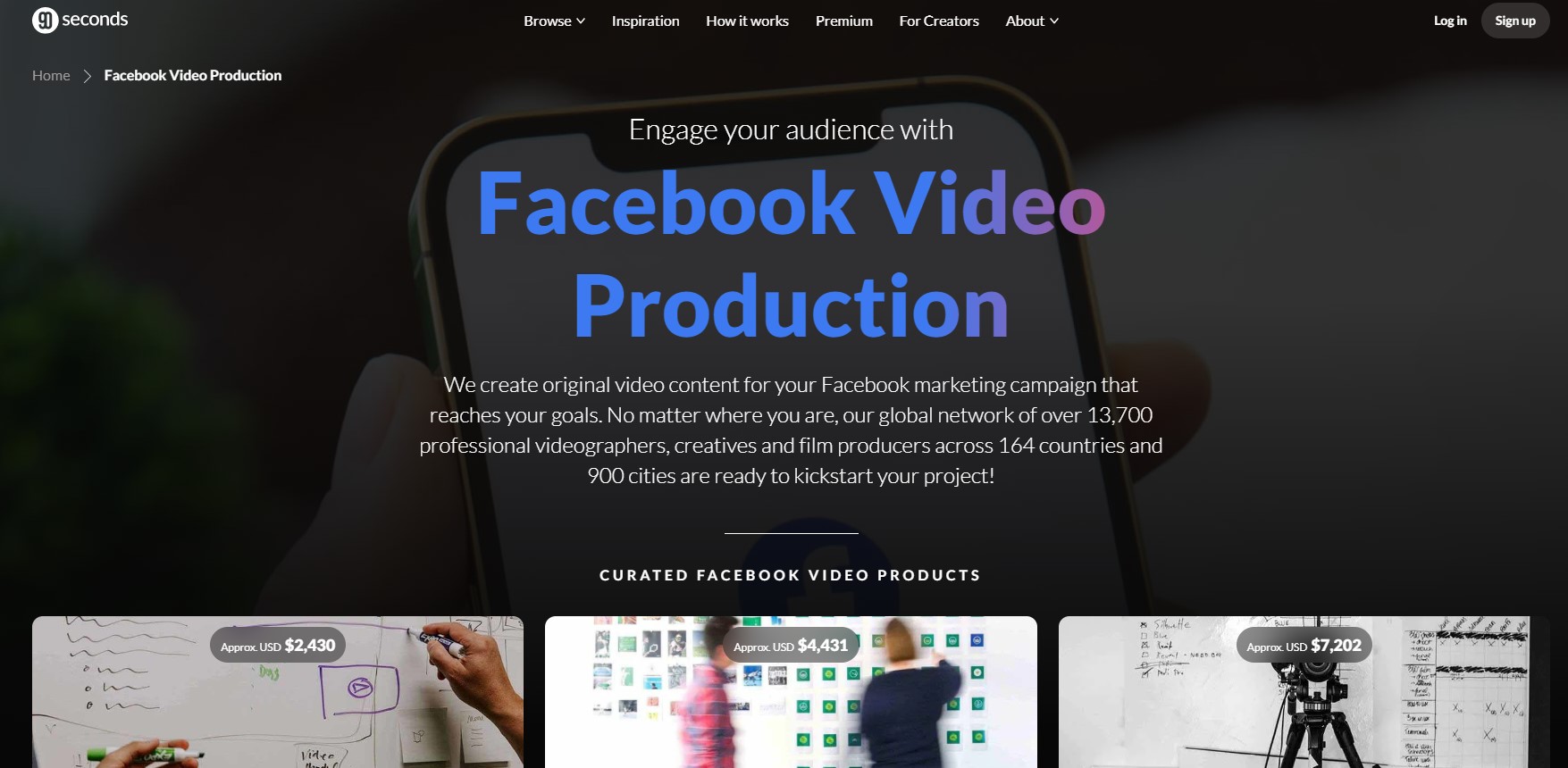 b. Brandamos
Brandamos is a video production company that specializes in digital ads and social media marketing. They can help you with all aspects of video production, from strategy to execution, and their team of professionals will work with you to create videos that meet your specific needs and goals.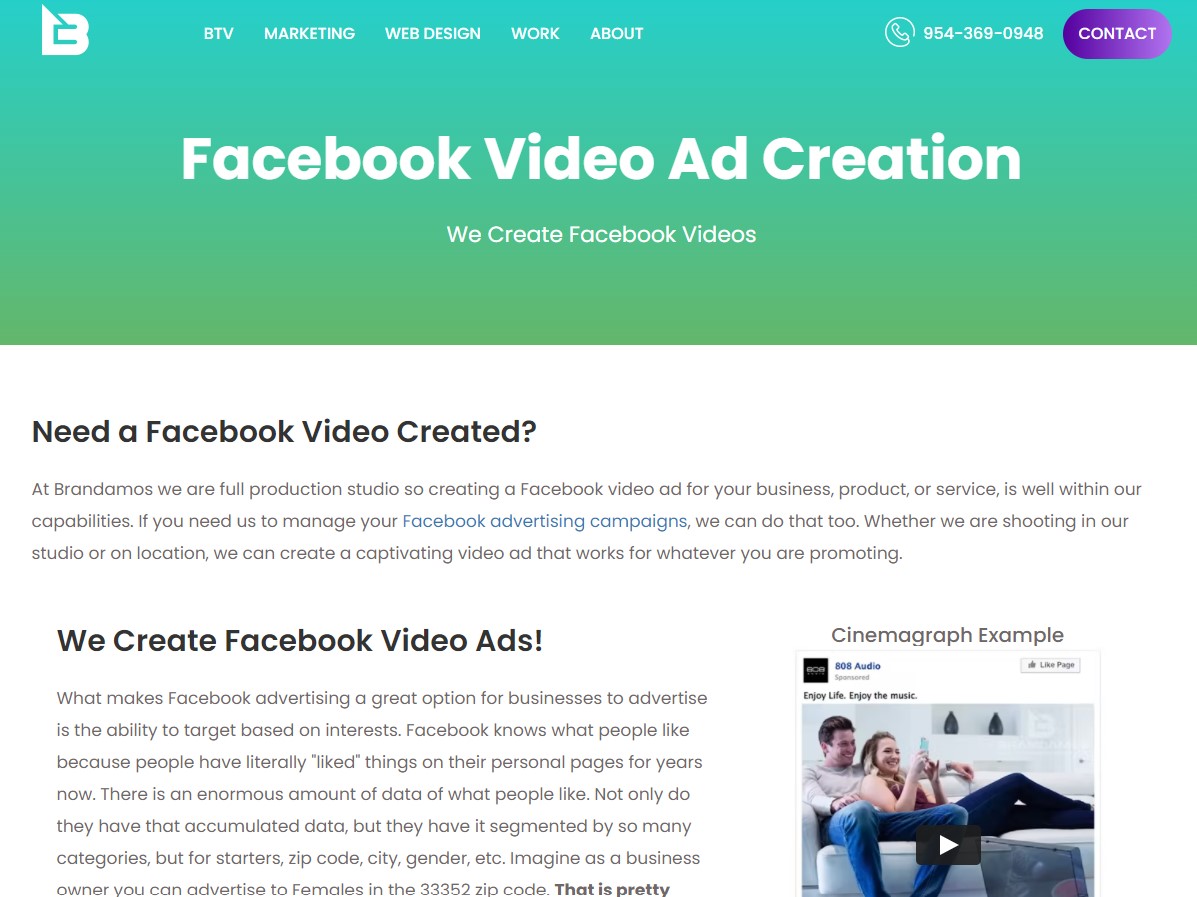 c. Social Films
Social Films is a UK-based video production company that specializes in creating videos for social media. They are experts in helping brands make the most of their digital marketing channels and can help you create Facebook video ads with your specific needs and goals in mind.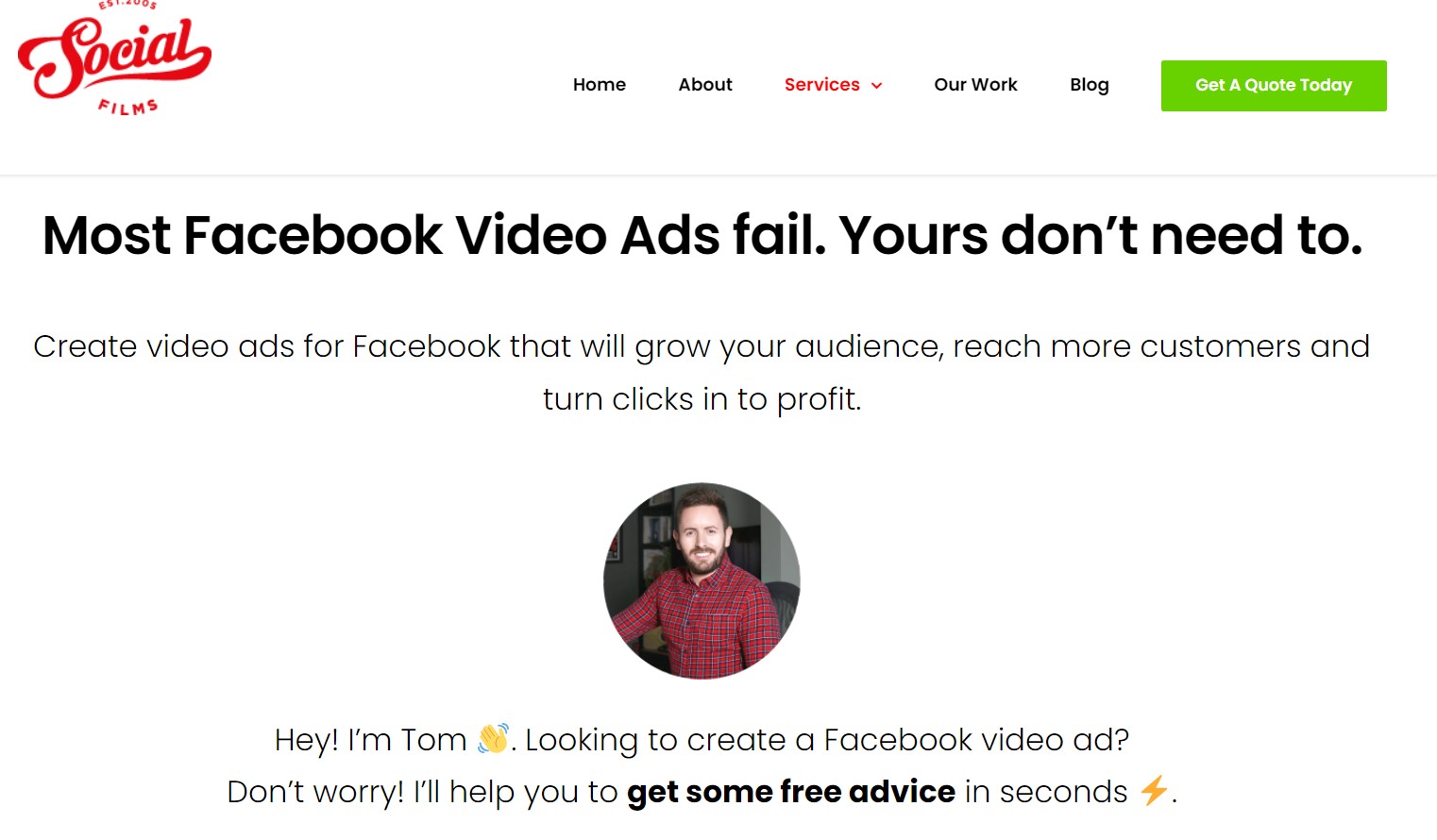 Social Films has an impressive list of clients, including some big names like Phillips, British Airways, HSBC, and Dove. They also have a team of professionals who are skilled at producing videos that are effective and reactive to their audiences' interests. Social Media Video Production Services will work closely with you to help you achieve your goals through creative visual content for your Facebook Ads.
d. Purposeful Films
This Florida-based company specializes in videos for eCommerce businesses. Purposeful Films can help you create effective videos that specifically cater to your target audience, allowing you to increase sales and subscriptions.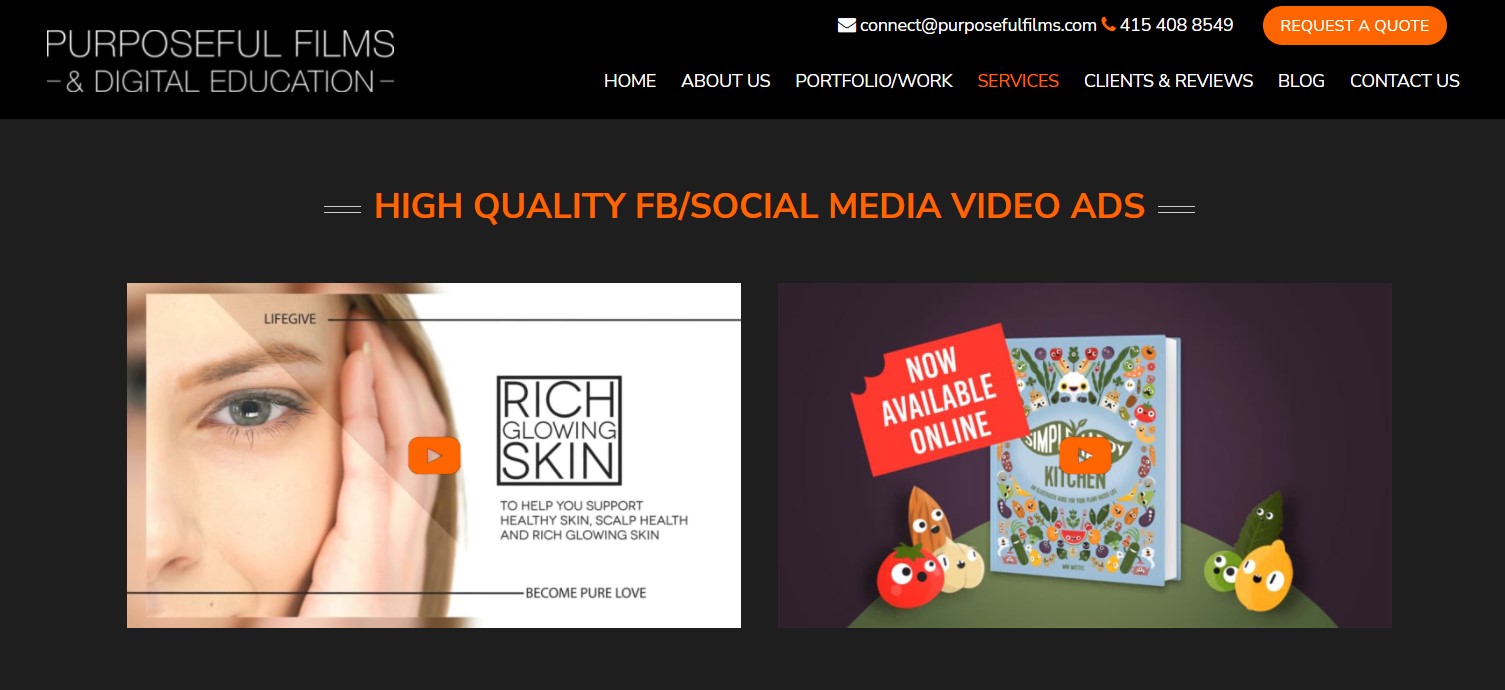 No matter which option you choose, be sure to do your research first and compare quotes before making a decision. And remember, the most important part of this process is to make sure that the video creator understands your brand and what you're trying to achieve with your Facebook video ads. So be sure to communicate with them effectively!
Summary
Facebook advertising can open up multiple opportunities for your business and give you the chance to show your creativity. Facebook video advertising is one of the best ways to promote your brand to your audience and get your desired ROI and conversions.
If you need help with creating and managing your social media ads, you can always reach out to us. Brax offers self-service and managed solutions for online advertising that will help you grow your business. Book a demo with us today.