Have you ever thought about making money by promoting someone else's products? It may sound too good to be true, but for tons of affiliates, it's a reality.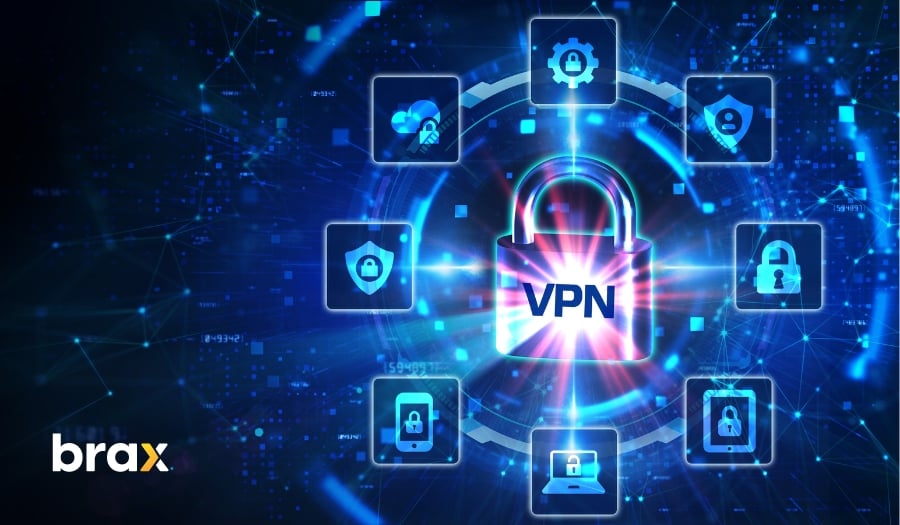 Imagine being able to earn a nice commission every time someone buys a product through your personalized affiliate link. It's the ultimate passive income opportunity that allows you to share your passion for certain products while getting paid handsomely for them.
If you're a content marketer earning from ad arbitrage, why not take it further by promoting affiliate offers? One of the highest-paying topics to focus on right now is VPN. If you'd like to take a chance in this vertical, read on.
Author's Note: We are not connected to any of these platforms, and we will not earn anything from mentioning them here.
Why Promote VPN Tools?
Nowadays, more and more people are concerned about online privacy and security. The internet has become an integral part of our lives, and with that, the chances of cyber-attacks on our personal data have also increased.
Here comes the role of Virtual Private Networks (VPN), which ensure your online activities are secure and anonymous. They create an encrypted passage between your device and the internet, masking your IP address and protecting your online identity from unauthorized intruders.
VPN services are not only helpful for those who work remotely or travel frequently but for anyone who wants to safeguard their online presence. If you're someone who values privacy and security in the digital age, promoting the use of a VPN service is not only logical, but it's also necessary.
It's estimated that VPN's market share in 2023 is almost $60 billion, which means there's a ton of money to be made!
To top it all off, VPN affiliate programs typically pay handsomely. Anywhere from $10 to more than a hundred bucks, with options to share the revenue with the company for recurring sales, or you can get a simple, one-time huge payment. Appealing, right?
Best VPN Affiliate Programs to Choose From
When it comes to finding the best VPN (Virtual Private Network) affiliate programs, there are many different aspects to consider. From the commission rates and payout models to the popularity and reputation of the VPN service, these factors can greatly influence the success of your affiliate marketing efforts.
As a professional affiliate marketer, it's important to analyze each program's unique benefits and drawbacks to determine which one is the best fit for your audience and goals. By focusing on quality and selecting a program that aligns with your values and interests, you can build a profitable partnership that benefits both you and your audience.
With so many VPN providers in the market, the task of selecting a VPN affiliate program may seem daunting. Worry not — that's what we're here for. This article provides an overview of the best VPN affiliate programs to help you narrow down the options.
1. CyberGhost Affiliate Program
With over 38 million users under its belt, CyberGhost has been tested and proven to be a reliable option. In short, it already has a pretty good following.
Since 2011, this Bucharest-based company has been offering top-notch VPN services to 91 countries. Acquired by Kape Technologies in 2017, CyberGhost is now a global force in web security.

CyberGhost Affiliate Commission Rates
Commissions are anywhere from 40% to 100% of the monthly subscription, depending on the type of plan your referral chooses.
For annual subscriptions, the commission rates fall between 30% to 40%, depending on the duration of the plan and the affiliate network that you work with.
Affiliate Platforms
CyberGhost itself uses the TUNE tracking platform. However, it also works with other affiliate networks to promote its VPN, including Commission Junction (CJ) Affiliate, FlexOffers, and Skimlinks.
Cookie Duration
Between 30 to 45 days, depending on the platform.
Payment Terms
Minimum Payment: $100
Payment Frequency: Monthly
Payment Method: Check, PayPal, Wire Transfer, Direct Deposit
2. IPVanish Affiliate Program
This Florida-based VPN company is owned by StackPath, a Dallas-based tech giant that knows a thing or two about online security.
This innovative platform has come a long way since its humble beginnings. What started as a modest 32-server operation has grown into a behemoth with over 2,200 servers spread across 75 locations.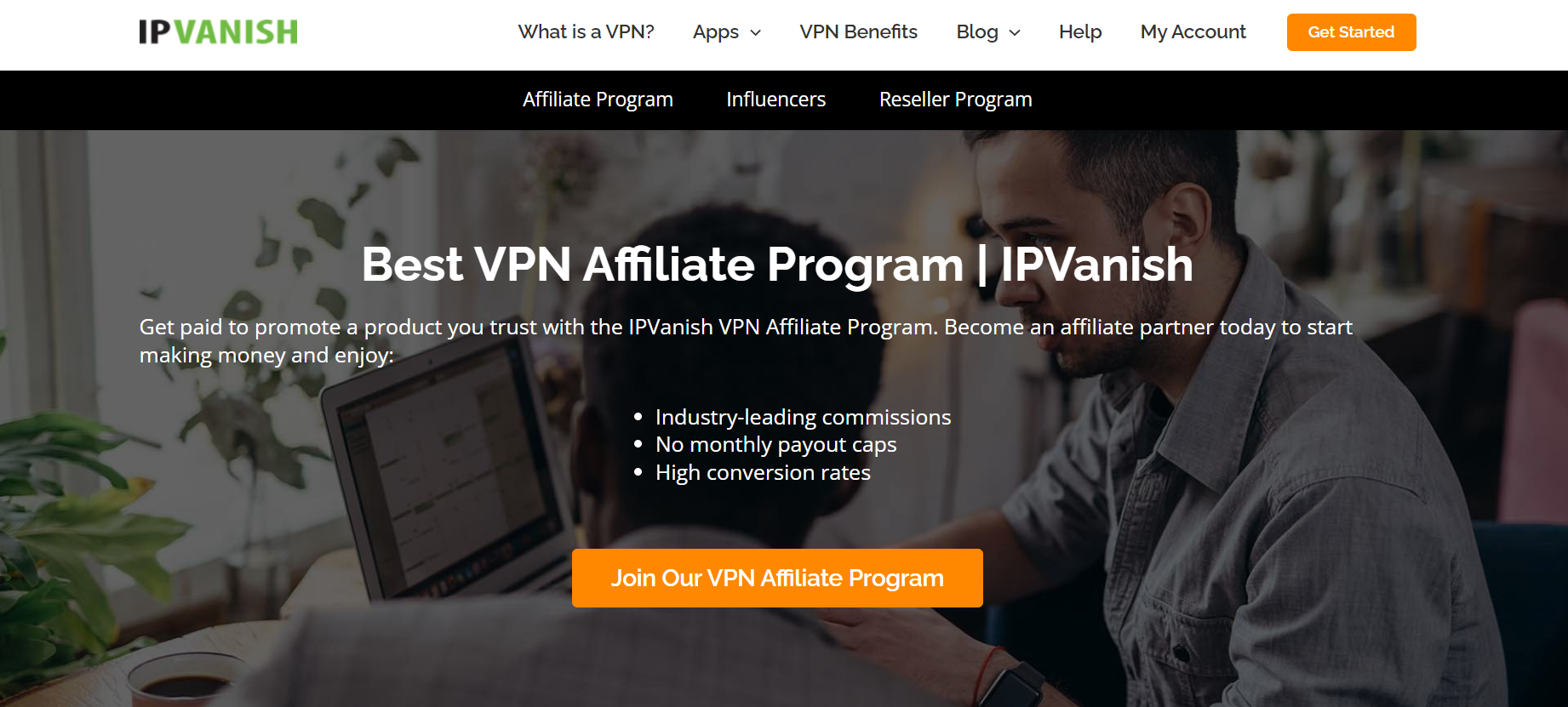 IPVanish Affiliate Commission Rates
50% for direct affiliates and within CJ Affiliate, and $80 in Skimlinks.
Affiliate Platform
Uses the TUNE platform for direct affiliates but also works with CJ Affiliate, LemonAds, and Skimlinks.
Cookie Duration
45 days
Payment Terms
Minimum Payment: no minimum requirement
Payment Frequency: Net-30
Payment Method: PayPal, Direct Deposit (US only)
3. NordVPN Affiliate Program
NordVPN is an impressive service that is the pride and joy of Nord Security, a company that was founded in 2012 and is still owned by its original creators, Tom Okman, Eimantas Sabaliauskas, and Jonas Karklys.

Based in Panama and with offices all over the globe, NordVPN offers top-notch features that include file encryption, a secure password manager, and a strict no-logs policy. It's no wonder that NordVPN has amassed over 370 thousand followers across all its social media pages.
NordVPN Affiliate Commission Rates
Commissions are based on the plan duration. For a one-month subscription, you'll get 100% of the plan's price. For 6-month plans up to 2-year plans, you get 40% of the total amount.
Affiliates are also given a 30% share of renewals, whatever the chosen plan duration may be.
Affiliate Network Platform
NordVPN utilizes the TUNE platform for direct affiliates, though they also work with Lemonads and Skimlinks.
Cookie Duration
30 days
Payment Terms
Minimum Payment: $100 for PayPal, $1000 for Wire
Payment Frequency: Monthly
Payment Method: Paypal and wire transfer
4. ExpressVPN Affiliate Program
ExpressVPN is a leading provider of VPN services and a trailblazer in the digital security industry. With a robust network of servers in 94 countries worldwide, ExpressVPN ensures that its subscribers have fast and secure access to the internet without compromising their privacy.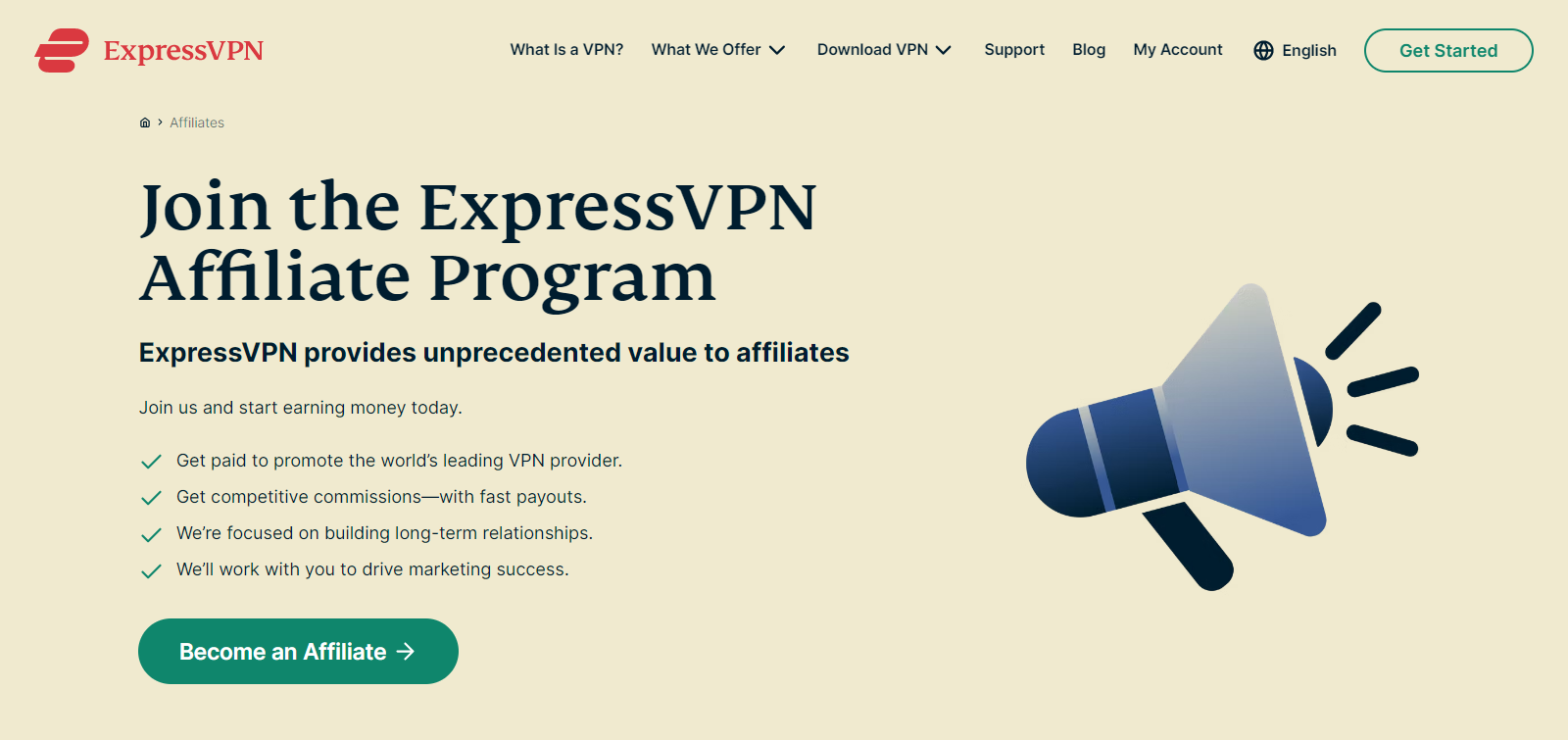 The company's dedication to providing secure and encrypted connections to customers globally has earned them a loyal following of over four million active subscribers in 180 countries.
But that's not all — what really sets ExpressVPN apart is its VPN affiliate program, which is tailor-made to empower its network of online marketers and e-commerce sites to reach even greater heights.
ExpressVPN Affiliate Commission Rates
Similar to those mentioned above, the commission rates in ExpressVPN depend on the length of the plan subscribed to by your referral. In dollars, the payouts are as follows:
$13 for a monthly subscription
$22 for a 6-month subscription
$36 for an annual subscription
Affiliate Networks
Affiliates can sign-up directly with ExpressVPN's affiliate program, which utilizes Kape Technology's in-house tracking platform. They also work with CJ Affiliate, FlexOffers, Rakuten, and Skimlinks.
Cookie Duration
Anywhere between 30 to 90 days, depending on the platform you work with.
Payment Terms
Minimum Payment: $100 for PayPal, $1000 for Wire
Payment Frequency: Net-15
Payment Method: PayPal, Bank Wire
5. Private Internet Access Affiliate Program
In the realm of digital security, Private Internet Access (PIA) VPN stands as a veritable fortress against malicious prowlers and cyber threats. Since its inception by Andrew Lee in 2010, PIA has honed its cutting-edge technology and multi-layered security system to ensure top-notch protection for its users.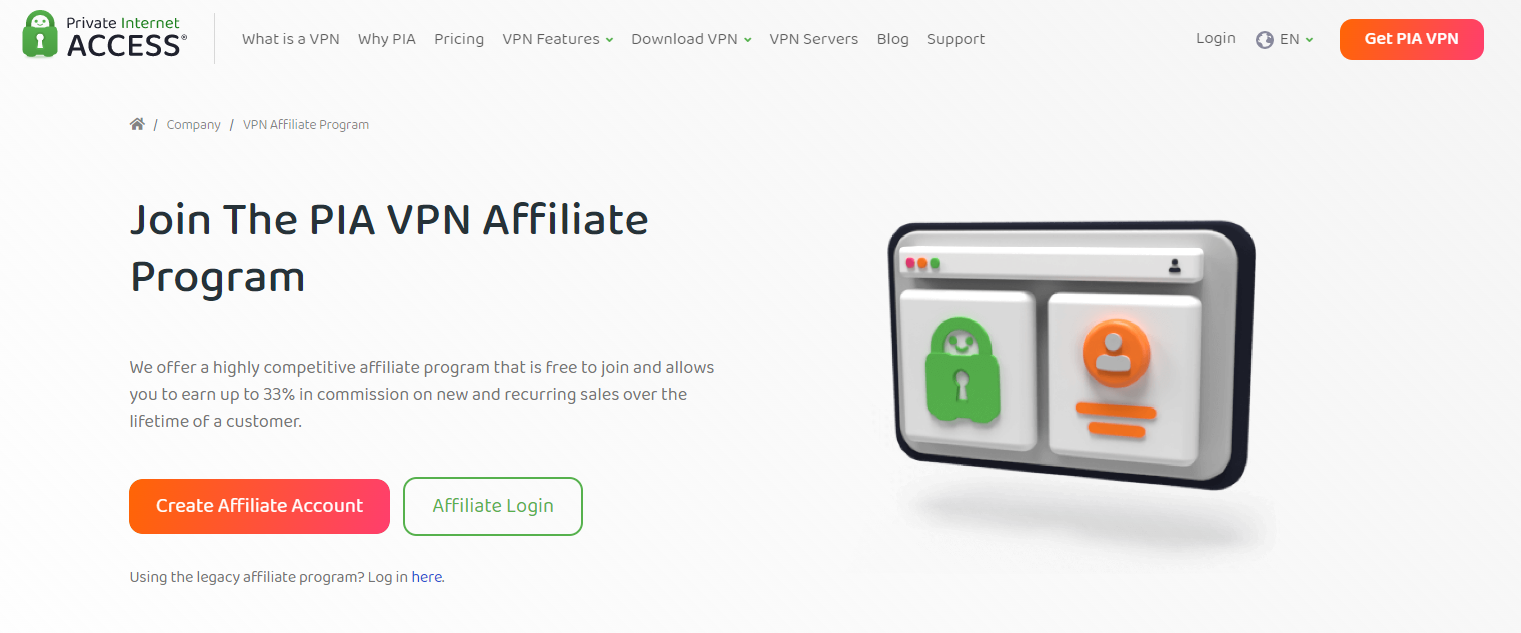 With servers spanning over 80 countries, PIA offers virtual private networks that tunnel data at the TCP/IP interface level, making all user programs secure against unauthorized access. It's like having a personal SWAT team at your digital beck and call, ensuring the utmost privacy and security.
Just like CyberGhost and ExpressVPN, PIA is currently owned by Kape Technologies, though it has separate VPN affiliate program terms.
Private Internet Access Affiliate Commission Rates
Those who work directly under PIA's VPN affiliate program get a fixed 33% commission on all subscription plans, whatever the duration, paid for the lifetime of the referral.
If you choose to work with FlexOffers, the commission rate is 24% for the annual plan and for all succeeding renewals, and 80% for monthly plans.
Affiliate Network
Kape Technology's in-house tracking platform.
Cookie Duration
30 days
Payment Terms
Minimum Payment: no minimum
Payment Frequency: Monthly
Payment Method: PayPal, Bank Wire Transfer
6. VyprVPN Affiliate Program
If you crave online security, you'll love VyprVPN.
The Swiss-based company has got its customers covered with top-notch data protection, and it's not by chance. Switzerland is outside the 14 Eyes surveillance alliance, and VyprVPN leverages that to shield users' data and log from prying eyes.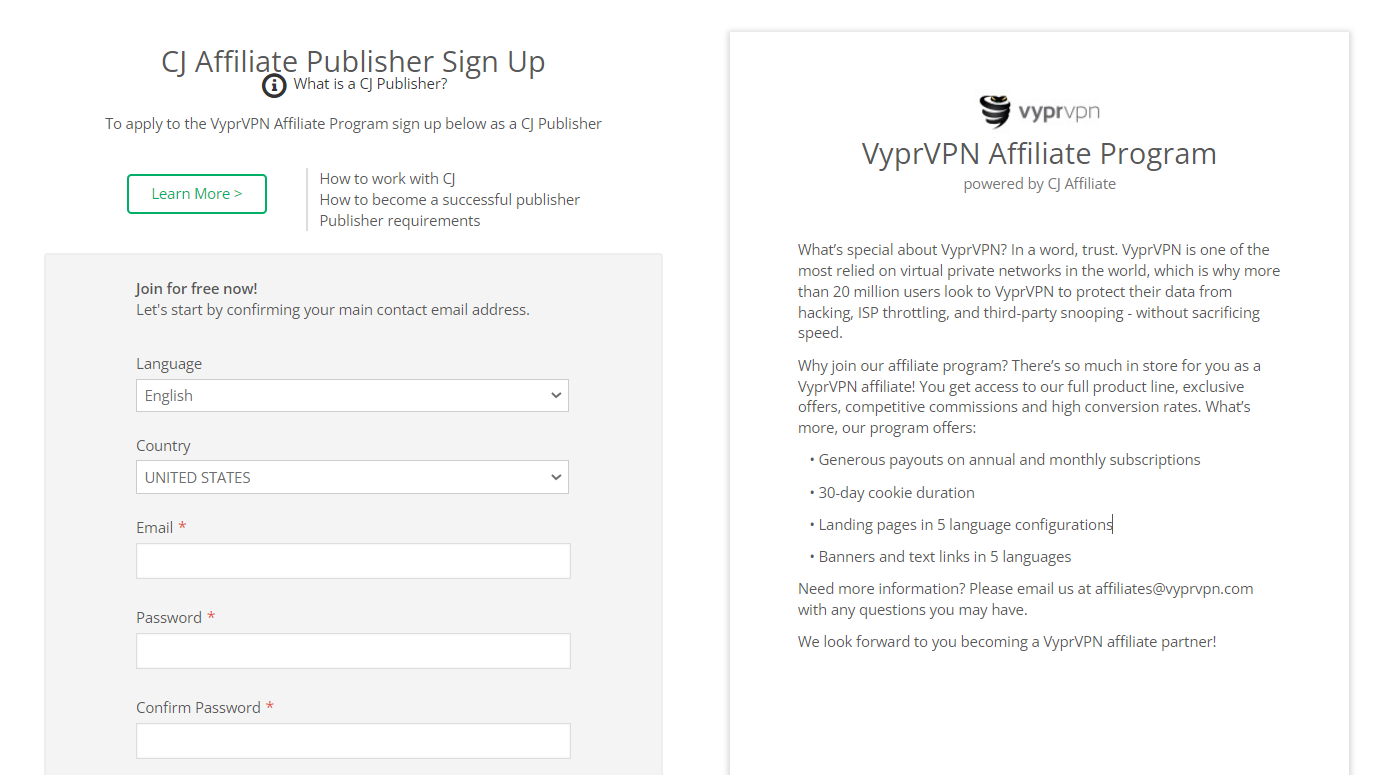 Even better, its 70-plus server locations holding at least 700 VPN servers scattered across the world ensure users are never too far from a reliable, fast connection. Your audience will also love the little perks like public wifi protection, censorship protocol, and a traffic-blocking kill switch to keep any unwanted snoops away.
Best believe that Vypr's user base has exponentially grown, with over 20 million users relying on its VPN services to protect against snoopers and hackers. Plus, the cherry on top is that they have a relatively simple affiliate program.
(Author's Note: If you want to promote any VPN affiliate program, you must understand surveillance alliances between countries, particularly Five Eyes Alliance and 14 Eyes Alliance.)
VyprVPN Affiliate Commission Rates
One-time payment of $10 for a monthly subscription and $30 for an annual subscription.
Affiliate Network
CJ Affiliate
Cookie Duration
30 days
Payment Terms
Minimum Payment: $50
Payment Frequency: Monthly
Payment Method: Check, ACH (Direct Deposit), Payoneer (or any other payment option available for you in CJ Affiliate)
7. PureVPN Affiliate Program
In 2006, three ambitious brothers with a passion for privacy and security launched PureVPN. Uzair, Umair, and Aaqib Gadit had just graduated, but that didn't stop them from working tirelessly to commercialize a product they had created during their free time.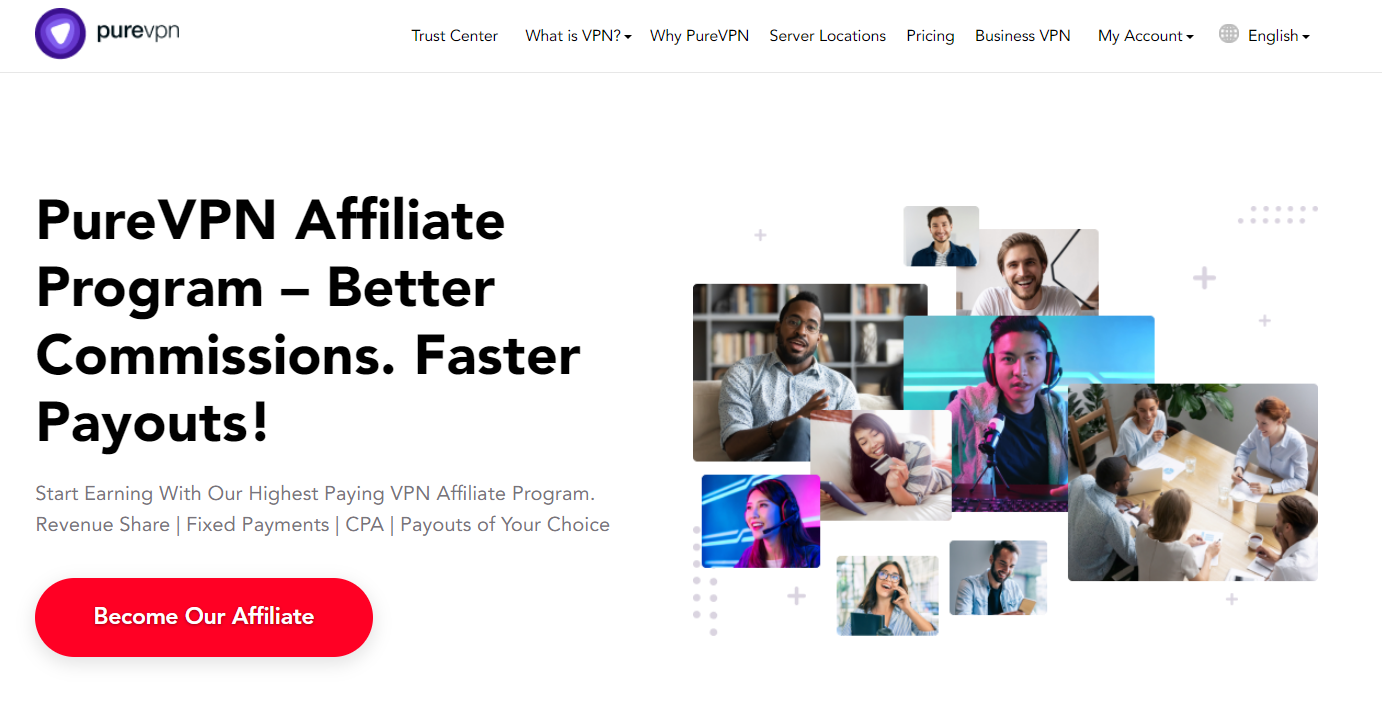 Now known as GZ Systems Limited, PureVPN prides itself on having over 3 million users. This is a testament to how well they've perfected their game. Its main features include:
6,500 servers spread across at least 70 countries
military-grade encryption
VPN kill switch
port forwarding.
What's more intriguing is their affiliate program's potential for lucrative rewards for clients who refer users to the service. It boasts of having the longest cookie duration we've seen among all VPN affiliate programs we've reviewed, to the tune of 90 days.
PureVPN Affiliate Commission Rates
100% commission for the first month of a monthly subscription referral and 40% commission for the first payment of a 1-year or 2-year subscription.
If the annual or 2-year subscriber renews their subscription, you'll get another 35%. This works for as long as the user continues to use PureVPN.
If you choose to work with PureVPN through CJ Affiliate, the commission rate is 25%.
Affiliate Platforms
CJ Affiliate, Rakuten and ShareASale.
Cookie Duration
60 to 90 days, depending on the platform.
Payment Terms
Minimum Payment: $100 for Paypal and $500 for Bank Wire
Payment Frequency:
Payment Method: PayPal, bank wire transfer
----
While these 7 VPN brands are the main players in the VPN industry, there are more than a hundred other VPN apps available today. Some take it a notch further by providing most of the marketing materials and assigning affiliates dedicated affiliate account managers.
Make sure you do your due diligence and research each one you encounter based on their reputation — especially when it comes to sending payments to their affiliates. After all, you don't want to be left high and dry!
How to Promote VPN Affiliate Programs through Native Ads
One of the best ways to promote VPN affiliate programs is through native advertising. Native ads seamlessly integrate into the website it is displayed on, allowing for a natural flow and increased engagement with potential customers.
Whether it's a recommended article on a technology blog or a promoted post on lifestyle sites, native ads have proven to be a successful tool in the affiliate marketing world.
Here's how you can get started:
Step 1: Choose a Native Ads Platform
Choosing a native ads platform is like choosing the perfect pair of shoes for your feet. You want something that fits comfortably, matches your style, and won't cause blisters or pain in the long run.
The same goes for selecting a native ads platform that works for your business. You should consider your budget, audience, and goals before committing to a platform.
The top native ad platforms include Yahoo Gemini, Outbrain, and Taboola, but you can always start with lesser-known ad networks. Click here to see a list of native advertising platforms to try.
Step 2: Learn How to Promote VPN
Learning how to promote VPN can be a scary task. However, the key is to emulate the successful tactics of others in the industry.
Conducting research on your competitors' VPN promotion strategies is a critical part of staying ahead in today's fast-paced digital world. By analyzing and understanding what your competitors are doing to promote their VPN products, you can learn from their successes and failures and develop better strategies to attract potential customers.
Research Websites that Promote VPN services
One good approach is to check review sites and observe how they create content. This can give you ideas on how to position and present your VPN product to potential customers.
Here's an example of a VPN review site: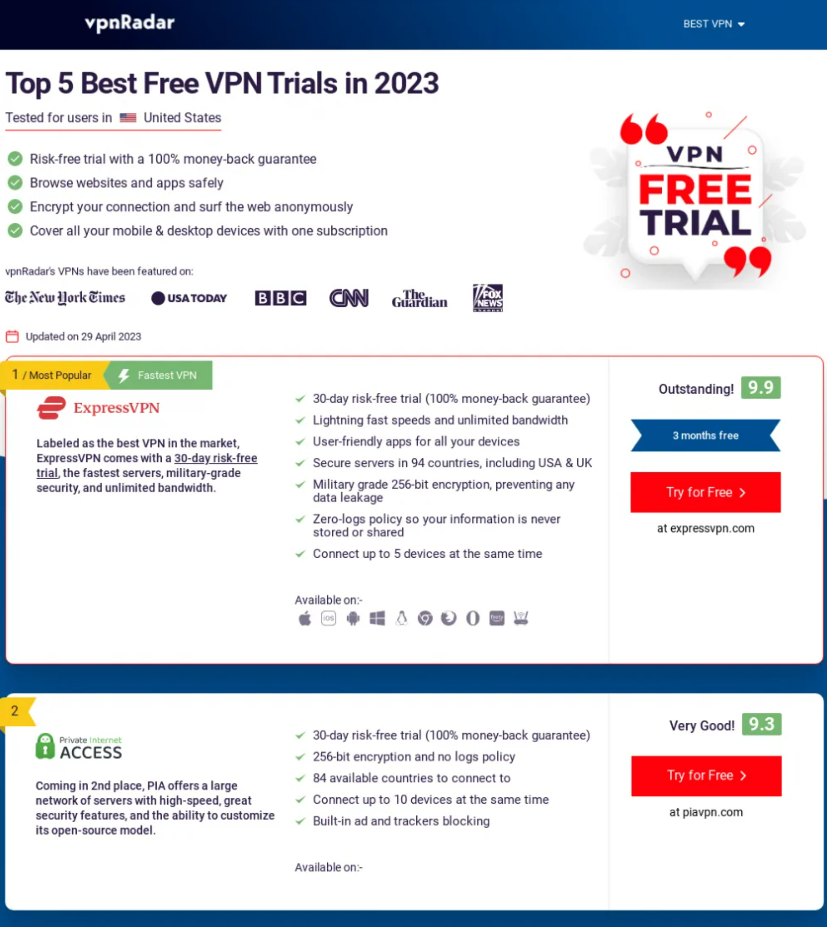 And here are a couple of examples of how websites create articles about these tools: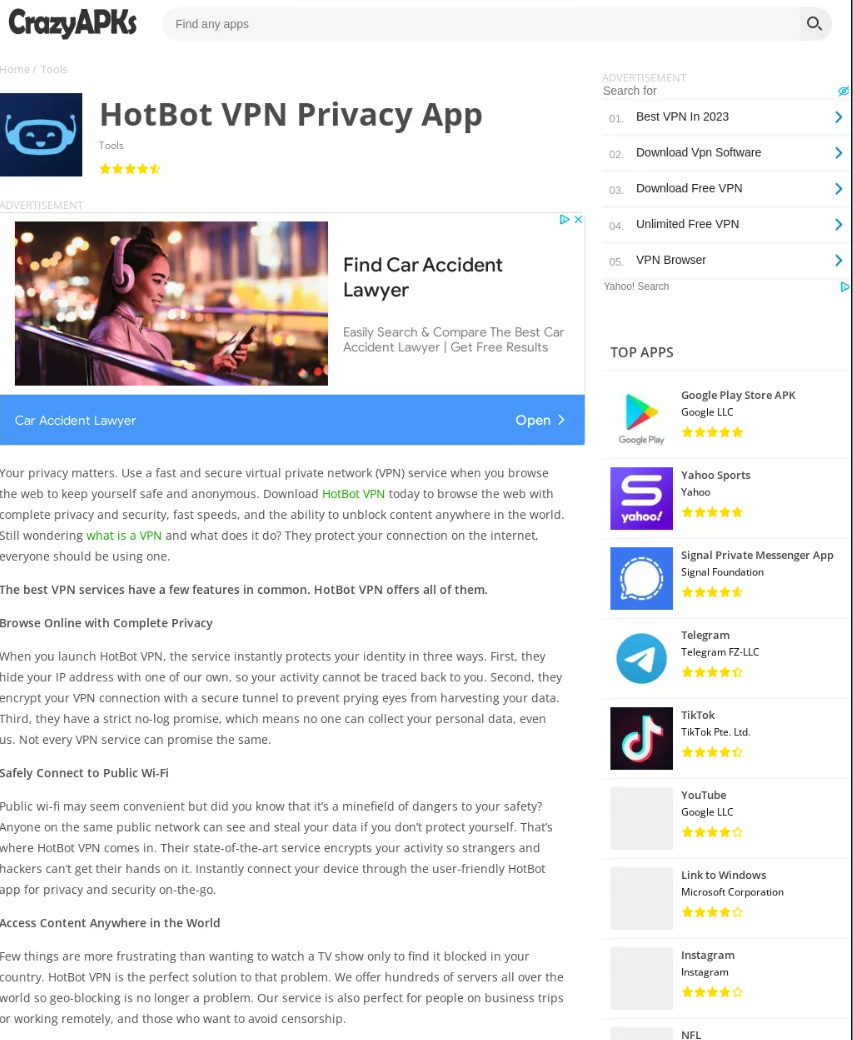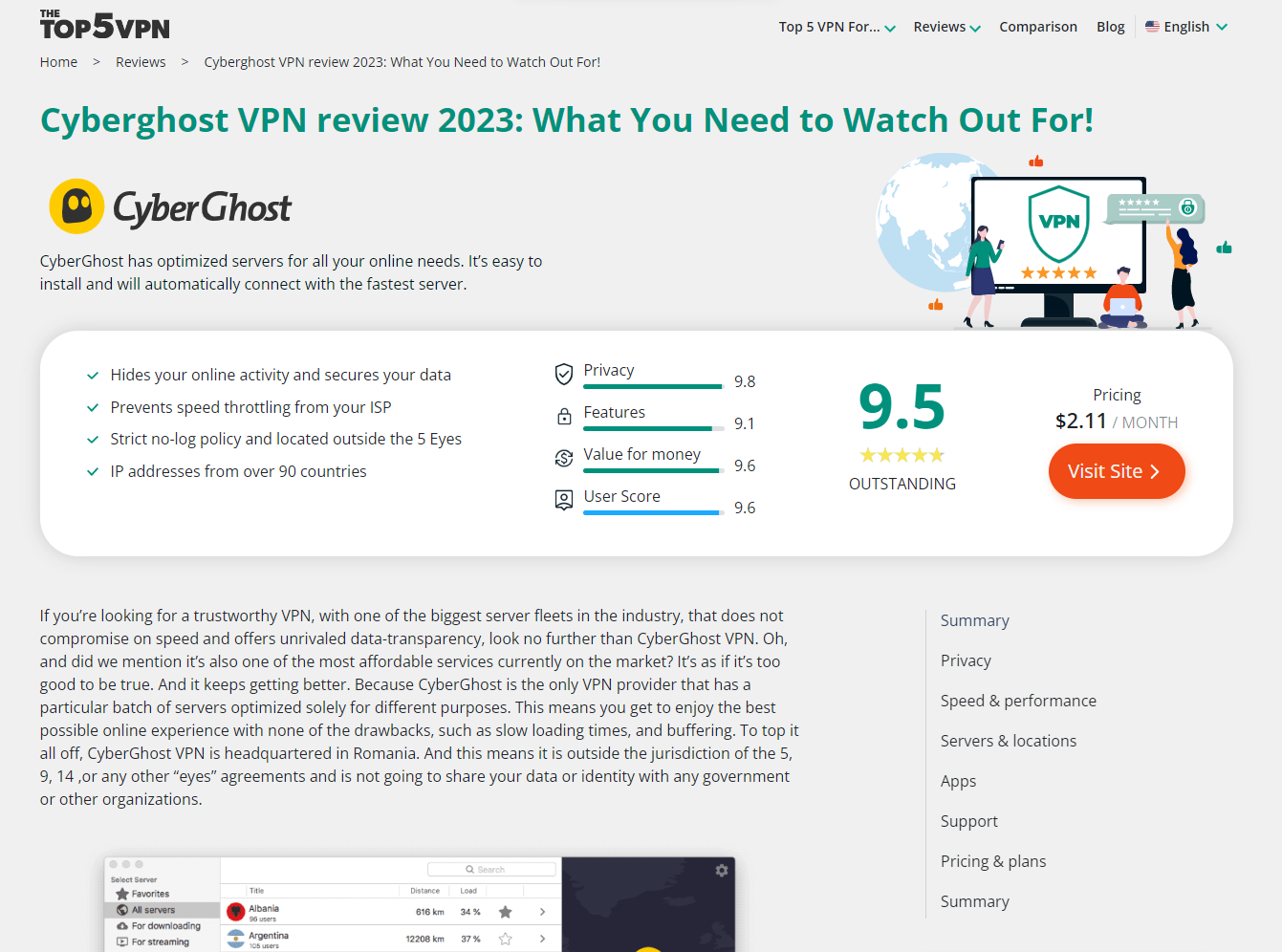 Research your Competitors' Ads
Additionally, researching your competitors' ads can give you insight into the best messaging and calls to action.
You can do this manually by scouring the internet and your competitors' social media channels. One option is visiting your competitors' business pages and then checking what ads they show. For transparency purposes, Facebook allows its users to see the kind of ads a specific business page shows.
Checking Facebook Ads Library can also help you find ads like this: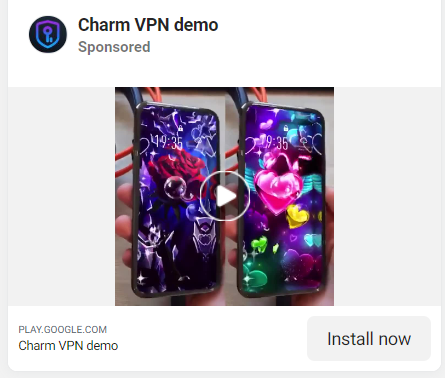 You can also research how your competitors promote VPNs through native ads by utilizing native ads spy tools.
These handy tools allow you to peek behind the curtain and see what your competitors are up to when it comes to VPN promotions. By using spy tools, you'll be able to analyze their tactics, identify patterns and trends, and ultimately, gain a competitive edge.
For instance, if you use Anstrex Native, you'll find VPN offers being marketed like this: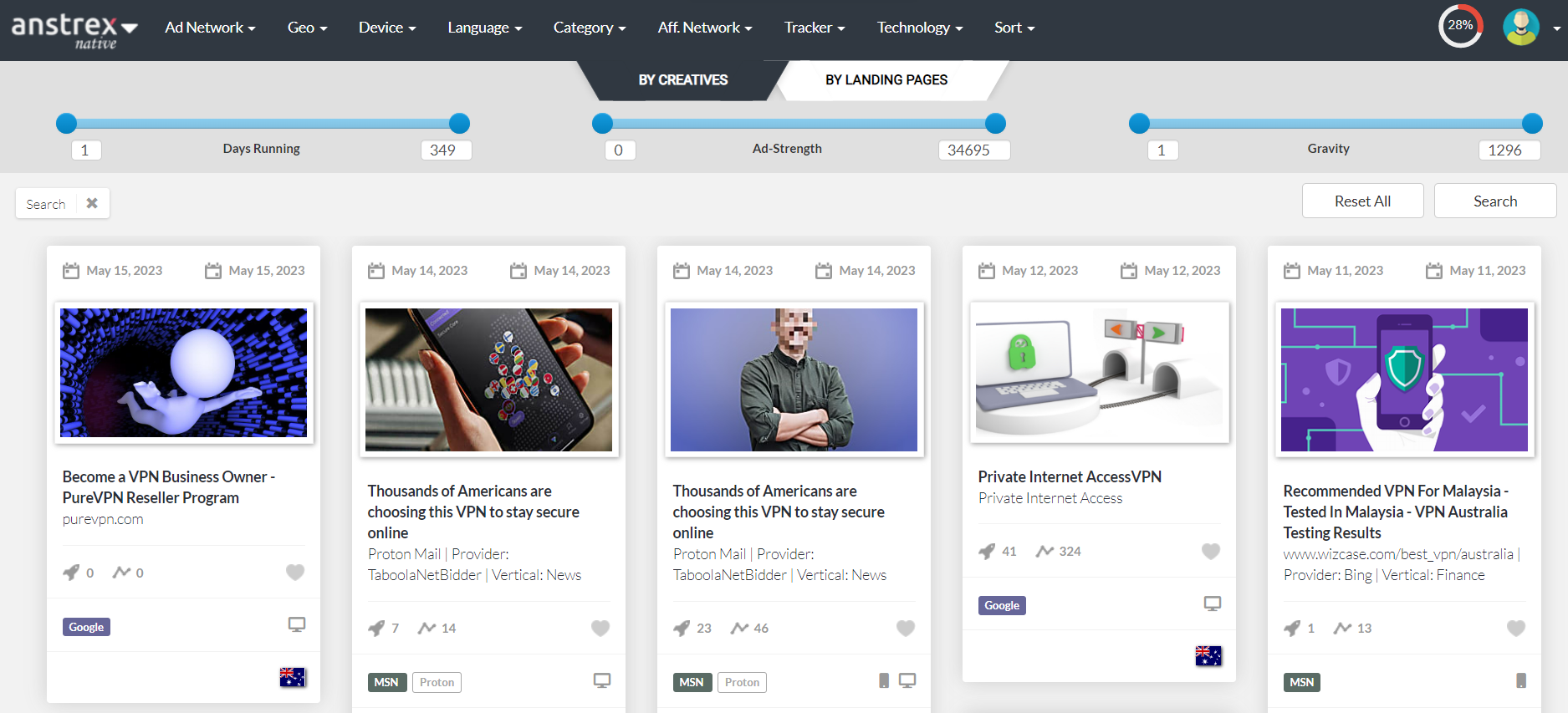 Not only will you see the ad text and image being used, but you will also see what advertising platform is being utilized, where the offers are being promoted (country), how long the ad has been running, and how well it is doing.
Here are additional examples of native ad creatives for VPN: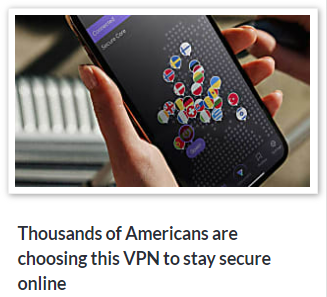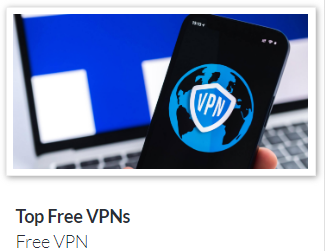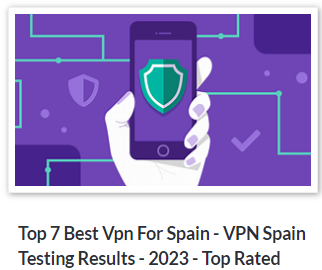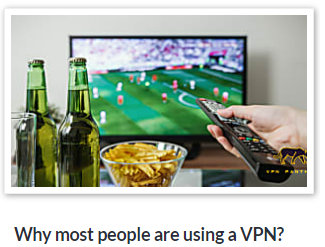 Use these ads you find as inspiration on how to best promote your VPN-related content.
The key is to keep the ad and your website content in sync so that users will not feel that they have been duped. Content recommendations work best when the content is properly represented by the ad.
Step 3: Track Your Ads
If you're running ads for VPN promotions, you know that advertising can be a bit of a gamble. You don't just want to throw your money at a campaign and hope for the best.
To ensure that your advertising efforts are successful, it's essential to track your ads. Tracking your ads helps you understand what aspects of your campaign are working and what aren't.
You'll be able to see which audiences are responding to your ads, which ads are driving the most conversions, and which platforms are driving the most traffic. You can even set your own custom KPIs for data that matters most to you. Armed with this information, you can then optimize your campaign for better results.
But don't rely on just Google Analytics alone — you must use a platform that tracks not just what happens inside your website but can also identify the exact ad creative and campaign that brought you the paid referral (and how much you had to pay to get this referral).
One great option for a tracking platform is Brax.
Brax is an innovative native advertising management platform that simplifies and streamlines the entire process. With its intuitive interface, Brax allows advertisers to manage, optimize, and scale native ad campaigns across multiple platforms.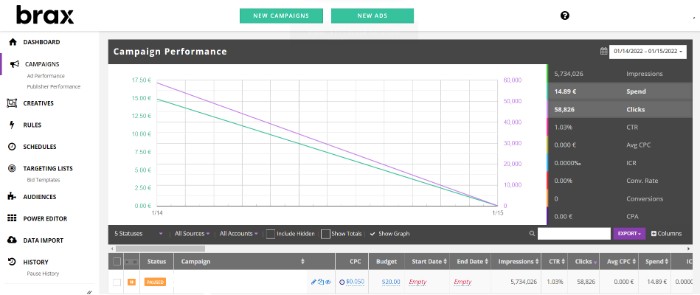 If you'd like to see how it works, book a free demo today.
We promise you — it'll help take your affiliate marketing business to the next level.
Step 4: Optimize Your Ad Campaigns
Imagine an archer aiming their bow at a bullseye, but instead of focusing on their target, they close their eyes and hope for the best. This tactic may work in some areas of life, but when it comes to ad campaigns, blind aim is a surefire way to miss the bullseye and waste precious resources.
To truly hit the mark and get the maximum return on ad spend, businesses need to optimize their ad campaigns for peak performance. This means honing in on target audiences, testing which ad copy is compelling enough for the audience, and analyzing data to make informed decisions.
Whether you're a seasoned marketer or new to native advertising, Brax's comprehensive solution is designed to elevate your marketing efforts and drive exceptional results.
Aside from giving you access to comprehensive data from your marketing campaigns, you can also enable Rule-based optimization.
Rule-based optimization may sound like a complicated process, but at its core, it's simply setting criteria and letting Brax take action based on those criteria. Just like a chef creating a recipe, a marketer can create and run rules to optimize their campaigns with ease.
Brax also takes it to the next level by adding schedules into the mix. With schedules, you can have as many rules as you like and have them run at a specific time of day or after a time period has passed.
It's like having a personal assistant that runs the rules for you on a schedule you choose. With the ability to attach multiple rules to a schedule, you can take multiple actions every time it triggers. Think of it as a streamlined process that takes the guesswork out of optimizing your campaigns.
That's a wrap!
The world of affiliate marketing opens up incredible opportunities for income generation. VPN affiliate programs, in particular, are increasingly popular due to the growing importance of online security and privacy.
As discussed in this article, native advertising is an excellent approach to promoting these programs as it blends seamlessly with the content of a website, allowing you to promote your reviews on the VPN services with ease. By following the strategies outlined in this article, you can leverage the power of native advertising to build a steady stream of passive income through VPN affiliate programs.
Don't hesitate to explore this exciting world and start earning today! And as always, if you need assistance in promoting your business, don't hesitate to reach out to us. We can help you reach your profit goals!