Are you tired of feeling like your advertising budget is being wasted? Are you looking for a more effective way to reach potential customers? If so, then you need to start using native advertising.
Native advertising is a form of advertising that appears within the content of the website or app it is promoting. This makes it much more effective than traditional forms of advertising, such as TV commercials and print ads.
But with so many different platforms available, it can be difficult to decide which one is right for your business. Two of the most well-known native advertising platforms are Taboola and Google Ads.
In this article, we'll compare Taboola and Google Ads to help you decide which is the better platform for native advertising. We'll focus on the benefits each platform offers advertisers. By the end of this article, you'll have a clear idea of which platform best fits your needs.
So, let's get to it…
What Is Taboola and What Does It Offer Advertisers?
Taboola is a native advertising platform that was founded in 2007. It is one of the oldest and most popular platforms available. Taboola is used by a variety of businesses, including small businesses, large corporations, and publishers.
Taboola Features
Taboola offers a wide range of features, including:
A self-service platform that makes it easy to create and manage ads;

The ability to target users based on location, demographics, interests, and other factors;

A wide range of ad formats, including text, images, videos, and slideshows;

The ability to track the performance of your ads and optimize them for better results;

Has more than 9,000 publishers, 500 million active users, and delivers around 500,000 recommendations every single second;

24/7 customer support.



Taboola Targeting Options
Taboola has a number of targeting options that allow you to reach the exact audience you want.
These are:
Location (geo, city, or postal code)

Demographics (age, gender, parental status)

Behavior (recent searches and purchase history)

Interests (sports, technology, travel)

Online activity (browser type and OS; operating system; device type; screen size; OS version)

Choice of publishing website.
Some of Taboola's most popular publishers include USA Today, Business Insider, and Fox News.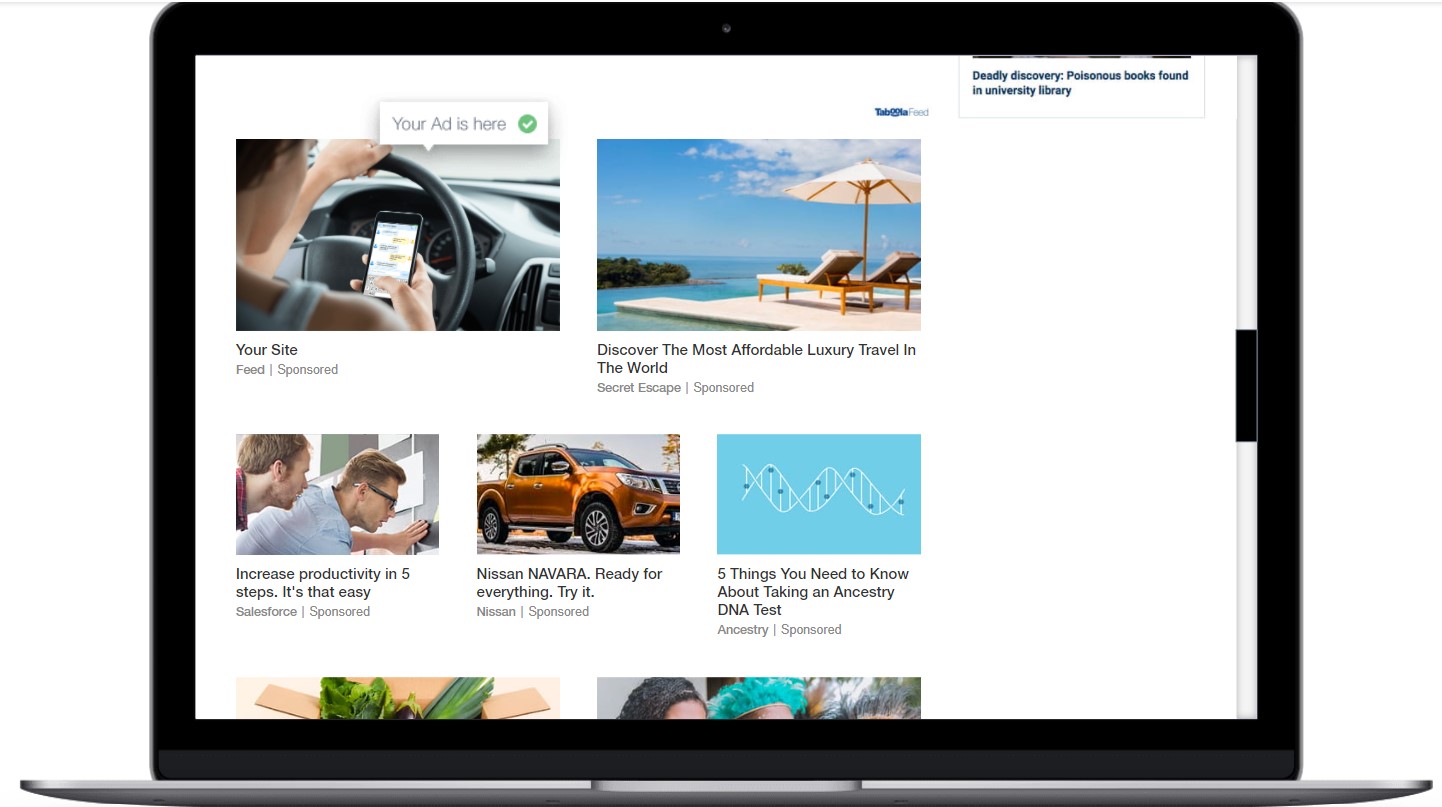 How does Taboola work?
To begin using Taboola, you will need to create an account and choose your plan. There are two types of accounts available, and these are the Managed Account and the Self-Service Account.
While Taboola is not very strict with the type of advertisers they accept, they are strict when it comes to ad compliance.
Taboola offers a variety of tools that make it easy for you to create an ad, publish it, track its performance, and optimize your ads. By using these tools, you can ensure your ads are reaching the right audience and getting results.
For more information on using Taboola, please refer to our post on an advertiser's insider look into Taboola.
Taboola Ads Pricing
With the Managed Account, you will pay not just for the ad spend but also for the management of the ads. With the Self-service Account, you will be in charge of everything — from setup to ad spend to optimization. It also means you'll only be paying for ad spending, with no extra charge.
When it comes to ad spend, you either pay based on the number of impressions you receive (in CPM) or based on the number of clicks you get (CPC). The price per view or click varies based on the results of Real-Time Bidding.
What Is Google Ads and What Does It Offer Advertisers?
Google Ads is a native advertising platform that is part of Google's larger advertising platform. It is part of the revamped Google Adwords platform. It was first released in February 2000—seven years before Taboola was founded.
It has since become one of the fastest-growing platforms available. In fact, it is the most popular online ad network today, competing only against social media giant Facebook Ads (now Meta) for digital advertising dominance.
Google Ads Features
Google Ads has a number of features that make it an excellent option for businesses looking to create and manage native advertising campaigns.
These include:
Multiple targeting options that give you the ability to reach specific users based on their location, demographics, interests, online behavior, etc.

A drag-and-drop editor for creating ad campaigns without having to write code or hire designers;

Real-time reporting so you can track how your ads are performing at any given time;

The ability to manage different campaigns, ad groups, and keywords from one dashboard;

Ability to reach customers on YouTube, Gmail, and all other Google properties;

Show ads on publisher websites of virtually any niche known to man.
The Google Adwords platform is available in over 40 languages that help you reach more customers no matter where they live. With the tools provided by Google Adwords, it's easy to create targeted campaigns based on specific demographics or online behaviors. Google also offers support via phone and live chat to make sure your advertising needs are met quickly.
Google Ads Targeting Options
Google Ads gives advertisers the ability to reach their potential customers based on these factors:
Location;

Device, browser, and other user device information;

Interests (including topics, preferred sites, and what users do on those sites);

Behavior (what other sites users visit before coming to your website or landing on your ad);

Language(s) based on browser settings or publisher content.
Remarketing to users who previously interacted with your ad or website is also possible in Google Ads.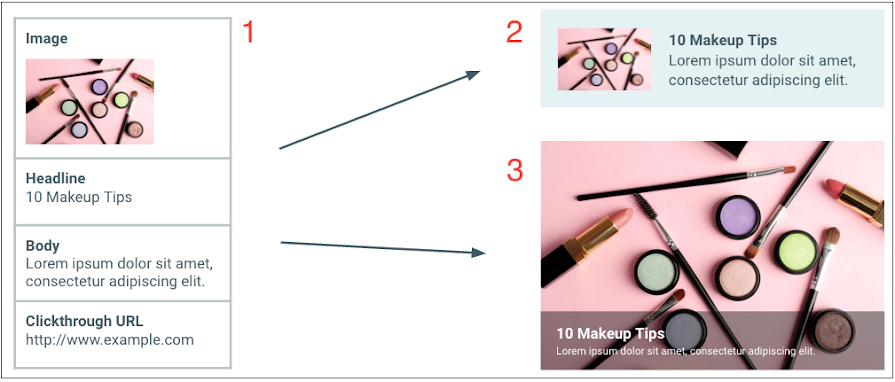 How does Google Ads work?
Setting up a Google Ads account is fairly easy—especially if you have an existing Adwords account. You simply need to log in to your account and follow the prompts until it guides you over to the new platform.
If you haven't used Google Adwords before, fret not. Opening up a Google Ads is fairly easy.
You can set up Google Ads in minutes. Plus, the platform automatically optimizes itself based on performance data. These factors make it easy for anyone to use — from beginners to advertisers who have been running ads for years.
Google Ads Pricing
One of the best things about Google Ads is that it doesn't charge advertisers any fees beyond the cost of Adwords bids. That means you'll only be paying for ad spending, with no extra charge.
It also offers an improved position in search results via Search Partners, which are partner sites where Google Ads ads are available alongside organic search listings. What this means is that your ads will appear more often on these websites, making them more visible to customers who are looking for your products or services online.
Just like Taboola, advertisers pay based on impressions and clicks.
Comparing the Benefits of Taboola and Google Ads for Advertisers
Both platforms offer multiple targeting options, real-time reporting, the ability to manage campaigns from one dashboard, and the ability to reach customers on thousands or even millions of online properties.
However, there are a few key differences between Taboola and Google Ads that advertisers should consider when making their decision.
Ad Formats
Taboola offers these ad formats:
Recommendation widgets:

These ads appear within third-party articles and links, and it provides links to other content that readers can choose to browse.

Photo native ads:

Taboola recommends images from its Content Marketing Network (CMN) as banner ads for publishers' websites. The banners rotate automatically or can be set up to show a specific image at all times.

Video popup ads:

As the name implies, video popup ads open as popups on top of existing webpages where they play in line with website content.
Google Ads offers these ad formats:
Image/rich media text ads

: Google Ads provides a way for advertisers to create ads with a combination of images, text, and links.

Product listing ads

: These are similar to image/rich media text ads, but they include additional details about the product or service being advertised.

In-stream video ads

: In-stream video ads appear before, during, or after a YouTube video that users have chosen to watch. They can either be skippable or non-skippable, depending on your preference.

Recommendation widgets

: similar to Taboola's recommendation ads, though not as robust.
Google Ads also offers two kinds of text ad formats: Expanded text ads (ETAs) and simplified text ads (STAs). Each format has its own best practices that advertisers should follow in order to keep it running smoothly. ETAs often include multiple fields, whereas STAs contain just a few.
Ad Performance Data in Google Ads vs. Taboola
One of the biggest differences between Google Ads and Taboola is that Google allows users to view how their ads are performing on different devices before they even enter the bid amount.
That means advertisers can prioritize specific targeting options based on which channel is cheaper to promote to before the campaign even starts. Advertisers can also utilize Google Ads Bid Simulators to get an estimate of the number of clicks or views the ad will receive based on targeting and budget.
Taboola's core focus is ensuring its audience reaches relevant content. While it is possible to view performance based on device, browser, and other factors, you would still need a third-party tracker to be able to drill down reports based on specific metrics.
When it comes to third-party trackers, we recommend Brax. It is an all-in-one solution when it comes to ad management and optimization. Book a free demo today and find out how this tool can make your advertising life so much better.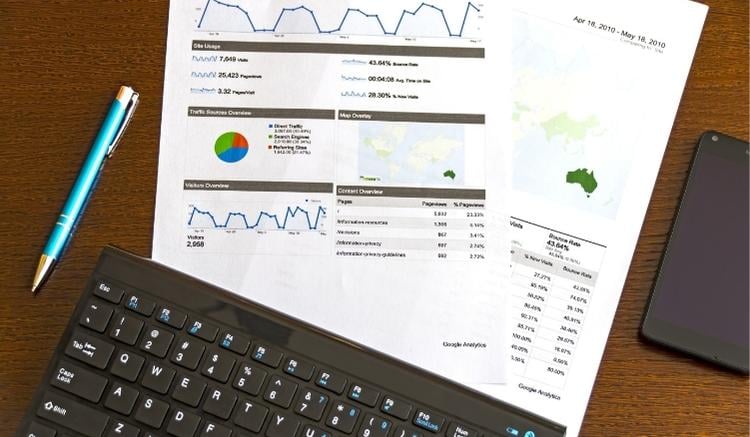 Ads Process in Google Ads vs. Taboola
One of the biggest pros for both platforms is that they automate a lot of the ad creation process, which allows advertisers to take control without having to write code or hire a developer.
However, since Google has been leading the charge in digital advertisements for years, its platform tends to be more advanced than newer platforms like Taboola.
In fact, many people consider Google Ads to be an all-in-one ad platform because it allows you to not only create native ads but also search ads and video ads.
Deciding Which Platform Is Better for Your Needs
When it comes to deciding which platform is better for your needs, it all depends on what you're looking for in a native advertising platform.
Google Ads offers a wider range of ad formats, as well as more detailed performance data that you can use to make better decisions about your campaigns.
Taboola is best suited for businesses that want to reach a larger audience with more relevant content. You can even choose the exact publishing website where your ad will appear! However, keep in mind that the more popular the website, the higher the ad cost.
If you need in-depth reporting and ad performance data in order to make informed decisions, then Google Ads might be the better option for you. However, if you know that reaching traffic on third-party sites is your most pressing concern, then Taboola may be the more suitable alternative.
One of the first things that advertisers should consider when deciding which platform to go with is their budget. This is because native advertising has a price-per-click (PPC) model, just like Google Ads.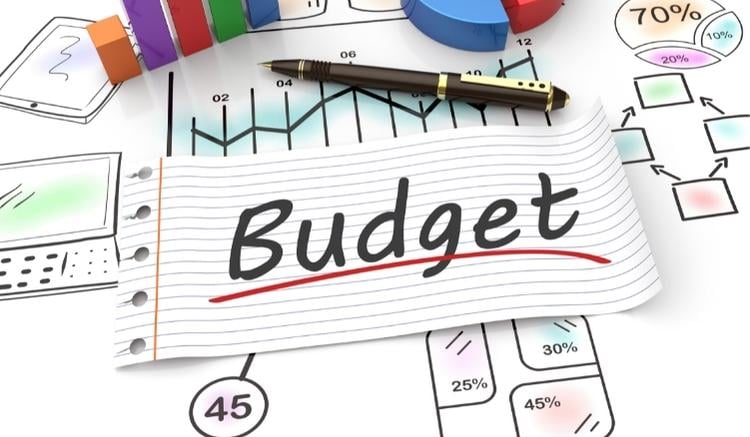 The great thing about Taboola's PPC model is it offers both cost-per-action (CPA) bidding and traditional CPC bidding. CPA bidding allows you to pay the network only for completed actions such as sign-ups and registrations.
This means you are guaranteed results! On top of this, Taboola employs an auto-optimization feature when using CPA bidding, so you may eventually pay less per action in the long run.
Based on Marketing Strategy
Advertisers should also consider their strategy when deciding which ad platform they want to go with. Google Ads has a more robust interface and inventory, but it is more targeted towards advertisers who already have an extensive marketing team and/or developers to create full campaigns.
Taboola offers advertisers the ability to start small and scale up once they get the hang of creating native ads for different ad formats. It's perfect for businesses that want to try out native advertising without investing too much in the beginning.
If you'll be using Taboola, look into our Taboola Best Practices article for guidance.
Conclusion
In a nutshell, the main difference between Taboola and Google Ads is how each platform approaches native advertising.
Google has been a pioneer in digital ads for years, so it tends to have more advanced targeting options and features. However, Taboola offers advertisers an easy way to start small without investing too much upfront or having to rely on an external team.
If you're looking to run native advertising campaigns on an ad network with multiple targeting options and solid reporting capabilities, then go with Google Ads. However, if you want more control over how and where your content is displayed, then Taboola may be a better choice.
As with all things in online marketing, what works best for one company may not work best for another. Find out which platform would help your advertising dollar go further with a free trial of Brax today!