Whether you are a part of a marketing agency, an advertising manager for a company, an affiliate, or simply a business owner marketing your own products, if you are in the business of online advertising, you would know that native advertising is one of the best options for promotion.
Why not? It is brand-safe, can send you millions of views and impressions in a day, and has a great engagement rate (click or view) compared to other traffic types. If you have an elastic budget, you can receive millions of views in just a day!
And if you're a smart marketer, you'd use a native advertising tracking system to monitor your conversions and see which campaigns are sending you the best results. So here you go, wise marketer; a list of the best native advertising trackers for you to choose from!

This article contains the following:
Before we list down the top 12 trackers you can possibly use for your marketing campaigns, let us first discuss what a tracking system is, how it works and how it can help you.
What is an Advertising Tracking Software?
Also called traffic analytics software or media buying tracking tool, a third-party advertising tracker allows you to monitor the status of your campaigns -- from the amount of traffic you receive, to which ones deliver the results, down to what traffic sources you are benefiting from the most.
There are a hundred different ways by which you can use the data that a tracker can provide you with that a typical traffic source won't show you. Truly, your marketing campaigns will not be as successful when you use a tracker as when you don't.
To get the most out of your promotions, you must learn to look into the different aspects of your traffic and your campaign. Some of the metrics that you can monitor using a tracker include the following:
Carriers
Browsers
Operating system and version
Device type
Device model
IP
Geolocation (from region and country, down to the city or even suburb)
Ad creatives and landing pages
Source publisher
Website source
Number of impressions
Number of visits
Number of clicks
Number of conversions
Cost of traffic
...and more.
While the above items are only tracked based on URL tokens and cookies, there are also some metrics that the tracking system automatically calculates based on the information gathered from the raw data above. These are:
Click-through rates
Conversion rate
Return on Investment
Profit
Earnings per view or per click
The average price of conversion
...and more.
We say 'more' because it depends on the capacity of the tracker you choose.
As you must have noticed, one of the biggest advantages of having a tracker is that you won't have to manually compute important conversion metrics -- these are readily available for you the moment you visit your dashboard. Say goodbye to using worksheets and excel spreadsheets! (Although if you're still using those, you have got to be living under a rock for a decade now.)
Now let's get started with all native advertising tracking tools available for you right now.
Top 12 Tracking Tools for Native Advertising
Most media buying tracking tools can accept any form of traffic. Whether your traffic comes from organic views (SEO), PPC, pops, push notifications, display or banner ads, native ads, mobile ads, email ads, social media ads, and domain redirects, a typical tracker can surely handle it. All you need to understand is how to set up your tracking and campaign properly.
However, some are better than others when it comes to features, benefits, and of course the price. You can get the value for your money if the feature being offered is something that you can use for your marketing strategies.
1. Google Analytics
GA is the most popular tracking tool online. It is free to use and can be used for both organic and paid traffic. This software uses a tiny javascript code embedded into the header of each page, which captures user information and sends it back to the tracker.
Although page sessions make up the bulk of the data that GA provides, there is a whole lot more to Google Analytics than just looking into the details of the organic traffic you receive.
To monitor paid traffic in GA, you first need to learn how to use UTM parameters on your links, as well as how to set-up goals and conversion data.
But because this tracker requires you to add a code to pages that you want to track for conversions, some marketers, especially affiliates, don't use it. After all, they can't add their unique GA code on advertiser's pages.
If you can ask the advertiser of the offer you are promoting to place your snippet on their pages, then that would be great news for you. If not, you would have to use a different tracker.
Pros:
Free to use
No limits to the amount of traffic you can receive
Can store Google-signals data for up to 26 months
Can monitor all kinds of traffic
Cons:
Can't track pages you don't have access to
Can't monitor affiliate conversions
Plans and Pricing:
Practically anybody with a Gmail account can use Google Analytics. Click here to start using this tool.
2. Brax
If your main traffic source is native ads, then why not choose a tracker that focuses on this traffic type? Brax allows you to create, manage and optimize your native advertising campaigns running in different native ads providers.
Brax goes further than other tracking systems as this platform allows you to make actual changes to your campaigns in real-time. There is no need to switch between tabs looking into what adjustments you need to make based on your tracker, and then applying these changes to the campaign in the traffic platform in another tab. All you need to do is integrate your account from any of the biggest native ad networks and you're good to go.
Brax supports the following native ad traffic providers:
Taboola
Outbrain
Revcontent
Yahoo Gemini
Content.ad
If you are running campaigns for your own product or website, you can even go further and integrate Google Analytics into Brax. This way, all important page traffic information GA receives will be fired back to Brax to help you with your optimization.
Some of the tasks that you can do inside Brax include the following:
Bulk ad creation and split testing. You can add up to 10 titles and 10 images per campaign, allowing you to split-test to a maximum of 100 ad creatives per campaign in just a few clicks.
Pause or resume ads and campaigns within the Brax dashboard without going to the traffic platform.
Blacklisting and Whitelisting of target sources, publishers and websites.
Allow multiple users and assign separate access levels.
Adjust bids and budget.
Set-up rules to optimize automatically.
These are aside from the basic things that an ordinary tracker can do like allow you to view the performance of your campaigns, drill down based on specific metrics, or filter your traffic.
Pros:
More than just a tracker, it allows you to optimize your campaigns within its dashboard
Can be integrated with several native ad networks, as well as Google Analytics and Voluum
Bulk creation of ads and creatives within Brax's dashboard
Cons:
Not all native ad providers are supported
Plans and Pricing:
Plans are based on monthly ad spends, with the lowest plan at $199 per month for a maximum of $10,000 ad spend.
All plans come with a 15-day free trial
A managed service is also available for those who spend at least $25,000 per month
Click here to sign up and get that 15-day trial. As we always say, once you go Brax, you'll never go back!
3. Voluum
Voluum is one of the biggest and most popular media buying trackers out there. It has won several awards, including Best Tracker in the 2019 Affiliate Fix Awards.
It can be integrated with more than 40 traffic sources, allowing you to make adjustments and optimizations from within Voluum's dashboard. Aside from this, linking virtually any traffic provider is easy as they have more than 70 pre-configured templates. You can also integrate Voluum with Google Analytics to get deeper click data.
This tracker can monitor more than 30 metrics per click, allowing you to dig deeper into your analytics so you can pinpoint the qualities of the traffic that are sending you conversions.
Some of the features of Voluum include:
Automizer - the automatic optimization tool which makes adjustments on campaigns running in integrated traffic sources;
Traffic Distribution AI - a function that is similar to a Smartlink wherein more weight is assigned to offers that deliver better Return on Investment;
Rule-Based Paths - allows you to segment your traffic based on the rules you have pre-set for the campaign;
Anti-Fraud Kit - analyzes clicks and prevents bots from visiting your landing pages and offers.
Pros:
A very powerful tracking system with in-depth analytics
No need to switch back and forth between tabs if you use the Automizer feature as you can optimize within Voluum
Cons:
Data retention is not that long (3 months for the cheapest plan, 18 months for the most expensive plan)
Not all features are available in all plans
Does not have a free trial
Plans and Pricing:
The cheapest plan is $69 per month while the most expensive plan is $999 per month.
You need to choose the Grow Plan ($449 per month) to get all the features.
Automizer is free to use until $1,000 ad spend only. For ad spends of up to $10,000 per month, an extra fee of $100 must be paid. For $25,000 per month, a fee of $200 must be paid on top of Voluum's monthly plan fees.
4. Kintura
Kintura is another popular tracking platform that allows you to optimize your campaigns within their platform. This is applicable for a select number of native traffic providers only, which are as follows:
You can still monitor the performance of campaigns running on other traffic platforms, though. All you need to do is add the traffic source to your account and place the postback. Templates are available for most providers.
For optimization purposes, Kintura uses Contakt Auto Optimizer. You can automate your usual optimization tasks by setting up Automation Rules.
Pros:
Has an auto-optimization function
Can monitor campaigns from any traffic source
Cons:
The optimization function is available for three native ad platforms only
Is currently by invitation only
Plans and Pricing:
The cheapest plan is worth $199 and accepts up to $10,000 monthly ad spend.
The most expensive plan is worth $999 and accepts up to $100,000 monthly ad spend.
The free plan is available for up to one million events.
All plans are by invitation only, so you must submit your email and business details to be considered.


5. Bemob
If you're just starting out with your marketing journey and have no budget for a paid tracker, you can always go for the free options. Bemob is one of the best free trackers out there.
Although, the free version is applicable for the first 100 thousand events only. If you go over this amount of traffic, you will have to either pay for overage fees or switch to a paid plan.
Unlike Brax, Voluum, and Kintura, this tracker cannot be integrated with a traffic source in such a way that you can make adjustments within one dashboard. In this platform, integrating with trackers and networks means connecting with them and monitoring all-important statistics.
With Bemob, you can customize your 'Home' dashboard so you can get a quick view of campaigns that matter to you, and show you statistics that can help you make decisions quickly.
Pros:
Very affordable tracker
Has a free plan
Customizable homepage
Cons:
Cannot be integrated with traffic sources in such a way that optimization can be done within one browser window
Plans and Pricing:
As previously mentioned, this tracker has a free plan. The limitations of the free plan include 100 thousand events and up to 3 months of data retention only.
The cheapest plan is priced at $49 per month, accepts a million events, and stores data for up to 6 months. The most expensive plan is priced at $499 per month and stores data for up to a year.
6. CPVLab Pro
This is one of the oldest tracking systems available. It provides more than 30 click and calculated metrics, which can be filtered and viewed in hundreds of ways. You can view data based on campaigns, ad creatives, landing pages, keywords, sources, and so on. You can also view how long the visitor stayed on the page and other engagement metrics to help you better evaluate the performance of your landing page.
CPVLab Pro is a self-hosted tracker, which means you need to find a separate hosting provider to install this tool. The advantage of this is that there is no limit to the amount of traffic you can send and monitor.
One great feature of CPVLab Pro is that you can rotate a limitless number of offers of landing pages. This way, you can evaluate the best performing landers or offers coming from the same traffic source and geolocation, or from the same keywords and publishers.
Most traffic networks are preconfigured, so you only need to select the traffic source when creating a campaign and you can be sure all visits will be monitored.
Pros:
Allows you to dive deeper into your statistics to see details you might have missed when just viewing the basic data
Self-hosted so you can send an unlimited amount of traffic
Lifetime data retention
Unlimited offer and landing page rotation
Cons:
Cannot optimize campaigns within a single dashboard
The dashboard is too grey and uninspiring
Plans and Pricing:
The license for one instance (installed in one location) is $597. Additional licenses are priced at $99 each. This plan includes a 30-day free trial and a 30-day money-back guarantee.
Has a free Starter Plan which allows you to set up Direct Link and Landing Page campaigns.
7. ClickerVolt
Like CPVLab Pro, ClickerVolt is a self-hosted tracker. What sets it apart from the rest is that you don't need to have any coding knowledge to install this tracker to your hosting solution. All you need is a WordPress installation for this to work as ClickerVolt comes as a WordPress plugin.
While you can't integrate this tracker into your traffic sources in such a way that you can optimize them from here, ClickerVolt has several unique features that can make it appealing to both corporate advertisers and affiliate marketers. These are:
a. AIDA Optimization
This function fully utilizes the AIDA marketing concept that potential customers undergo: Attention, Interest, Desire, and Action. The tracker monitors these stages by registering how long each visitor spends on the landing page. The longer the visitor spends on the page, the deeper he is into the decision making process.
Instead of simply optimizing the performance of a campaign based on actual conversions, ClickerVolt uses the Time Heatmap to determine how likely a viewer from a source website, publisher, or keyword is likely to convert. This means you can optimize your campaigns even if you have not received conversions yet based on how long your visitors stayed on the offer page.
b. Voltify
This is a landing page takeover function. Instead of downloading landing pages you see on spy tools and editing links one by one, Voltify allows you to create a carbon-copy of your competitor's lander in a few simple clicks.
There is also no need to host the landing page, making it easier for you to test what works and what doesn't without breaking a sweat. This extra feature is ideal for affiliate marketers.
Aside from these features, ClickerVolt can display more than a dozen metrics in its dashboard and can drill down to three traffic segments. However, as it uses the WordPress dashboard, the reports you can view are limited and lacks trend charts as is common with all trackers mentioned above.
Pros:
No coding necessary for installation as it comes as a WordPress plugin.
Can accept an unlimited number of visits (all depending on your hosting solution)
Has AIDA functionality
Voltify feature reduces the need to create/download, edit and host landing pages
Cons:
Reporting is limited
Cannot optimize active campaigns within its dashboard
Plans and Pricing:
There are two ways to get a software license, support, and future updates, and this is either by paying a monthly fee of $9.99 ($7.99 if paid annually), or by paying a single fee of $289.99.
A free version is available for unlimited use but without the Voltify feature, support, and other future add-ons.
8. Prosper202/Tracking202
This company is one of the oldest tracking providers out there, being in the business since 2007. Prosper202 offers Clickserver Lite which is the installation package of their tracking system. As of the moment, it is free to download and use.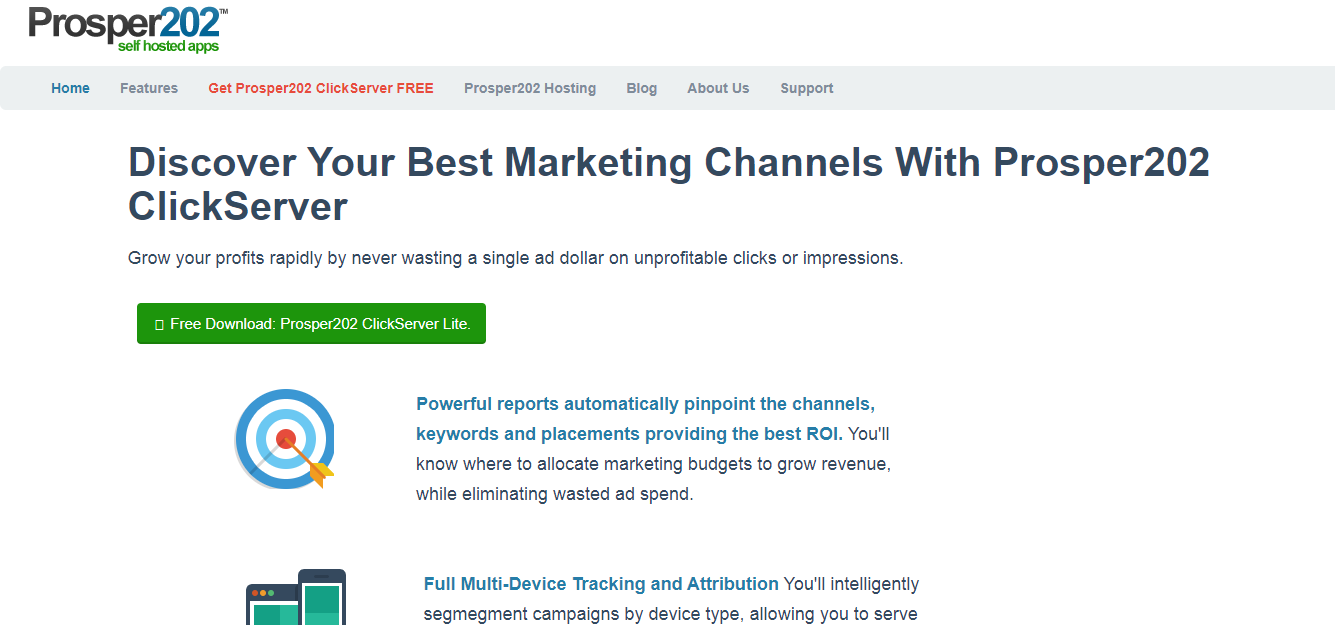 Aside from being able to generate reports on your campaigns for free, Prosper202 has several features that make it appealing, and these are:
1. Deferred Pixel Technology
One common limitation of many trackers is the inability to track the traffic coming from ad sources that use pixel tracking (such as Facebook Ads). Prosper202 was able to solve this problem by using their Universal Smart Pixel which piggybacks on third-party pixels, allowing it to capture information that the main tracking pixel gathers.
2. Redirects202
This is a powerful feature that lets you know if any part of your redirect URL is being blocked by Google Ads or Facebook Ads. You will receive an alert when it happens so you can prevent your ad account from being suspended.
3. Click Fraud Prevention
This technology analyzes the traffic you receive and blocks the clicks that are suspected to be fraudulent. It is also possible to redirect this kind of traffic to other landing pages.
Pros:
Can accept unlimited traffic (depending on your hosting service)
Free to use
Cons:
Cannot optimize campaigns in one dashboard
Needs a reliable hosting solution to handle all your traffic.
Plans and Pricing:
Prosper Clickserver Lite is their free version which can handle most tracking operations.
Those with bigger tracking needs can opt for Prosper Clickserver Pro for $599 per month. This plan comes with unlimited server installations and access to support. You can also ask the support team to install the tracker for you for free.
9. Binom
Binom is another self-hosted tracking system that is a self-proclaimed leader in processing speeds. After all, an additional increase in speed may mean better conversion rates and lightning fast reports.
This tracker can display 26 click and conversion metrics. Reports can be grouped, filtered, tagged, and nested as needed. For organizations, several users can be created with different levels of access.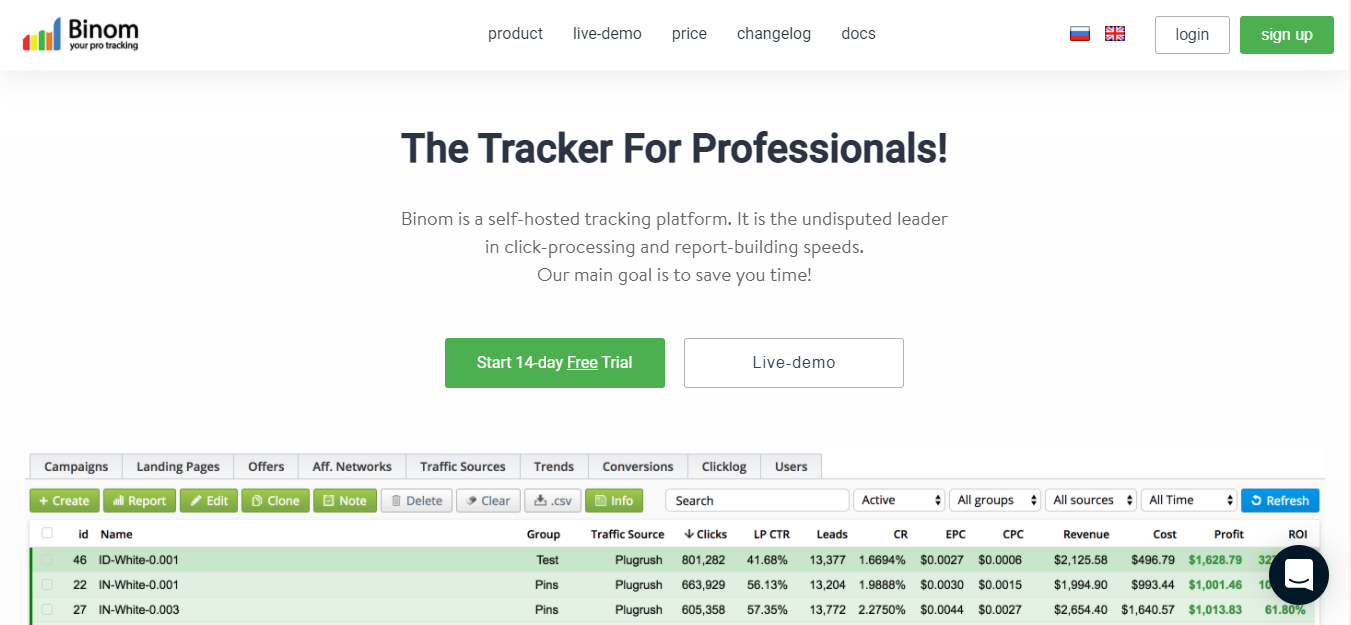 Another good feature is Smart Rotation, which distributes your traffic to different landing pages and offers based on the click information and conversion data of traffic with similar characteristics.
Pros:
Can receive an unlimited amount of traffic
Faster than most trackers
Provides multi-level reporting
Cons:
Requires a dedicated and secure hosting solution
Plans and Pricing:
License is paid on a monthly basis for the price of $99. You can get a 30% discount when paid annually.
A free trial is available for 14 days.
10. LandingTrack
If you're looking for a tracker that can automate optimizations for you like Brax, another option is LandingTrack. This tracker is specifically designed for affiliate marketers who use different types of traffic to promote offers.
The TOC Bot (as what LandingTrack calls it) automates optimization processes by relying on rules you set. TOC is short for Track, Optimize and Control, which means these are the tasks this tool can accomplish.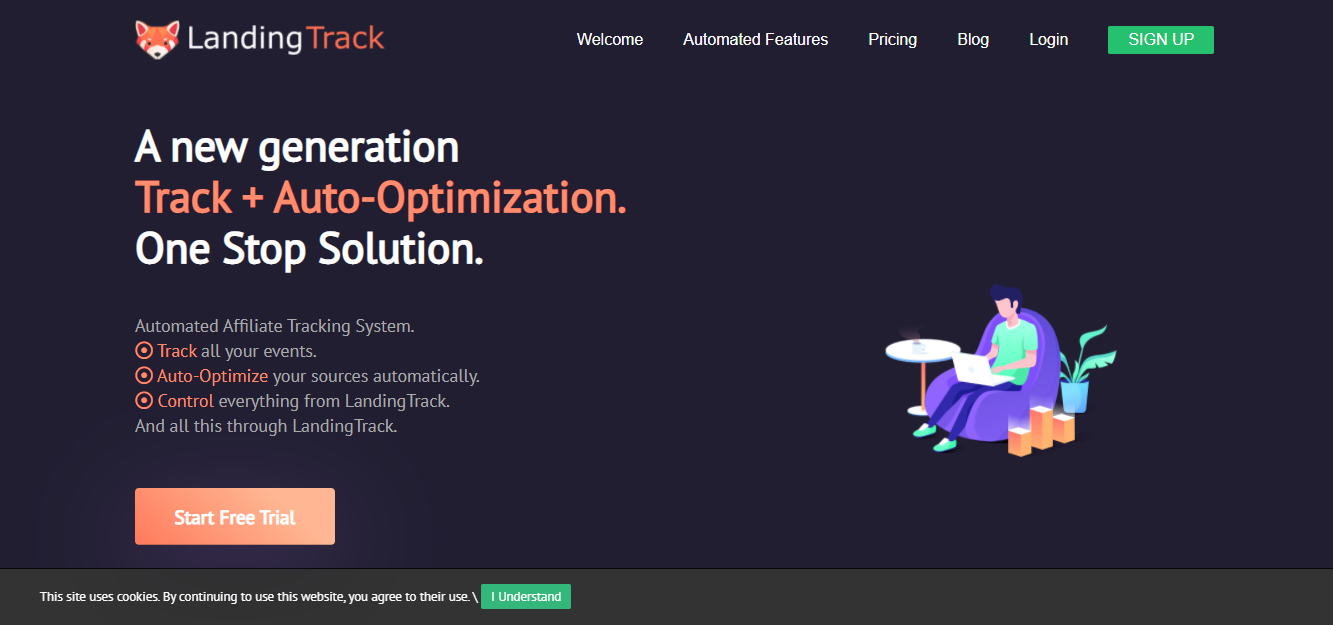 Unlike Brax though, you can't create campaigns for your traffic providers within LandingTrack's dashboard. What you can do is create campaigns within your traffic sources and they will auto-update for management and optimization within LandingTrack.
This tracker can be integrated into Runative, AdsKeeper, MGID, Outbrain, RevContent, and Taboola.
Pros:
Has the ability to manage and optimize campaigns from integrated traffic sources into one platform
The TOC tool allows you to optimize your campaigns handsfree
Cons:
Cannot create campaigns within LandingTrack even if traffic platforms are already integrated
A bit confusing naming convention in order for the campaigns to be monitored
Pricing and Plans:
The cheapest plan is $49, however, this plan cannot be used for native ads. The $99 plan is the one that allows you to integrate and manage your native ad traffic sources.
11. AdsBridge
AdsBridge is another tracker that is perfect for those on a tight budget. It's a great tracker to help you get started in your media buying journey as it has a wide range of features that you can use. However, the higher your traffic volume, the more expensive the subscription plan.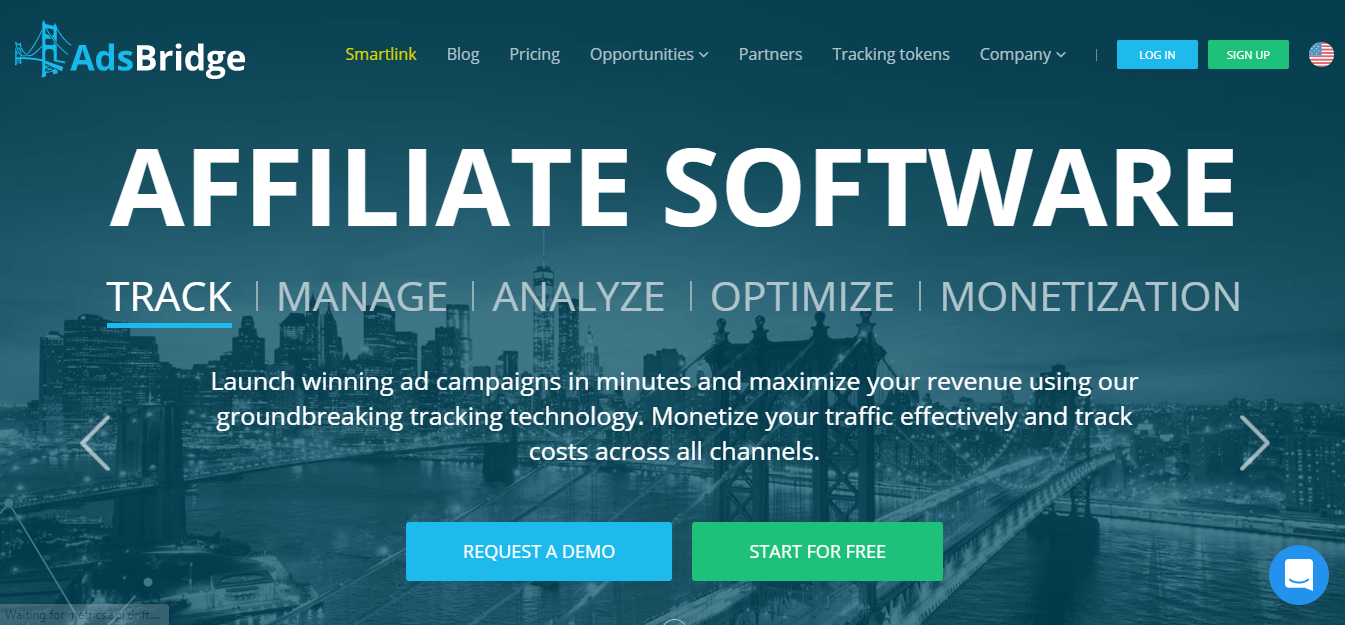 Its main features include the following:
1. Traffic Distribution System
This tool is perfect for those who have the traffic but don't want to set up multiple campaigns. With this system, you can set up routes for which landing page or offer the traffic will redirect to based on the rules you set. You can filter traffic based on a combination of any of the 20 parameters available.
2. Auto-Optimization and Split Test Paths
In this case, auto-optimization is performed within the tracker and does not involve the traffic source. This feature allows you to split the traffic you receive to different landers or sources to find out which one delivers the best results.
The difference between the two is that with Split Test Paths, you manually set the weight of each path. With the auto-optimization feature, you don't need to manually determine the percentage of traffic each path should receive; the system will analyze the statistics and will send more traffic to the better-performing ones.
Unlike other tracking systems where you need to create a landing page elsewhere and place the link within the tracker, AdsBridge provides a landing page builder that allows you to create a pre-lander that can be hosted within their servers.
Pros:
Tons of features that are easy to understand and use
Great for novice media buyers
Has its own landing page builder
Traffic distribution system works great for generic traffic
Cons:
Optimization at a traffic source level still needs to be done in the provider's platform (tasks such as pausing campaign, blacklisting sources, etc.)
Plans and Pricing:
The cheapest plan is only $49 per month, but this can only accept up to 100,000 events. Overages are charged in excess of this limit.
The most expensive plan is $379 per month for users that receive up to 10 million events per month.
A 14-day free trial is available for all plans
12. FunnelFlux
The last in our top 12 list is FunnelFlux, which has been added because of its unique way of helping marketers succeed -- and that is by integrating marketing funnels within the tracking system.
We've previously discussed how important a marketing funnel is in improving your conversion rates as well as providing a good customer experience. Well, FunnelFlux has taken this concept seriously, hence it is providing a tracking tool that allows you to build a funnel within the system. This tool seamlessly moves your traffic from one level of the funnel to the next, filtering users along the way and sending them to the right page based on their previous interactions with a former lander.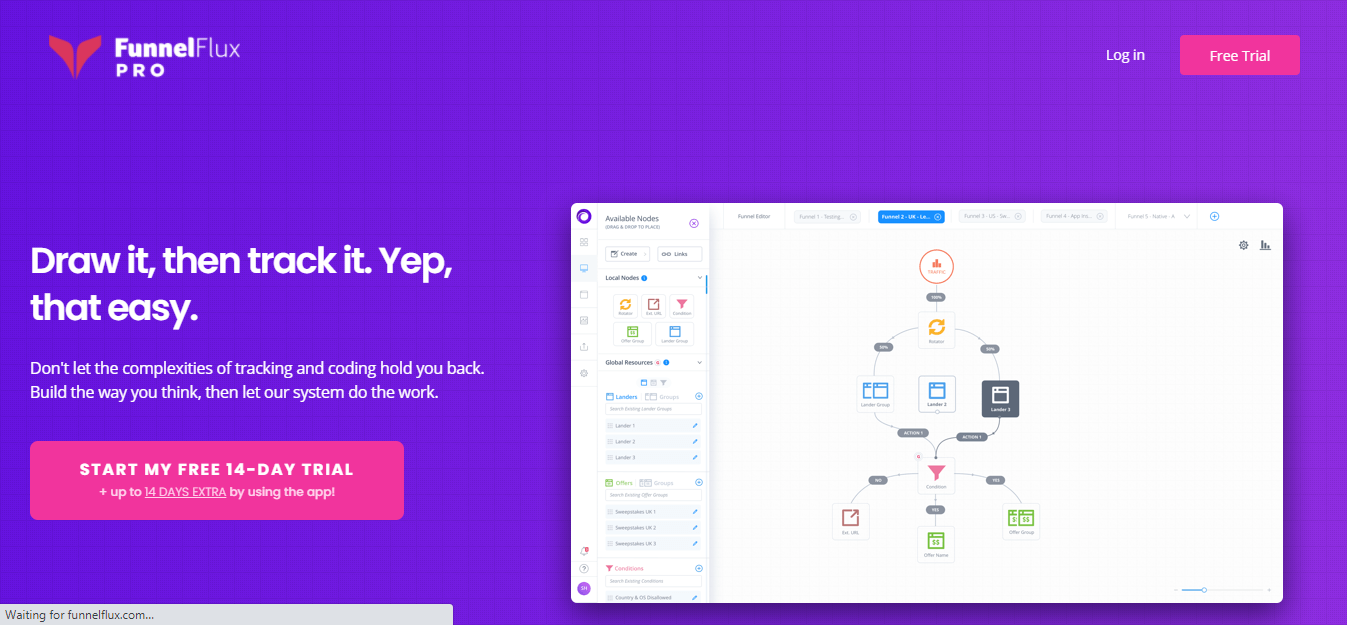 FunnelFlux makes use of a visual editor to avoid confusion. You can track the user journey and see not just which offer or lander works best, but also which part of the funnel caused your target market to drop off. Furthermore, you can view the lifetime value of each user.
This visual tracker has two versions: the cloud-hosted one and the self-hosted one. The main difference, aside from the hosting, is the amount of traffic you can accept (limitless for the self-hosted one).
Pros:
Has an integrated marketing funnel builder and tracker
Drag and drop visual editor makes it easy to create funnels
Two versions to choose from
Time the user spent on a page can also be recorded (can indicate the level of interest)
Cons:
Making adjustments to the campaigns (such as create, pause, activate, blacklist, whitelist, increase bids, etc.) cannot be done within the platform
Plans and Pricing:
The self-hosted plan is priced at $99 per month, with the first month costing only $1.
The cheapest plan for the cloud-hosted version is priced at $99 per month for up to a million visitors, while the most expensive plan is $499 per month.
The cloud-hosted plans all include a 14-day free trial.
To Not Track is To Plan to Fail
No marketer would want to fail; but if you can't track your campaigns properly, how can you expect to succeed? Although most traffic providers have built-in traffic monitoring systems, not all can provide calculated metrics that can help you better evaluate the performance of your campaigns.
For instance, some traffic platforms are able to capture conversion information (number and amount) and display the ROI, some cannot. Also, reporting options are limited and you can only view a handful of metrics.
Using a tracking tool opens up a whole new world for you. Not only can you optimize properly, but you can also make sure that your budget is used up by the right sources. You might even be able to find a way to use the same budget and double your conversions! Now, we're talking, huh?
Ready to pave the way for success? Sign up for our 15-day free trial today.